Easy grilled Zucchini
One of the things I like the most about late summer, early fall is all the fresh produce! Often zucchini is a little overwhelming.  Easy grilled zucchini is an easy way to use up this plentiful veggie.  Whether it's from your garden, a farmer's market or your local grocery store, fresh produce is awesome! Paron my enthusiasm for fresh produce, but, I'm from Wisconsin and the winters are long and the produce gets shipped in from all over the place most of the year.
Anything grilled tastes so much better than normal too! This is a super-easy way to prepare zucchini with the flavor of summer. Plus, this is such an inexpensive vegetable, especially when it's in season.
Ingredients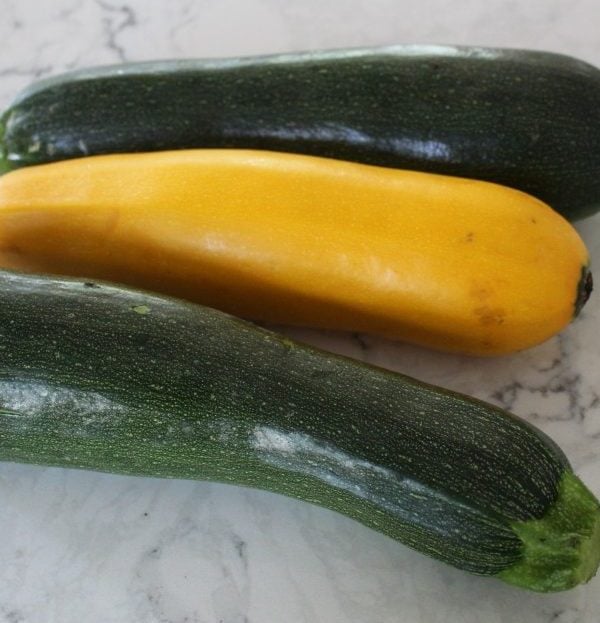 Zucchini, sliced about ¼ of an inch.
Oil to brush on each side
Seasoned salt (or garlic salt)
Directions
Slice Zucchini into even slices lengthwise.  Either with a knife or with mandoline.  If you are doing a large number, the mandoline cleaning time is worthwhile.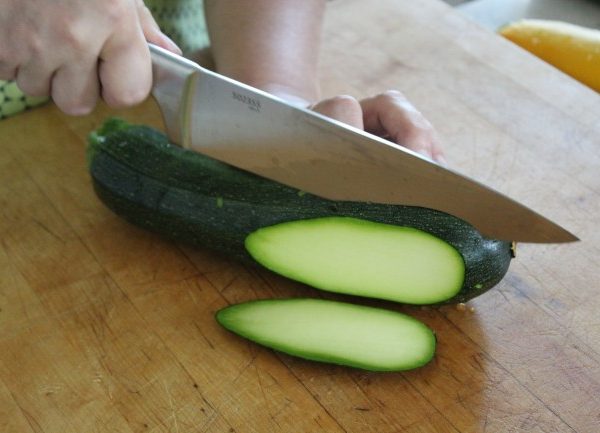 If you are doing a lot of zucchini, this is actually a good project to get your mandoline out.  Just make sure your guard is always in place!  I took a quick look and the price of mandolines has gone down quite a bit.  Mine was more of an investment than what some of these more versatile mandolines cost!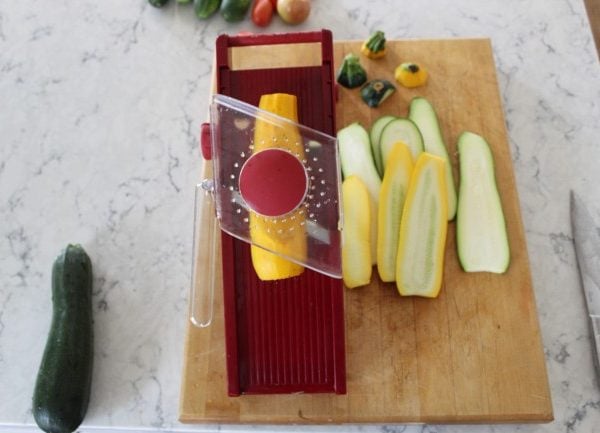 I brush a little olive oil on both sides of the zucchini. There are two reasons why. I want the seasoning to stick since zucchini on its own is kind of bland. And, if you are grilling, I always think it works better to lightly oil both sides of vegetables.
There are affiliate links in this post. Read my disclosure policy to learn more.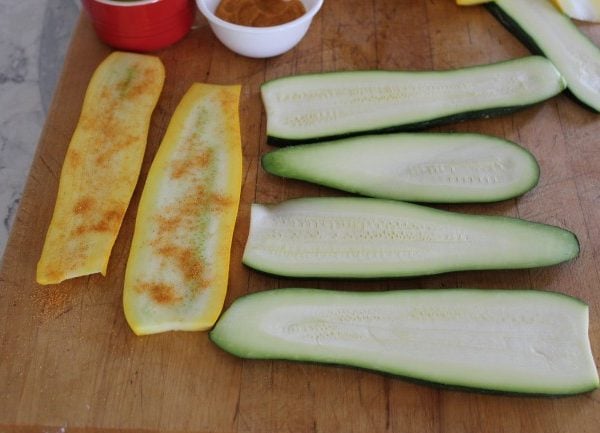 Can I also share one of my favorite grilling tools?  It's actually this grill cleaner.  My kids kept telling me the old one I was using wasn't safe.
Back to the easy grilled zucchini.   You want your grill nice and hot.  In the 400 - 450 degree range.  Then you place all your sliced and seasoned zucchini on the grill and you wait about 3 to 4 minutes.   I look for the char marks and then I know it's time to turn them around.
Do the same for the second side and after a few minutes, you are all done!   If you are having some kind of meat that you are grilling, these cook nice and quick while the meat is resting.
This is a great way to use up your zucchini.  And, I also eat them as leftovers the next day.  I may have also added them into a vegetable soup.   Because these are seasoned and grilled, they are flavorful!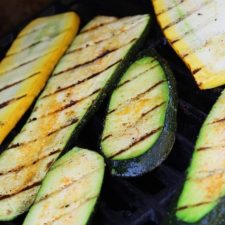 Easy grilled zucchini.
Simple and easy way to prepare zucchini on the grill.  A great way to use up this vegetable!
Print
Pin
Rate
Ingredients
2

medium

Zucchini

choose zucchini that aren't too big or they have large seeds

2

tablespoon

olive oil

seasoned salt
Instructions
Slice zucchini in even slices about ¼ to ⅓ inch wide.  I prefer to slice them lengthwise.

Brush a light coat of oil on both sides of the zucchini.

Season with seasoned salt.

Place on a hotter grill - 400 - 450 degrees.

After a couple of minutes, begin to check each minute for grill marks.

Turn the zucchini and cook the second side until you have the same pretty grill marks. Depending on your grill, these can take approximately 6-10 minutes. Watch carefully!
Notes
A perfect way to use up all those zucchinis!
Nutrition
Serving:
1
g
|
Calories:
79
cal
|
Carbohydrates:
3
g
|
Protein:
1
g
|
Fat:
7
g
|
Saturated Fat:
1
g
|
Polyunsaturated Fat:
1
g
|
Monounsaturated Fat:
5
g
|
Sodium:
8
mg
|
Potassium:
256
mg
|
Fiber:
1
g
|
Sugar:
2
g
|
Vitamin A:
196
IU
|
Vitamin C:
18
mg
|
Calcium:
16
mg
|
Iron:
0.4
mg
Looking for a grilled rib recipe that is easy, delicious and always fall off the bone moist? Try these root beer ribs! Yumm!!