It's a classic sign that fall has arrived when everywhere you look everything is pumpkin spice flavored. Don't get me wrong, I LOVE the flavor of these warm aromatic pumpkin-y spices every fall.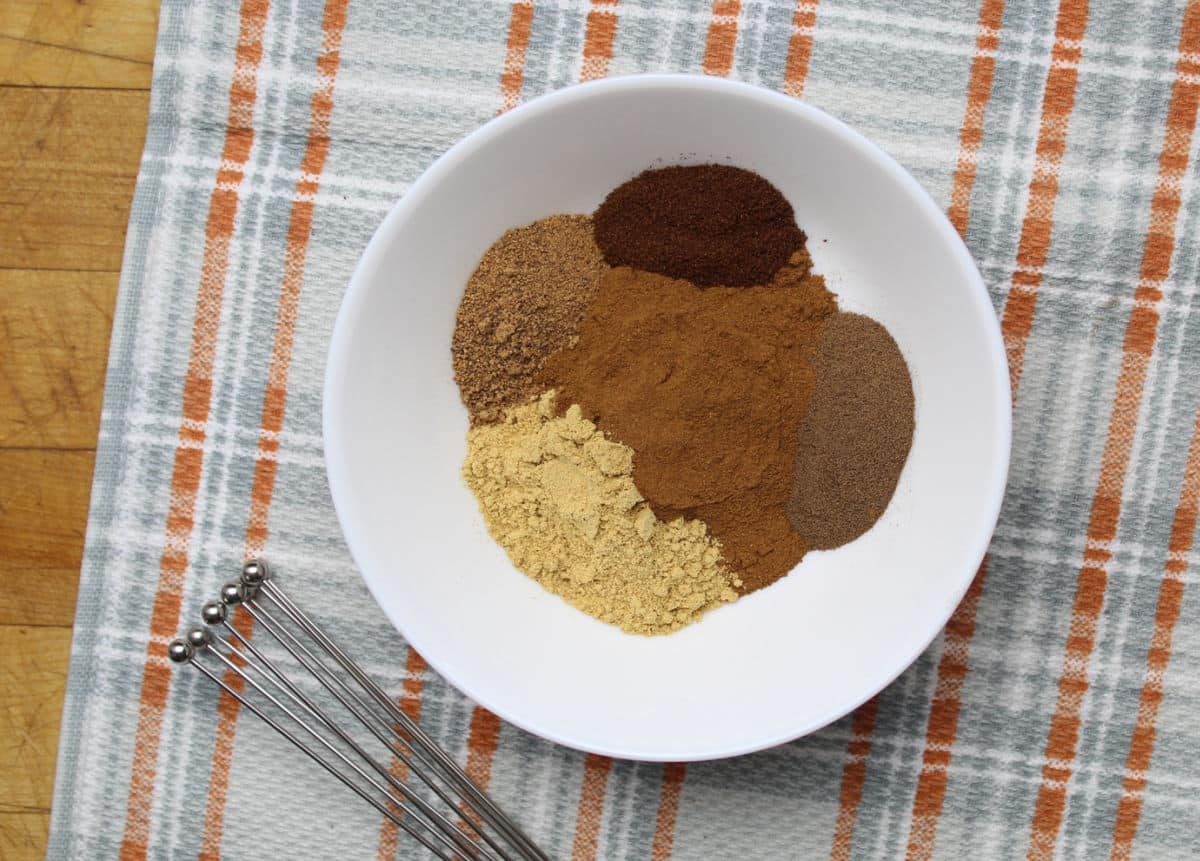 In fact, my very first recipe on this blog, over 10 years ago, was an easy pumpkin muffin recipe. The beginning of my pivot to easy recipes was due to this two ingredient pumpkin muffin recipe. It went viral on Pinterest and every fall it is baked by thousands!
Why I love making my own mix?
Making your own is easy to do, better tasting, and less expensive. You also use what you have on hand, which I'm a big supporter of.
If you don't have a container of pumpkin spice mix, check and see what spices you need and mix your own. You can make it as you need it or as you run out and you can adjust the flavors to what you like and what you have on hand!
Less waste and you use up spices that otherwise may become old and flavorless
Ingredients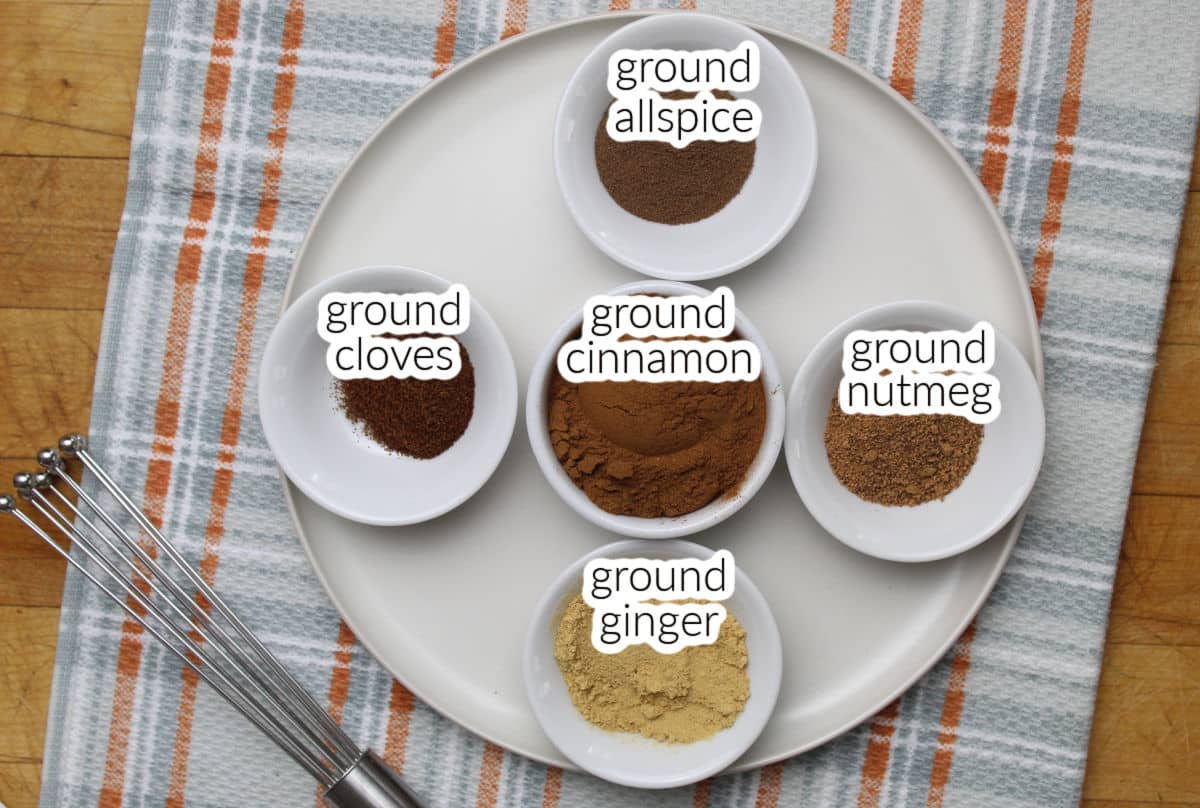 Cinnamon - this is the main ingredient so make sure you have fresh cinnamon on hand. Plus, this gets used in so many other recipes (especially baked ones).
Ground Ginger - it goes perfectly with cinnamon and is a delicious aromatic herb.
Ground Nutmeg - Once fall is over, this is in quite a few Christmas cookie recipes!
Ground Cloves - There is nothing like that intense delicious smell.
All Spice - Did you know Allspice is made up of cloves, cinnamon and nutmeg?
Variations and substitutions
If you look up recipes to make pumpkin pie spice, you will find so many variations of the ingredients listed above. And as I already mentioned, All Spice is a mixture of three of the ingredients included. You can easily vary the spices you use and the amounts if you follow these guidelines.
At the very least, use the amount of cinnamon the recipe states. In fact, if you don't have any of the other spices, you can use all cinnimon. It won't taste like the pumpkin spice blend but it will taste good!
I also recommend using the recommended amount of ginger (unless you are doing all cinnamon.
As far as the ground nutmeg, cloves and allspice, the recipe states using a teaspoon of each totaling 3 teaspoons. If you only have 2 of the 3 spices, use 1 ½ teaspoons of each, totalling 3 teaspoons.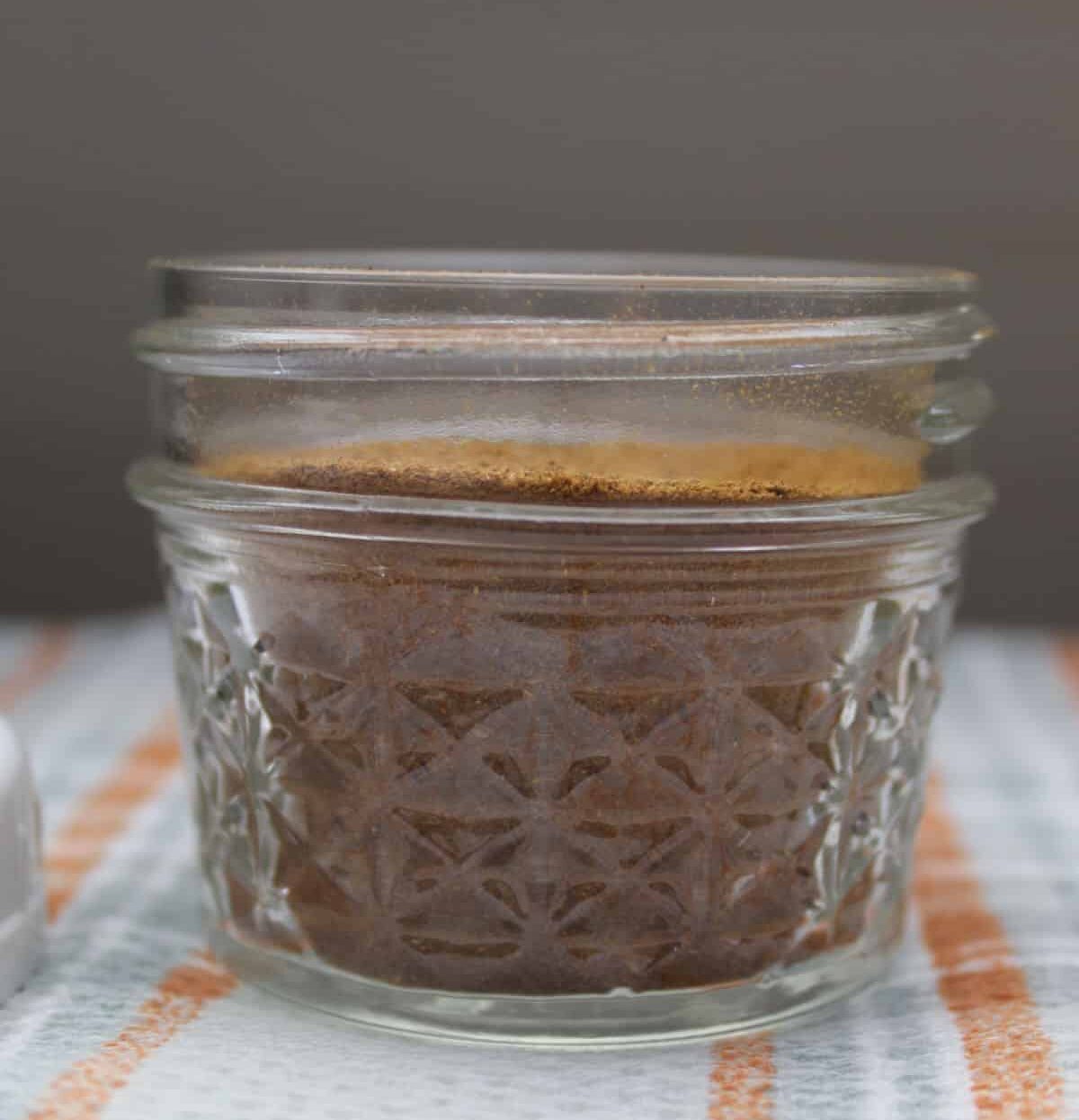 Instructions
Measure each spice into a small bowl and mix well. Yup, that's it!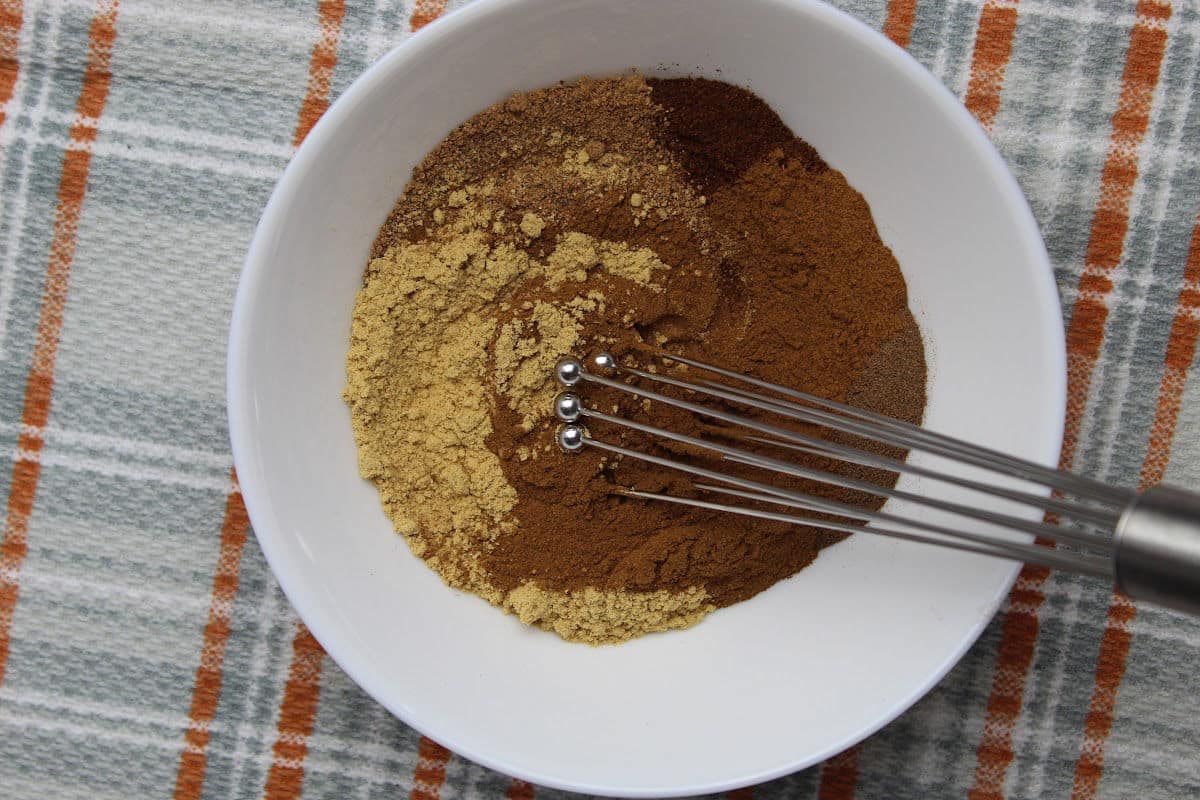 Storage
Place into a clean spice container, or small mason jar. Keep in a cool dark location for up to 1 year. The spices don't go bad, they just lose their flavor intensity. If the spices are just past their expiration, I just add a little extra (about 10% ish for those of you who really want to know). The mason jar below is a 4oz jelly jar.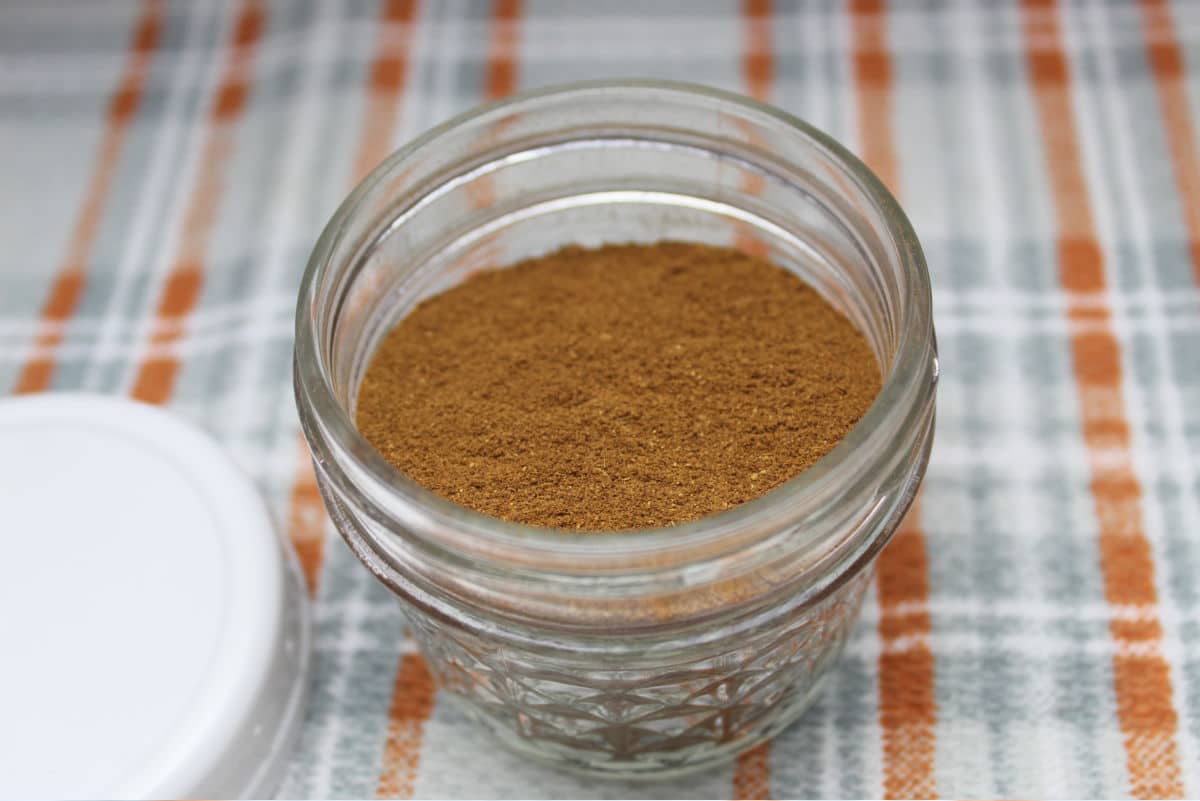 FAQs
Can't I use just allspice if it's made up of cinnamon, cloves and nutmeg?
No, the proportions of the spices won't work. You need to have cinnamon as the majority of the spice mix. However, you certainly can use 3 tablespoons of cinnamon and 2 teaspoons of allspice. That will give you a bit less in total than the recipe written below, but it will have a similar flavor.
I have a bunch of old spices. What can I do with them?
The flavor does start to degrade and it gets hard to guess at how to make up the flavor loss. I have a little basket of expired seasonings and use them in my simmer pots during colder weather.
I have have apple pie spice. Can I use that?
Sure. Your final flavor will be similar and just a little different. Try it once and see how you feel about the flavor. I don't hesitate to substitute with this.
Recipes you can use pumpkin spice in.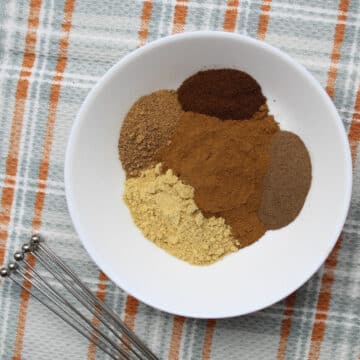 Pumpkin Pie Spice Recipe
Make your own homemade pumpkin pie spice! It is common ingredient and takes only 5 minutes to do! This will save you money and you use up the spices you have.
Print
Pin
Rate
Ingredients
3

tablespoon

ground cinnamon

2

teaspoon

ground ginger

1

teaspoon

ground nutmeg

1

teaspoon

ground cloves

1

teaspoon

ground allspice
Instructions
Measure then mix the 5 listed spices.

Store in a sealed container in a dry and cool area.
Notes
This mixture fits perfectly in a small 4 oz jelly jar.
Nutrition
Serving:
1
g
|
Calories:
9
cal
|
Carbohydrates:
3
g
|
Protein:
0.2
g
|
Fat:
0.2
g
|
Saturated Fat:
0.1
g
|
Polyunsaturated Fat:
0.03
g
|
Monounsaturated Fat:
0.02
g
|
Trans Fat:
0.001
g
|
Sodium:
1
mg
|
Potassium:
20
mg
|
Fiber:
1
g
|
Sugar:
0.1
g
|
Vitamin A:
9
IU
|
Vitamin C:
0.2
mg
|
Calcium:
27
mg
|
Iron:
0.3
mg
Please pin this to your Pinterest board.