I always felt the need to put up some lighting on my fireplace mantle. However, I didn't want to drill into the wood and add sconces. Plus, I love the idea of being able to trade out the lighting seasonally. I really enjoy decorating my mantle for the fall!
How to add lighting to a fall fireplace mantle.
It's funny, but, when people see my mantle, they either assume that the lamps are wired into it somehow or they try to figure out how I get the lamps to work. I love those lamps! I fell in love with mercury glass a couple of years ago while watching HGTV. It's so sparkly but rustic. How could you not love it? Since then, I've had those lamps on my mantle, even when I change the mantle decor for different seasons.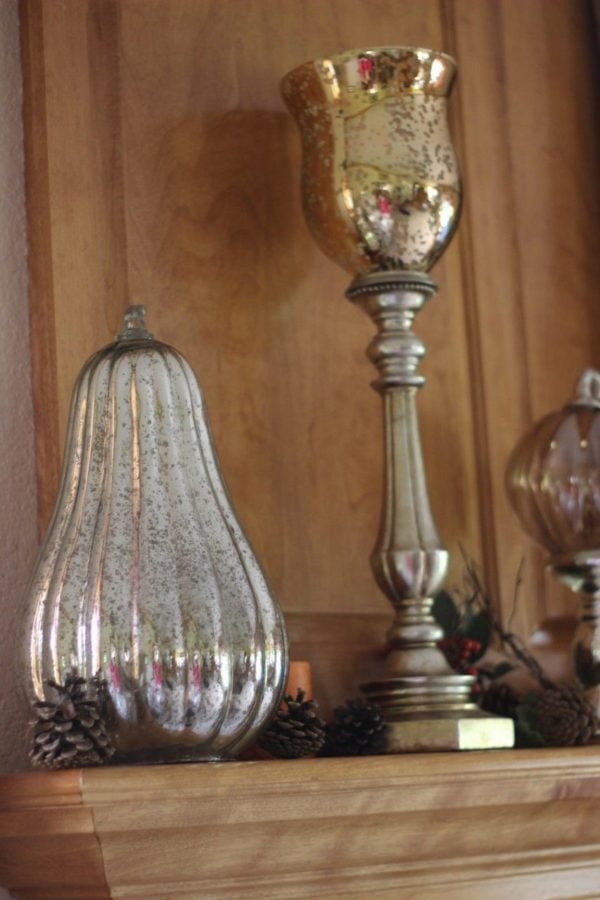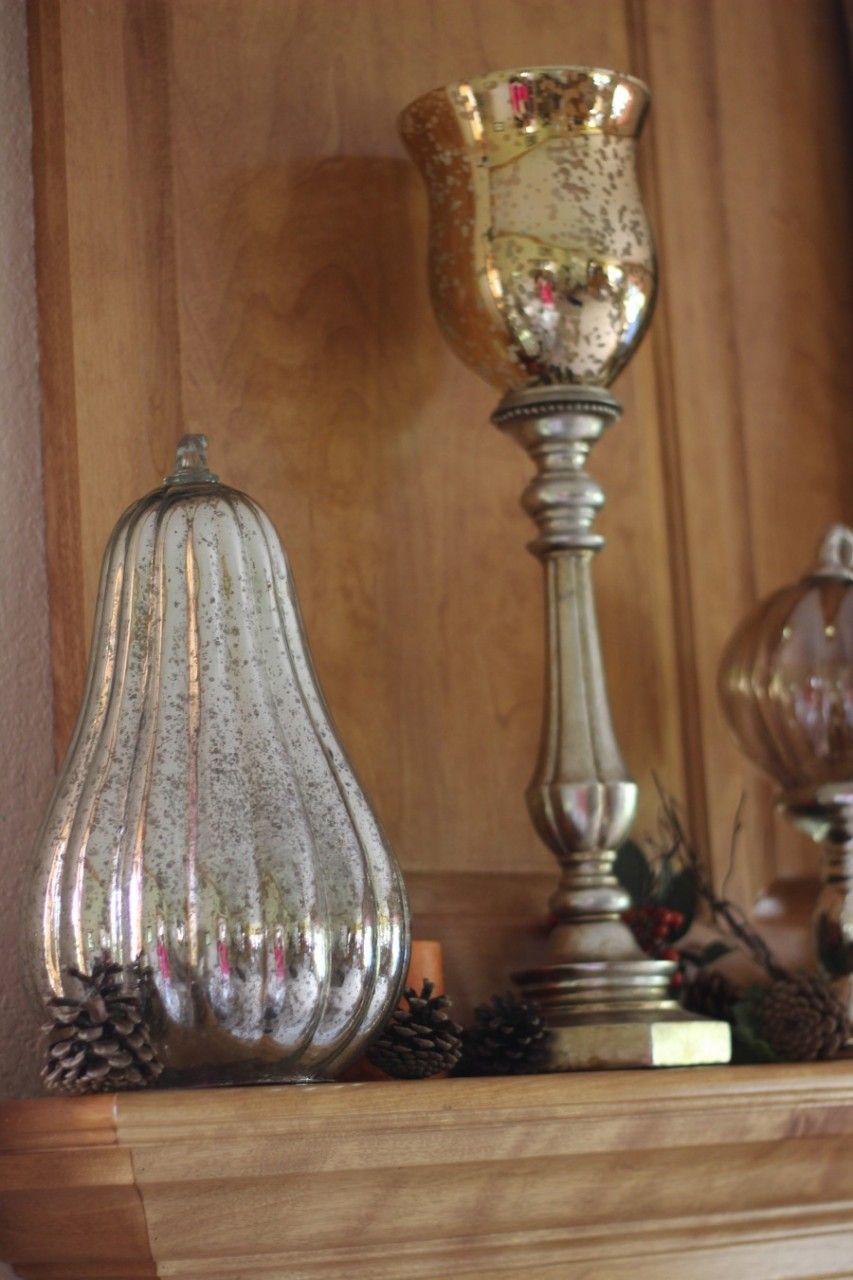 Hiding wires on a mantle
As for the lamp wires, I just actually hide the wires well : ) ! Spend a minute with me and I'll show you how.
There are lots of wires on the mantle. They are from the two lamps and also an extension cord that I need to reach the furthest lamp.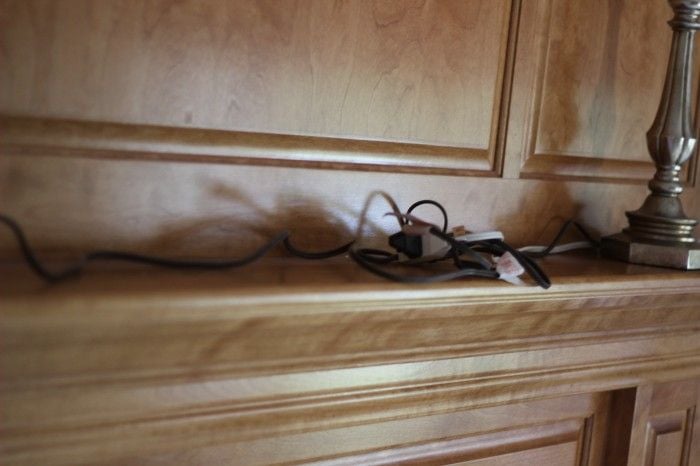 I usually place a print or a mirror right in the middle of my mantle. It gives me some height. And, it is an instant cover-up for the majority of the bulky wires!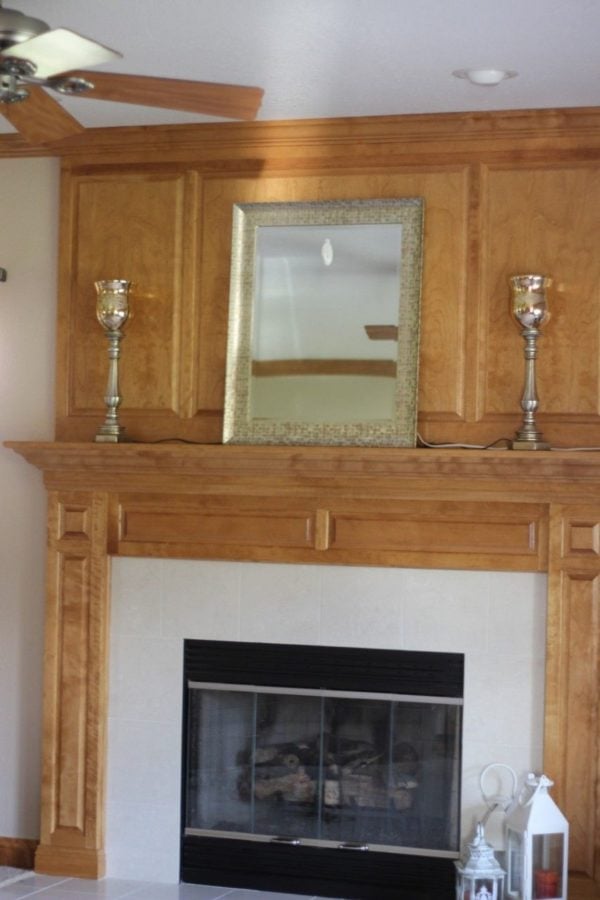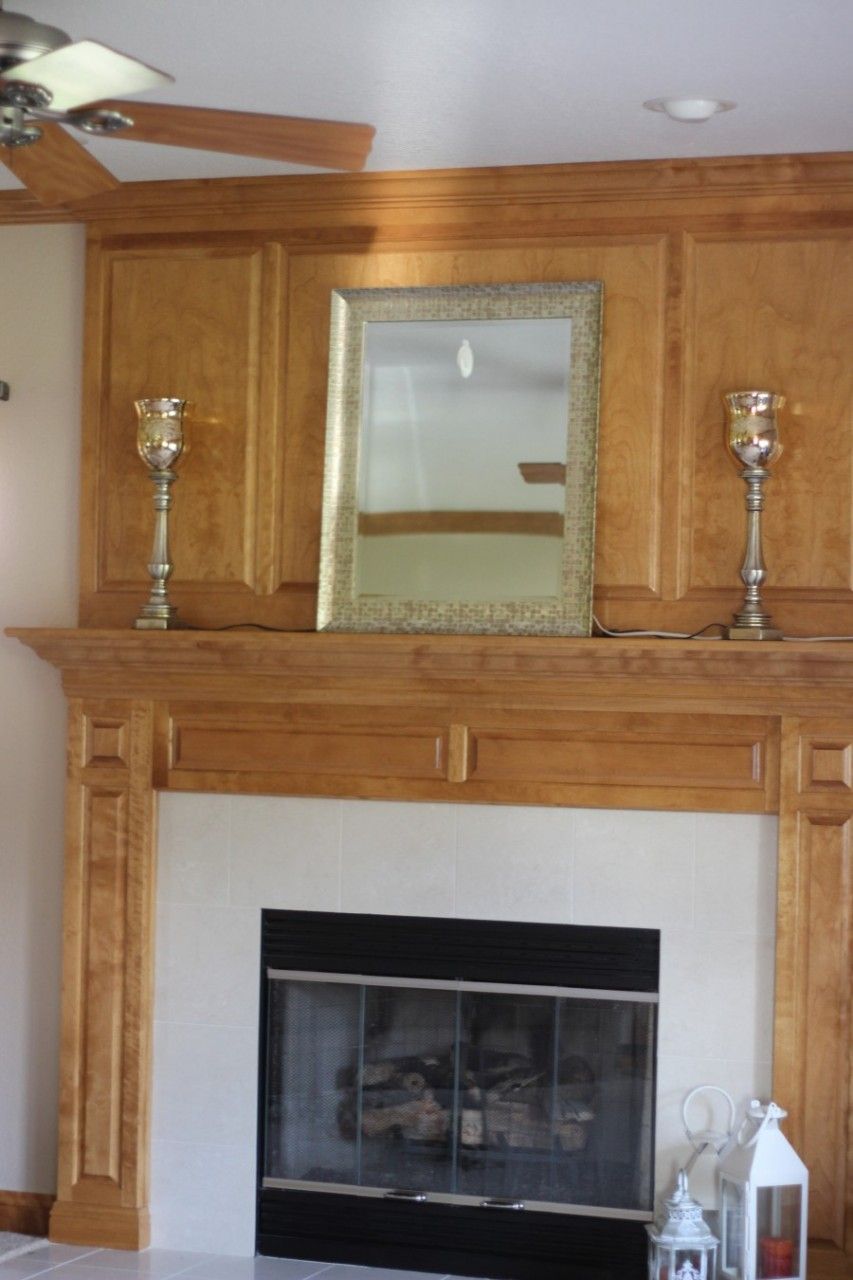 Once I've placed the mirror in the center, it's not nearly as nasty of a wire mess! But, still needs some work. Last year I bought a moss covered rope thingy. I don't know what I originally wanted to do with it but I ended up using it for my mantle. It does an awesome job adding some green and covering up the majority of the wires.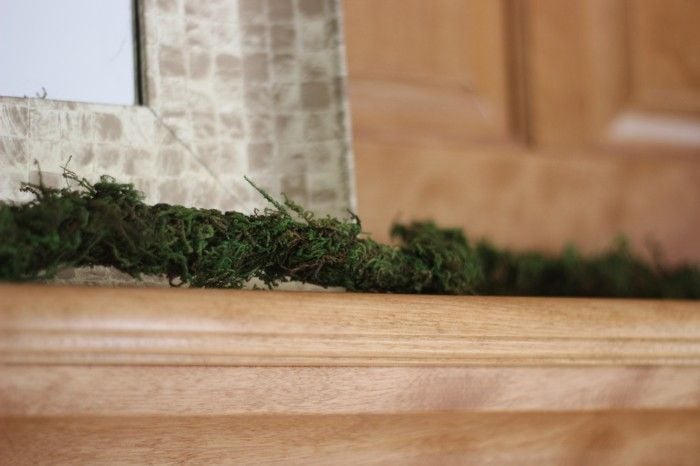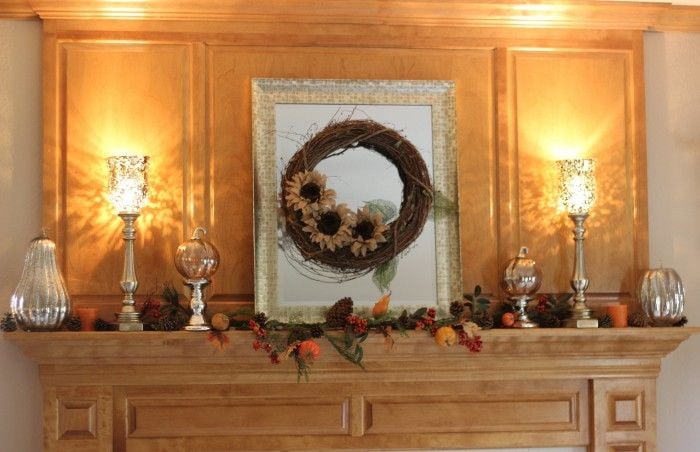 Then I usually also have a seasonal garland. It adds the splash of seasonal color that I love.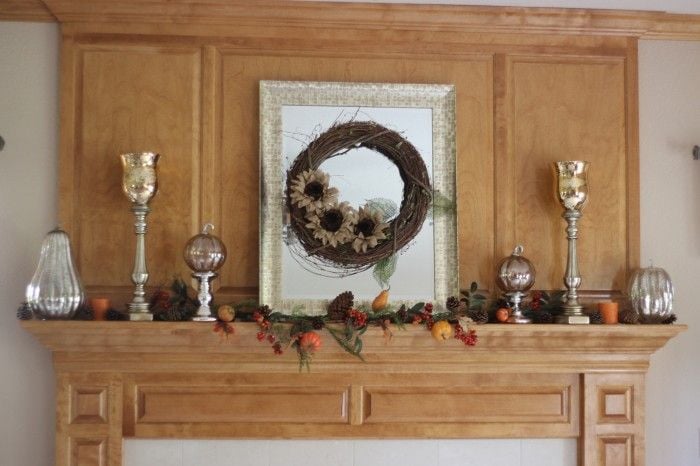 Decorating my fall mantle
And, of course, you need to arrange the garland so that some of it hangs down. Oh, and take the tags off (or your type 'A' friend will do it for you when she comes over!).
I love the colors!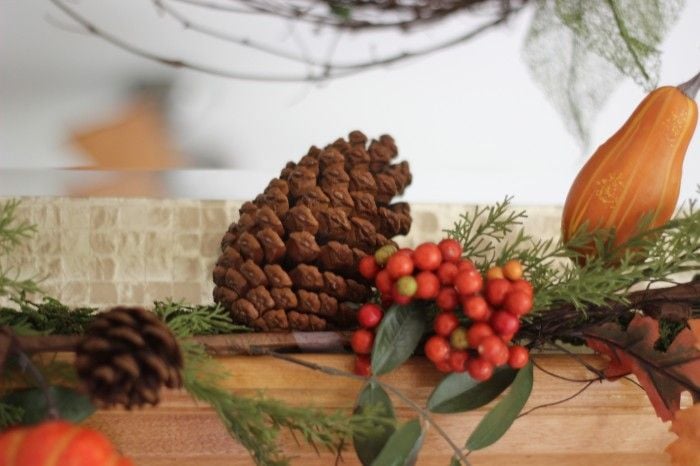 And, if you didn't notice, I also added the odd extra pine cone. Just to fill in some spaces where the wires might be peaking out!
And, of course I added my mercury glass pumpkins that I've collected over the last couple of years. Sparkly!!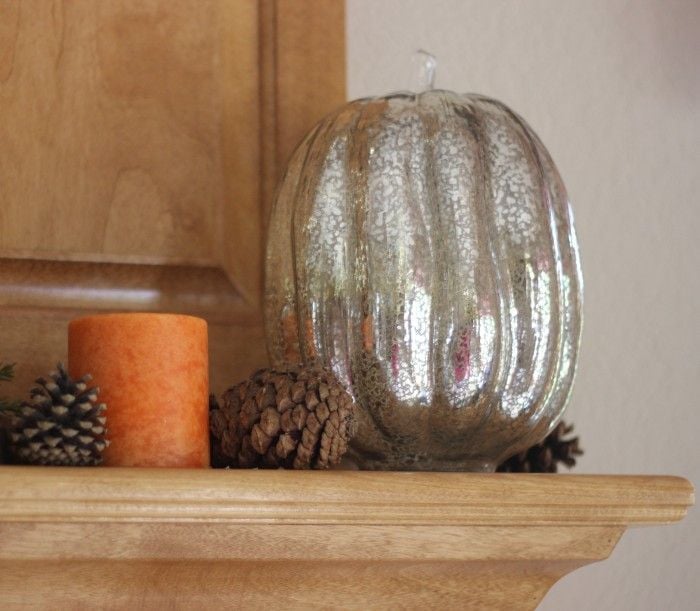 Oh, and one very important thing a decor guideline is to always have the taller objects left. An important design principle of some sort : ). Also, don't be afraid to repurpose things. The two glass pumpkins on either side of the mirror were lost just sitting on the mantle. I just elevated them using some candle pillar holders. Now they get the attention they deserve!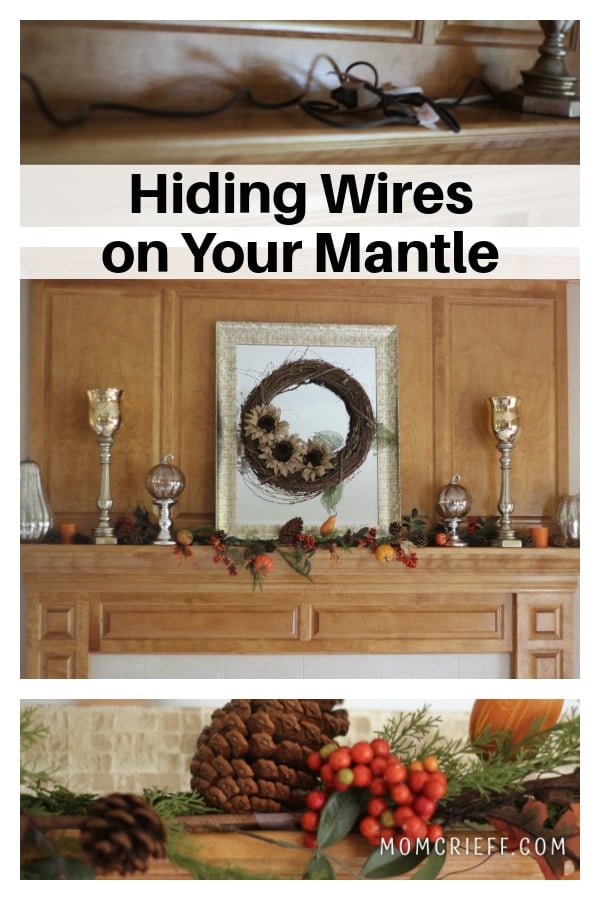 Looking for some more fall ideas for mantles?
Check out the post I did last year showing both my mantle and that of my friend Mary (who has the twin house to mine)
Fall Decor - Inside our Twin Homes
Or, another home that is totally decked out for the fall! More of a Halloween theme.
Need a quick fall snack since you've been so busy with fall decorating?
Two Ingredient Pumpkin Muffins.
Thanks so much for stopping by! Hope I've given you a couple of ideas.
**Originally published Sept. 17, 2014