Planning my fall foyer decor.
Living in Wisconsin, the fall outdoors is a beautiful landscape of colors. It's full of reds, yellows, and oranges. Beautiful, and I appreciate it all! However, the fall is also a crazy busy time with new school schedules and fall sports. With that in mind, I like my fall decor to be calm and reflect more of an oasis in this hectic (but fun) time of year. I love some chippy white items, linen-look fabrics, and silver - mainly mercury glass. You might say I obsess about mercury glass. And, of course, natural, real items from nature. I truly appreciate all the different colored pumpkins we can now get.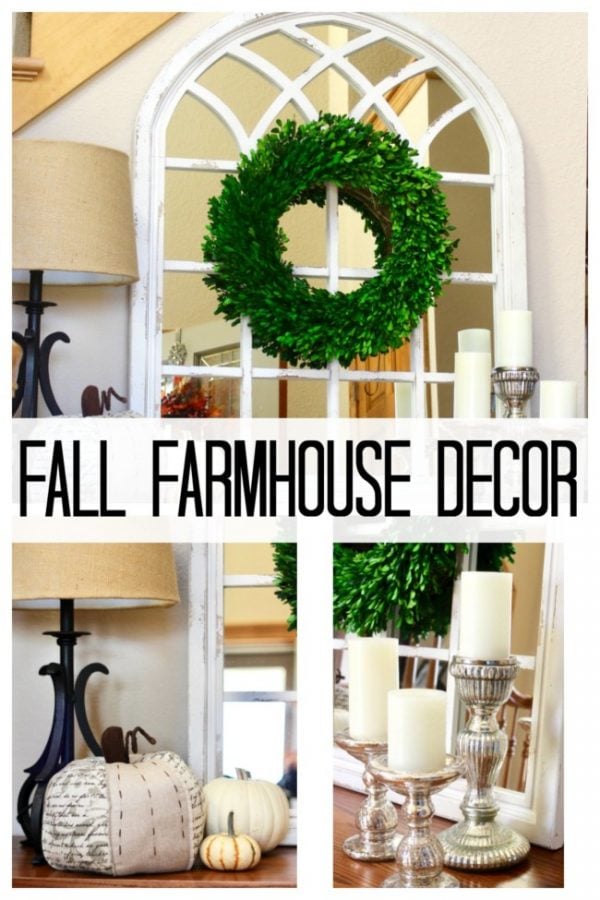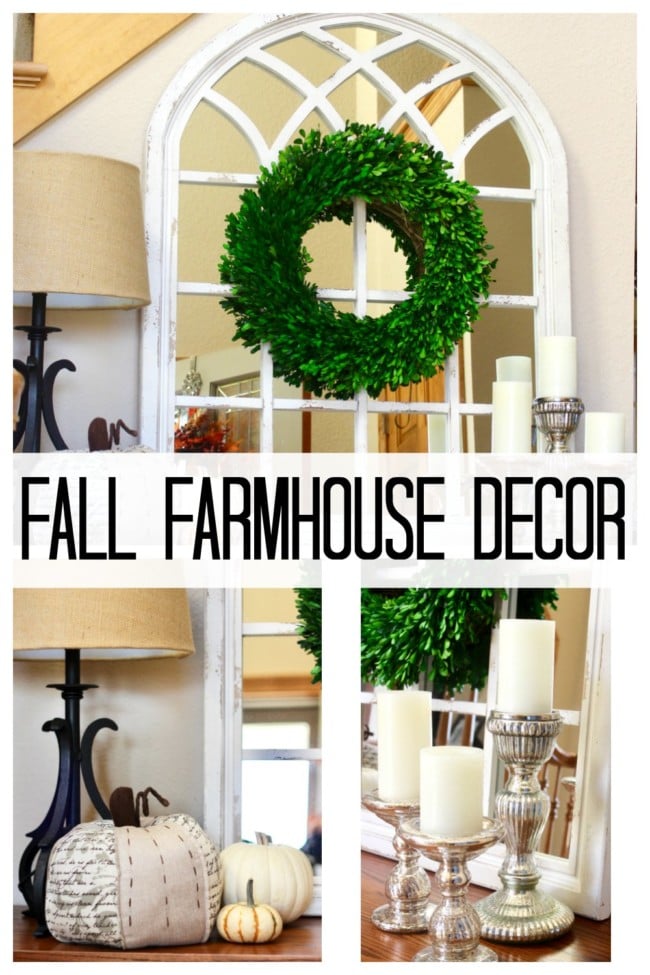 *This post may contain affiliate links. Please see my full disclosure policy for details.*
Using mercury glass, white candles and some natural elements.
I have had most of the items I used in my front foyer for years. I collected mercury glass before mercury glass was 'in.' I have many silver mercury candle holders. If you love them too, here are some cute ones that are very similar to mine and are a deal for mercury glass candle holders. I don't care if the candle holders match or not; I like displaying them together.
I love the texture fabrics bring - so my fabric pumpkin is a favorite. Plus, I was happy to find a very plain lampshade with a very neutral fabric cover. As I was looking for another one, I was pleasantly surprised that you can find fabric pumpkins with lights in them!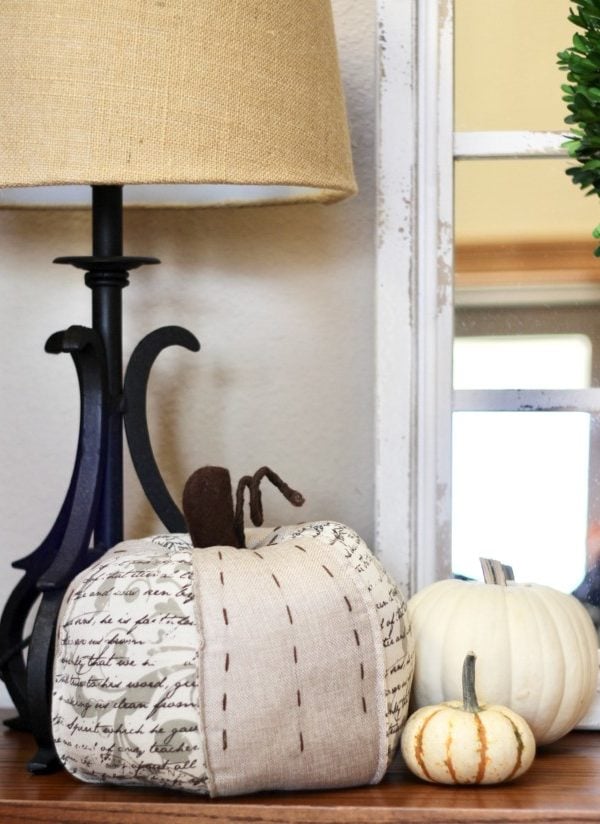 The big chippy white mirror is one of my favorite decor pieces. I've had it in numerous homes in numerous places. It usually ends up with a wreath on it because it's so big, and I think the wreath pulls it together. I love natural preserved boxwood wreaths! I put up real preserved ones in my home, but I'll confess that if they are outside my door, I may use plastic boxwood wreaths. The real ones don't hold up well on the outside where I live!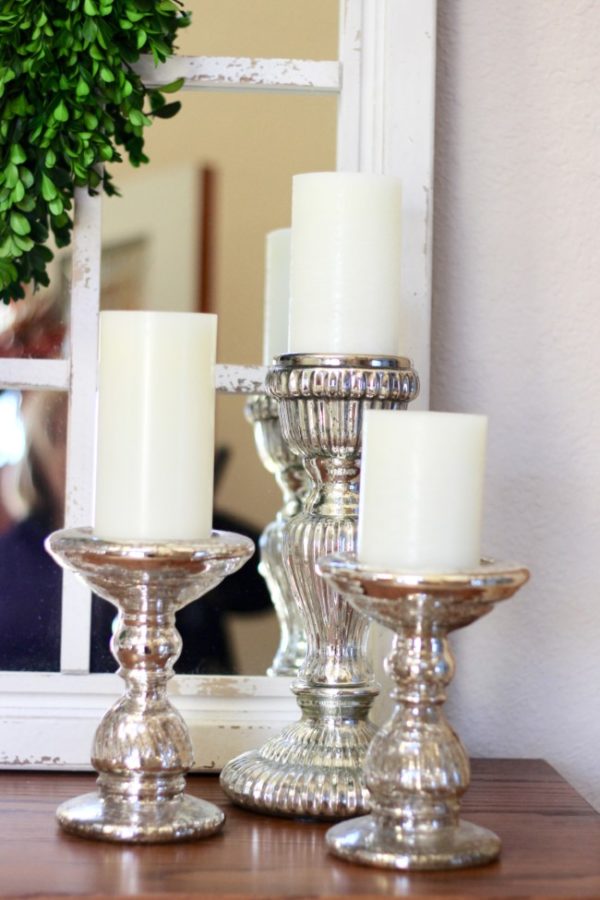 Using timers in the fall and winter.
I love fall, but I don't like how it gets darker earlier in the fall. I've figured out how to make that work for me! I have my white battery-operated candles with timers. They come on at 5 p.m., so as it starts getting darker, there is the warm glow of the candles. I display the candles differently in the winter, and they come on a little earlier. I love timers on candles because I don't need to turn them off when I go to bed. I'd like to thank the person who invented battery-operated candles with timers personally: ).
Do you see the lamp on the left? I also have that on a timer (indoor electrical timers are so inexpensive now - I use them, so I never walk into a dark house in the fall and winter). It goes on at 5 p.m. and turns off at 10:30 p.m. That timer on that lamp saved us a ton of electricity. The kids didn't turn on and leave on the big foyer chandelier every time they went upstairs. The lamp is more than enough light to go up and down the stairs comfortably when it's dark. Perfect for for some functionality with my fall decor.
Some simple decor guidelines.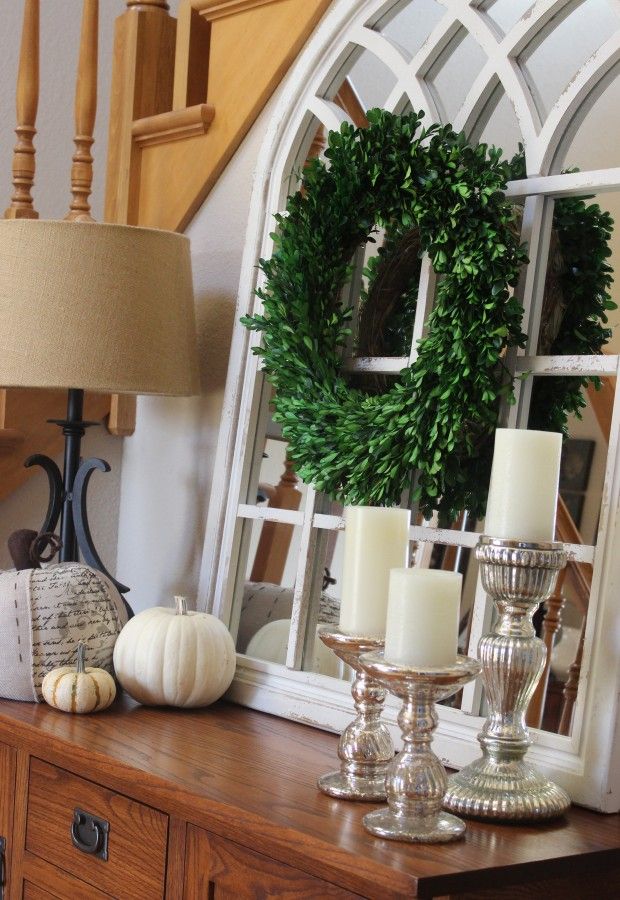 Now, I'm by no means a decorating expert. But a few well-known rules help pull your decor together. One of them is to decorate in odd numbers. And, yes, that always makes a huge difference. Three candles rather than 2 or 4. And, you should always have the tallest items to the left. The above candle display looked funny, with the tallest one on the left. I just looked at the whole display and decided the lamp on the left is the anchor for that rule. See my fall decor pumpkins? Biggest one on the left.
I've shared my favorite decor pieces with you. What are yours, and why do you love them?
Love fall?
Here is my favorite fall planter! I've reused my summer grasses in this one.
My most popular fall post. It's old, but every fall, everyone wants these easy two-ingredient pumpkin muffins!