What are overnight oats?
This overnight oats recipe is a delicious mixture mainly of oatmeal, your favorite yogurt and chopped fruit. You make a batch ahead of time and then have a quick, healthy, delicious breakfast in the morning. I like to pre-portion this into individual servings with mason jars. Makes morning less stressful!
I'm a person that needs breakfast. Along with all the studies that say breakfast is crucial to fueling the day, studies also say it helps with weight loss. The real reason I eat breakfast is I'm crabby when I'm hungry :).
My new favorite quick breakfast food are these best overnight oats. Easy to prepare, prepped the day before and with overnight oats there is no cooking involved! Does anyone else hate cleaning that pan that was used to cook oatmeal? This is also the easiest way to meal prep!
There are hundreds of recipes for overnight oatmeal but through a little trial and error, I've found the formula I like and it is EASY! Here is what you need:
Ingredients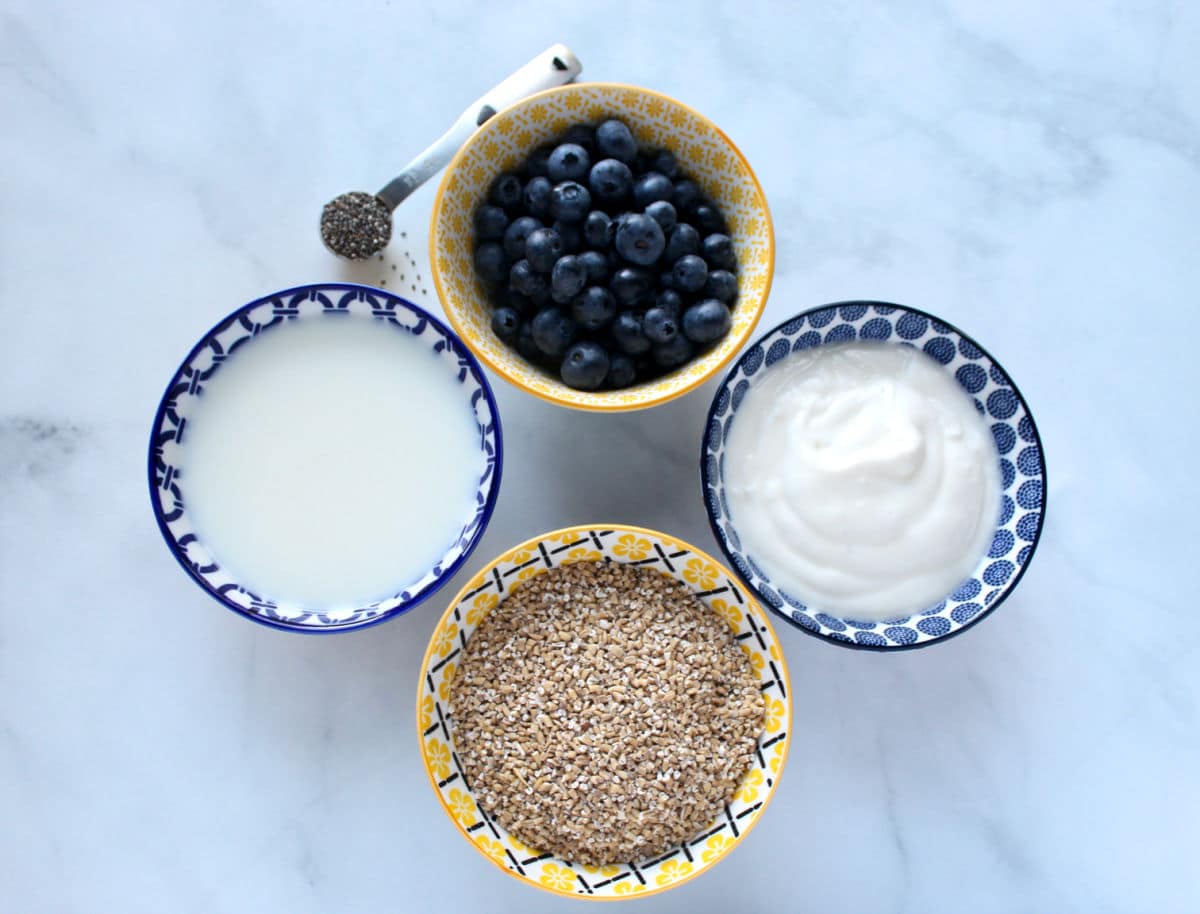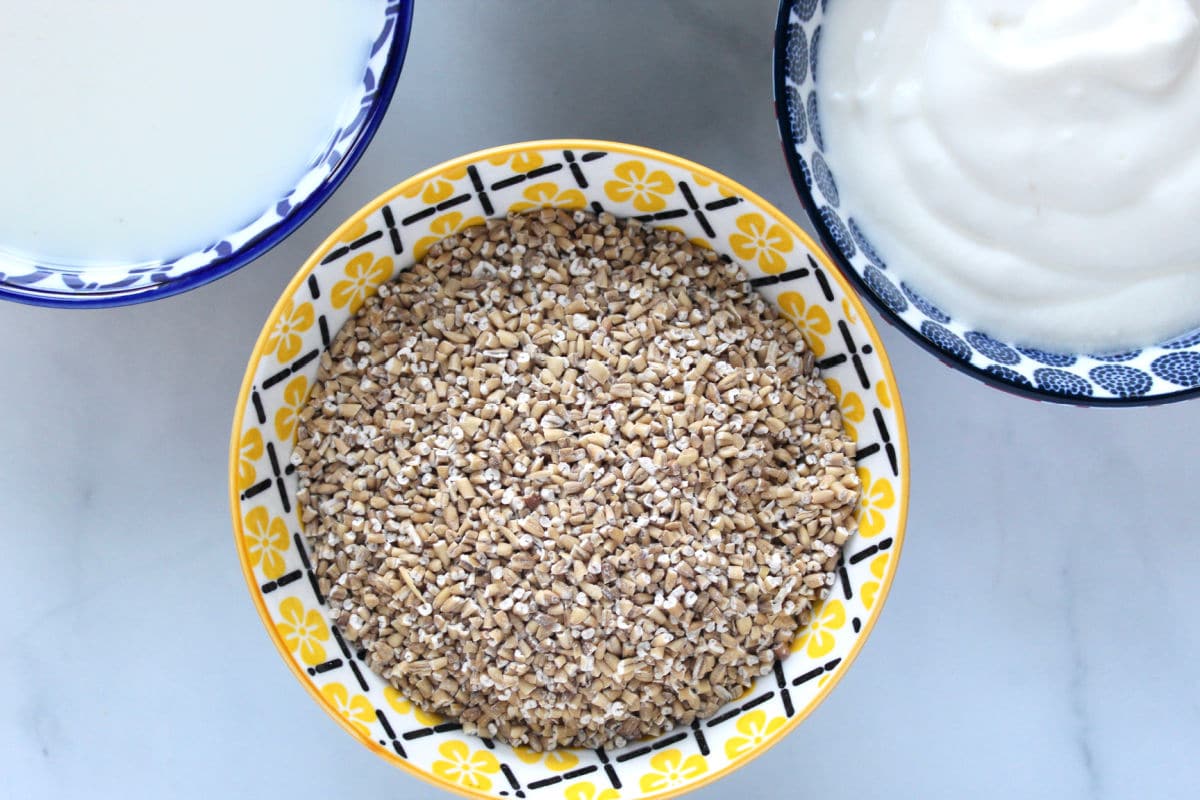 1 cup Greek yogurt (high in protein!). I love vanilla flavored. Healthiest is plain Greek yogurt.
1 cup milk
1 cup steel-cut oats (or rolled oats)
Steel-cut oats are the least processed oats. It looks different from This recipe can be made with any type of oatmeal but the less processed, the better.

1 cup blueberries
1 teaspoon chia seeds (optional)
The chia seeds add protein, fiber and omega-3 fatty acids.
Instructions
This recipe makes 3 servings of 8 oz each.
Mix yogurt, milk, oats and chia seed together.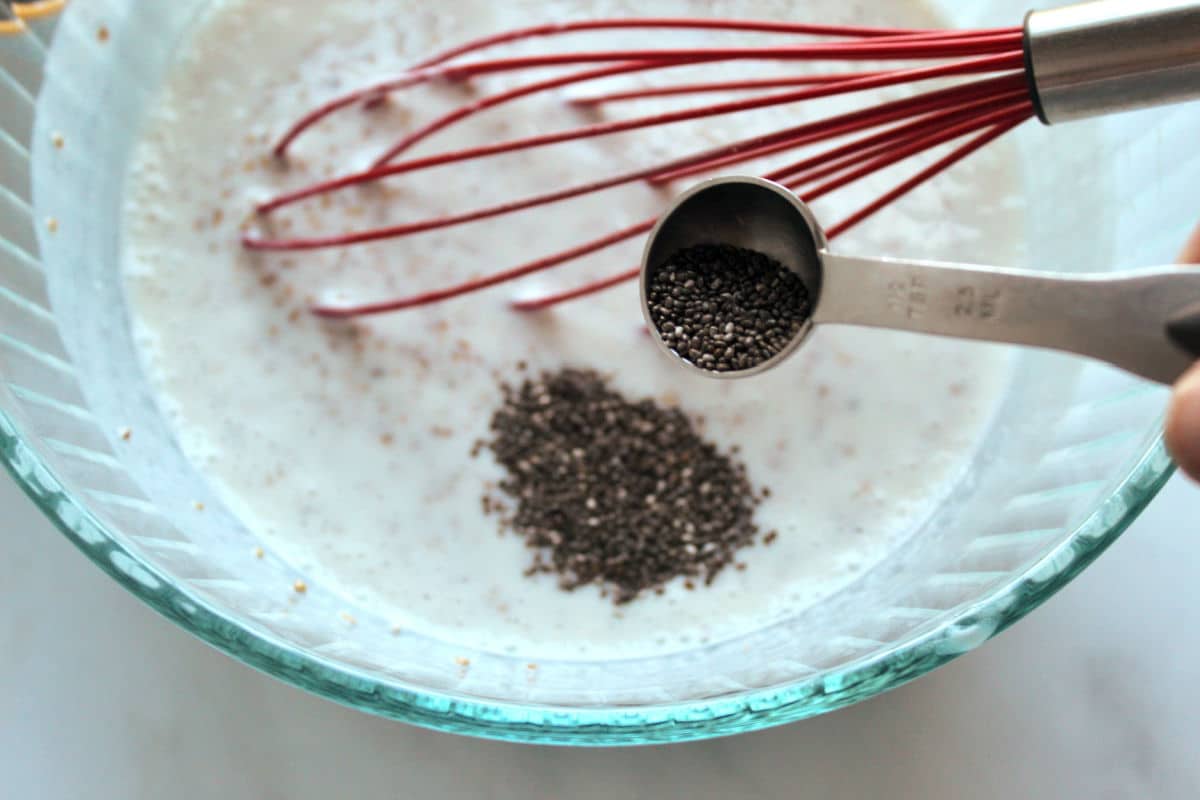 Gently stir in blueberries.
I like to individually portion in either 4oz or 8oz canning jars. It's easy to do with a canning funnel! It's an inexpensive purchase and I use it often (when portioning sauces or other liquids to freeze etc.).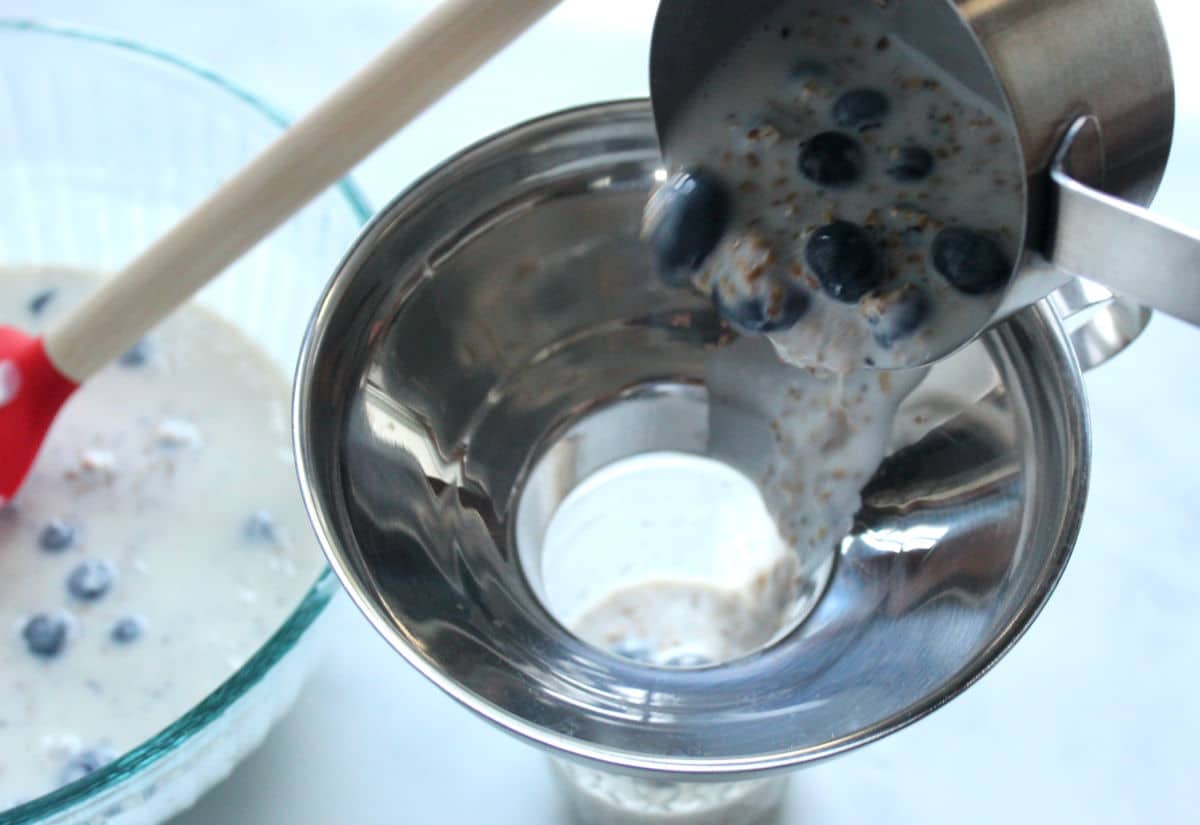 Is this eaten cold or hot?
The next morning, grab and eat! No work required! It is cold oatmeal and the first couple of times that didn't appeal to me. I took the lid off and microwaved for about 30 seconds, gave it a stir and it was perfect for me! Love the texture, the flavor and the fact that it's ready to go in the morning. It's up to you if you would like to eat your oats cold from the refrigerator or warm them up a bit in the microwave.
My kids don't like plain yogurt.
Neither do I. I usually use vanilla flavored Greek yogurt. It is stirred enough so people don't usually realize it's Greek yogurt (with all that extra protein). I have in the past used flavored yogurt. Below is a serving of strawberry oats where I used strawberry yogurt and cut up strawberries.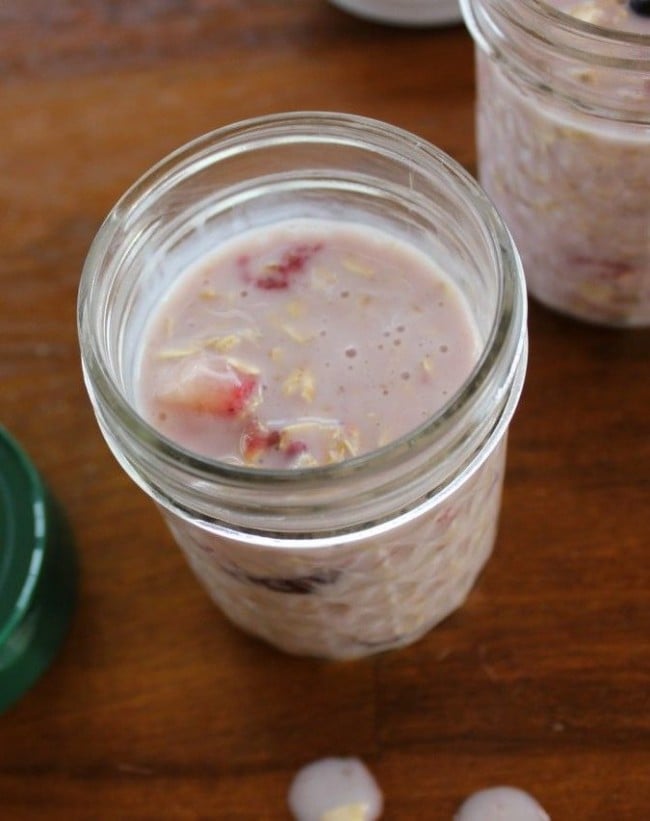 Regular milk is not my thing.
This tastes great if you use almond milk, coconut milk, cashew milk or even oat milk. Use whatever your preferred milk is, whether it's dairy or dairy-free.
I'd like to add some interesting toppings or flavor boosts
Love peanut butter? Add some (nut butter works too!). Or, drizzle the top with maple syrup or honey just before serving. If you have nuts like almonds or walnuts, sprinkle some on top. Cinnamon, chocolate chips, chopped dried fruits or any other delicious foods you may have in your pantry are fine. It's up to you!
Steel cut oats substitution
I use old-fashioned oats to make this all the time! Overnight oatmeal recipes can be made with any type of oatmeal you use at home. Gluten issues, just make sure your oats are gluten-free oats (processed so there isn't any cross-contamination).
If you do use substitutions, just estimate the ratios to be similar to what this recipe states. It's very forgiving when you change your ingredients around.
So, you didn't plan ahead and make these? Go ahead and set up a quick yogurt bar for your family. It's another yogurt breakfast option!
Overnight Oatmeal printable recipe.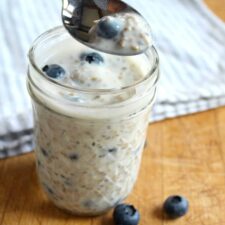 Overnight oatmeal - breakfast with yogurt, oatmeal & fruit.
No cook overnight oats – yum! A quick, healthy and delicious breakfast. Perfect to take with you!
Print
Pin
Rate
Servings:
3
servings (8 oz each)
Ingredients
1

cup

steel cut oats

old-fashioned oatmeal is a great substitution

1

cup

Greek yogurt

plain or vanilla is best

1

cup

milk

1

cup

fruit - blueberries for this recipe

roughly chopped - can use fresh or frozen fruit

1

teaspoon

chia seeds

optional
Instructions
Mix oats, yogurt, milk and optional chia seeds in a bowl. Add blueberries and gently stir.

Portion in serving containers before placing in the refrigerator.

If you don't have any mason jars handy, use a glass and cover tightly with plastic wrap.

Place in fridge overnight. The next morning it's ready to eat. If not a fan of cold oatmeal, heat about 30 seconds in the microwave and stir.
Notes
Feel free to substitute your favorite yogurt, milk or fruit!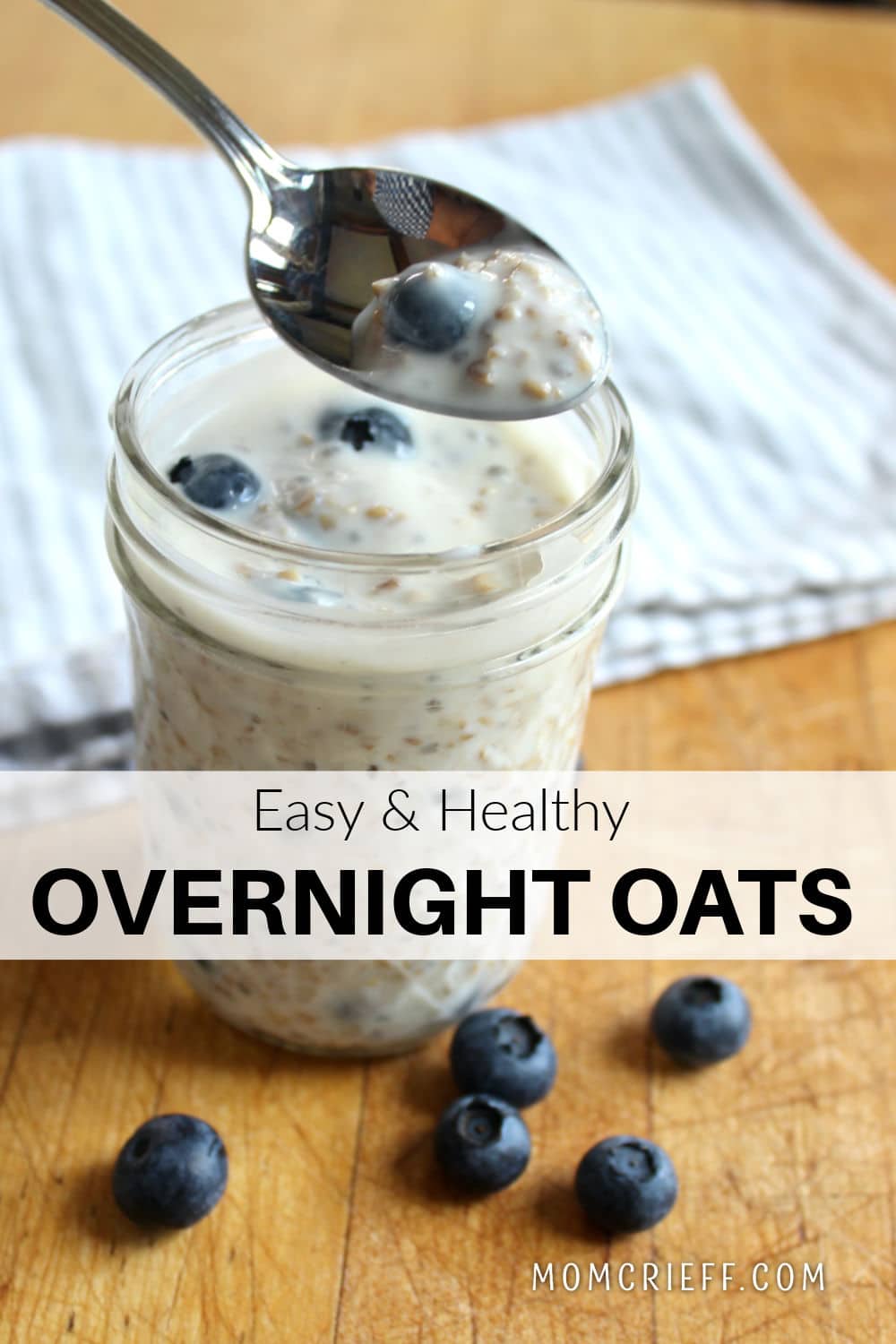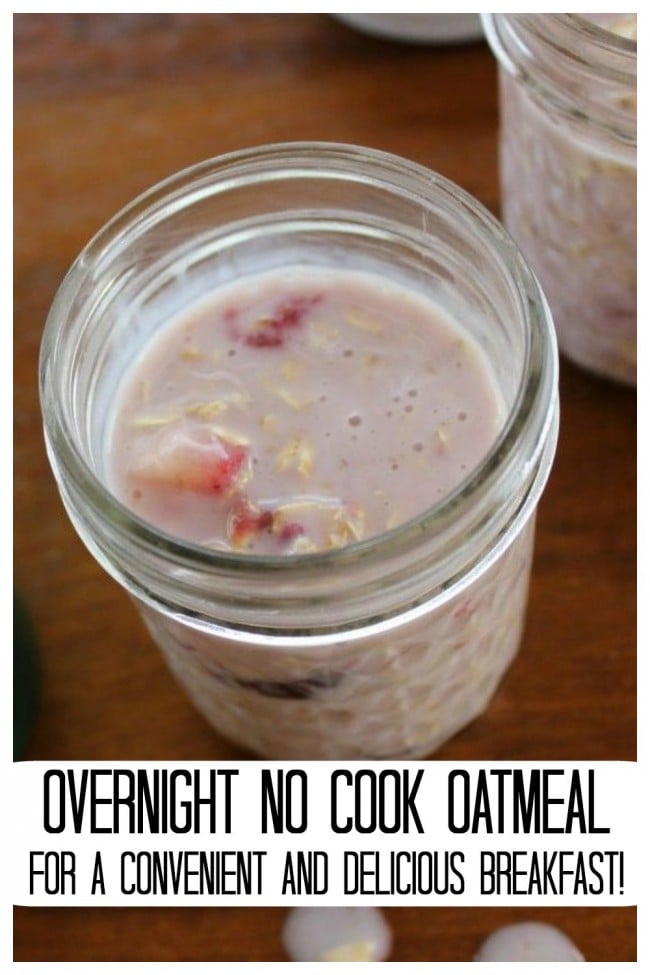 Do you have any other easy breakfast recipes?
Yes! Here are a few other easy breakfast ideas for you. These are baked but are easy!
Two Ingredient Pumpkin Muffins
Chocolate Banana Muffins - Three ingredients
Monkey Bread, aka Caramel Rolls
Originally published May 26, 2013