Come take a look at my Christmas tour! I'll have to confess, this is from a couple of years ago but many of the Christmas decorations, I've repeated because I've liked them so much!  You may be a new follower or, a reader for a long time.  Please take a quick look and hopefully, I'll inspire some decorating ideas!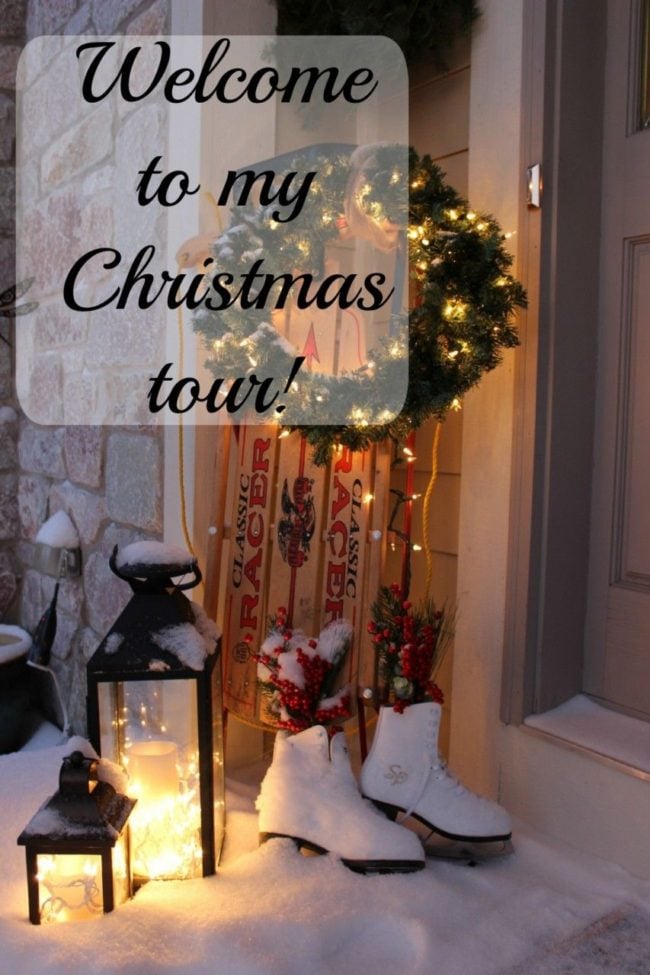 It was the year where I reused/repurposed/recycled a lot of what I had.   Was going for more of a sparkly, clean look. It was a winter wonderland theme vs. the traditional red and green that I usually did.  OK, time to start the Christmas tour!
You'll see my bench by my front door.  I pulled it out into the lawn.  Before, it was tucked into my flower bed.  Then, I added some smaller Christmas trees (I had these but wasn't planning to use in the house).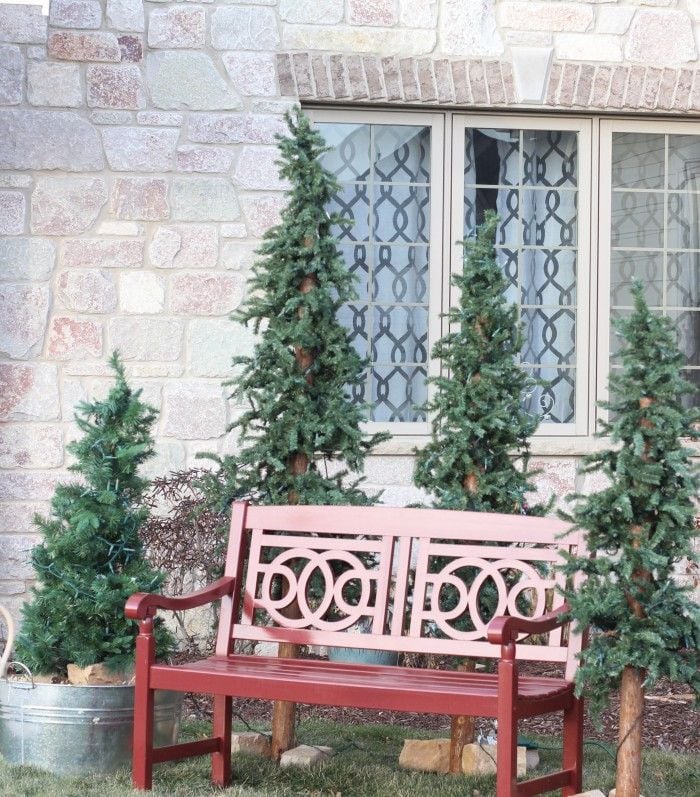 Sorry, our snow melted!  That's the challenge of living in Wisconsin.  When we want snow for Christmas, sometimes it melts.  Then, when we don't want it in the spring, it stays forever!  My bench with the trees looked so pretty with the snow on the trees and on the lawn!  Sighhhh.
The trees light up and I see them from my home office.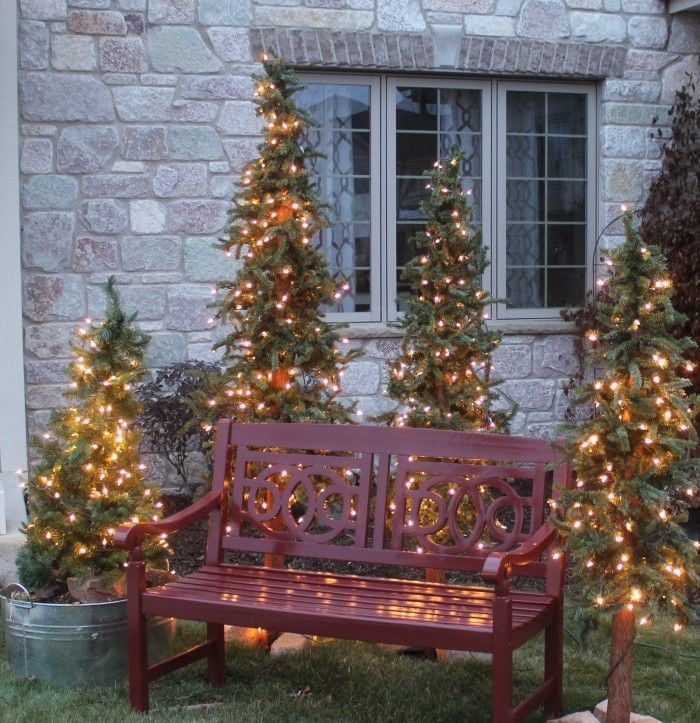 I finally found an old sled for a reasonable price.  My front porch was very simple this year.  Fortunately, I managed to get a picture with the snow!  Finally found a good use for the skates I will probably never wear again :)!   I really enjoyed figuring out how to add lights to my front porch.   So much prettier than just stringing lights around the door or the front posts.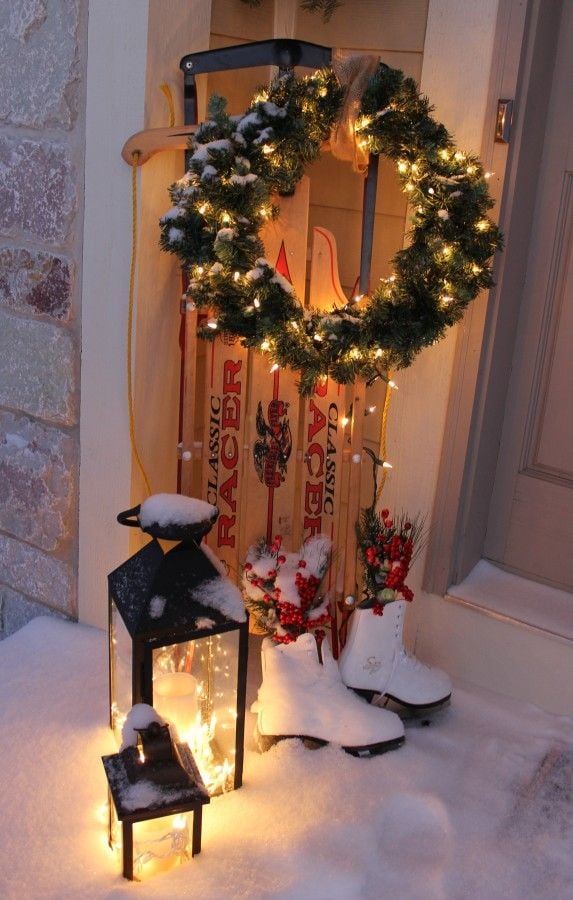 I just love the glow of the white lights!  We need to see those lights since the winter is so long, dark and dreary!
Christmas Tour Decor Indoors
When you come into my home, you see my office/family command center/blog room, computer room etc.   I LOVE this room and just went with a less is more theme.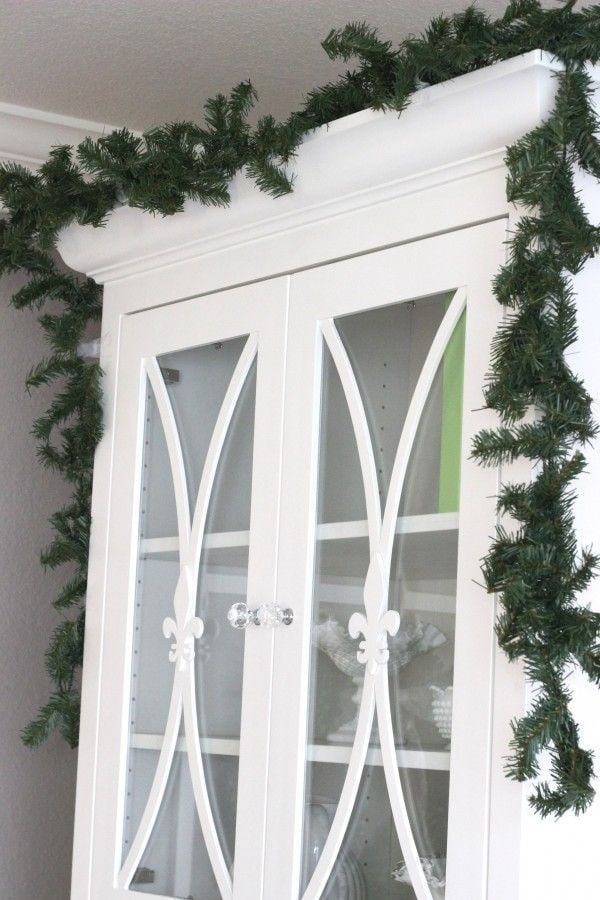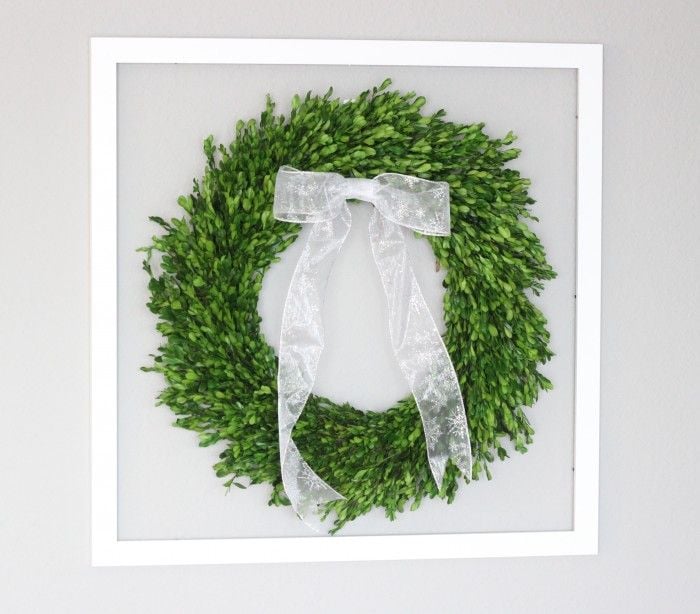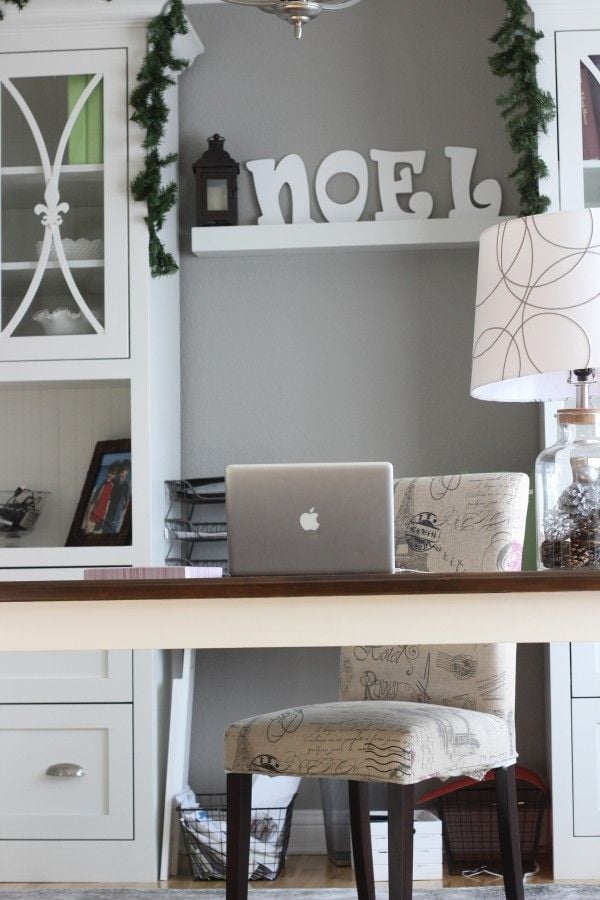 Just keepin' it real.  I can't seem to get all the paper under control!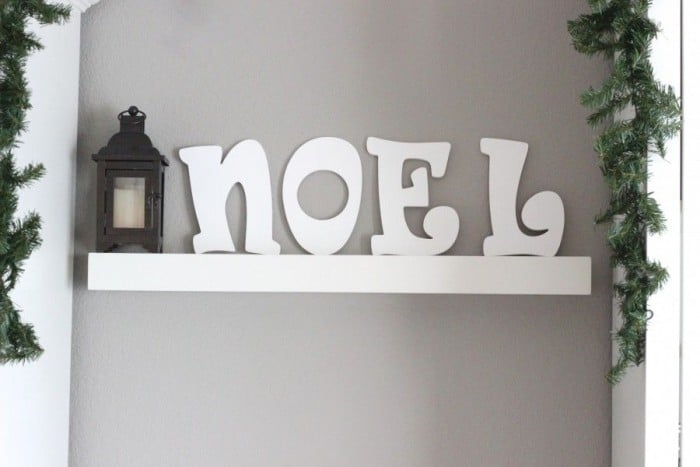 This year, I'm decorating the high traffic/high visual areas.  Obviously, the main room is the kitchen!  I have a red country china cabinet and I decorated the top.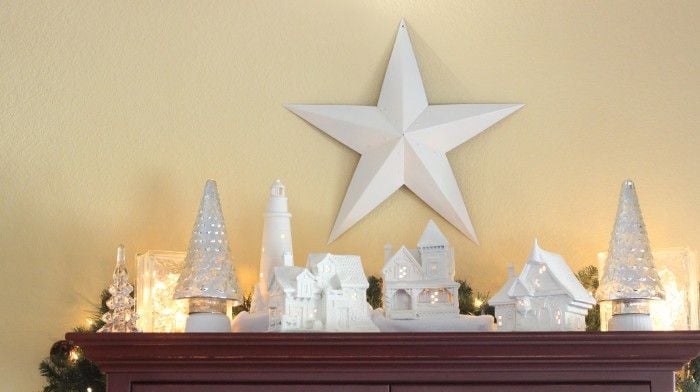 A closer look.  This is actually one of my favorite areas of my Christmas tour.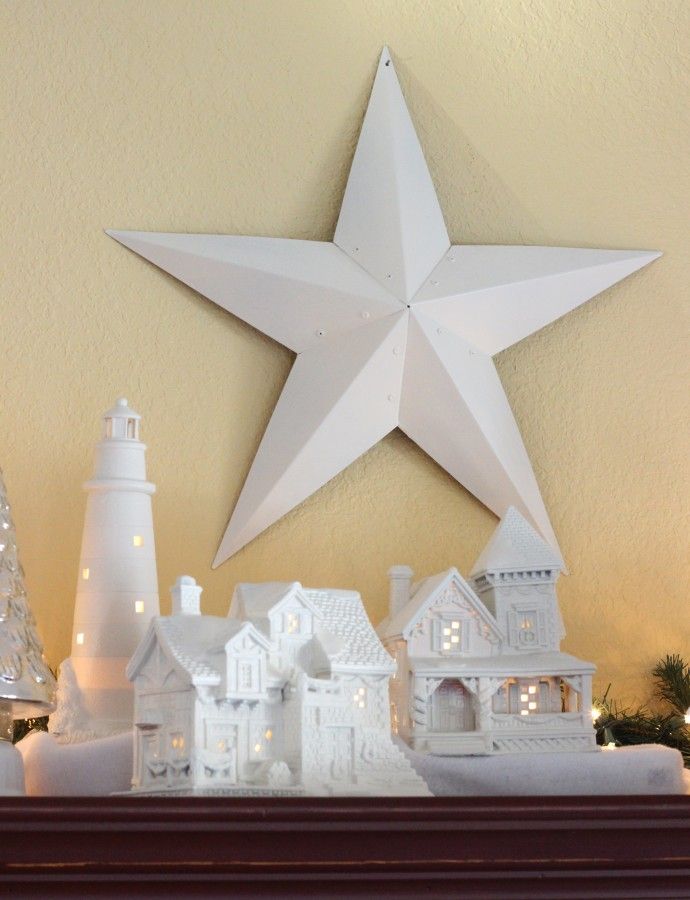 These Christmas houses were my old colorful Christmas houses.  I was tired of them, felt they were dated, but just couldn't throw them out.  Sooooooo, last year I spray painted my Christmas houses and LOVED the look.  Just follow the link to the tutorial.  I did three last year and then another 5 this year!
I have lots of lights up there.  The houses glow beautifully!   There is green garland with white lights and, I have a lighted block behind my mercury glass Christmas trees.    I have all of this on a timer.  It turns off when I go to bed and it greets me in the morning (since it's still dark).   It just starts my day off on a happy note!  I cannot recommend using timers for Christmas lights enough.  And, remember to add a couple of hours in the morning.  It's so much nicer coming into the kitchen with soft Christmas lights in the mornings.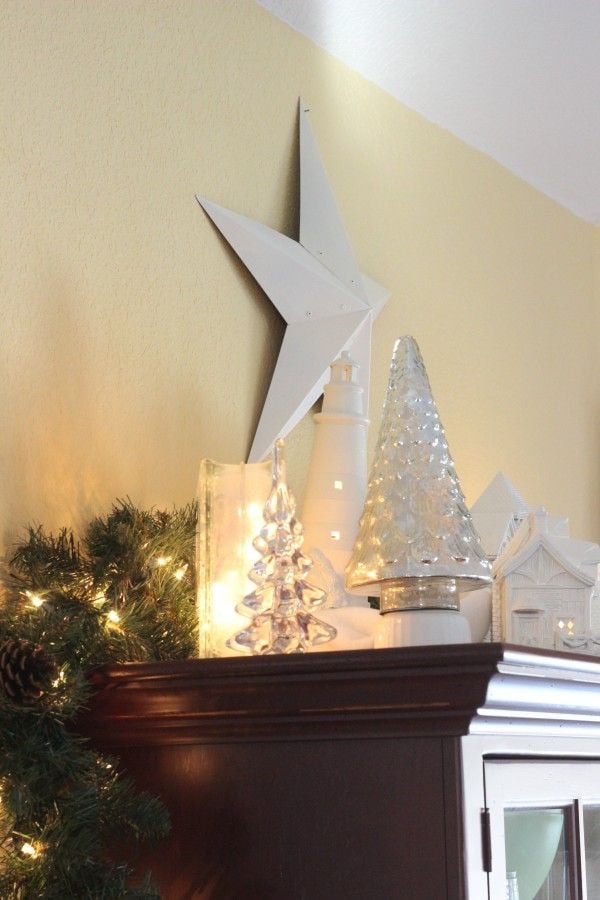 Of course, my kitchen table also has a touch of Christmas.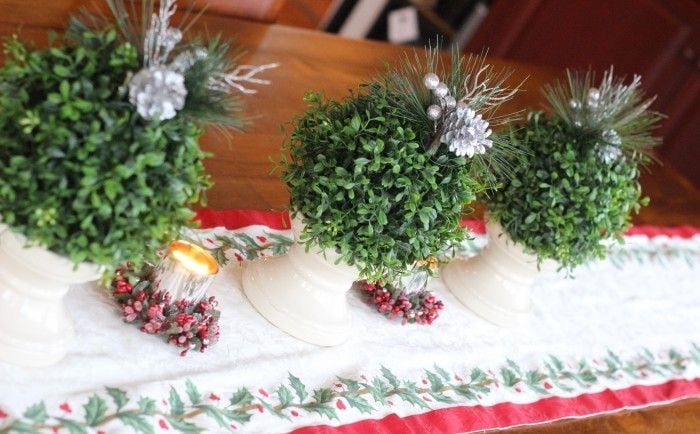 Sometimes, I just like the simplicity of white milk glass containers with silver ornaments.  Am for some reason loving milk glass, even though it is hard for me to find.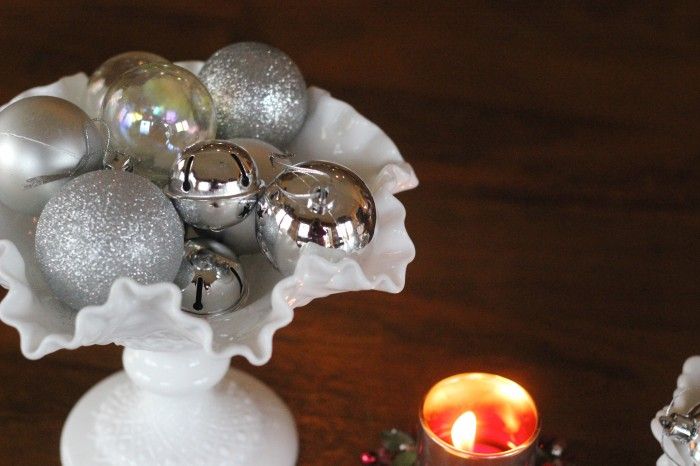 Now to my family room mantle.  I went with simple white, silver, and green garland for a touch of nature.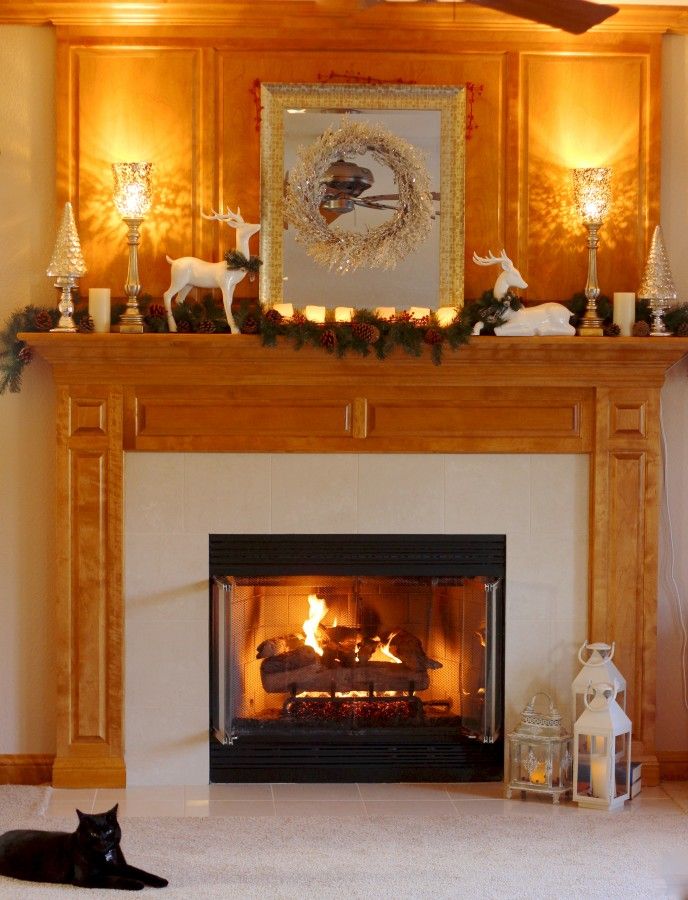 That's my cat Raji photobombing.  He also sends e-mails and, even posted on Facebook last month.   This kitty LOOOOVES curling up on my laptop keyboard :).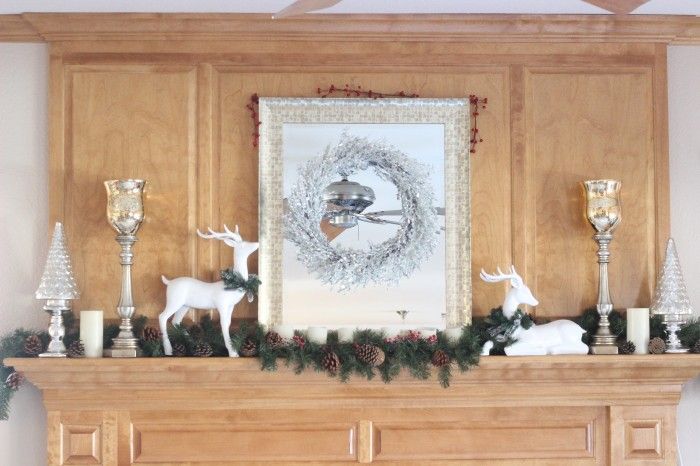 Just a few close ups of my Christmas decor in this part of my home.  More of a winter theme then a Christmas one.  That means I can leave it up for the new year!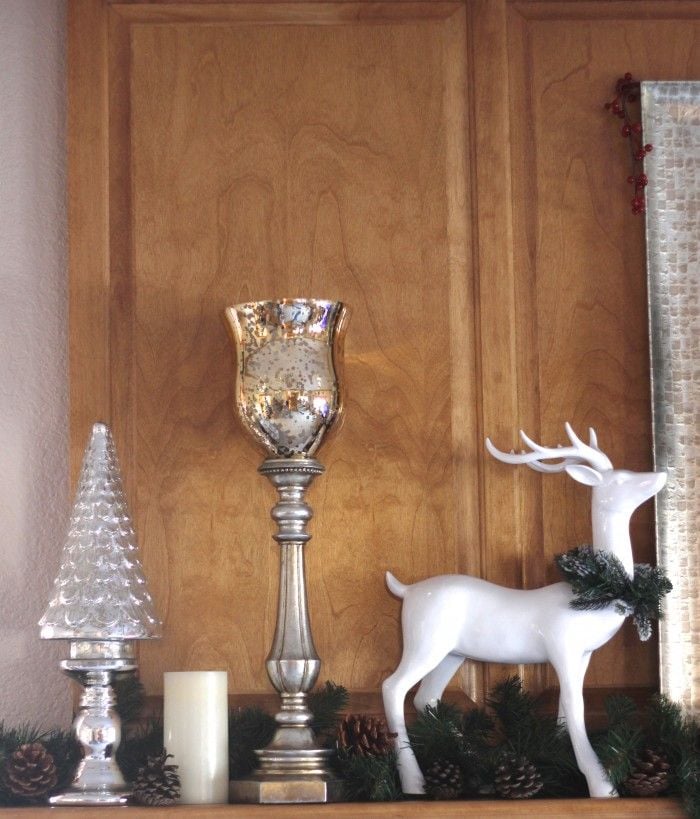 My favorite part of my mantle are the candles which glow at night.  These candles are electric and plugged in to turn on.  Wish I could find more!  They look so pretty and no one can tell they have an electrical cord attached to them on my mantle.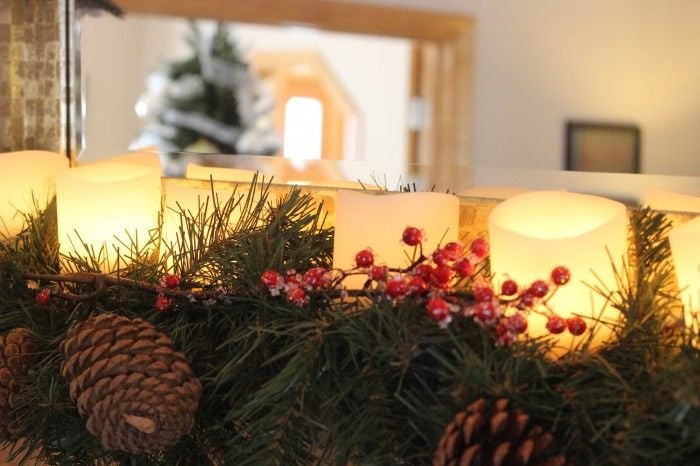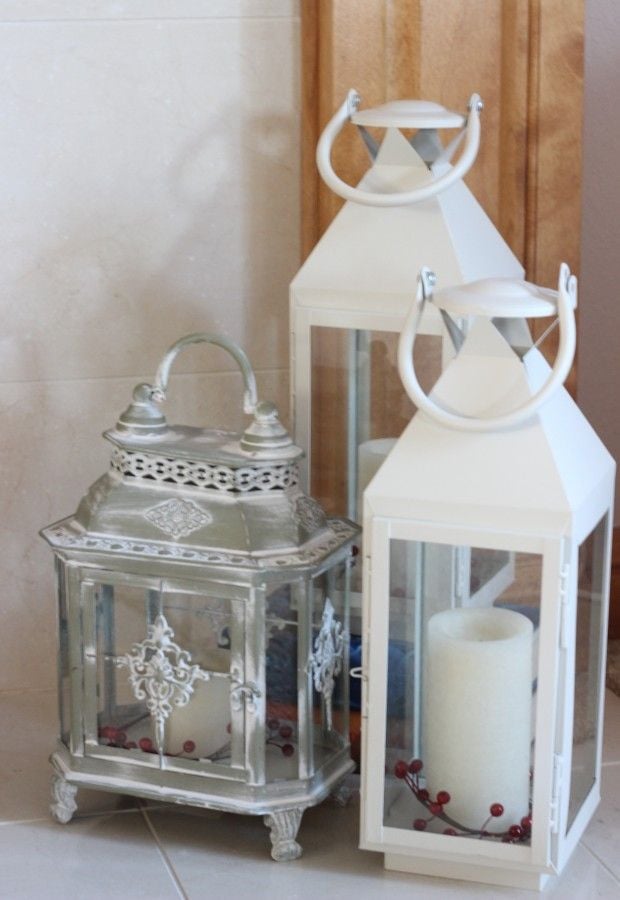 Just a super quick look at my tree during this Christmas tour!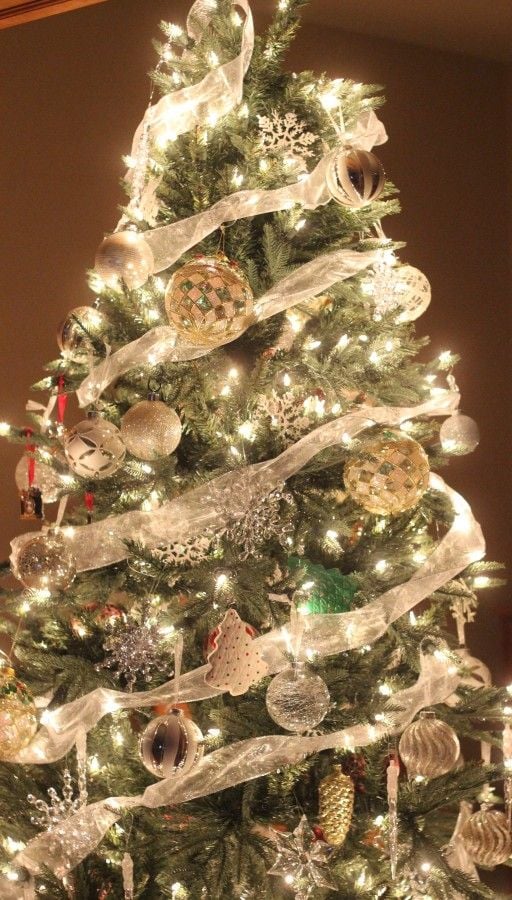 OK, pay attention.  This was my tree (for a day) last year.  Do ya love the topper?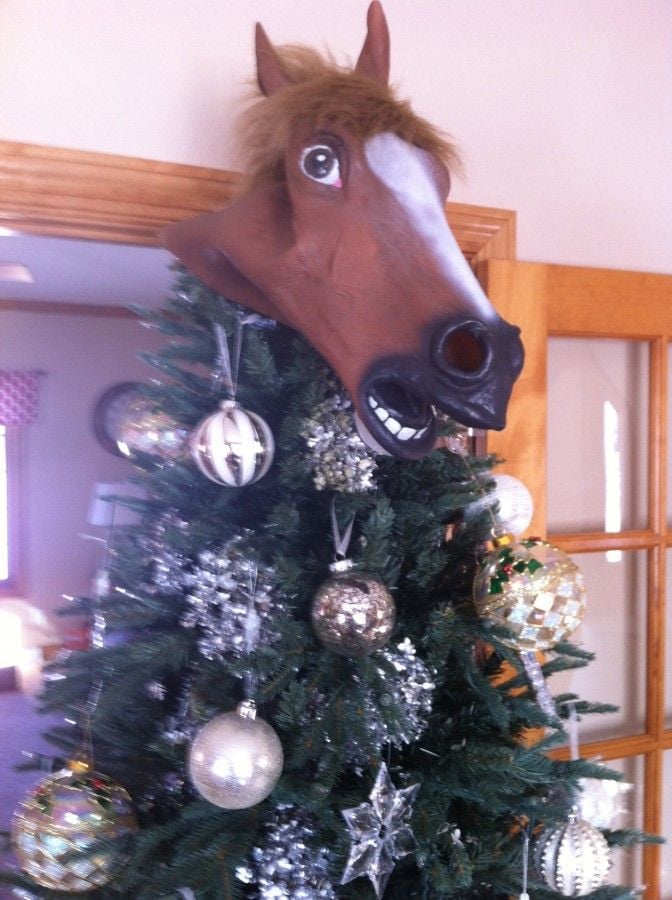 That's what happens sometimes when you live in a house with two teen guys.  They keep me laughing and on my toes!
Thanks for stopping in for a visit.  I loved showing you around and hope you enjoyed your Christmas tour of my home.  Hope you have a wonderful Christmas!
Take a peek at my outdoor Outdoor Christmas decorations in my neighborhood post.  Lots of decorating ideas for next Christmas!