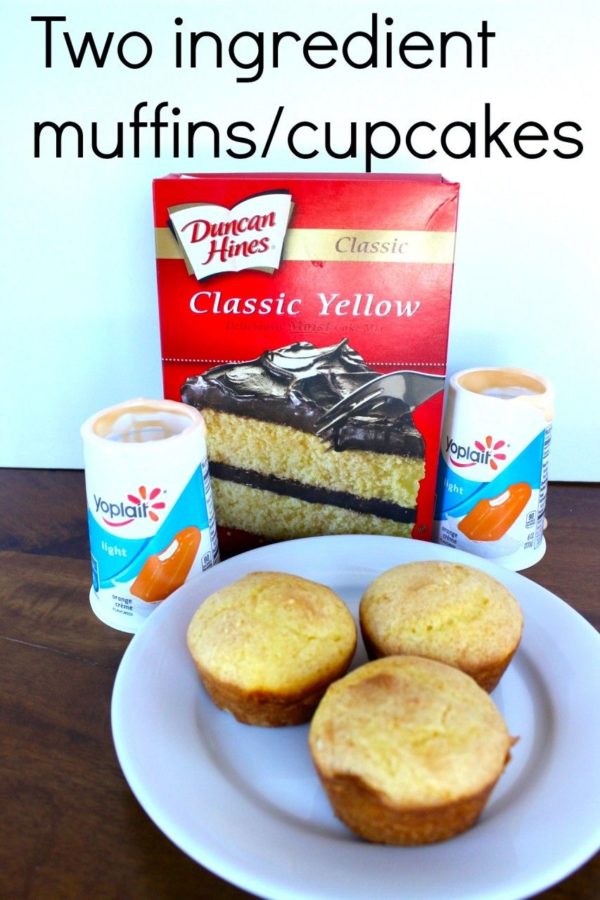 Here's a recipe for two ingredient muffins / cupcakes. I'm not sure if I should be calling these muffins or cupcakes. I always think muffins are the healthier options and cupcakes are more a dessert. But, when you look at calories of a muffin at a coffee shop, a muffin certainly isn't a healthy option. Maybe it's the size of the muffin? That's what I'm trying to convince myself of.
The two ingredients, a boxed cake mix and yogurt. Of course, by using yogurt they are healthier. Soooooo, does that make them muffins? I want to call them a muffin! But, I know some readers get upset at the idea that this could be a muffin because I'm using cake mix. I'm confused :).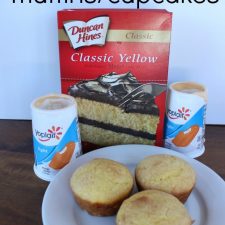 Ingredients
1

box cake mix

use a good name brand, it can make a difference!

16

oz

of yogurt.

vanilla would be the 'normal' flavor
Instructions
Preheat your oven to 350 Fahrenheit

Makes 12 muffins.

Pour cake mix into a bowl. Stir out the larger lumps

Add 16 oz of yogurt (I used light dreamsicle)

Stir together. I ended up using a mixer because I don't like lumpy dough.

Spray your muffin tins and add dough to make 12 muffins.

Bake approx. 18 minutes. Sometimes it takes 1 - 2 more minutes depending on your oven.

I don't frost these because I don't want to add all the sugar. My kids snack on these and enjoy them just fine without the icing. They are really moist and kept well for a couple of days.
Ok, let me tell you that I couldn't even taste the creamsicle flavor in the muffins. I was disappointed. I just felt like a little taste of summer. Creamsicles were my favorite flavor of popsicle when I was young. I've made these muffins/cupcakes a few times and I usually use vanilla yogurt. Vanilla yogurt would be the 'normal' flavor but go crazy, try whatever you have on hand! These are two ingredient muffins. You can certainly experiment. I bet a chocolate cake mix would be awesome with a banana yogurt.