Topsy Turvy cupcakes were at the new breakfast/coffee place in town. They looked sooooo good. I was there with my golf bestie, Lori. Yes, we are the crazy ones who golf at 7am in the summer and don't feel like a cheeseburger at 10:30 so we go out for breakfast instead.
The topsy turvy cupcakes look devine!
All chocolatey and cream cheesy. Mmmmmmmmmm.
It's not hard to make either! The list of ingredients looks a little long but it's nothing fancy. The only thing I had to pick up at the grocery store was some cream cheese.
Plus, this recipe easily makes 24 cupcakes. Keep some and give some away!
Make sure you grab your favorite bowl and spoon!
Are your ready for an awesome recipe? Here it is:
Print
Topsy Turvy cupcakes - from Lori's Aunt Rita.
Author:
Prep Time:

10 minutes

Cook Time:

25 minutes

Total Time:

35 minutes

Yield:

24

Category:

Dessert, Snack
8oz

cream cheese

1

egg

⅓ cup

sugar

⅛ teaspoon

salt

1 cup

chocolate chips

3 cups

flour

2 cups

sugar

½ cup

cocoa

2 teaspoons

baking soda

1 teaspoon

salt

2 teaspoons

vanilla

⅔ cups

oil

2 cups

water

2 tablespoons

vinegar
Instructions
Cream cheese mixture.
Step 1
Beat together 8 oz cream cheese, egg, ⅓ cup sugar, ⅛ teaspoon salt. Stir in1 cup chocolate chips. **Set aside.**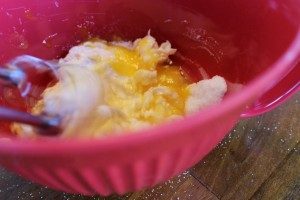 Dry flour/cocoa mixture.
Step 2
Combine flour, 2 cups sugar, cocoa, baking soda and salt.
Liquids to be added to dry flour/cocoa mixture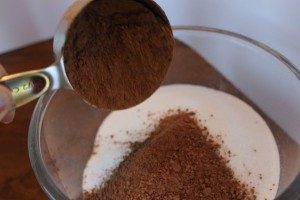 Step 3
Add these liquids to dry flour mixture: vanilla, oil, water vinegar. Beat until well combined (batter will be runny).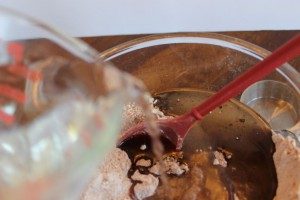 Step 4
Fill 24 cupcake cups (lined with papers) ½ full of flour/cocoa mixture.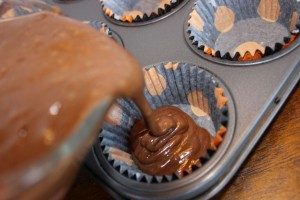 Step 5
Top with 1 TBLS cream cheese mixture. Not huge heaping TBLS or you will not have enough and will have to just sprinkle some extra chocolate chips on some naked cupcakes.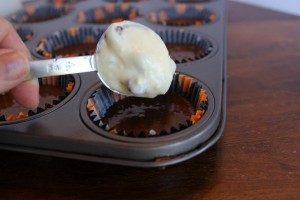 Step 6
Bake 15 - 18 minutes at 350 degrees. Test for doneness in the chocolate part.