If you've never heard of a brookie, it's a combination of brownie and cookie. Could it get any better? I think not! This is the simple and quick to make version. These are perfect for those days when you have a chocolate craving and can't decide if you want a brownie or a chocolate chip cookie.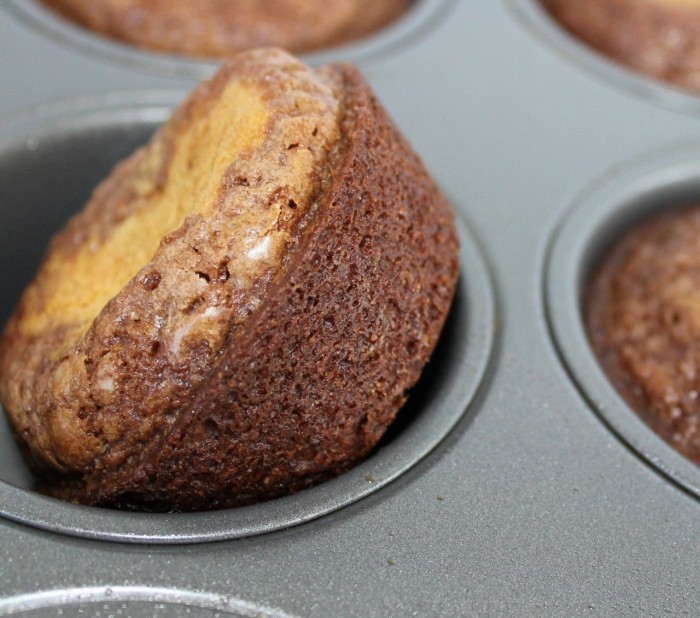 We are using both a brownie mix and a package of ready to bake cookies. This recipe is quick and great for a group. This Scotcheroo recipe is also easy and delicious treat for groups! But it requires a little more work (and is chocolate and peanut butter flavored!
Why I love these
This satisfies a chocolate craving like no other dessert I know.
You don't need to decide between brownies and cookies. You can have both in one bite!
I've never seen anyone else bring these to a get-together. It's a unique dessert.
Easy and quick to make.
Not a bunch of fancy ingredients. Just two items to pick up from the store. The rest, I'm sure you have at home.
Ingredients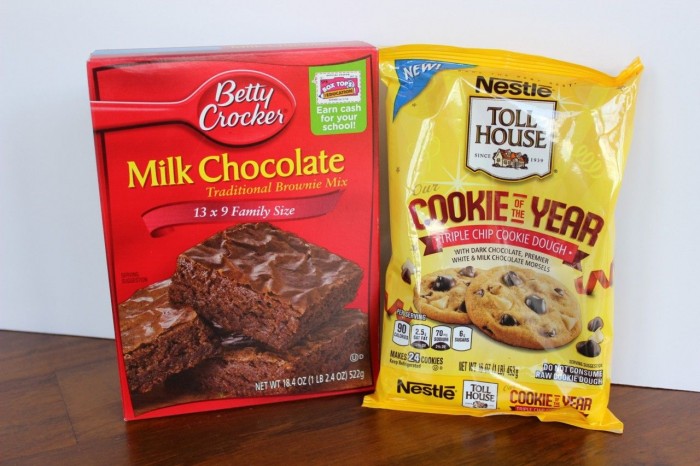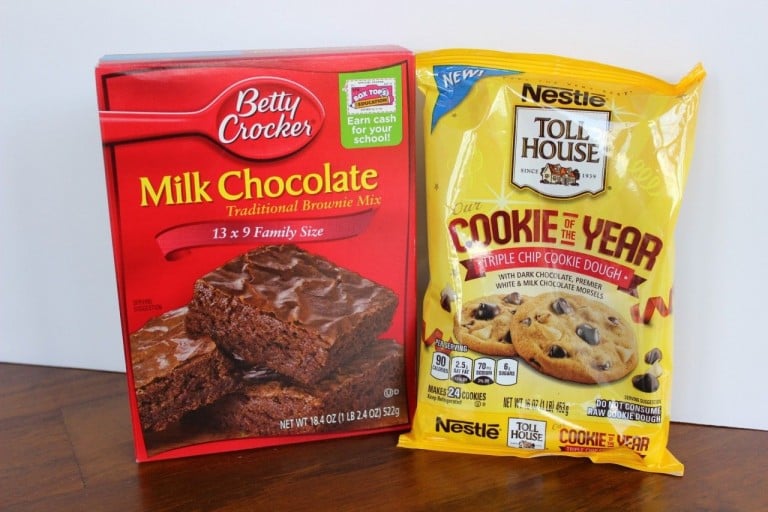 Brownie Mix - pick up your favorite brownie mix plus the ingredients listed on the box to make.
Eggs - needed for the brownie dough
Oil - For the brownie dough - I use vegetable or canola
Ready-made cookie dough - in the refrigerated section of your grocery store.
Substitutions
If you have a favorite brownie or cookie dough recipe, feel free to make it! As is, this recipe is meant to be super quick and easy.
Instructions
Preheat oven to 350F
Step 1
Prepare brownie mix according to the package directions you are using. This normally involves adding eggs, oil and milk.
Step 2
Place brownie batter into generously sprayed muffin tins. OR, use paper or foil cupcake liners. You only want to fill each well ½ full (or even a touch less).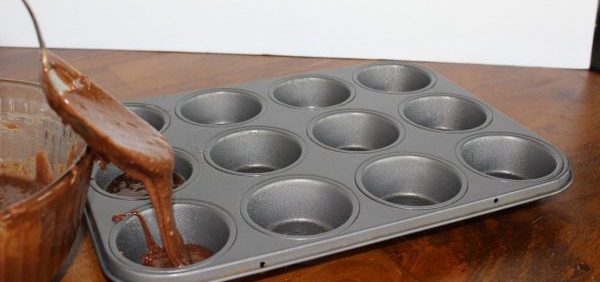 Step 3
Take prepared cookie dough and make a small disk. This is about ½ the dough of the recommended cookie. This dough disk should float on the brownie batter. It should be small enough that it doesn't touch the edges of the muffin well.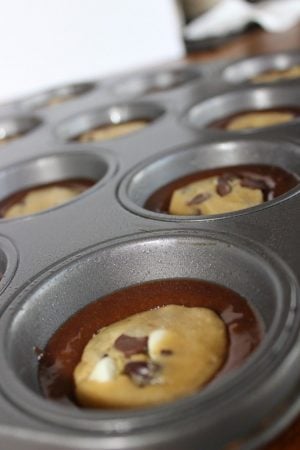 Step 4
Bake for approximately 20-22 minutes. Test with toothpick to see if done.
Step 5
Cool for approximately 15 minutes and remove from muffin tin.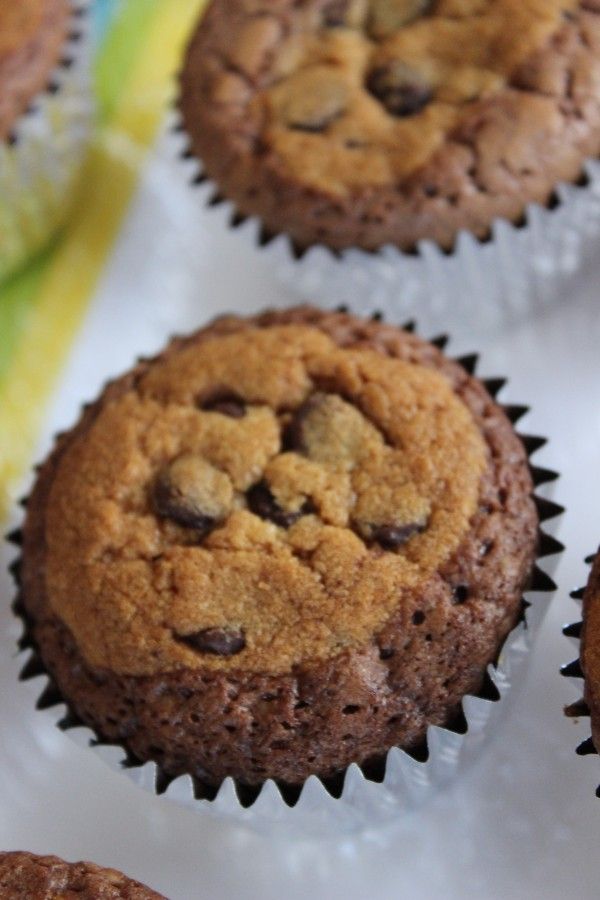 Helpful Hint
This is a helpful brownie hint. If they are not releasing easily from the pan, use a PLASTIC knife to run around your brookie to get it out of the muffin tin. For some reason plastic knives are the best to cut around brownies. Plus, they save your pans!
When I make these, I end up having 18 brookies. If you are a little less generous with the brownie batter, I'm sure you could stretch it to 24.
What a great classroom treat!
FAQs
Can I use muffin liners?
Yes! I like using the foil ones for this recipe.
Can I use a muffin tin with smaller/larger muffin wells.
Of course! You will have to portion the brownie mix accordingly and adjust the baking time.
I've had brookies before with the cookie on the bottom.
Sounds delicious! I haven't made brookies that way but I think they would turn out great. I like people being able to see the cookie.
Storage
These treats store well in the refrigerator. Either keep in a sealed container or wrap with plastic wrap for approximately 5 days.
If you prefer to freeze, I wrap them individually and then place in a freezer bag. It makes it easier to take out individual portions and prevents freezer burn. I have kept them in my freezer for 2 months and they have been fine.
Other delicious desserts
Thaw to room temperature prior to serving.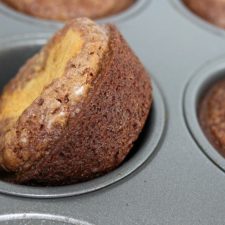 Brookie - a brownie cookie.
A brownie and cookie combined
Print
Pin
Rate
Ingredients
1

box

brownie mix

2

large

eggs

½

cup

vegetable oil

3

tablespoons

water

1

package

cookie dough

ready made break apart cookie dough
Instructions
Make your brownie mix according to the package directions that you are using. This usually involves mixing eggs, oil and milk to the mix and stirring.

Generously spray muffin tins with non stick spray. Generously!

Put brownie batter into muffin tins. You want to fill each about ½ full or a touch less.

Take prepared cookie dough and make a small disk. You want this to 'float' on the brownie batter.

Bake for approx. 20-22 minutes at 350 degrees. Make sure you test for doneness. My oven runs hot and often bakes faster than others.

Important tip: After your brookies cool for about 10 minutes, take a PLASTIC knife and run it around your brookie to get it out of the muffin tin.
Nutrition
Serving:
1
g
|
Calories:
262
cal
|
Carbohydrates:
33
g
|
Protein:
3
g
|
Fat:
13
g
|
Saturated Fat:
3
g
|
Polyunsaturated Fat:
4
g
|
Monounsaturated Fat:
5
g
|
Trans Fat:
0.04
g
|
Cholesterol:
23
mg
|
Sodium:
141
mg
|
Potassium:
33
mg
|
Fiber:
0.2
g
|
Sugar:
20
g
|
Vitamin A:
36
IU
|
Calcium:
5
mg
|
Iron:
1
mg
Please pin this to your Pinterest account!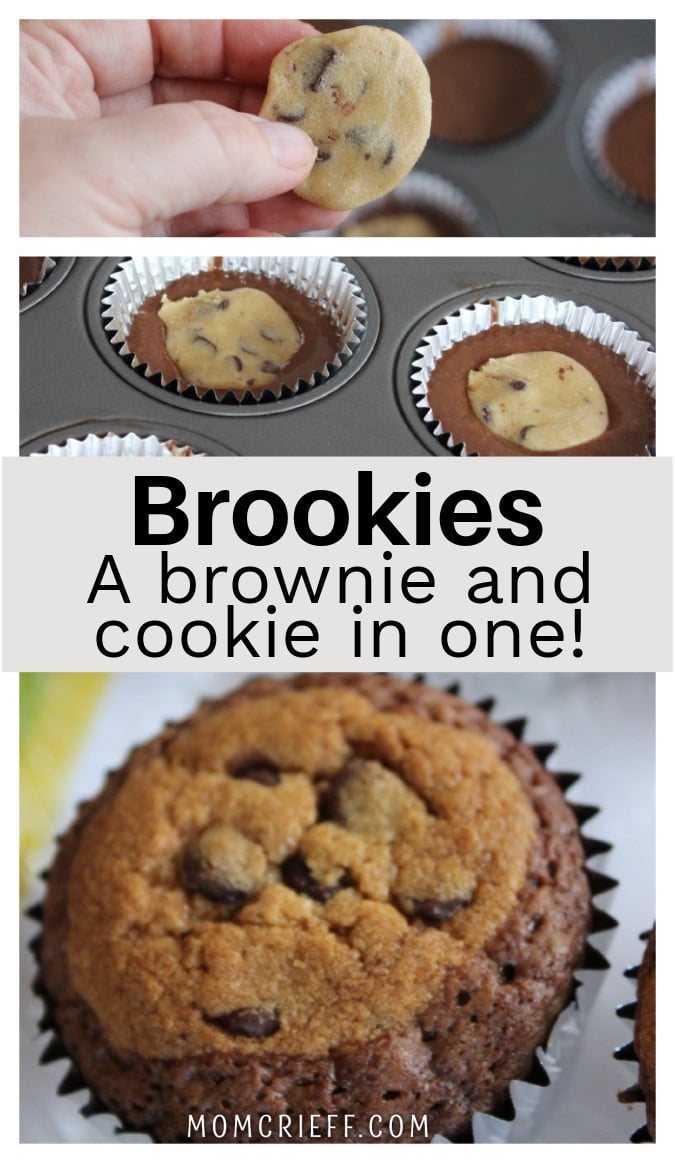 Sign up to read about easy recipes, gardening tips and my 100 year old home.