Roasted pumpkin seeds. I finally got it right. They are crunchy, salty snack and oh so flavorful. My secret to success? My neighbor Amy, the best roast pumpkin seed maker I know. I had her come over and tell me exactly every step. These roasted pumpkin seeds are delicious and it's a great tradition to add to your family Halloween pumpkin carving tradition.
Carving the pumpkin
Just a quick overview of how to carve a pumpkin. Hold the stem, and use either a sharp knife or the little carving tools you buy at stores just before Halloween. Personally, those cheap carving tools work great for me! Make sure you cut at an angle so the pumpkin lid can rest on the pumpkin and dosen't fall through. Scrape the pumpkin flesh with a strong spoon to get all the contents out. Sort and seperate the seeds. The stringy stuff should be removed but leave some of the pumpkin 'goo' on the seeds.
My little secret ... I started using my drill and an attachment to carve my pumpkins. And I added a solar light so that the light would go on automatically each night. No more worrying about candles.
How to make a solar carved pumpkin.
Prepare the pumpkin seeds
Scrape out those seds from inside the pumpkins that you will be carving. Sort the seeds from the pumpkin guts in a bowl.
But, wait for it, this is soooo important! Do NOT rinse the pumpkin seeds. Let me repeat, do NOT rinse the pumpkin goop off your pumpkin seeds. You need to leave some of the pumpkin pulp and the stringy bits on the seeds. It actually makes making roasted pumpkin seeds so much easier.
Use a paper towel to dab the seeds so they are a little dryer. Just leave some pumpkin goop on the seeds and it gives the salt something to stick to and gives the seeds flavor.
Directions
Preheat oven to 350 Fahrenheit.
I like lining my baking sheet with parchment paper. Spray LOTS of baking spray on a cookie sheet (the kind with sides - I think the proper term is a jelly roll pan).
Spread out your pumpkin seeds in a single layer. Give the seeds a good spray with the baking spray. Gently toss them around the sheet to make sure both sides are well covered.
Find your course salt. I had some Kosher salt which worked great. Use lots. I used about heaping tablespoon worth. It's wayyyyy more than you think you should use. Yes, use it all! Don't forget, some of it falls off. It's OK!!
Bake the room temperature seeds for about 10 minutes, shake the pan to move around the seeds. If they stick to the pan or parchment paper, give them a gentle stir.
Bake for another 5 or 10 minutes until most of the seeds are a light brown.
They are nice and crunchy, salty and I'm sure full of lots of fiber (he, he). So
Enjoy your homemade roasted pumpkin seeds.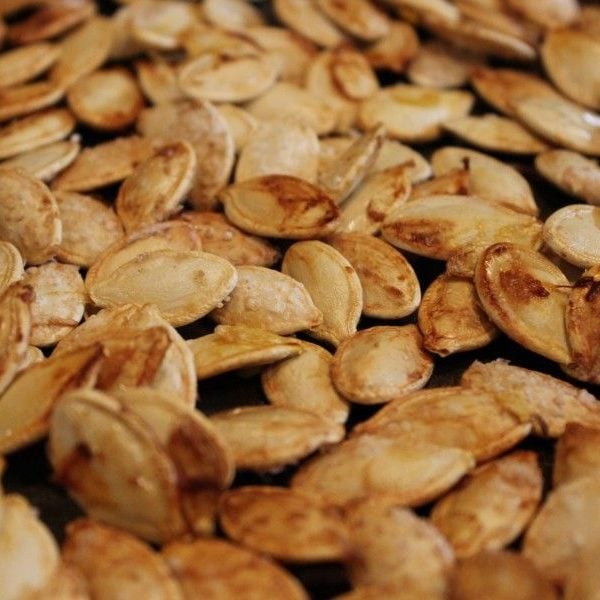 They are nice and crunchy, salty and I'm sure full of lots of fiber. So
Enjoy your homemade roasted pumpkin seeds.
Storage
Store room temperature seeds in an airtight container for about a week.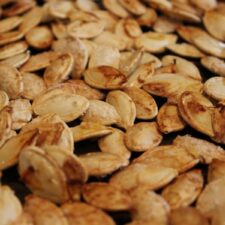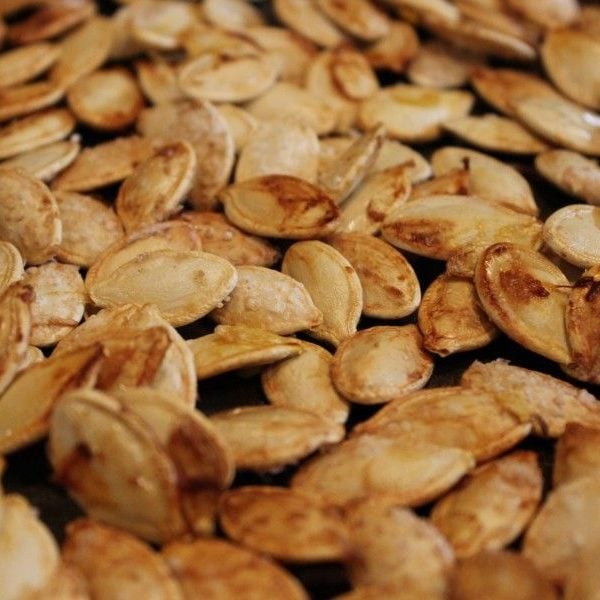 Easy Roasted Pumpkin Seeds (traditional)
The traditional way families have roasted pumpkin seeds.  Makes a nice crispy and salty snack. A great way to use up the seeds you scoop out of your halloween pumpkins.
Print
Pin
Rate
Ingredients
Fresh room temperature pumpkin seeds

Cooking or baking spray

sourse salt
Instructions
Preheat oven to 350 degrees

Line baking sheet with parchment paper

Spray pumpkin seeds heavily with cooking spray

Sprinkle with coarse salt.

Bake 10 minutes, stir and bake approximately 10 minutes

Watch for a nice golden brown color and then pull out the seeds.
Notes
My family like the traditions flavor of just plain salt.
Other spices you try to include:
Adding some fresh pepper
Adding ONE of curry powder, garlic powder, chili powder or smoked paprika
Store in an airtight container at room temperature.   Eat within a few days.
Looking for a really easy and delicious pumpkin treat? Or maybe breakfast? This two-ingredient pumpkin muffin recipe is quick, inexpensive, and delicious! I have to share with you this is the most viewed recipe on my blog!
Two Ingredient Pumpkin Muffins