Sometimes, a scratch recipe is fun to make. And tastes so good! I make both scratch recipes and what I call cheater recipes. Hey, sometimes you have the time and the ingredients, and, sometimes you don't.
This is an adaptation of a pumpkin apple bread recipe a friend gave me.Thanks Justine for the actual yummy pumpkin apple bread and then for sharing the recipe.
I've changed it into muffins because we are a muffin loving family. Plus they are easier to pack for lunches. Enjoy these pumpkin muffins. One recipe with two types of pumpkin muffins. We have pumpkin apple muffins and also pumpkin chocolate chip muffins.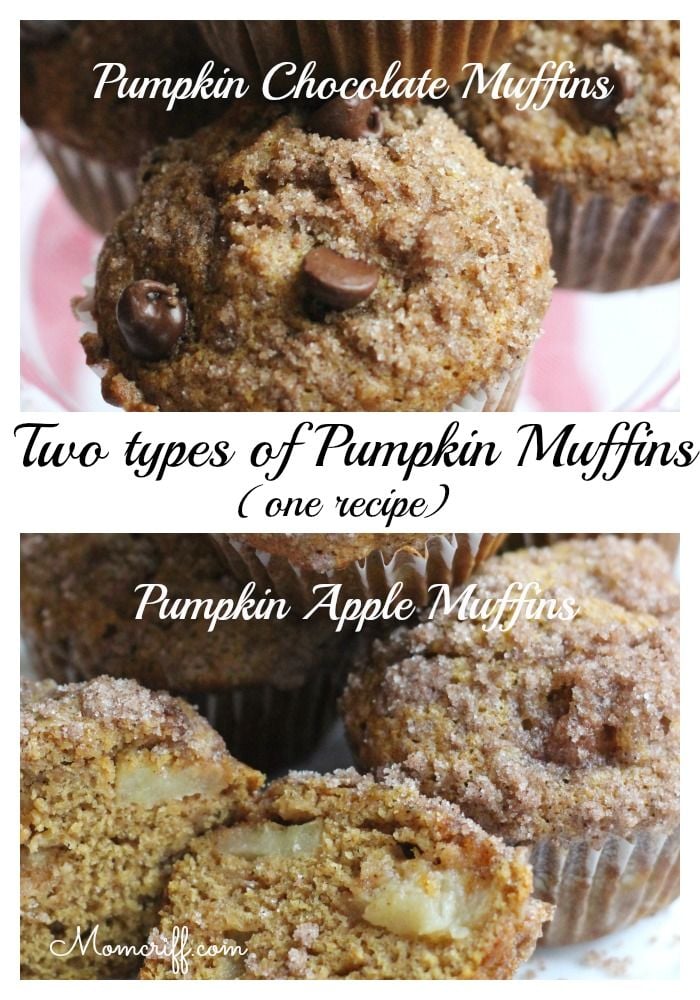 One of my kids doesn't like apples. In any form. Can you believe that? He doesn't like the apples in apple pie even. I have a hard time understanding this. But the original recipe was for all apple. Since this recipe makes 24 muffins, it was super easy to adjust this recipe to make ½ apple and ½ chocolate chip. You can make both or just one type. It's totally up to you. But, they are both really good! The pumpkin apple muffins are a little extra moist because of the apples baked in them.
Pumpkin Apple Muffins: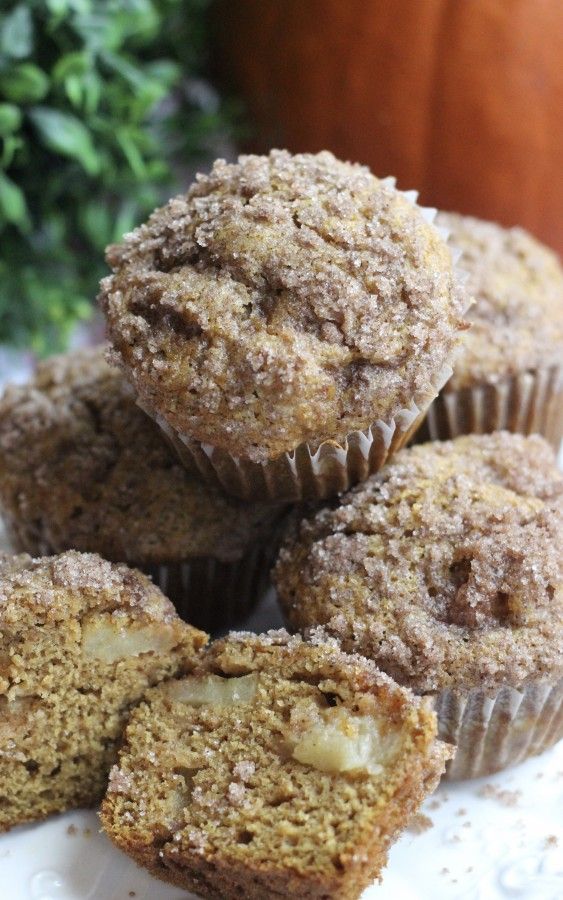 Pumpkin Chocolate Chip Muffins: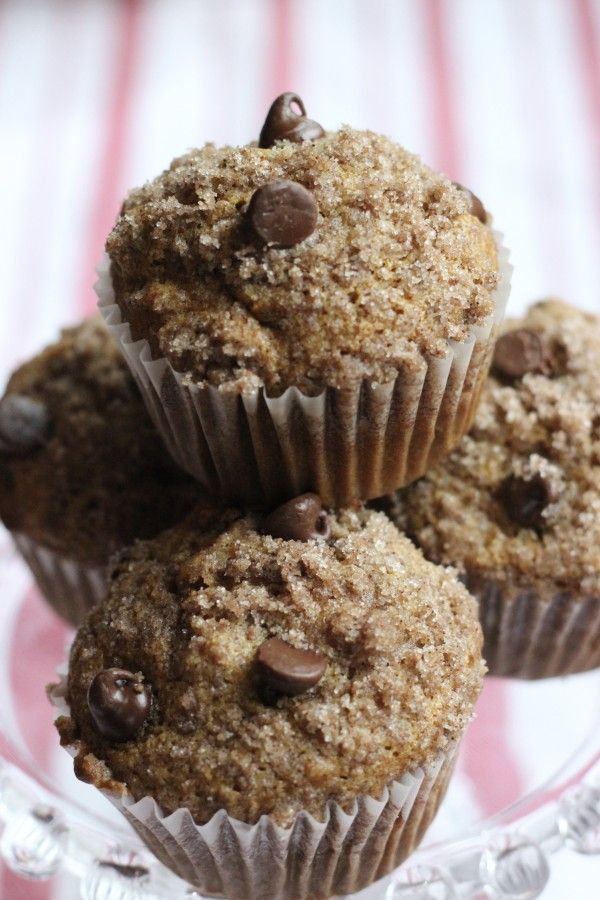 Here's the recipe for you! One recipe split into two types of muffins.
Print
Pumpkin Apple & Pumpkin Chocolate Chip Muffins.
For both Apple and Chocolate Chip Muffins
2 cups

all-purpose flour

1 cup

whole wheat flour

¾ tsp

salt

2 tsp

baking soda

2 tsp

cinnamon

1 tsp

nutmeg

1

15 oz can of Pumpkin

¾ cup

vegetable oil

2 cups

sugar

4

large lightly beaten eggs

1

chopped granny smith apple

1 cup

chocolate chips

1 Tbsp

all-purpose flour
For Crumble
5 Tbsp

sugar

1 ½ tsp

cinnamon

1 Tbsp

softened butter
Instructions
Preheat oven to 350 Fahrenheit
Makes 1 dozen Pumpkin Apple Muffins and 1 dozen Chocolate Chip Muffins
For the Muffins.
Stir together flours, salt, baking soda, cinnamon & nutmeg.
In a separate bowl, mix together pumpkin, oil, sugar, and eggs.
Mix wet ingredients into dry.
Split dough into half into two bowls.
Add chopped apples to one bowl
Add cup of chocolate chips to the other bowls
Dough makes total of 24 muffins. I found there is enough to make 12 apple pumpkin muffins and 12 pumpkin chocolate chips. (If you prefer only one type, just double either the chopped apple or the chocolate chips).
For Crumble
Mix all crumble ingredients together and rub together with fingers until mixture resembles course bread crumbs.
Scoop 1 dozen of each into either greased or lined muffin wells.
Sprinkle Crumble on top. There is enough to be generous!
I add a couple of chocolate chips right on top of the crumble, on the chocolate chip muffins, for easier differentiation.
Bake approximately 18-20 minutes. Testing with toothpick to see if they are done.
Enjoy!
This recipe was inspired by the Pumpkin Apple Bread recipe in a cookbook called, The Gourmet Cookbook, by Ruth Reichl.
These pumpkin muffin recipes are amazing. But, if you are looking for a much easier pumpkin muffins, have I got the recipe for you! It's a two ingredient muffin and doesn't take long to put together and then to bake. I make this one in the morning for breakfast sometimes. It's that easy!!
Or, do you love the idea of a Pumpkin and Nutella muffin, or a Pumpkin and Chocolate Muffin?
Three Ingredient Pumpkin Nutella Muffin
Three Ingredient Pumpkin Brownie Muffin.
Lots of options to choose from. I do recommend you try the scratch recipe. But, if you're short on time, go ahead and try some of the other 'cheater' recipes I've given you links to.