Ok, this Pesto Torte (Pesto & Sun dried tomato cheese ball) recipe is one I was given years ago.  Like, 10 years ago!   When I run across it in my recipe archives, I usually make it.  And, everyone loves it and wants the recipe.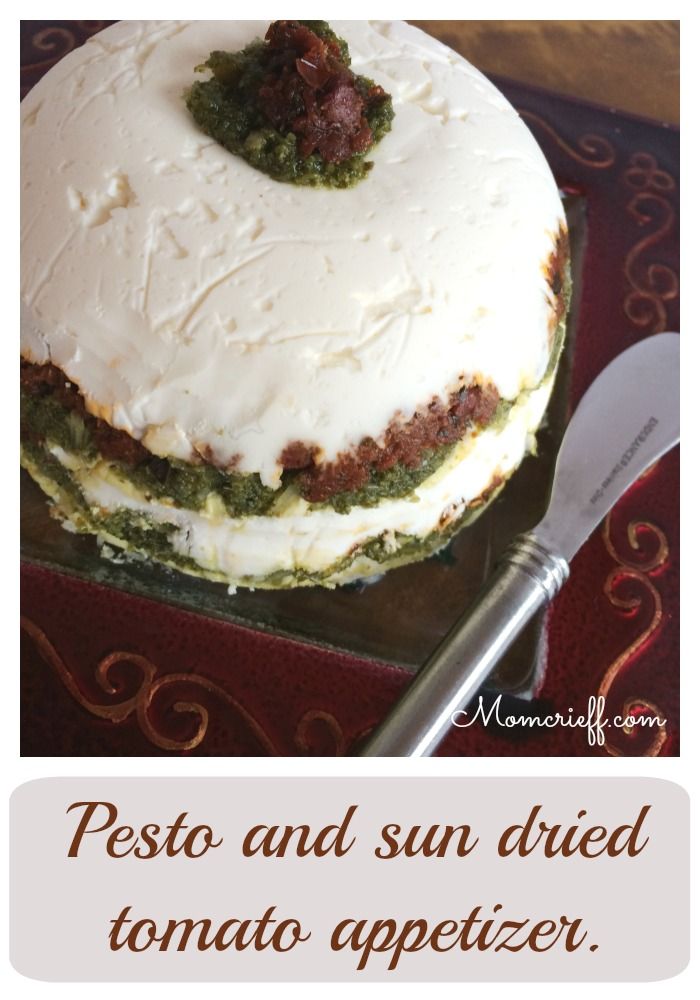 I don't think it's really a Christmas appetizer.  But, since it has red and green in/on it, in my books, it has become a Christmas appetizer!  So, that's when I make it!  Honestly, I haven't made it for years.  Then I saw the recipe and I had a lunch time book club meeting to go to sooooo, how could I not make it.  It was destiny : ).  Sometimes destiny tastes good.
Follow along for the step by step pictorial.   At the very bottom, you can print out the recipe without all the pictures.  I know you love the pictures but know how much ink costs!  So, here we go!
Add an 8 oz block of cream cheese and 3/4 of a stick of butter (so less than 1/2 cup of butter)nto a bowl.  They either should be softened, or let them sit out for a while and soften.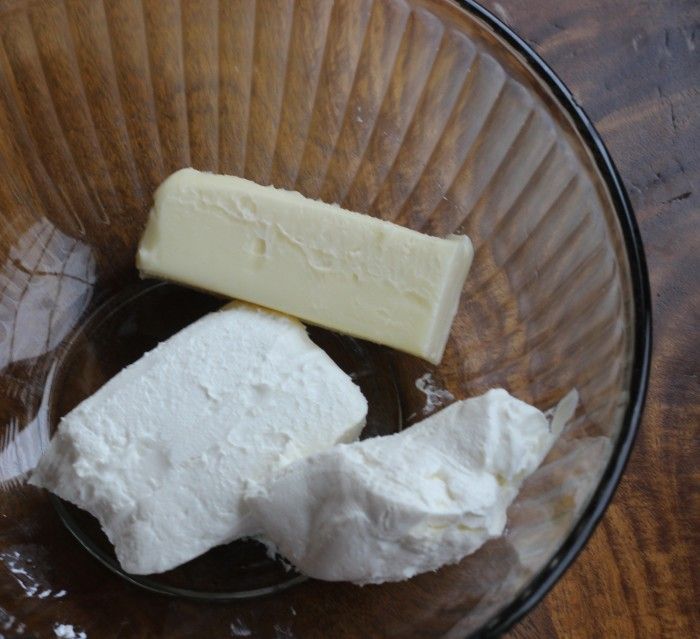 Use your hand mixer to mix together.  You probably will have to scrape down the sides.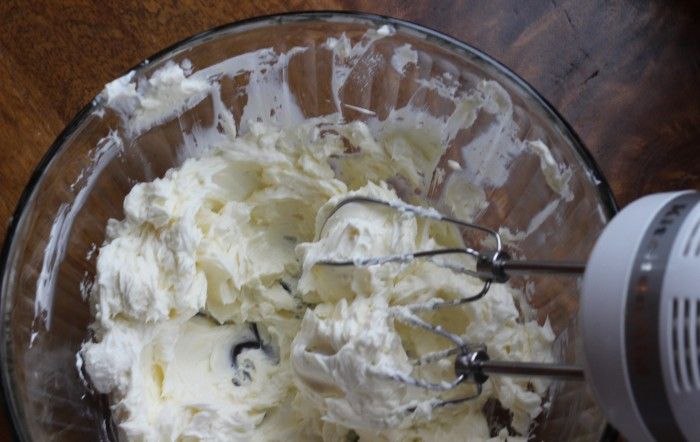 Find a small bowl.  Or ramekin.  You want about a 2 cup capacity.  Or, split the recipe in two and make two small ones.
You know, no one knows what a Pesto Torte is.  I know that's what this recipe is called, but, whenever I describe it to someone I call it a pesto & sun dried tomato cheese ball.   Then everyone can picture (kind of) what it is.  Hmmmm, wonder if I call it a cheese ball now since I've lived in Wisconsin for close to 10 years!
So, take the little bowl, place some plastic wrap in it.   Smooth it as well as you can into the bowl.  You'll love how it helps you later!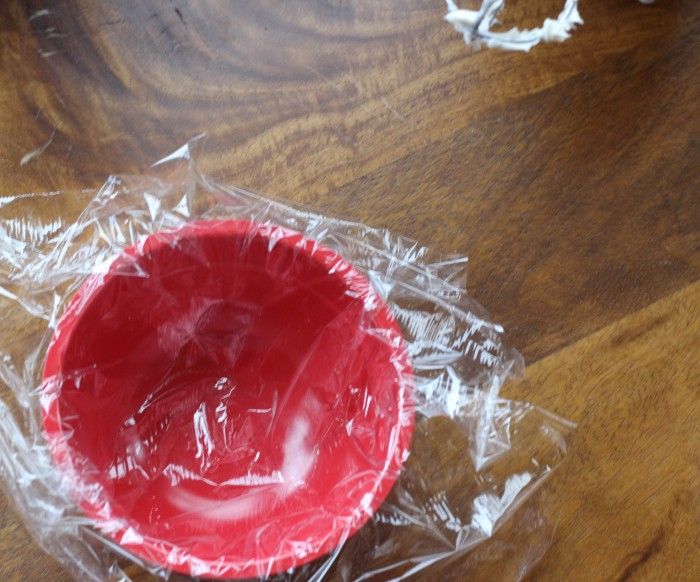 Take a little less than 1/3 of the cream cheese mixture and pat it down on the bottom.   I usually use a baggie sprayed with Pam so  I can flatten the cream cheese mixture without it sticking to me.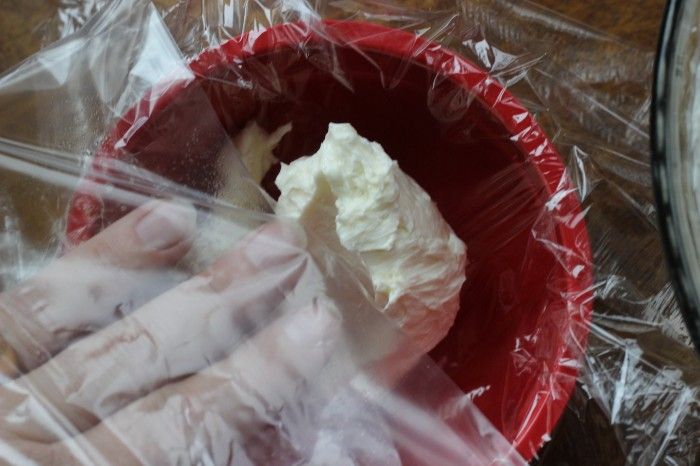 Then add about 4 oz of chopped sun dried tomatoes (the jar kind, in oil).  I usually 'dry' the sun dried tomatoes with some paper towel so the oil doesn't run onto my cream cheese mixture.   Put the sun dried tomatoes on the edges then fill in the middle.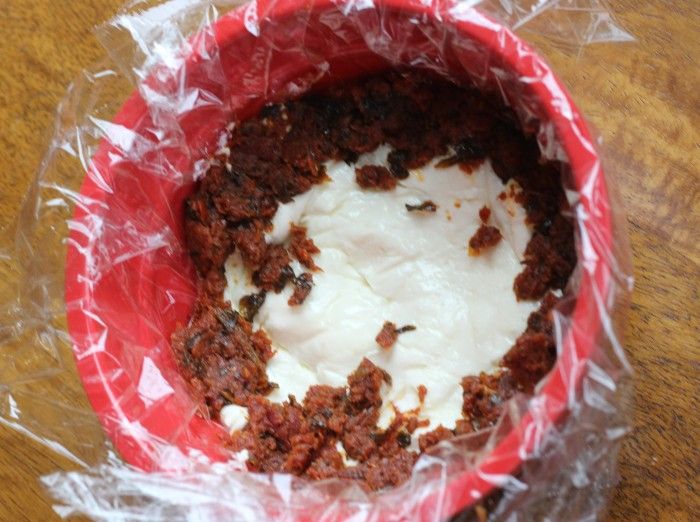 Now, mix about 1/4 cup of shredded or finely grated parmesan cheese with about 2 oz of pesto.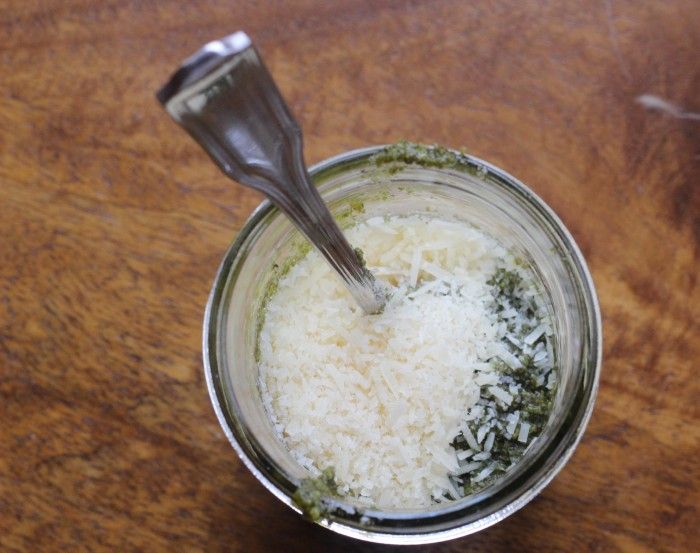 Store bought is fine.   Rarely, I'm an overachiever and have fresh pesto on hand.   OK, ALLERGY ALERT!!  Some store bought (and most homemade) pesto have pine nuts in them.   This is bad for anyone with a tree nut allergy.  Ask my neighbor who, fortunately, had his handy dandy epi-pen with him!  Actually, I think that may be the last time I made homemade pesto.
So mix well and it will end up nice and green.
Spread it evenly on top of the chopped sun dried tomatoes.   Take care that the sides are well covered with the pesto.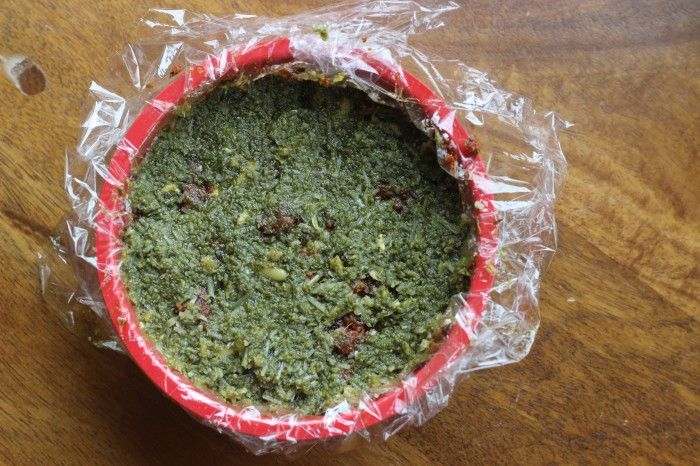 OK.  Now, REPEAT.   A layer of about 1/3 of the cream cheese mixture, the chopped sun dried tomatoes and then the pesto.
End with  a final layer of the cream cheese mixture.   Cover with some cling wrap.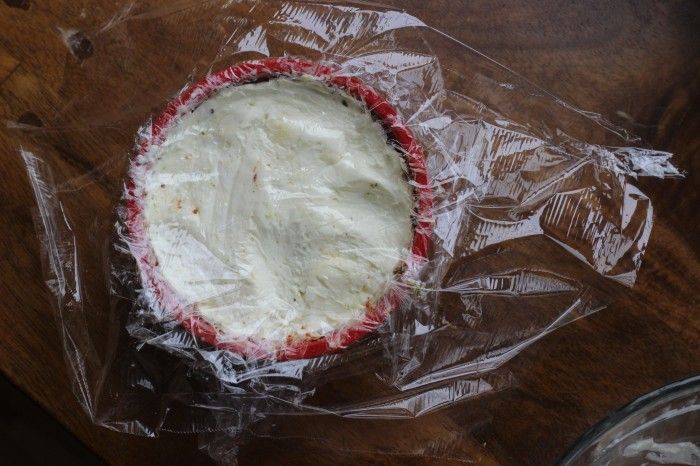 Refrigerate overnight.   Or, if you forget you have to do this, about 2 hours in the freezer and an hour in the fridge does a good job :).
About 1/2 hour prior to serving, take out your beautiful pesto torte (in my mind, I'm saying 'pesto and sun dried tomato cheese ball').  Let it soften a little to make serving easier.
Here is where you will love that you put the plastic wrap in the bow.  Just lift it out!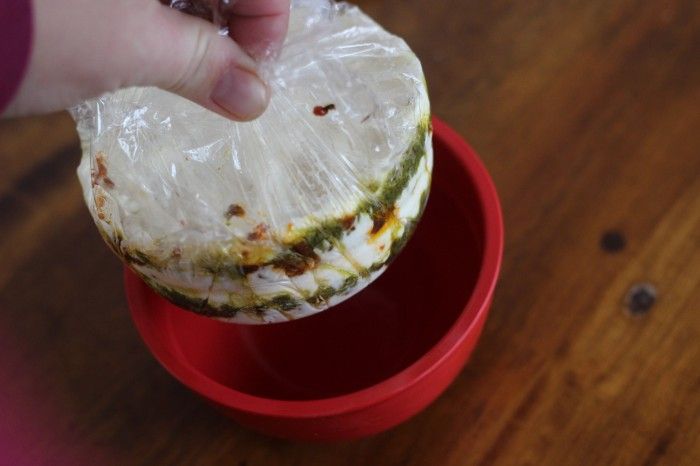 Take the wrap off, flip and serve on a pretty tray.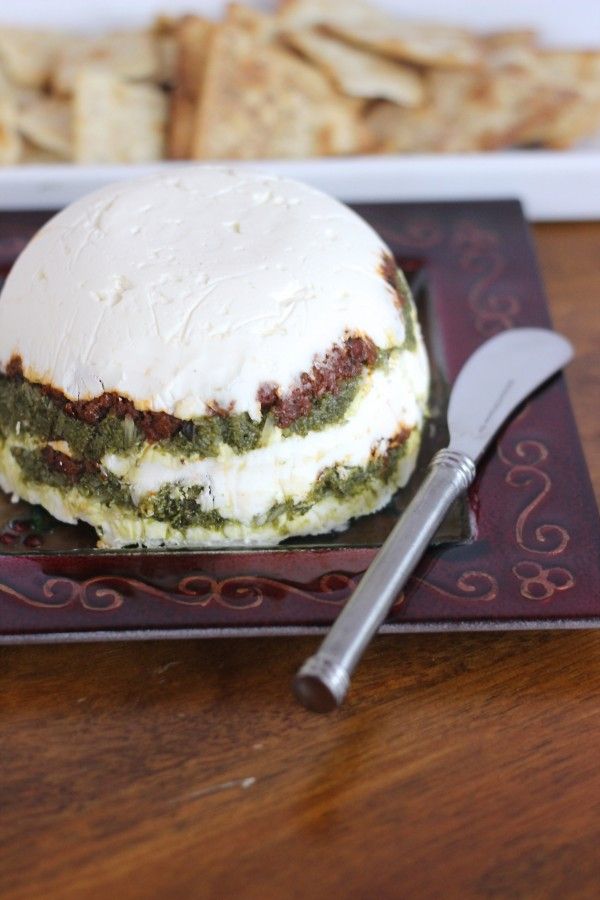 You'll want to serve with sturdy crackers or sliced baguette bread.   Oh, this is good!
Oh, if the top is too boring for you, garnish with a little of the pesto and sun dried tomatoes!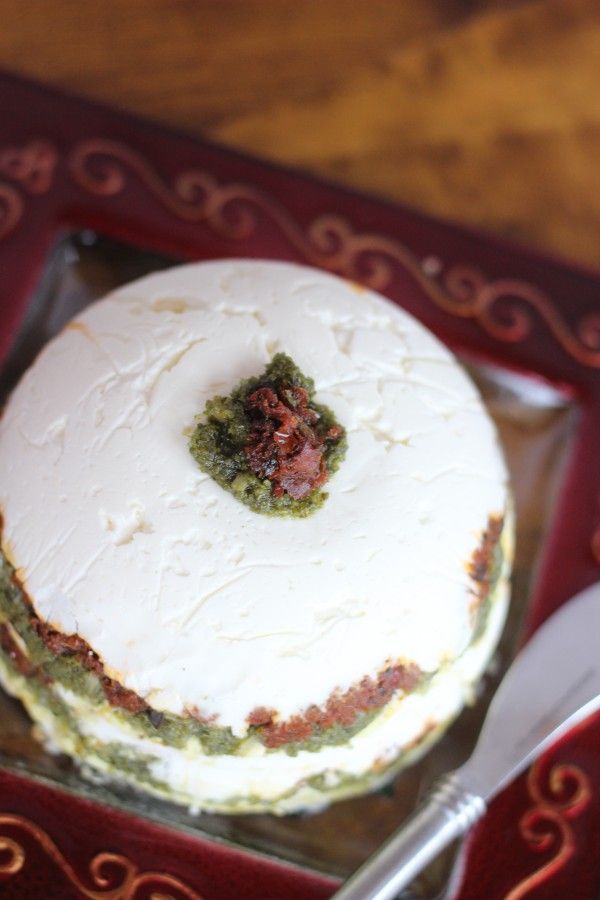 Google+