Hens and Chicks are my favorite plant! If you are looking for an easy-to-care-for plant that grows in poorer soil, doesn't need to be watered or fertilized regularly, and is cute, this is the perfect succulent for you! And I just mentioned it's a succulent. You know succulents are all the rage right now, right?!!
I've been gardening for decades and these guys are still my favorite!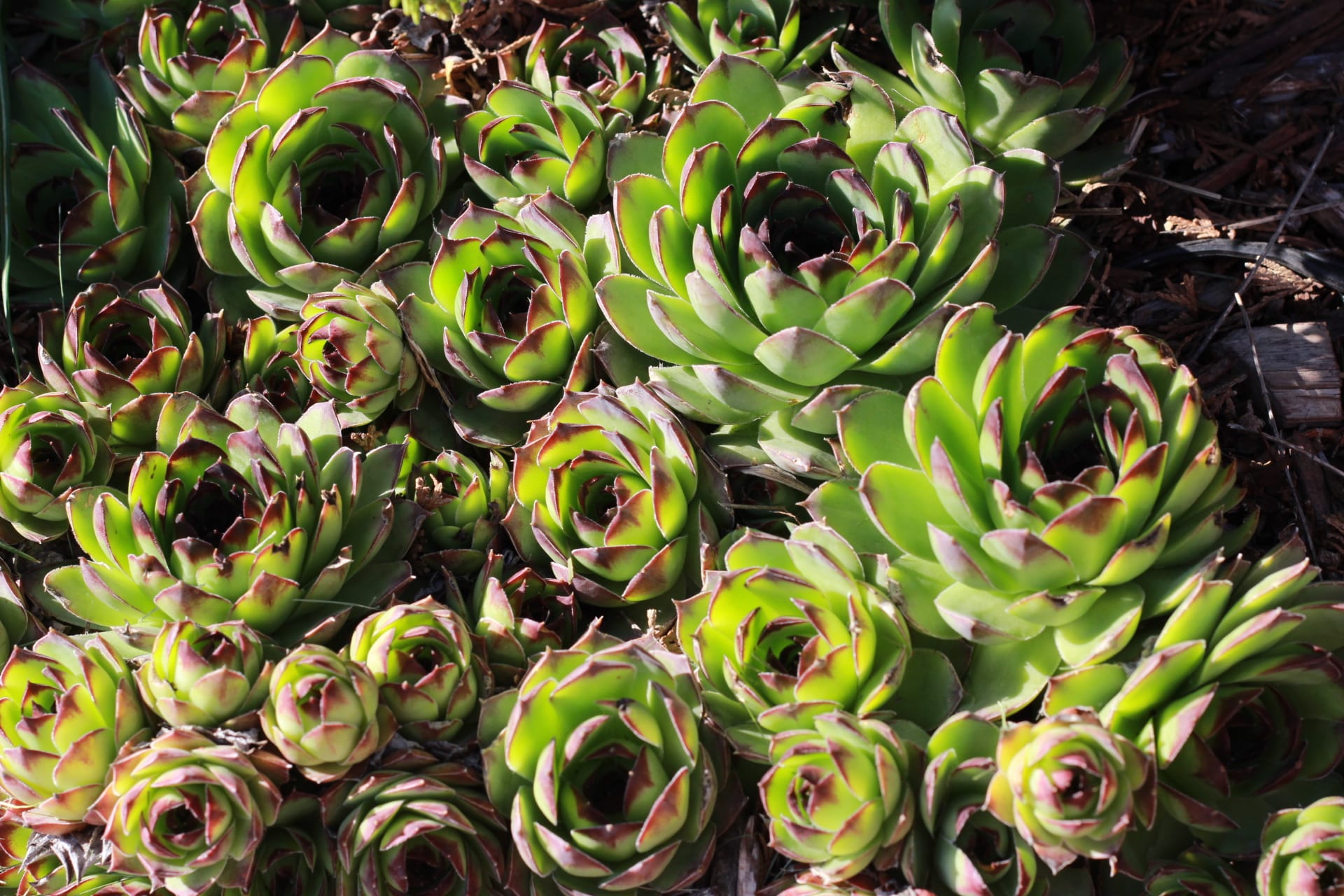 What I love the most about hen and chicks plants
The plant gets its name from how it grows. The "mom" plant is the hen and the baby plants are the "chicks". I find these are a great groundcover or I have used them to soften the edges of hard landscaping. The hen and chicks plants above grew beside a sidewalk. They also grow great in rock gardens or beside/in the large stone stairways. I help mother nature by spreading the chicks out a little more and then this plant fills in the gaps very nicely.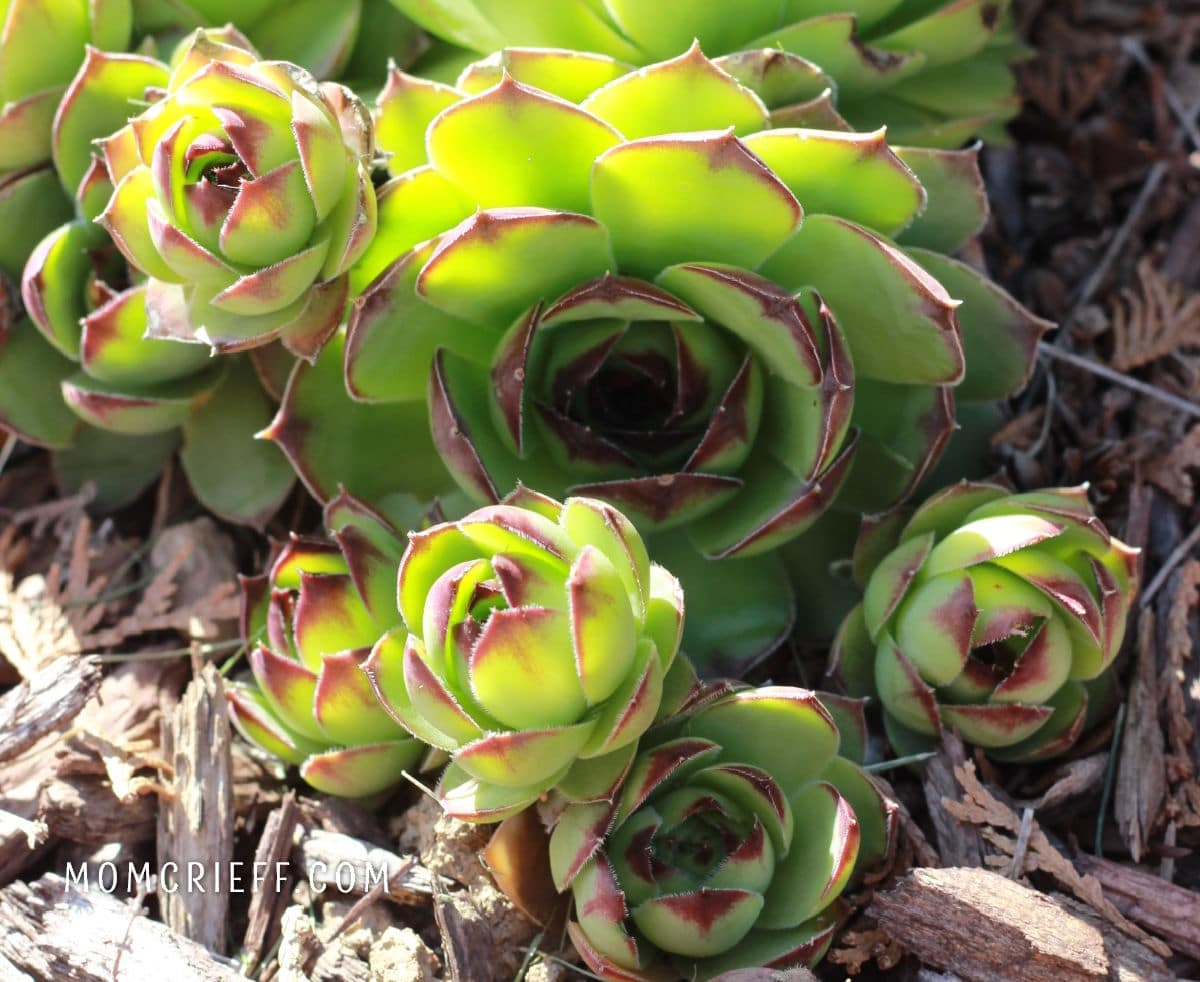 The important details.
Another well known name for these plants are a house leek.
The proper botanical name is Sempervivum tectorum
It's a perennial and a succulent.
The hardiness zone is 3 through 10 which is a huge range. Basically they can grow in most areas of the United States. Plant them in full sun, in sandy, gritty well drained soil (think cactus soil) and then these little guys are happy.
No regular watering or fertilizer required. Easy maintenance. The easiest way to kill them is to overwater them.
Propagation
The easiest way is to grab a little chick, seperate it from the hen plant and plant it in some sandy well drained soil. In the image below, you can see the roots. The longer stem looking thing is what attaches the hens to the chicks. It's easy to seperate the plants. Then just nestle the little plant in the dirt and it will establish itself. I normally water sparingly a couple of times a week during the first week or two. I like giving my transplants a little tlc right after transplanting but that isn't a requirement.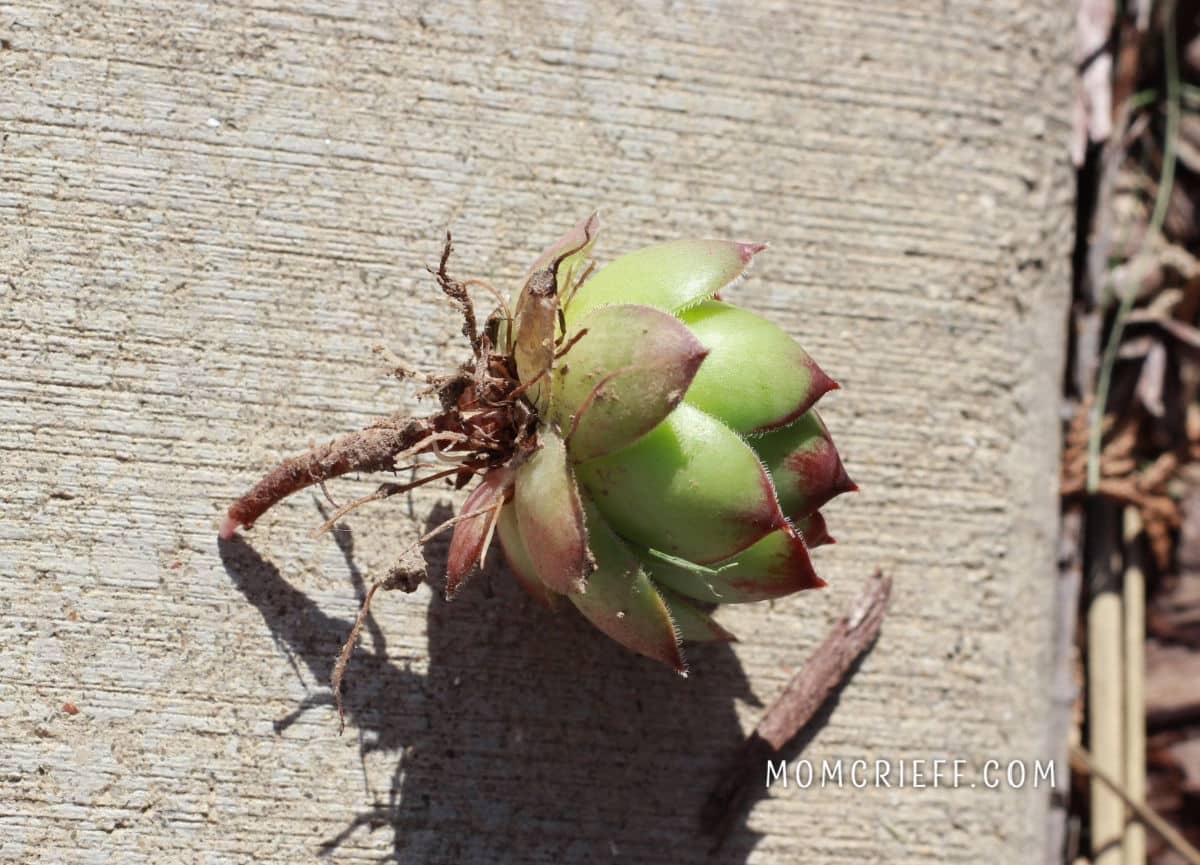 I know that these can be started from seed but I have never actually heard of someone doing that.
The leaves can be rooted by laying them on the dirt. Self survival kicks in and the end of the leaf will grow roots and new leaf growth.
Planter Ideas
I love having these planted in the dirt but these hens 'n' chicks (how the name is normally pronounced) are awesome in planters. Because they need very limited care.
I loved my succulent bird bath (click link for tutorial)! If you can't provide drainage, you do need to be careful not to plant in an area that gets a lot of rain. You don't want the roots to stay wet and rot. I did tip the water out a few times after a heavy rain.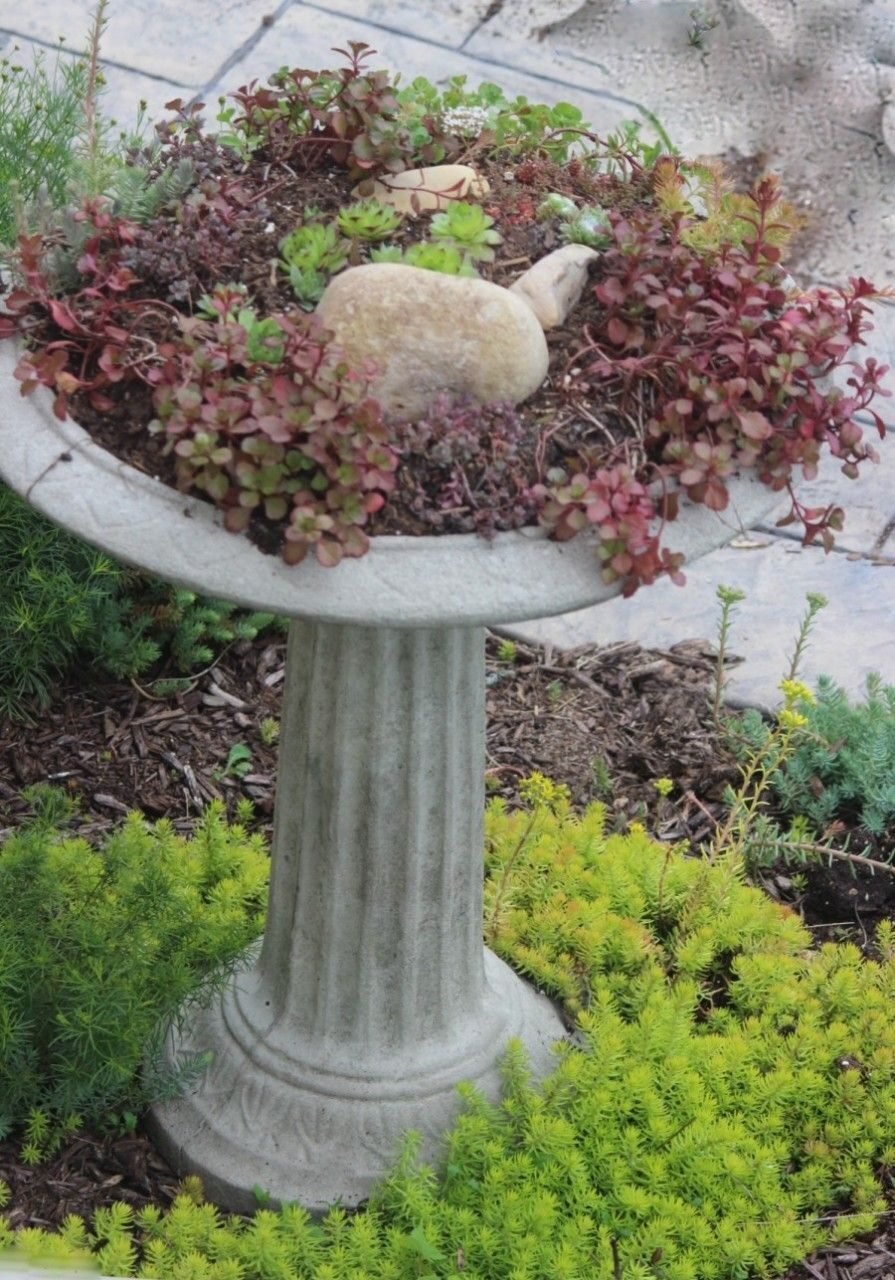 The container garden below was on a table in my backyard most of the summer last year.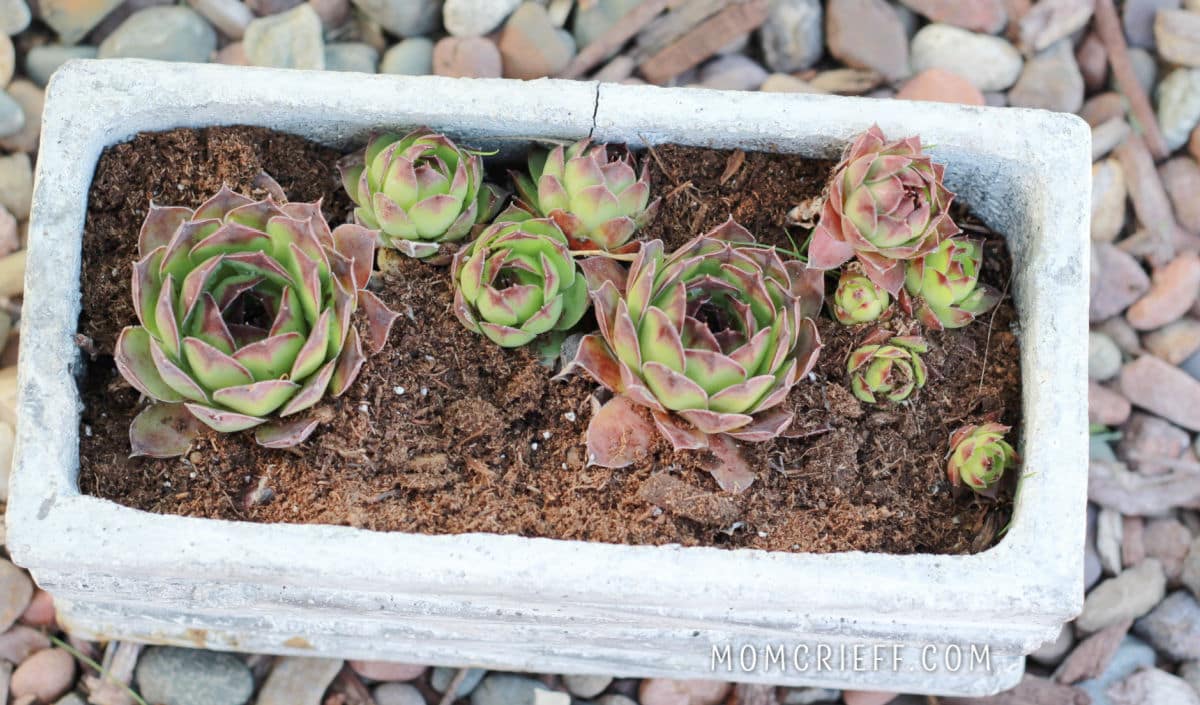 I've also brought them inside as decor! Here is a quick post on how to put together a hens and chicks terrarium with a flameless candle. I help myself. In the fall I start bringing plants inside!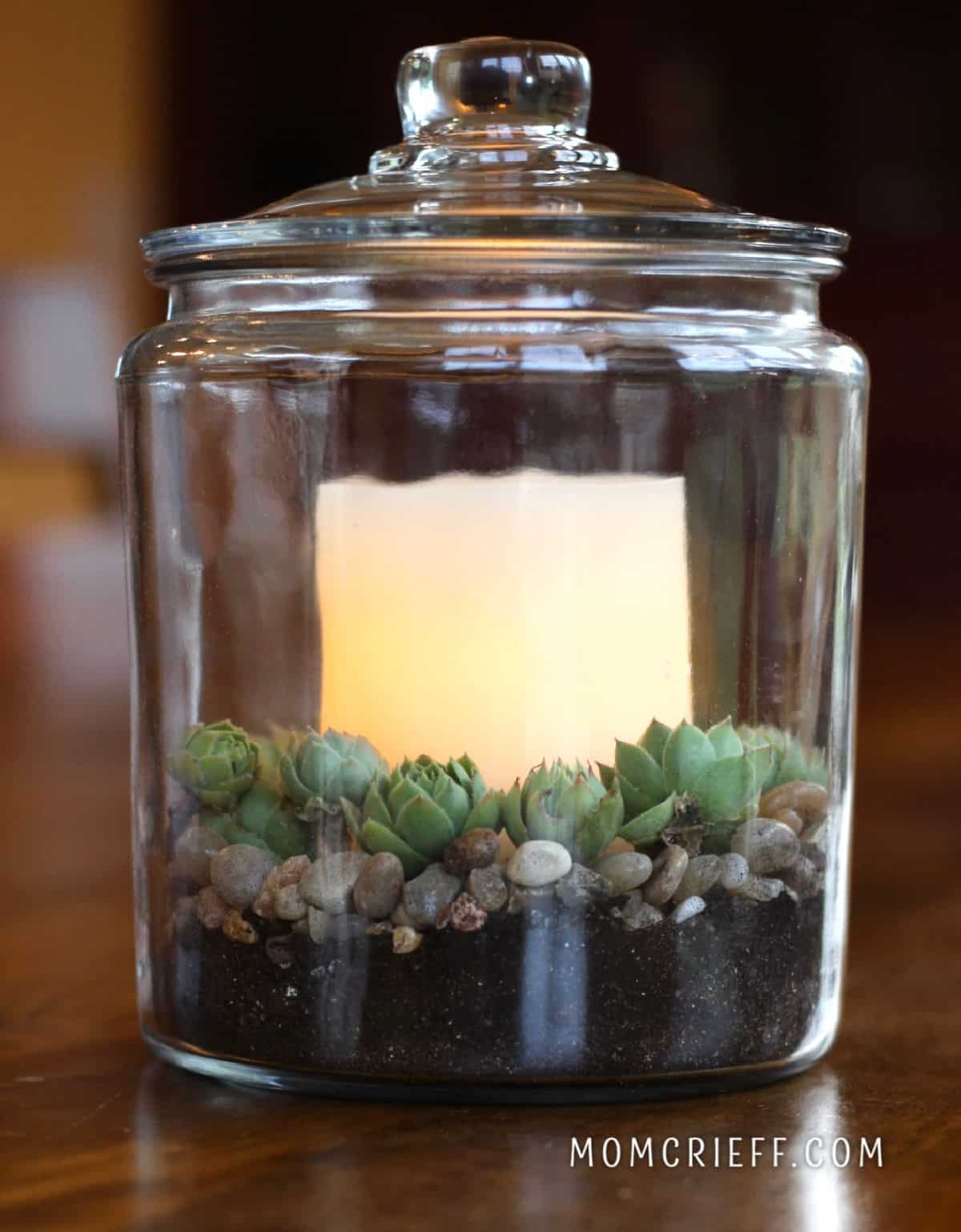 The Perfect Gift!
My kids gave these to their teachers and they were a huge hit! I have never had so many comments on such a simple inexpensive gift. Here's how I put together these cute mason jars with hens and chicks.
I've given these as new neighbor gifts, thank you gifts, teacher gifts, friend gift, hope you are having a good day gift and any other occasion I could think of. They make me happy to give to others.
What do hens and chicks flowers look like?
Well, can I say I left the best for last! We did discuss that it is possible to plant seeds from this succulent. So it does flower. However, it's not a very feminine flower. In fact, it will have every preteen, teen and most adults stop, look and snicker. It's a great conversation starter! A little awkward maybe but everyone has a comment. In all their glory, here are the flowers!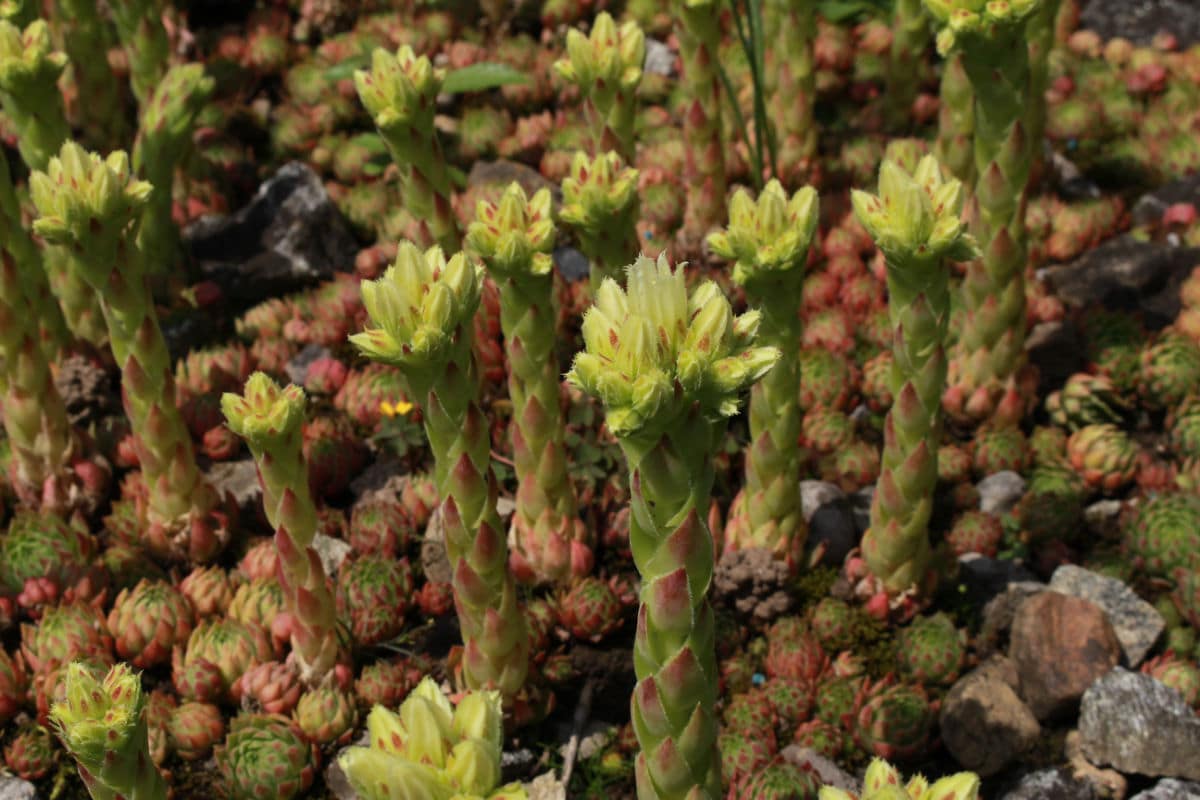 Sadly, the hen plant dies after flowering. Isn't that something!
Hey! Thanks so much for visiting. I invite you to explore some of the links I've shared earlier in this post. If you are looking for another easy to grow succulent plant, take a gander at my Autumn Joy Sedumn article. Please do sign up to follow my emails. The signup is below!