Is chemical-free weed control for your flower beds hard to do?
Weeding is a chore I really don't enjoy! But, my new-to-me home is near a lake so we all try to limit the use of chemicals in our yards. Is my method of controlling weeds in my garden beds hard? NO! It's actually easy. Chemical-free weed control is environmentally responsible for many reasons. You aren't using strong chemicals that may even be harmful to you when you are applying.
There is a little work that you do to prevent the work but most of it you need to do anyway. And you are recycling cardboard and/or newspapers.
Is chemical-free weed control expensive?
This year, my weed control in my garden beds was very inexpensive. Basically free for the materials! And I have a lot of garden beds that I'm starting (or maybe I should say saving?). The only cost for me was my time and effort to do this.
Background to why I had such a weed issues.
A tiny bit of history. My house basement was flooding last fall. I had numerous people try to diagnose the problem. They all came up with the same thing. The landscaping around the house needed to be removed and the dirt around the house needed to be regraded so the rainwater would flow away from the house, rather than towards the house - and into my basement.
Do you think maybe (just maybe) the landscaping I inherited was just a tiny bit overgrown? At this point, I had been using ropes to hold up/back all the crazy hydrangeas! They were so overgrown they were covering part of the driveway!
*This post may contain affiliate links. Please see my full disclosure policyfor details.*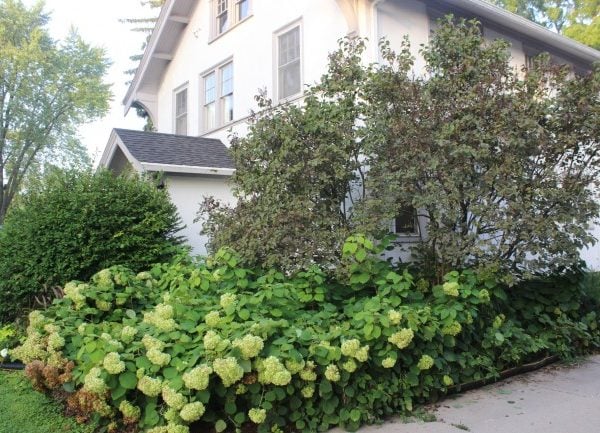 After most of the landscaping was removed. If you want to see more about the work and how it was done, take a look at my post What to Do with Dried Hydrangeas. I share a little more about what happened to my yard and how I saved a bunch of my hydrangeas.
And, just to confirm, the picture above and below are of the same corner of my house.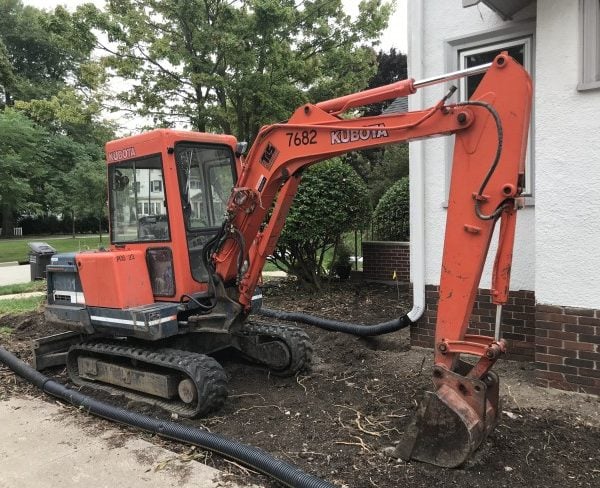 How did you do your chemical-free weed control?
Sorry to keep you in suspense! I had bare dirt gardens where the ground had not seen the sun in the warmer weather for decades. Can we say weeds??
The short, concise description of what I did is put down cardboard and then put mulch on top.
Yes, cardboard. Break down your cardboard boxes so it's a flat sheet. And, very important, make sure you take off all the tape. The cardboard will decompose and while it does, it smothers and kills those weeds! What I love about this chemical free method is, as the cardboard and mulch decomposes, it adds nutrients back to the soil.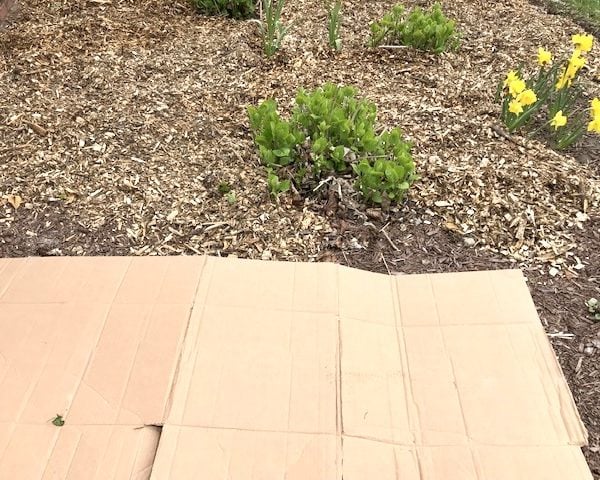 And once I had my bare ground covered, I put a thick layer of shredded mulch/wood chips that was a minimum of three inches. My original goal was to use this free mulch (which isn't very pretty) and then put some pretty colored mulch on top.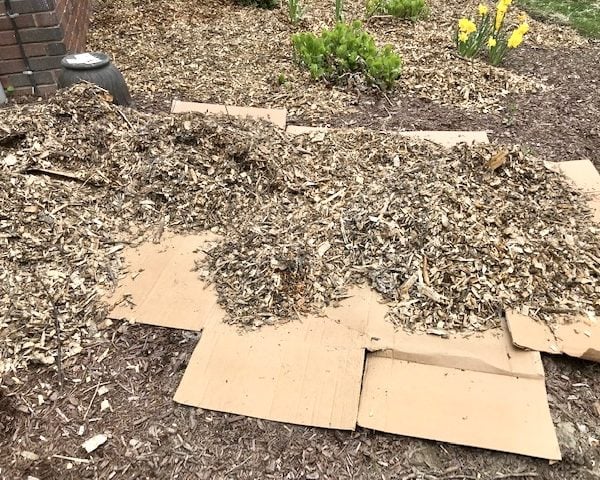 Wait, how did you get free mulch?
I have huge trees in my backyard. But, they were actually dangerous because they were dropping big branches (too close to me when I was cutting the lawn). I had an arborist come and take down the dead, damaged branches and lighten the weight on some of the branches.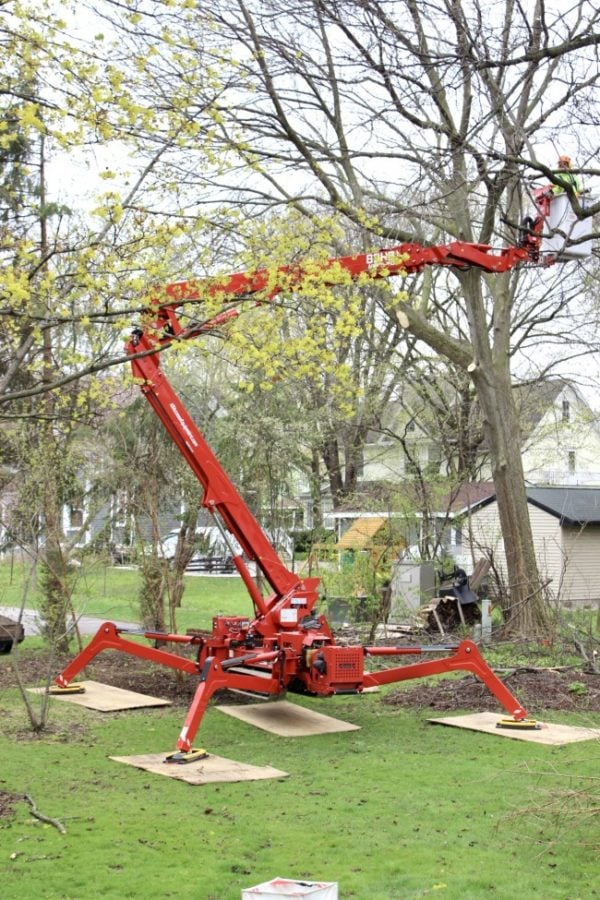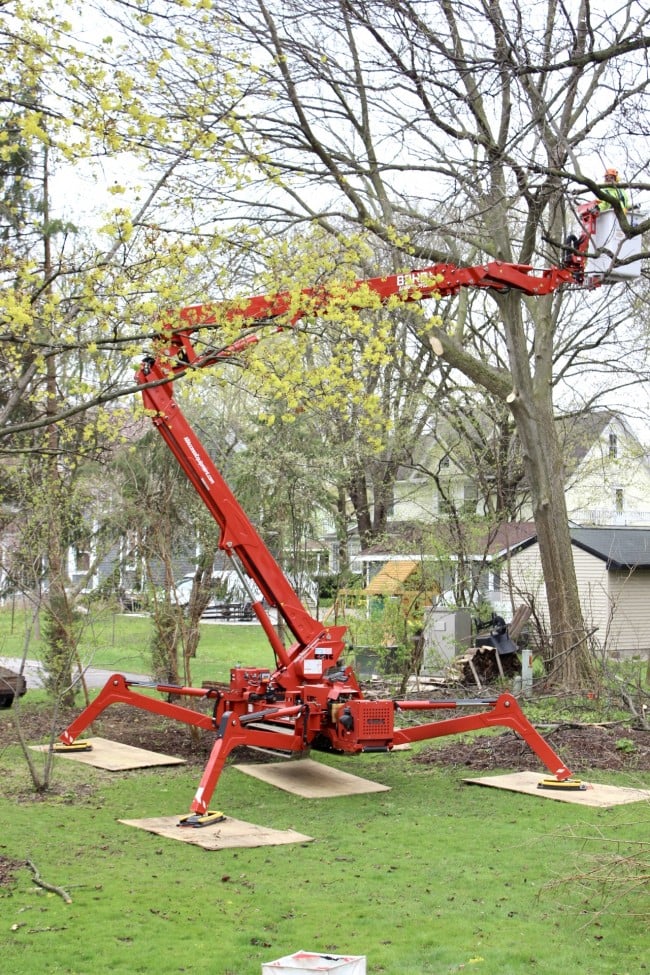 It was interesting and fun to watch. I'd encourage you to take a peek at my post called Why to hire an Arborist for more info. about what they did and how they did it. They chipped up everything they took down. I asked if they could just leave all the chipped up wood for me and they did. It was a ton of free mulch for me to use.
So back to my cardboard and free mulch. Cover as much of your bed with cardboard as you can and add the mulch on top. It truly smothers the weeds and prevents more from growing.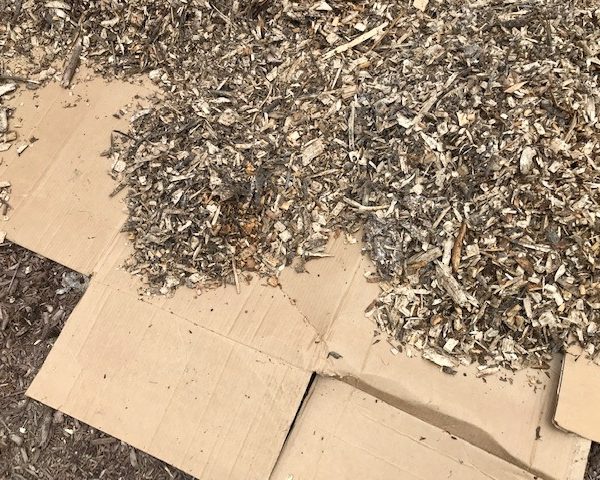 It totally cleaned up the look in my beds and got those weeds under control. I ended up doing all the mulch myself. Lots of my new neighbors stopped by to say hello and to tell me that the yard was looking great! It looked so much cleaner. And, when some weeds do peek through, like the tiny one behind this planter, they are easy to pull out!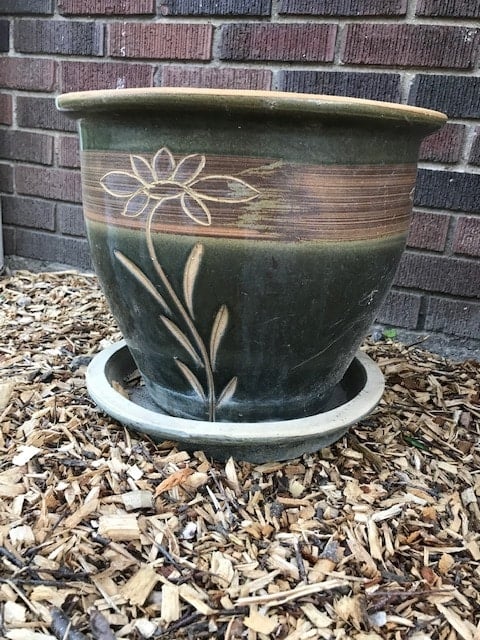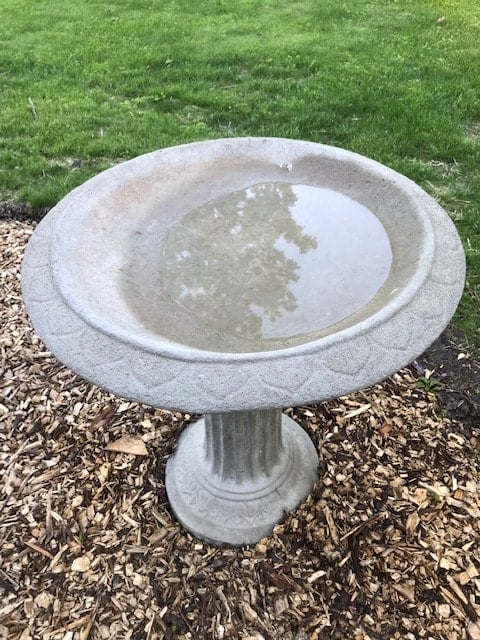 Yes, it was so much more of a clean look and the weeds are unable to grow through the cardboards and mulch layer. Now, I'll have to admit that they do poke up by the edges of the cardboard, but that's not an issue and they are easy to pull!
Years ago, I had a bunch of huge fir trees and there was no way I could get under them to pull the weeds. I used the same method there!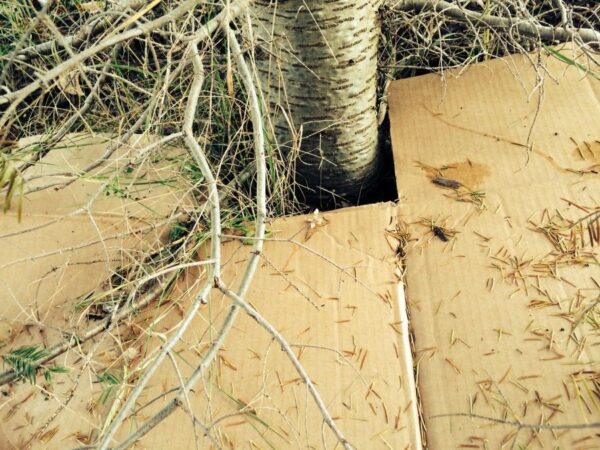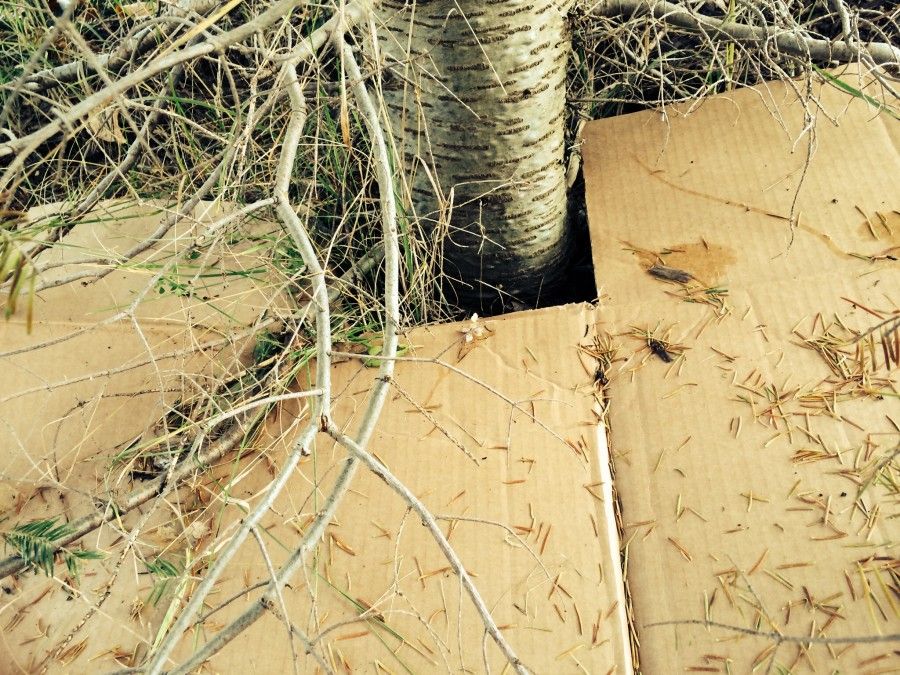 It was amazingly helpful!
I'm constantly surprised that people have never heard of this method of weed control. It is some upfront work but it is so very worth it.
I truly prefer the cardboard to the weed barrier fabric that landscapers use. That fabric does have it's uses though. But, there are also disadvantages to the weed barrier fabric - mainly it doesn't decompose and put nutrients back into the soil. In some areas, you don't need that. I always use it when I'm using rocks to 'mulch' an area and don't want weeds popping up!
This cardboard method also significantly eliminates (or at least drastically decreases) the need for Preen weed control. I have used Preen to reduce my weeds in past years but am starting to use less and less of it. There are still some uses for it in my yard, but I've drastically reduced my need for it! That's a win for my wallet and the environment.
What time of year can you do this chemical-free weed control?
ANYTIME! I initially put down a ton of cardboard in the spring and mulched it. I have back garden beds that I haven't done much this year. And the weeds are growing! You know all those Amazon boxes that arrive at your house? Perfect use for them. I actually also brought home a bunch of boxes from work so I can start doing some weed control in the back of my yard. The summer is ending and I'm finding places are having big sales on mulch! So, at the very least I'm getting the cardboard down and with a thin layer of mulch so the weeds are under control this year and won't pop up next year!