Identifying ragweed verses goldenrod
***Greetings Readers! I am republishing this blog post about ragweed. It is one of my most popular posts and so many of you stop by it on a daily basis. I have resized the pictures to make it load better for you. Plus, at the bottom are more pictures of ragweed. Thanks for stopping by and please make sure to browse my other blog posts!***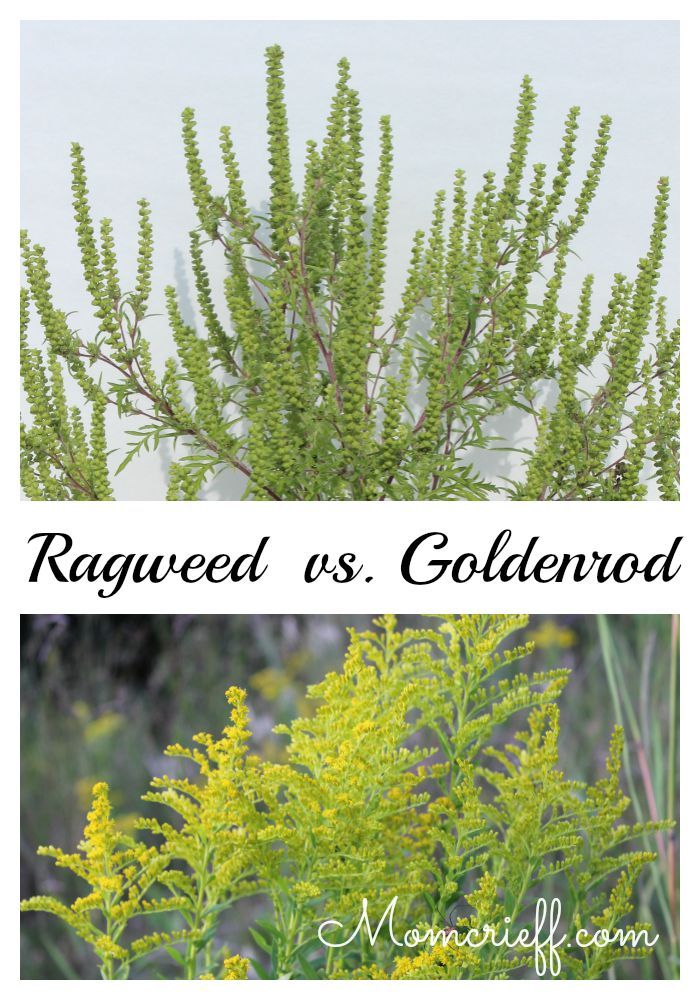 *This post may contain affiliate links. Please see my full disclosure policyfor details.*
Yes, it's that time of year! People see yellow flowers blooming and blame the poor goldenrod for all their allergy misery. The goldenrod plant/flower is guilty by association. It grows at the same time, often in the same location. It's important to be able to identify the difference between Ragweed and Goldenrod so that the wrong plant isn't blamed or destroyed because of someone's allergies.
SNEAK PEEK - this is ragweed!!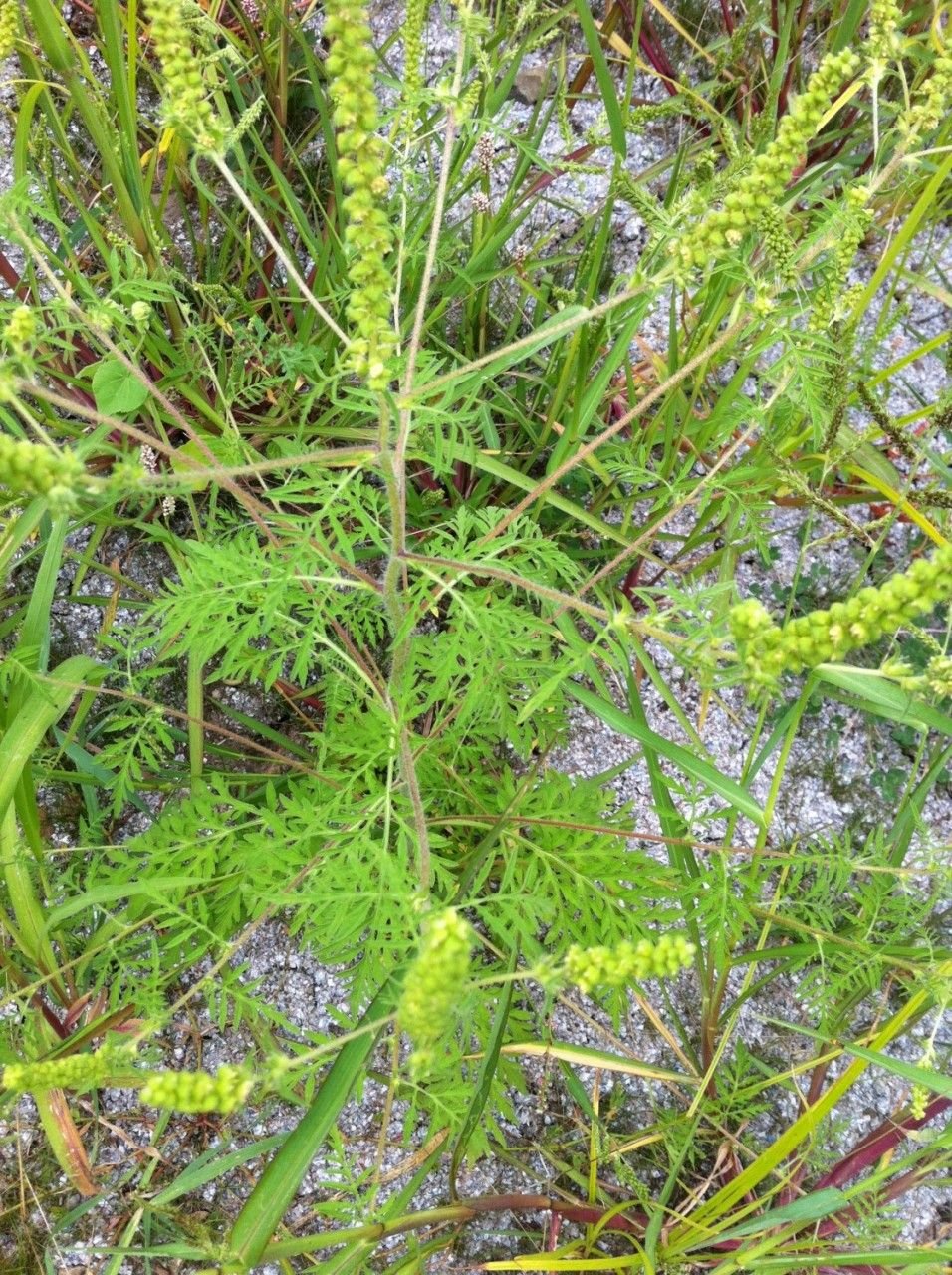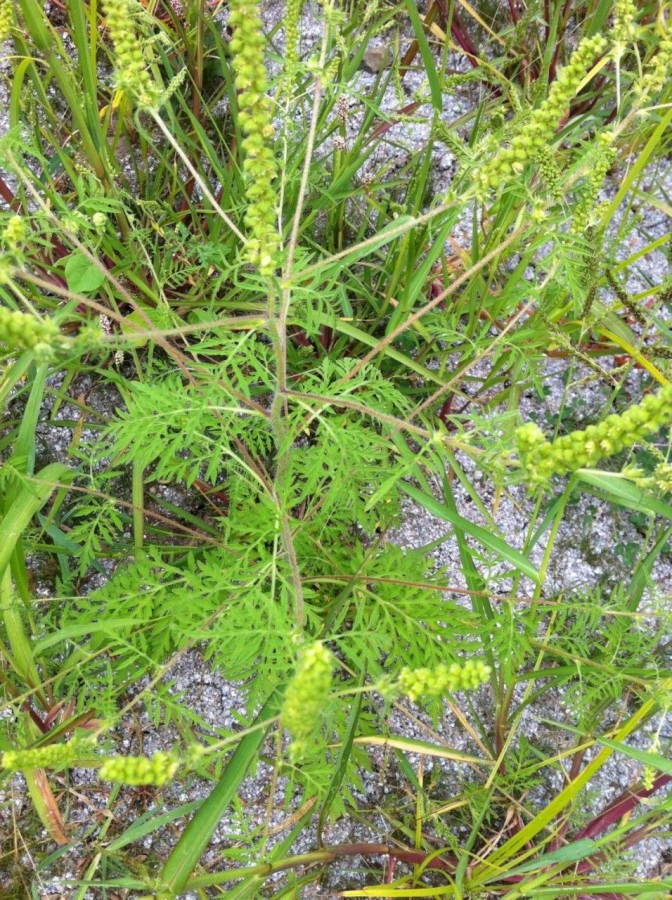 I spent about 1 ½ hours trying to find a website that showed clear and concise pictures to help me figure out the difference. I had heard that the yellow blooming flowers we see are goldenrod and not ragweed. But, if that was true, I had no idea about what ragweed looked like. Even when you Google 'ragweed', pictures of goldenrod come up and I know that's incorrect! Ragweed is out there now though. The sinus headaches I've been waking up with every morning for the last couple of weeks prove it!
Goldenrod looks like this:
This is not a local goldenrod but does grow in our subdivision. That would be because when our developer planted wild flowers and grasses in some of our common areas.
It's amazing how difficult it was to get a definite picture and a confirmation of ragweed. I talked to a few fellow gardening friends. We speculated and looked at plants and finally came up with one that we thought was ragweed. I took pictures and asked a local nursery to confirm that I had indeed taken a picture of the right weed. After two weeks and hearing a debate in a back room, they let me know they weren't sure. These are plant people!! I started buying more of my planting material elsewhere.
Here is a closer look at the goldenrod flower:
I must confess, I do become obsessive about things sometimes and just couldn't let it go. What the heck does ragweed look like?? I sent an e-mail to an arborist who I know is really on top of things. I remember I had asked him a question about a tree I had and the next morning he knocked on my door with the info. I needed. My e-mail to him started along the lines of, "I know ragweed is a weed and not a tree, but...."
It's the leaves that help you differentiate the goldenrod from the ragweed plant. This is goldenrod: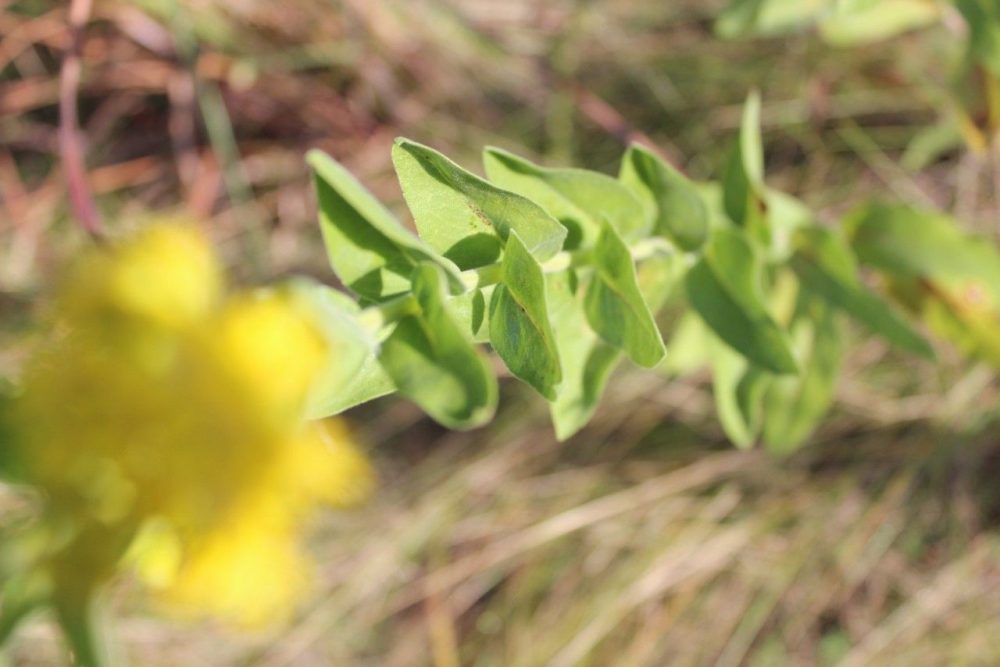 Here is a picture of the more common goldenrod that we see locally here in Wisconsin.
I was put in touch with Mike, who is an instructor at the Mequon MATC. Poor Mike has had the pleasure of me sending multiple e-mails with pictures all asking, "Is this ragweed?" Finally success.
RAGWEED.
Look at the flowers. They are not bright yellow like goldenrod. Also, this plant was less than a foot high. It was growing close to a patch of goldenrod.
This next picture is a close-up of the leaves. This is a good way to tell the difference. I was told to look for 'ferny type leaves'. And, yes, that's a great way to help figure out what is what.
Anytime I see ragweed weeds in my garden, I pull them when they are tiny and there is no pollen yet!  But, I do make sure to wear inexpensive gloves like these so I can throw them out (in case there are any allergens on them!)
Hopefully, I've shown you the differences between goldenrod and ragweed well enough in my pictures! Keep in mind that there are different varieties of both plants, but, my pictures should be a good guide. Remember, look at the leaves, that should be your best indication that the plant is ragweed.
Updated Aug. 30, 2014
I've added more pictures. So many of you have visited this blog post looking to figure out what this weed looks like.
The first two pictures are of ragweed growing in really bright, sunny conditions (side of the road, between the road and the sidewalk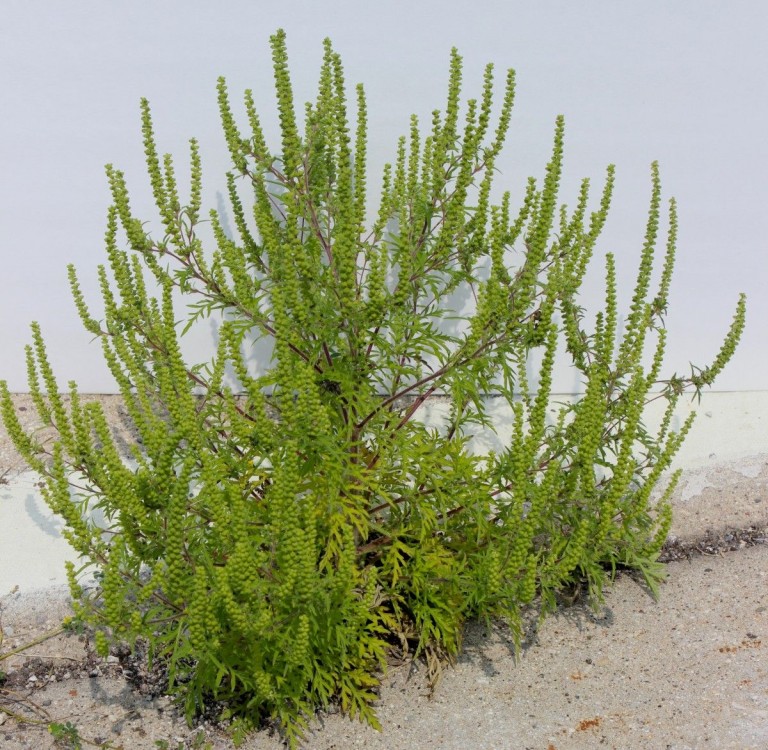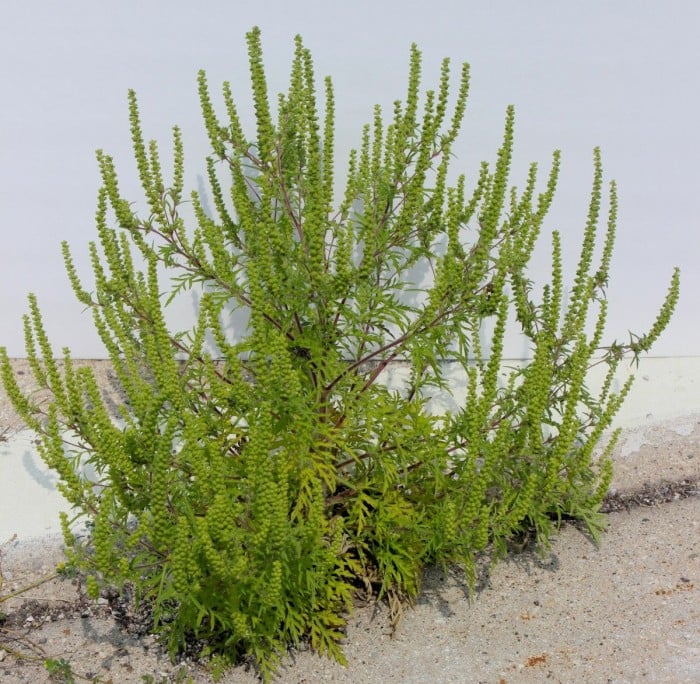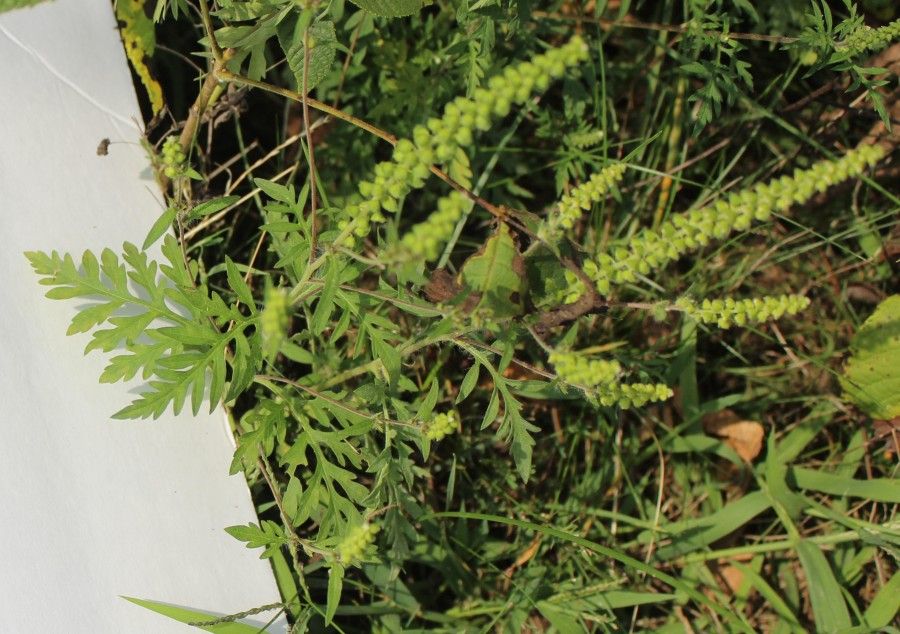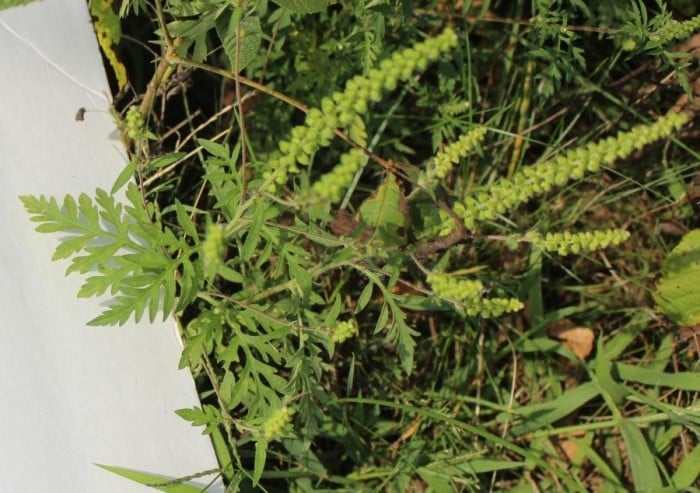 These next picture is e a ragweed plant that I found in shadier conditions.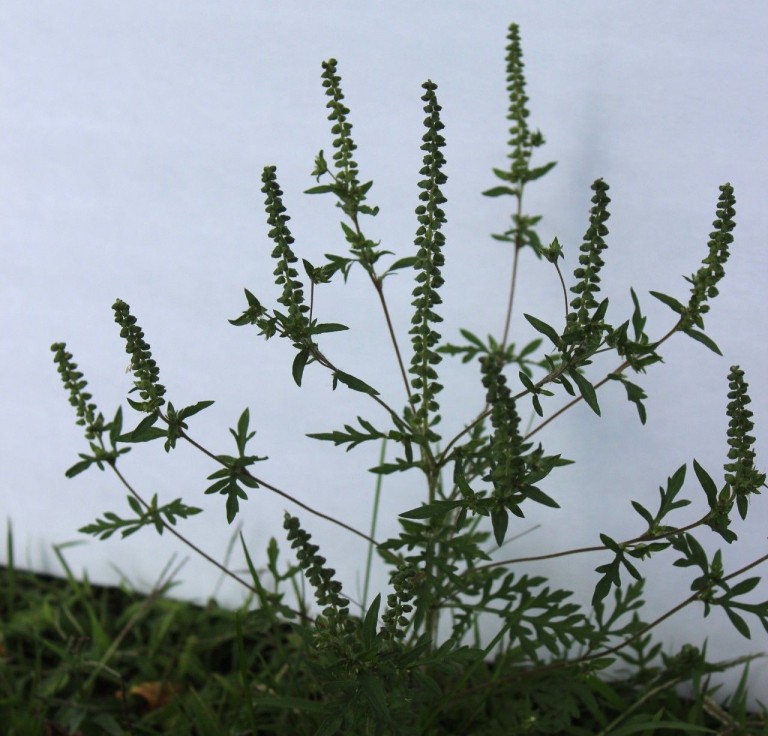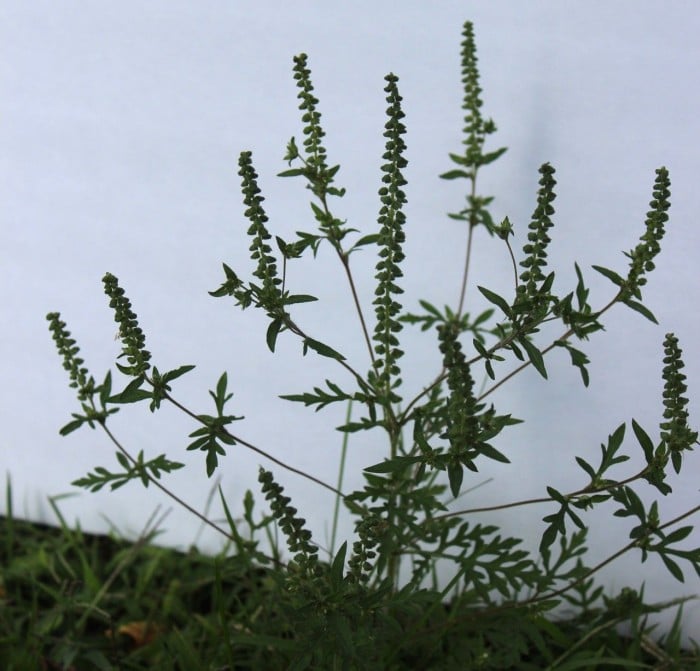 I hope these pictures of ragweed help you identify this weed that everyone is allergic to.  Let's stop blaming the poor goldenrod plant for our allergy ailments!
If you do suffer from allergies, you may want to stock up on allergy remedies!  I know at this time of the year I do!
If you do see ragweed in your yard, pull it before it grows and flowers!  I always buy inexpensive gloves like these that I can throw out when I've pulled ragweed!   I want to get rid of all the pollen!