Common Ragweed and Giant Ragweed
Two types of ragweed commonly grow in North America. I've normally only focused on the common ragweed in this post but I was getting questions about giant ragweed. The first section of this post focuses on the common type, and then I'll share images and discuss the giant kind. Both are to blame for late summer & fall allergies.
Identifying the common ragweed plant (ambrosia artemisiifolia)
Ragweed season starts late summer, often by mid-August or early September.  Many people have a ragweed allergy and ragweed pollen is everywhere in the fall.  I have found many people don't know what common ragweed looks like and I've even seen it growing in people's yards. The first few ragweed images I'm sharing are the ambrosia artemisiifolia which is the common ragweed.
Pictures of what ragweed looks like. (ambrosia artemisiifolia)
Ragweed does not have yellow flowers like the goldenrod plant does. Unfortunately, goldenrod gets blamed for the hay fever and allergy symptoms caused by the pollen allergies to ragweed. Ragweed flowers are very nondescript and are actually green spiky-looking flowers. Below is a picture of a ragweed plant.
Here is a side by side image showing what the goldenrod flower looks like vs. ragweed.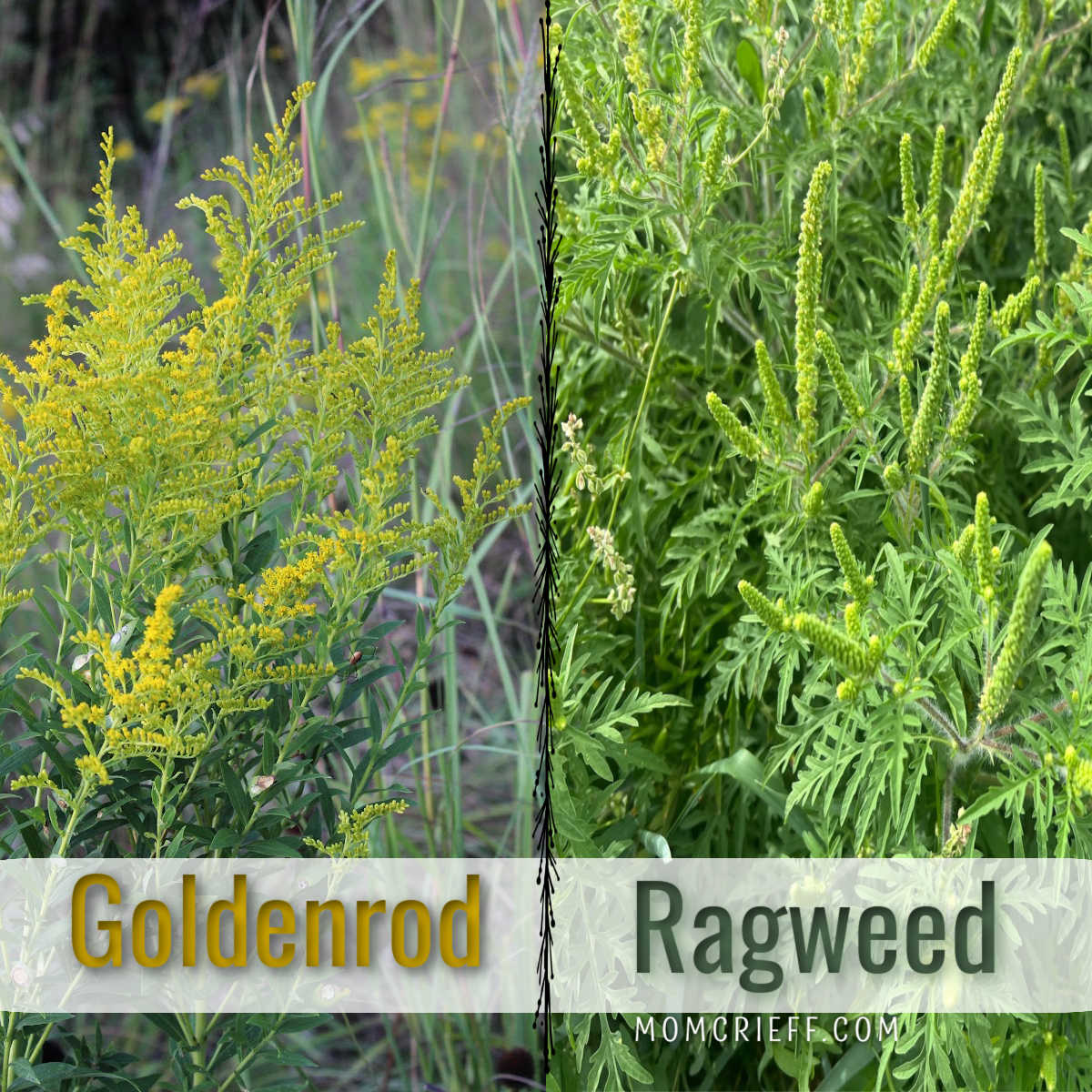 The green spikes on the image below are the ragweed flowers and that is where the pollen grains come from. Make sure you don't have any of these plants in your yard because they will certainly contribute to seasonal allergic rhinitis.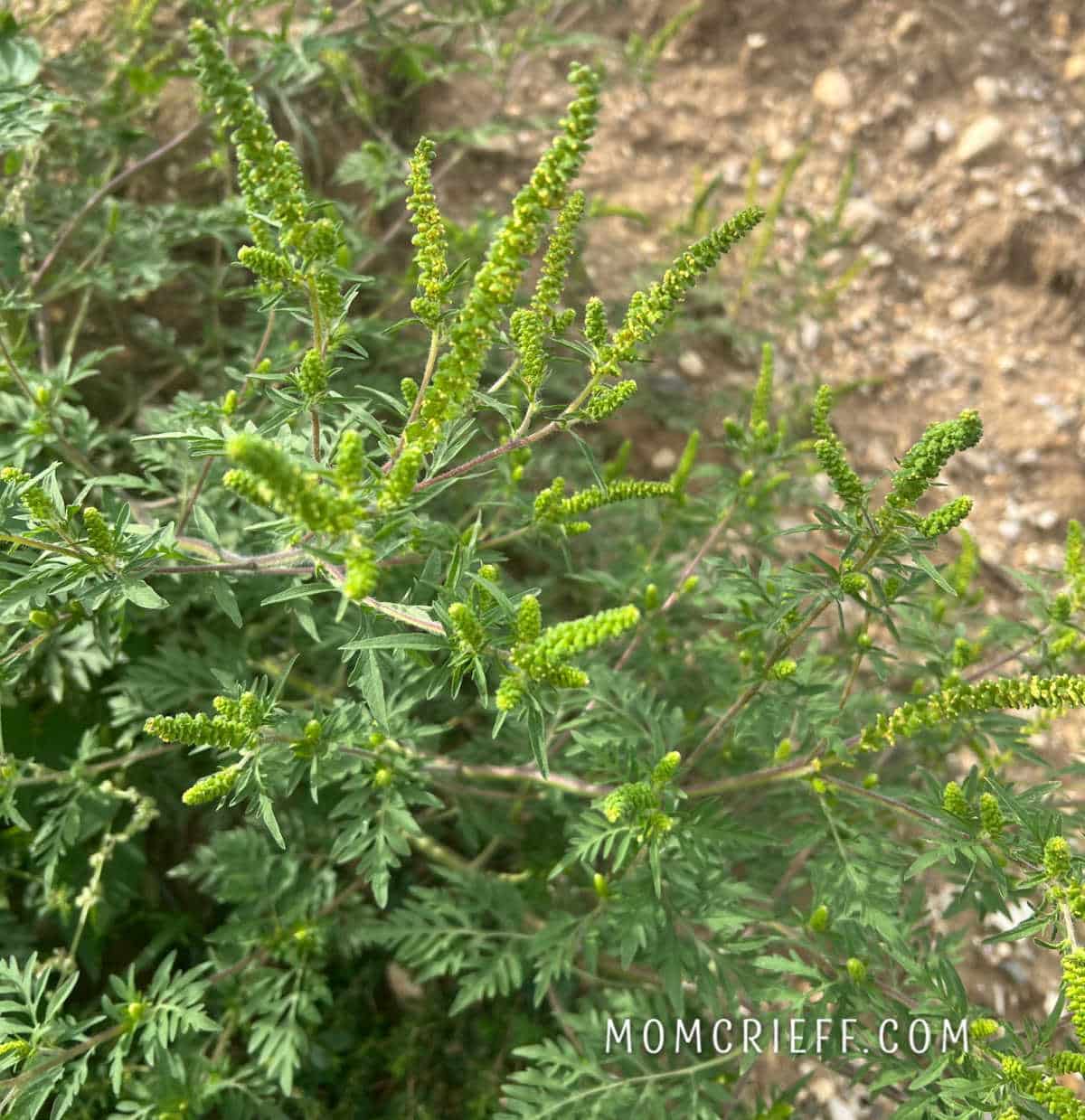 Below is a close-up image of a leaf. They are very distinct and look similar to a fern-type leaf.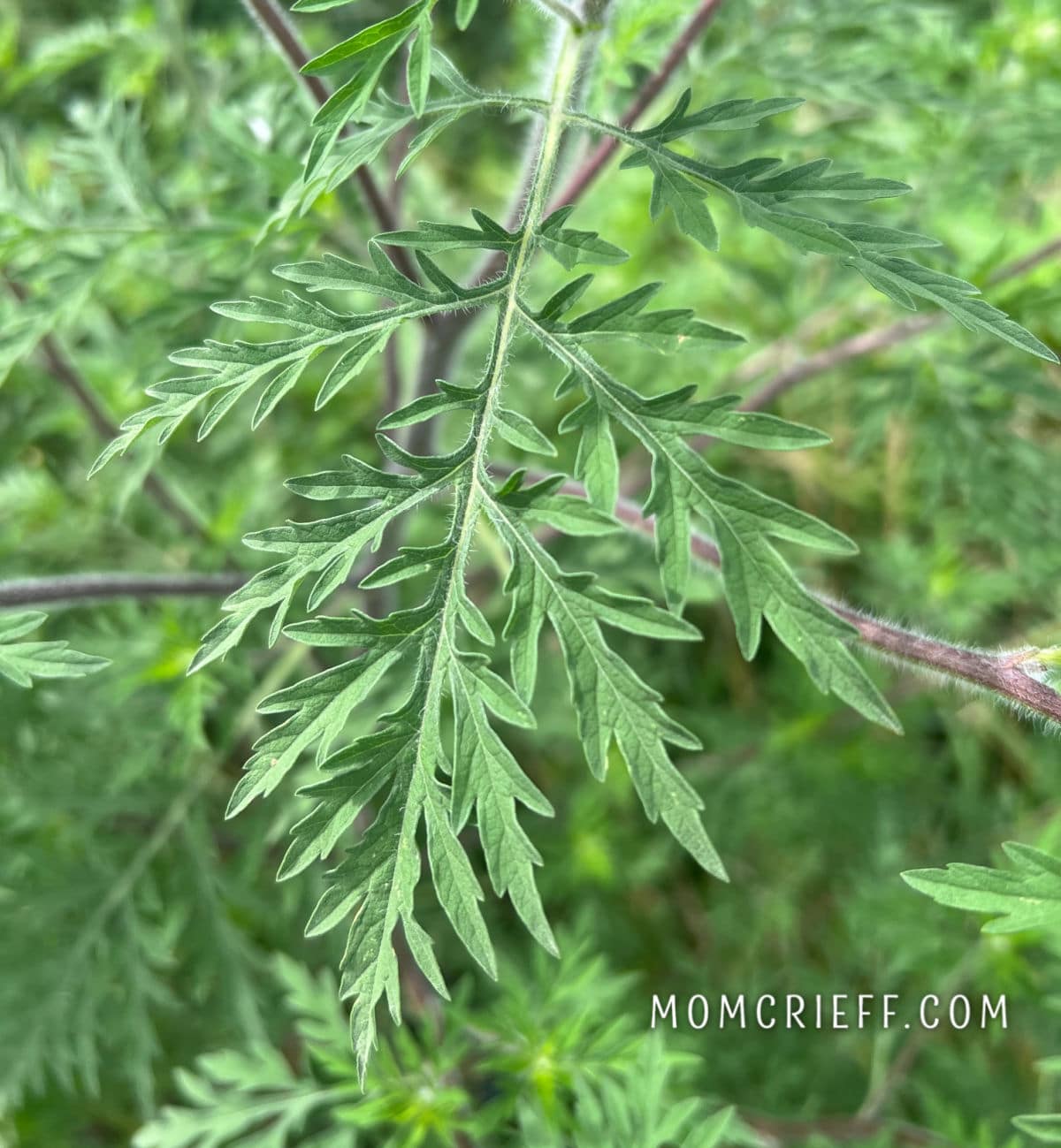 What goldenrod looks like.
Goldenrod is the poor plant that gets blamed for the runny nose, scratchy throat and congestion caused during the ragweed pollen season. Goldenrod blooms at the same time so it is blamed because that's what people see. Our bodies (our immune system) reacts to the allergens from ragweed by producing and sending histamine through our bloodstream. That is the cause of our allergic symptoms. I am not a medical person, but if you do suffer from allergies in the fall, make sure to talk to your doctor about allergy medication. Some good ones are over the counter and some allergy medicines are by prescription.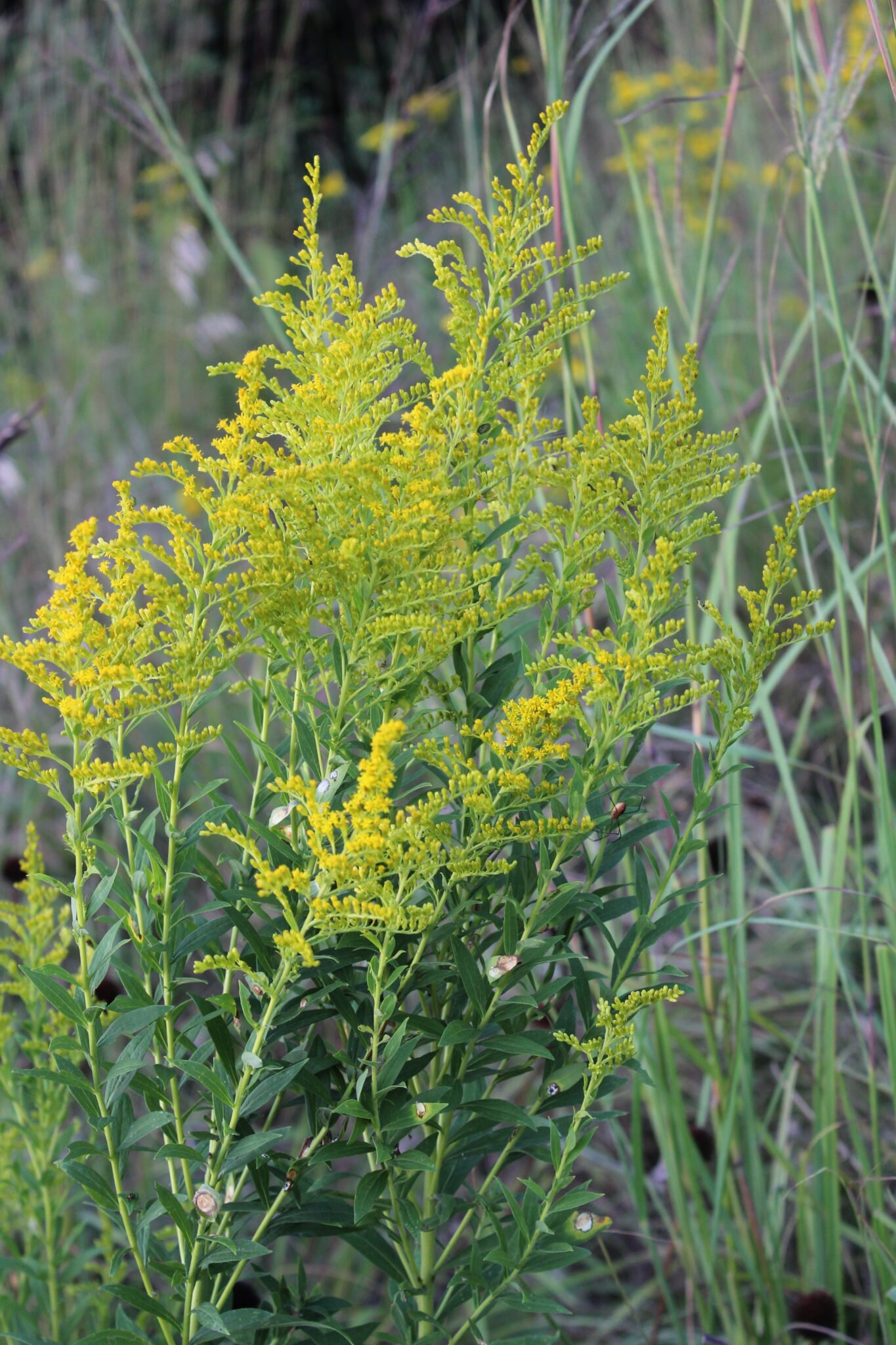 There are different types of goldenrod. The one pictured below was grown from seed in a naturalized field near me. But, it still has a very yellow flower that blooms at the same time as ragweed.
This is a closeup of the above goldenrod growing in a field.  Ragweed does NOT have a yellow flower.  It has that ugly green spiky flower.
Where does ragweed grow?
It does grow in most areas of the United States and Canada. Specifically, when I was looking to update my ragweed pictures, I looked for areas with recently disturbed soil. I've even seen them in garden beds. Good motivation to keep up with weeding!
I headed toward a local retail construction site and it took just a few minutes to find some great specimens.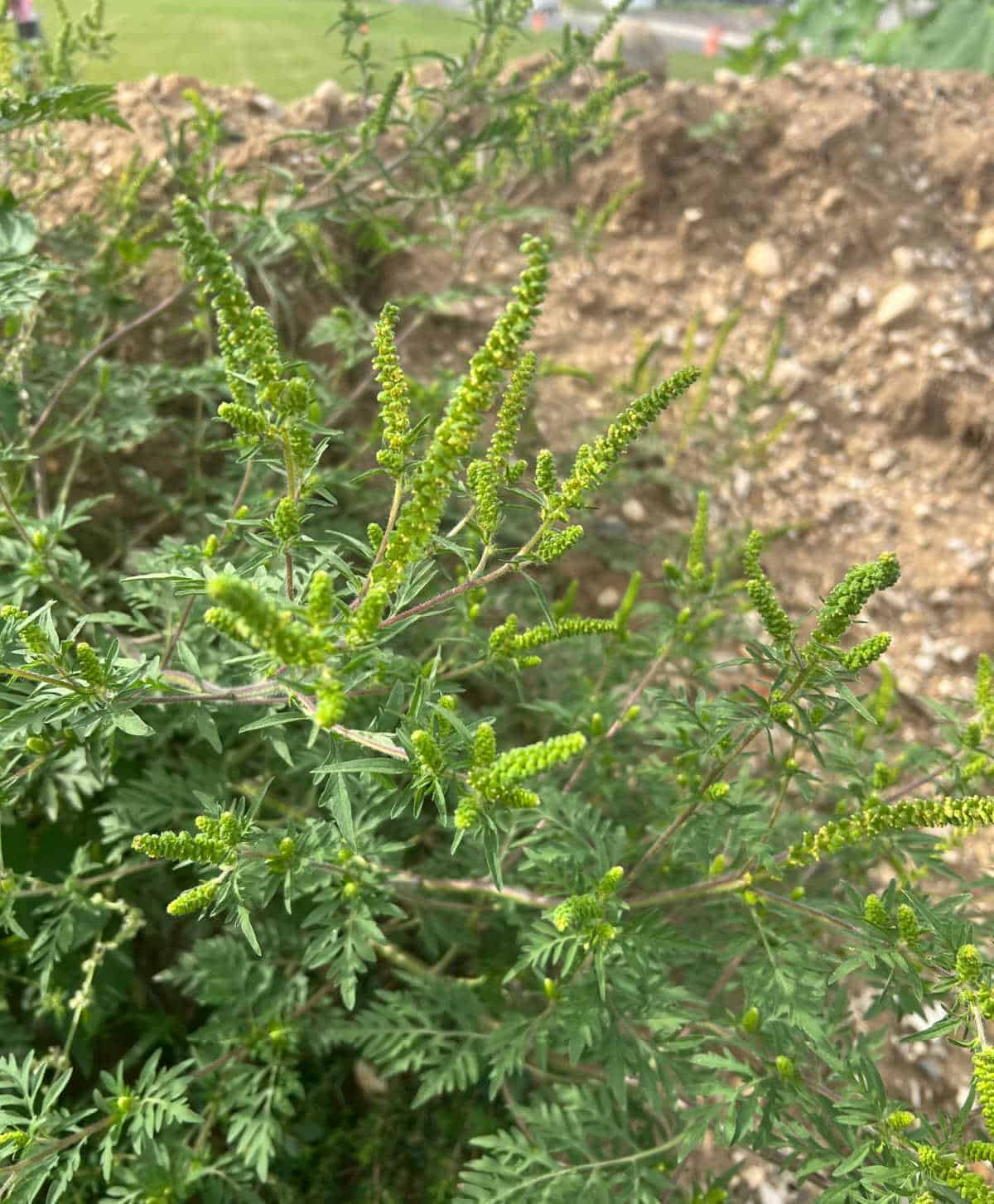 The above was just a mound of dirt near a construction site and there were plenty of ragweed plants!
The image below is a younger plant that doesn't have the large ragweed flower spikes yet. I included the image so you can get a good look at the leaves of the plant.  You can see the stones in the dirt and how dry it is.  This plant really grows in what would be inhospitable to many plants.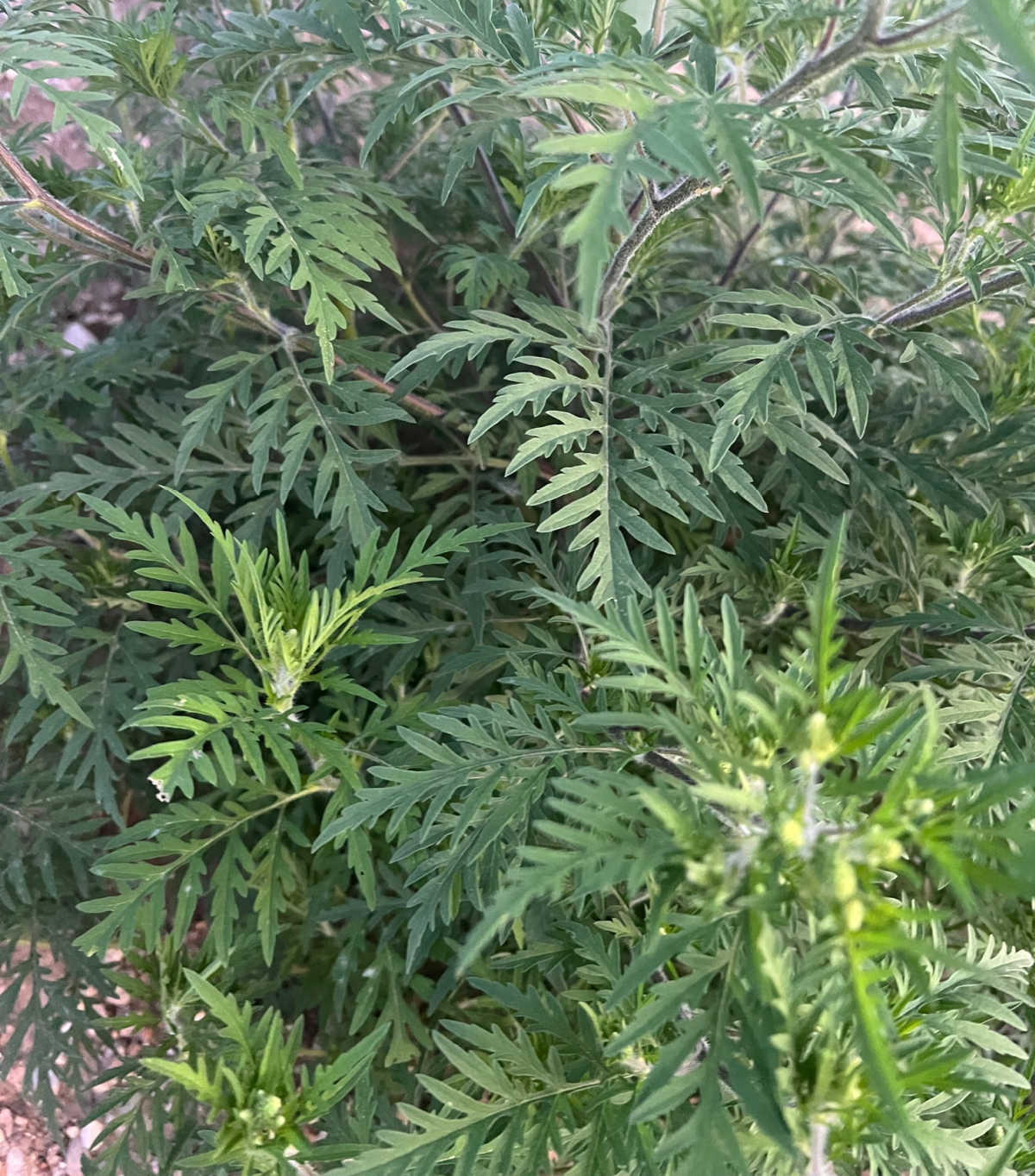 The picture of the ragweed below is in an abandoned parking lot of a big box store that closed down.  Amazingly, they pop up and thrive in the cracks of pavement and even concrete. Part of the reason so many people suffer from a ragweed pollen allergy is the fact that this weed grows easily, even in urban areas.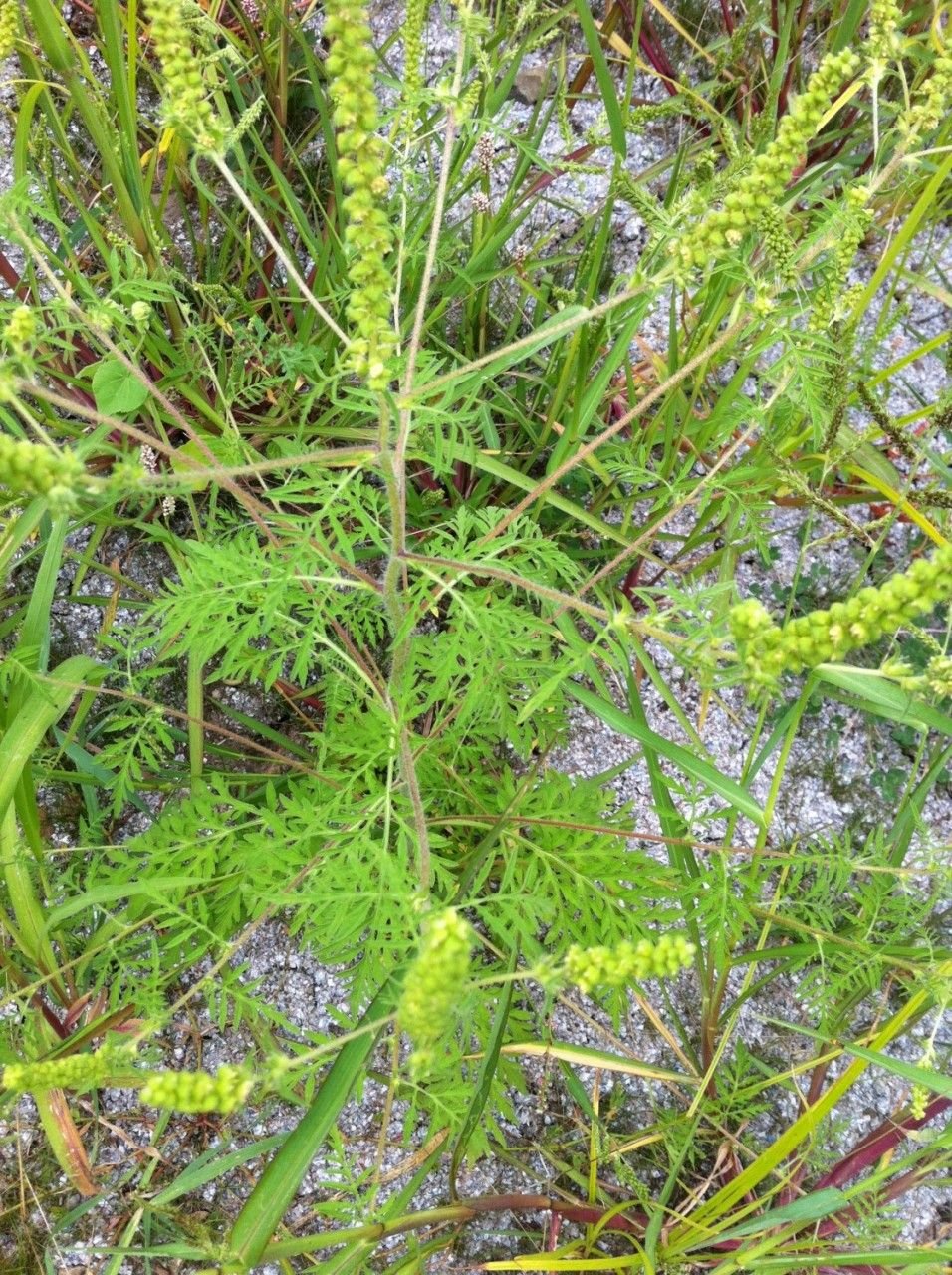 I was doing some research on ragweed and thought it interesting that there are male flowers and female flowers.  Honestly, taking pictures is as close as I want to get to this plant.  Like many people, I suffer from allergies and need to start antihistamines early in the season.
Giant Ragweed, Ambrosia trifida
The flower of the giant ragweed looks similar to that of the common ragweed. Here is an image showing a closeup of the flower.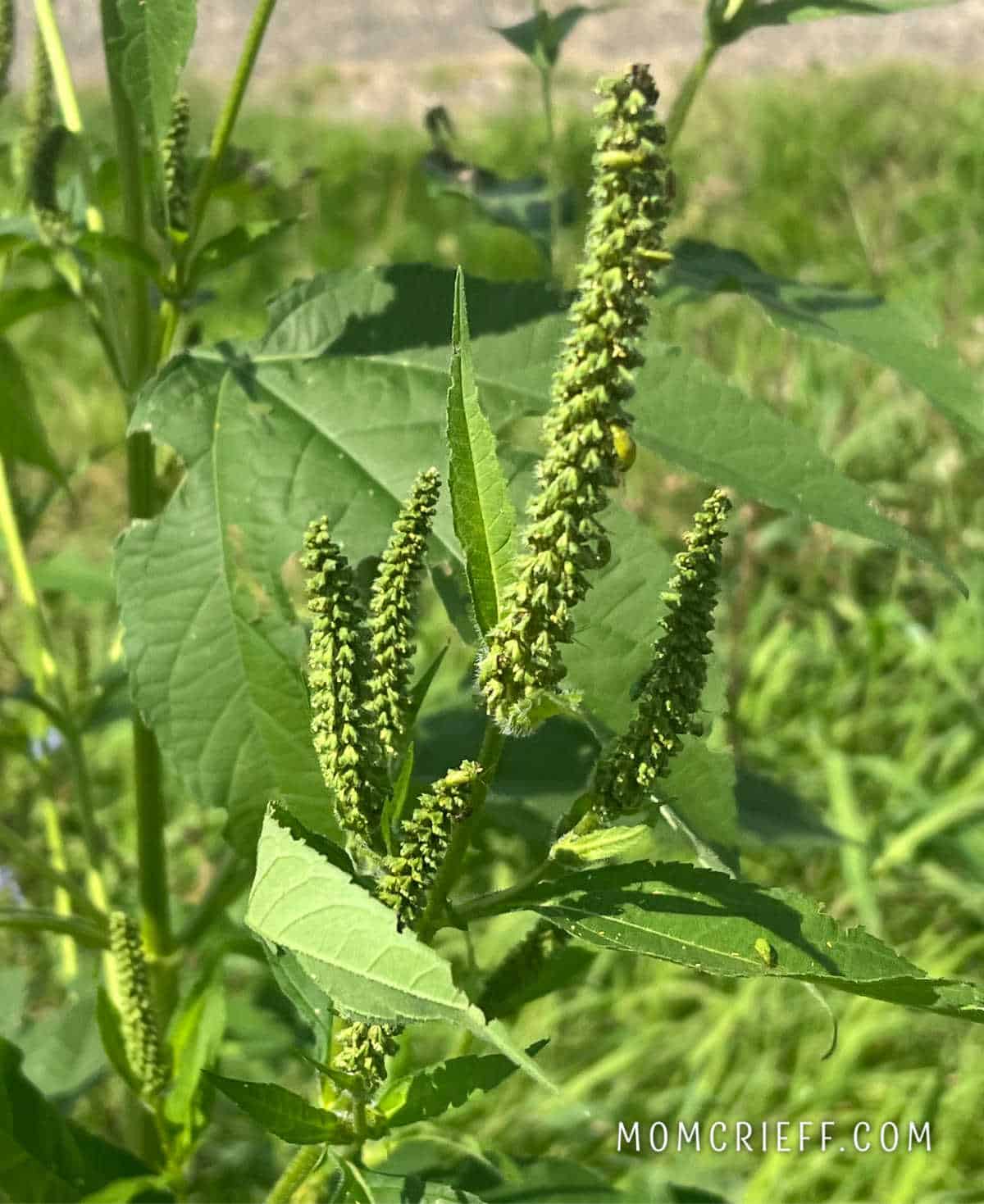 This is what the giant ragweed plant looks like. The leaves are different from common ragweed but the flowers are a very similar spiky green. I found this plant (there were many actually) at the side of a road near a farm feild.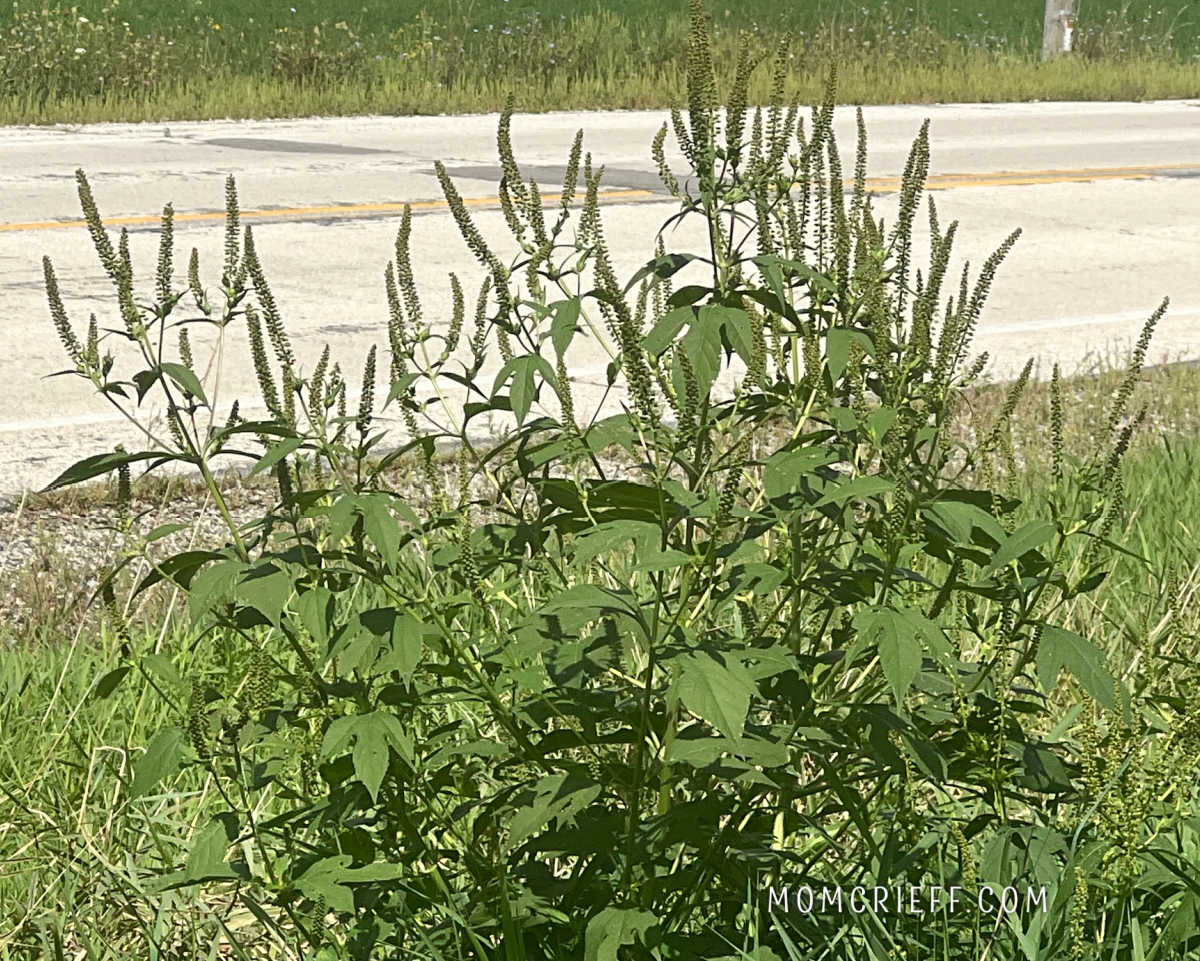 The picture below is a closeup of that common ragweed leaf. Look at the very distinct shape. I've obviously circled one so you can get a good look at it.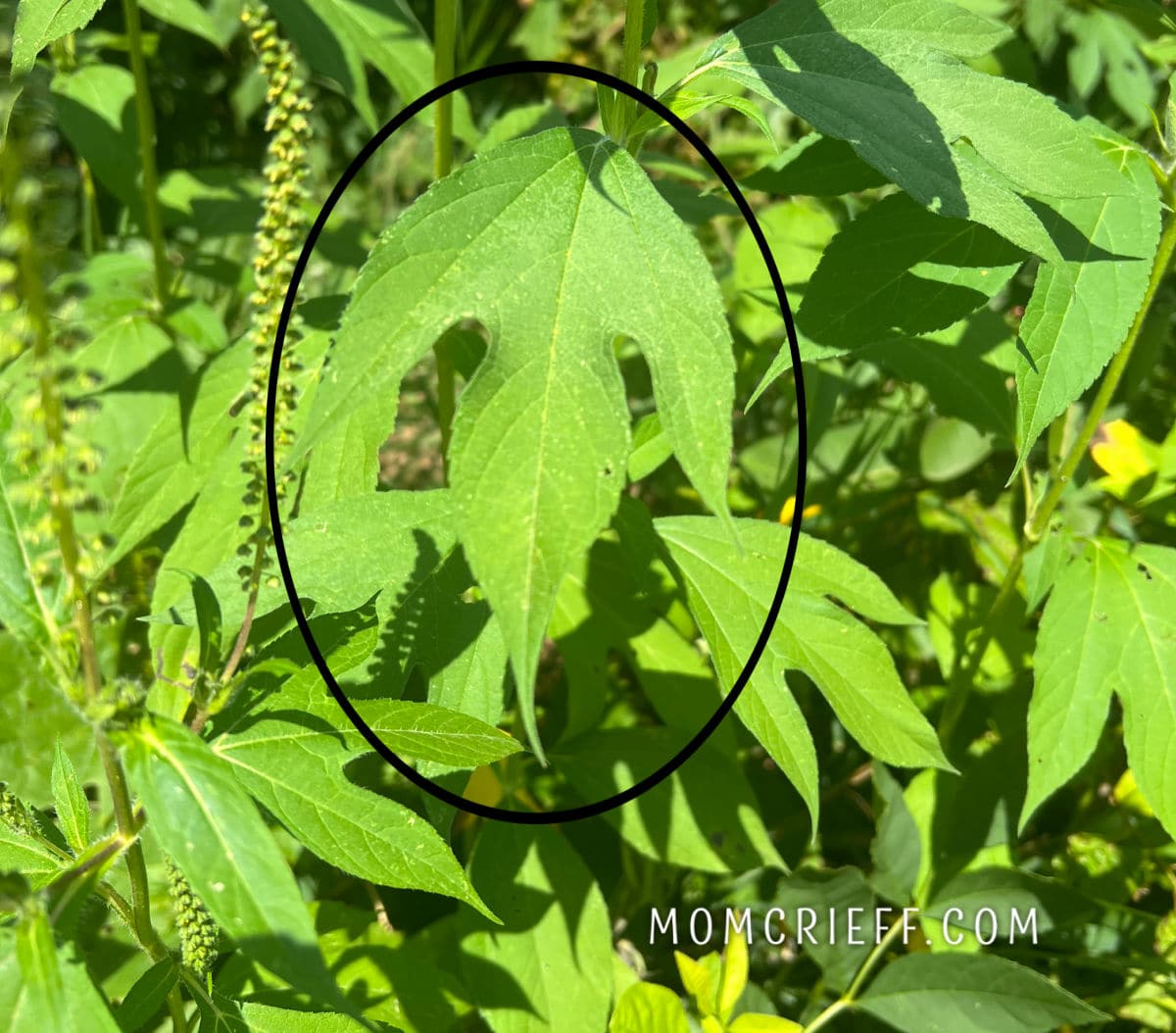 It should be noted that not all the leaves have that shape. In this top-down picture, you can see that some of the smaller leaves, especially around the flower, don't have that defining shape.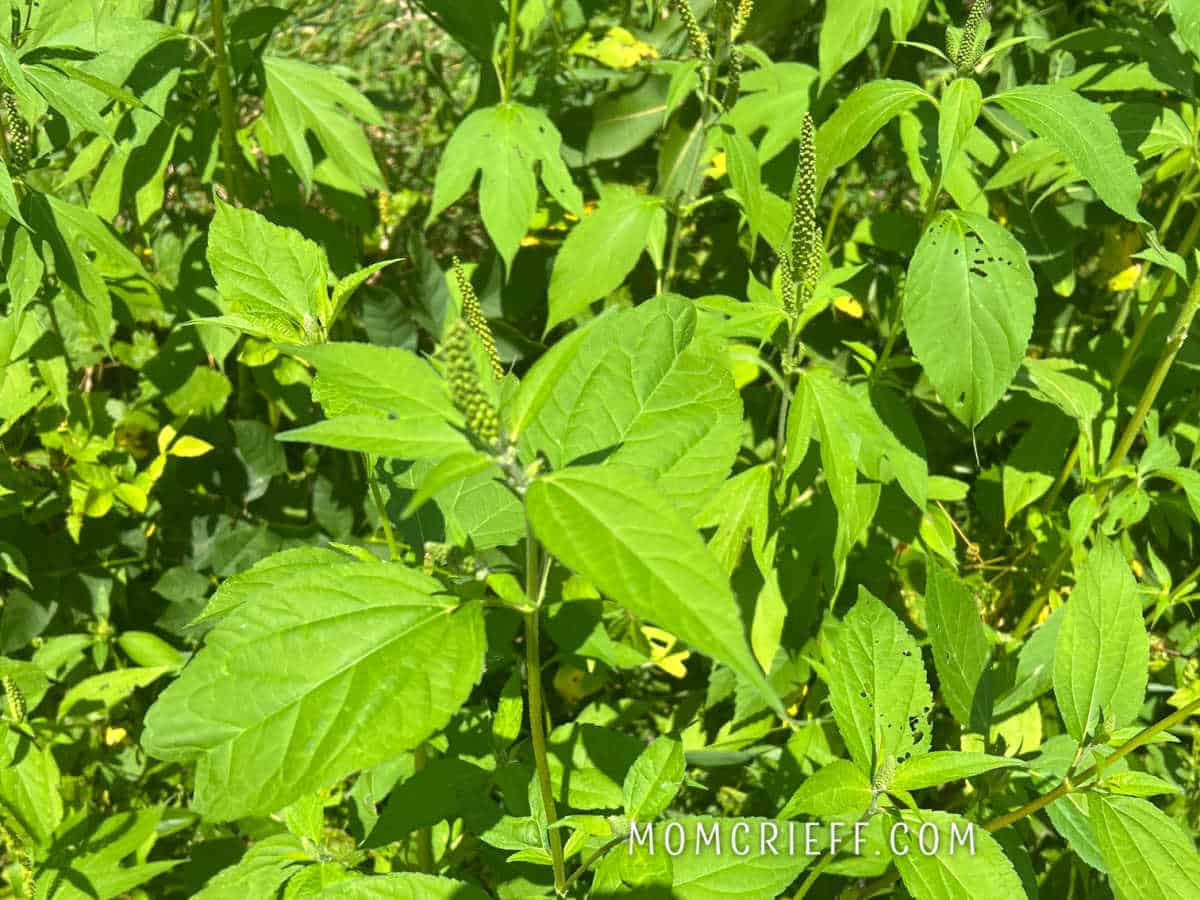 Quick summary of how to tell the plants apart
Common Ragweed leaves.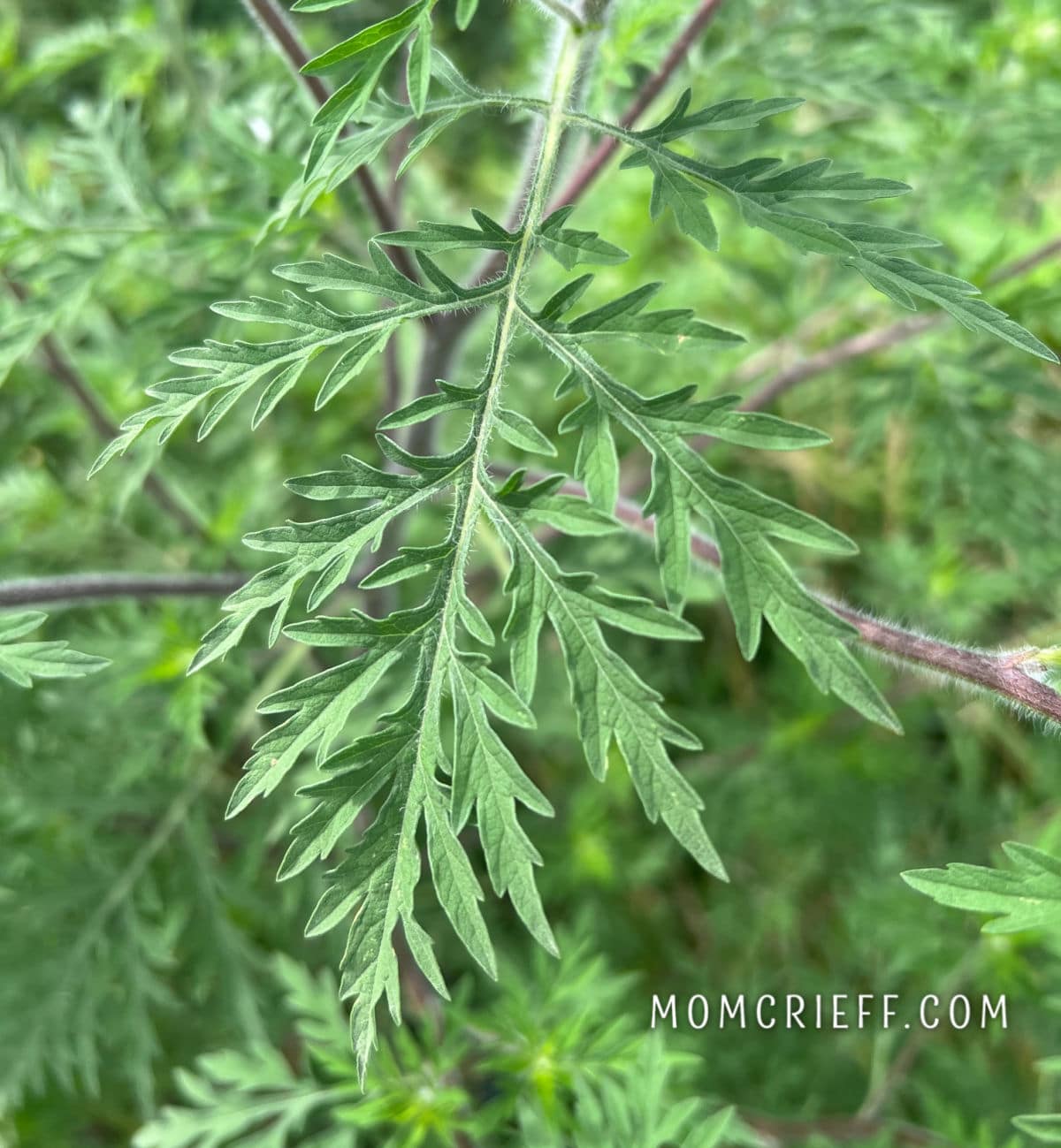 Giant ragweed leaves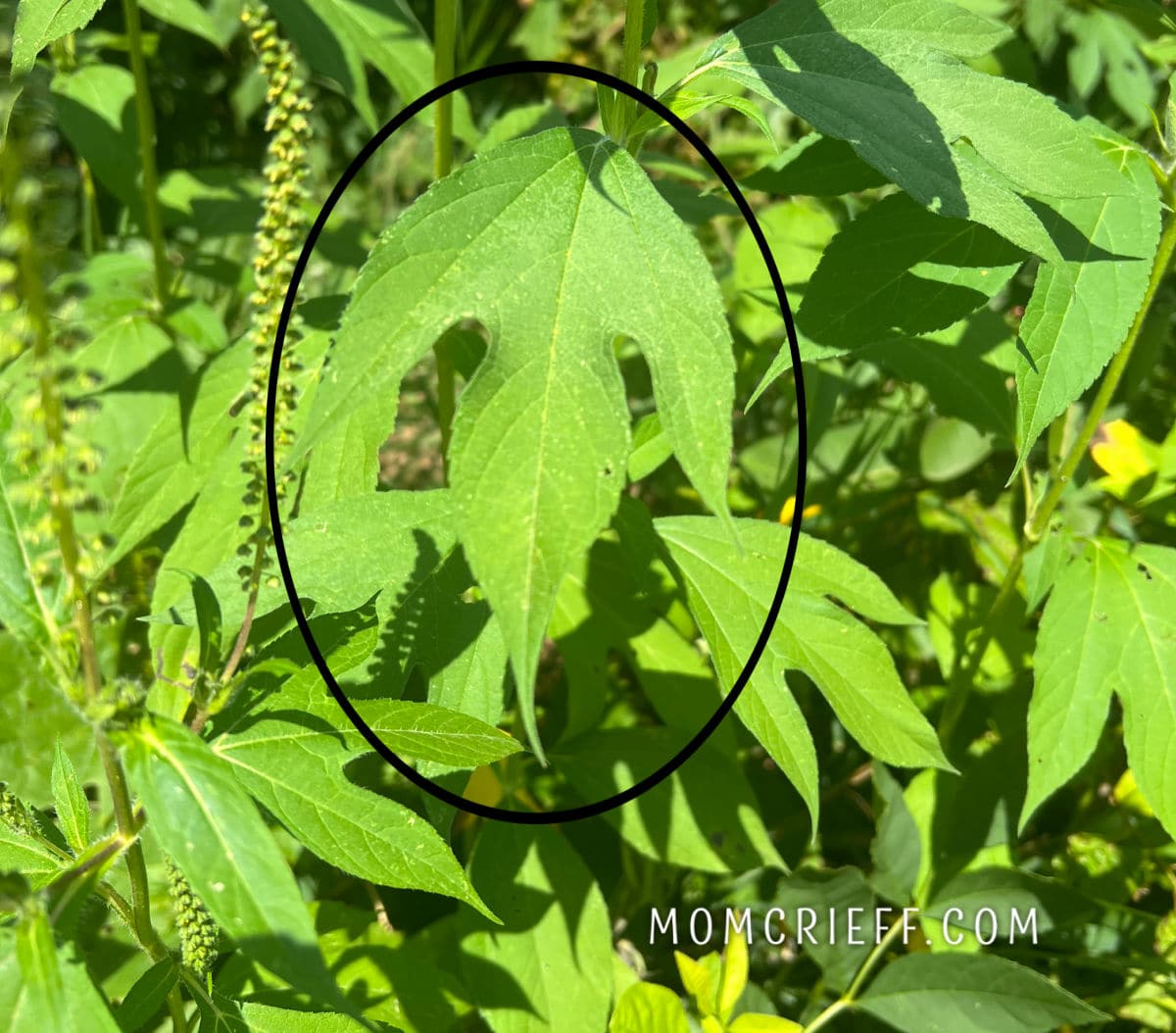 The goldenrod flower which is yellow/golden and not green. It is NOT ragweed. The pictures below will help you identify goldenrod.
Hopefully, I've shown you the differences between goldenrod and two types of ragweed! Keep in mind that there are different varieties of both plants, but, my pictures should be a good guide. Remember, look at the leaves, that should be your best indication that the plant is ragweed and which kind of ragweed.  And remember the flower of ragweed is green, not yellow!
Updated Aug. 2022, Aug.  2014, and  Sept. 2018
**Below you will find some of the original ragweed pictures and commentary from when I originally wrote this post. I have found some folks like me to keep the original pictures and information during updates.
I've added more pictures. So many of you have visited this blog post looking to figure out what this weed looks like.
The first two pictures are of ragweed growing in really bright, sunny conditions (side of the road, between the road and the sidewalk.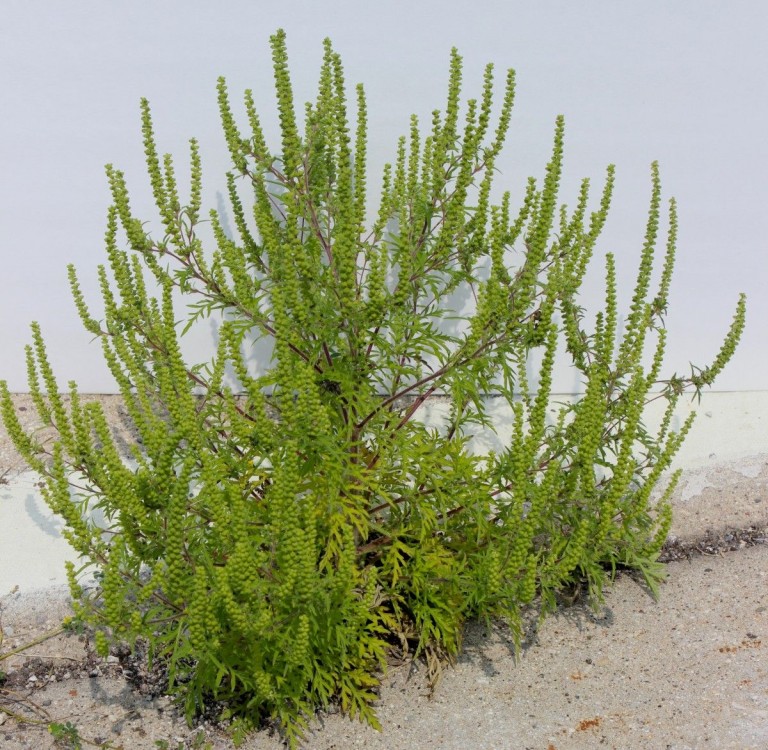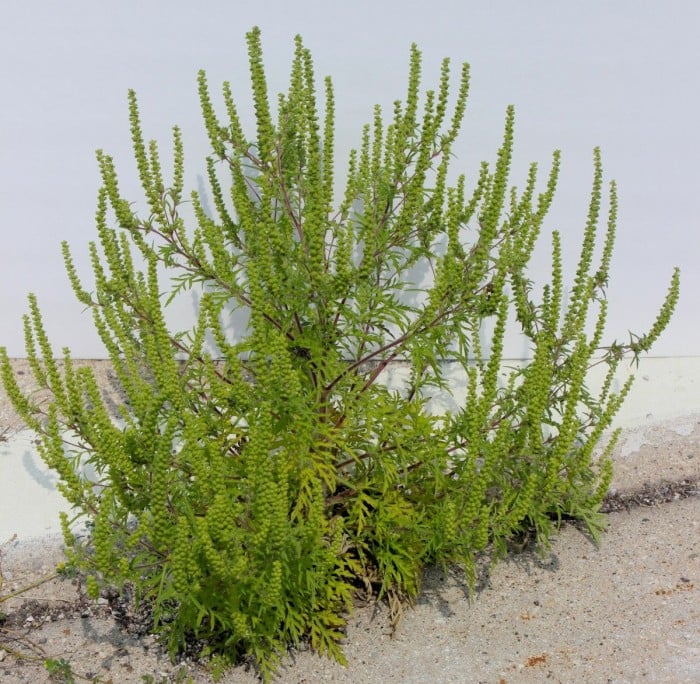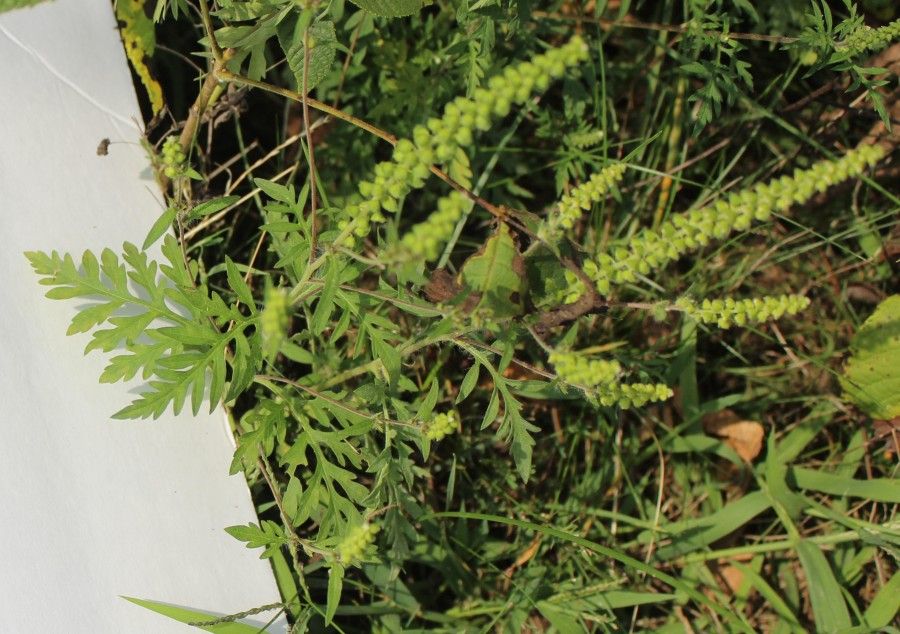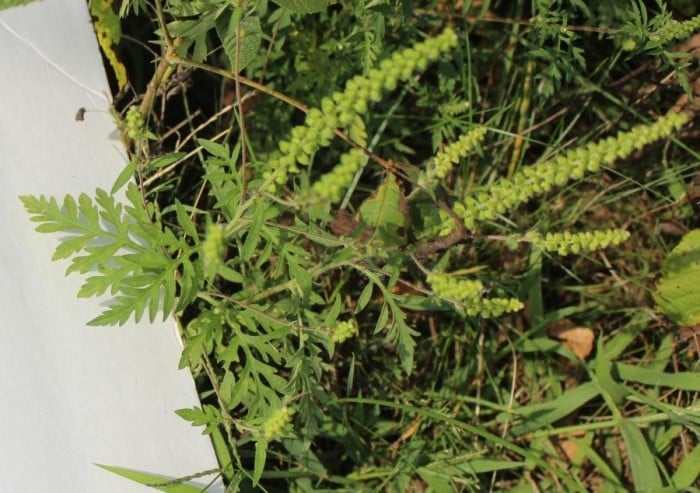 These next picture is a ragweed plant that I found in shadier conditions.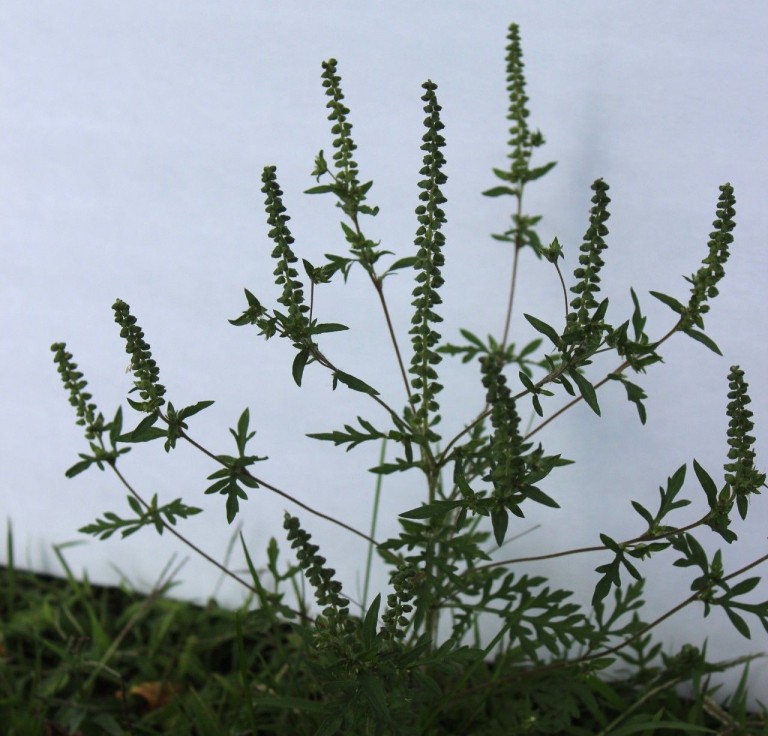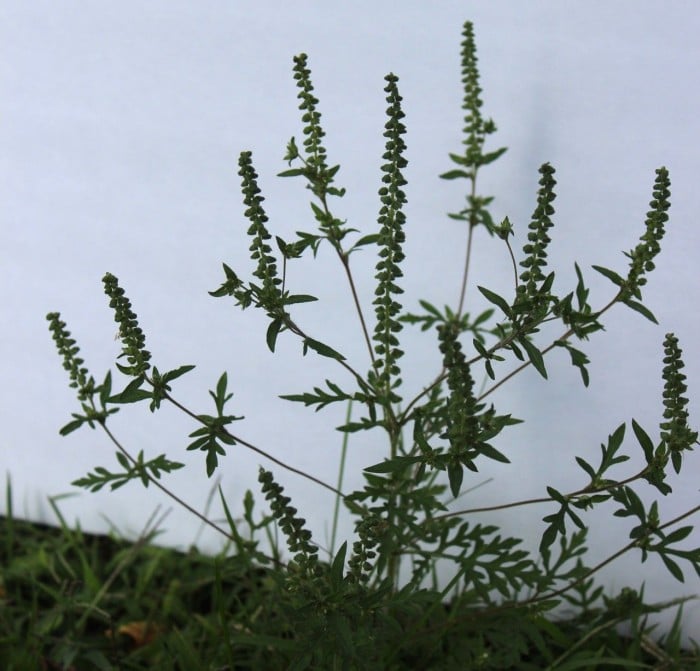 I hope these pictures of ragweed help you identify this weed that everyone is allergic to.  Let's stop blaming the poor goldenrod plant for our allergy ailments!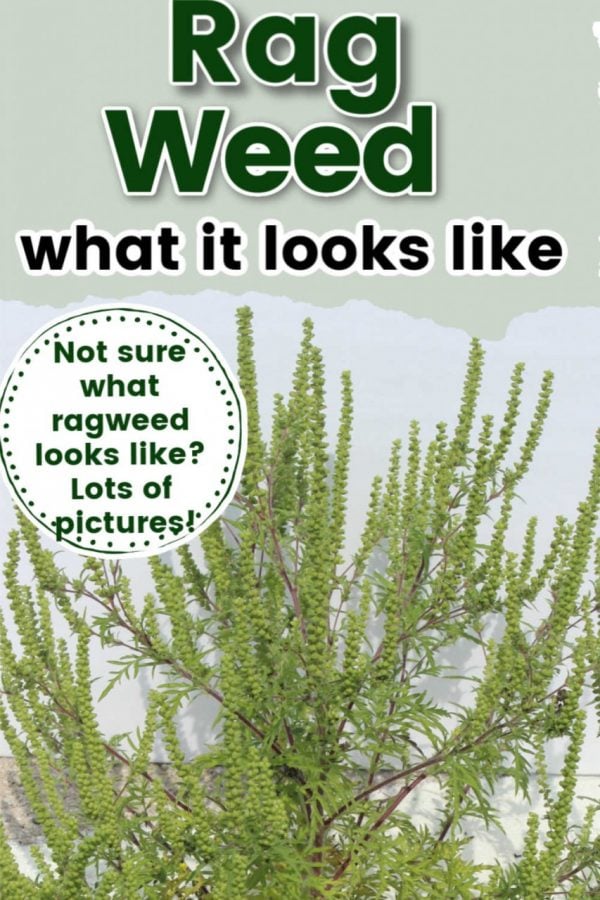 Be aware of the types of ragweed that grow around you. Along with common ragweed, there are also giant ragweed and western ragweed in large parts of the country. If you do feel you have serious allergies in the fall, contact an allergist and see if perhaps allergy shots help if your symptoms are severe. (please note I am not qualified to provide medical advice so I suggest you seek the assistance of a medical professional).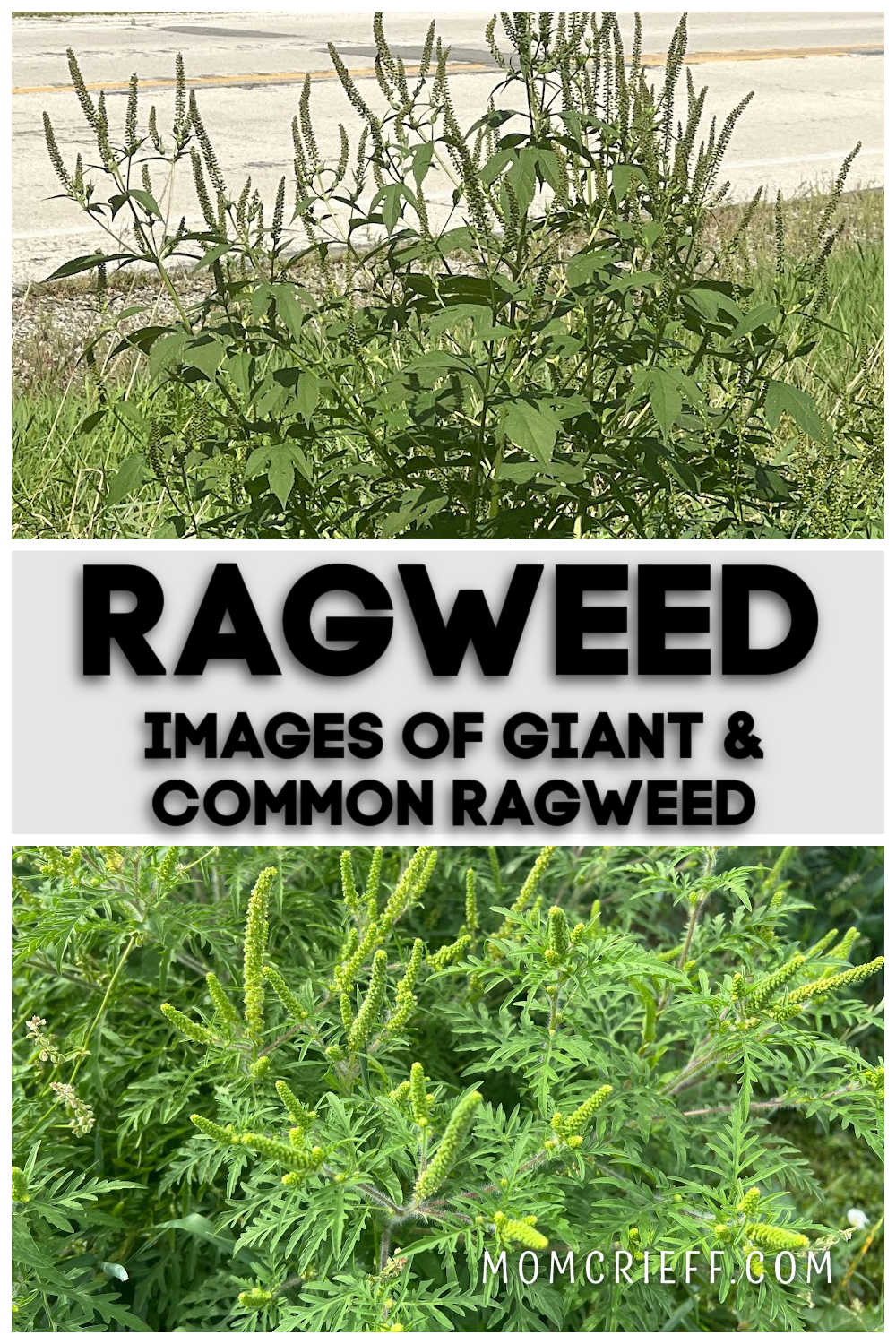 Originally published October 2014.