Easy and Inexpensive Fall Decor
I love fall and fall decor comes a very close favorite to Christmas!  But, I do try to keep my seasons/holidays in order.  It's early November and I'm FINALLY sharing my fall decor!  I feel like others are onto Christmas but for me, it's still fall!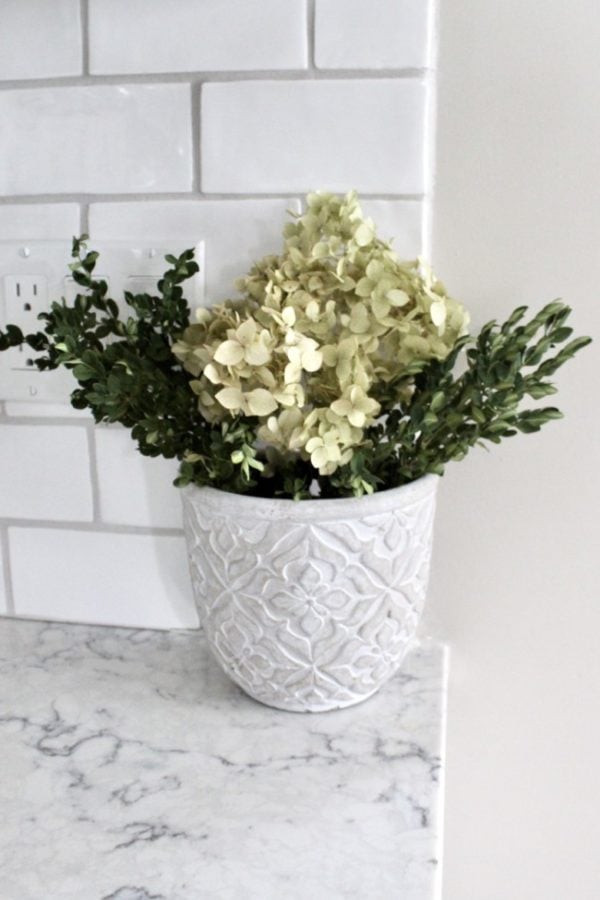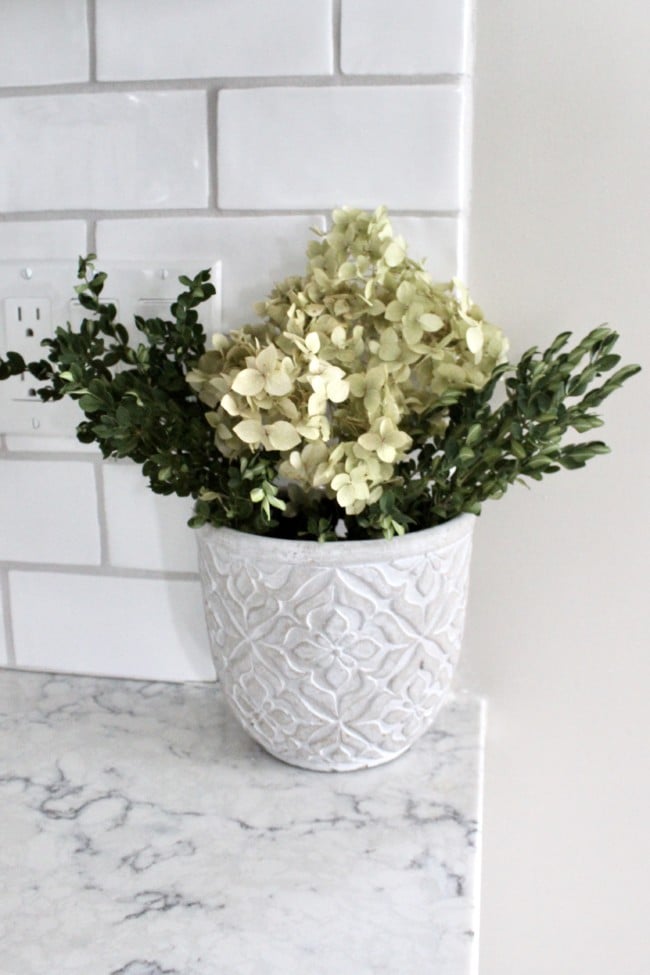 The reason my title says easy and inexpensive fall decor is that I tried to use as much from my garden as possible. I love the natural element in gardening and the fact that with a few snips I can bring the outdoors in and contribute to inexpensive decor.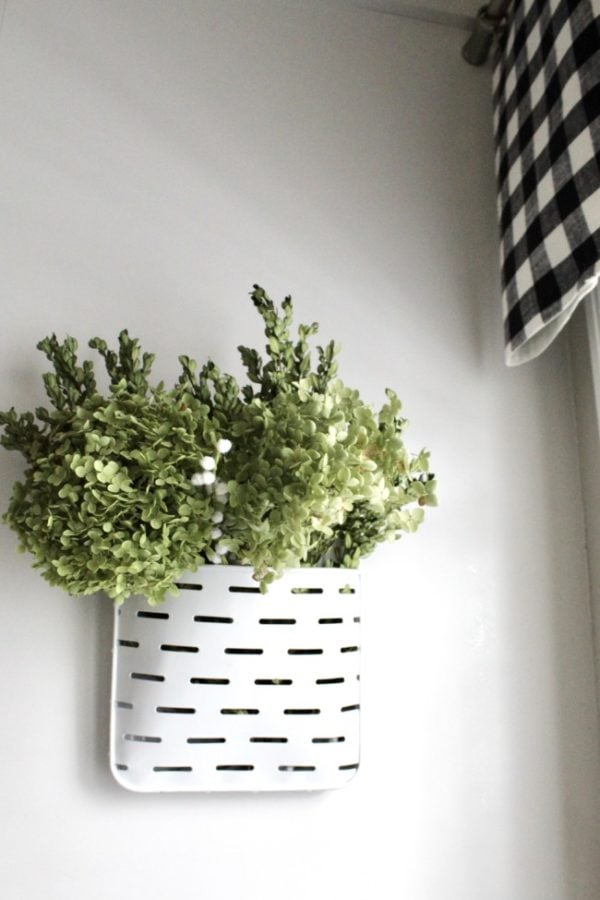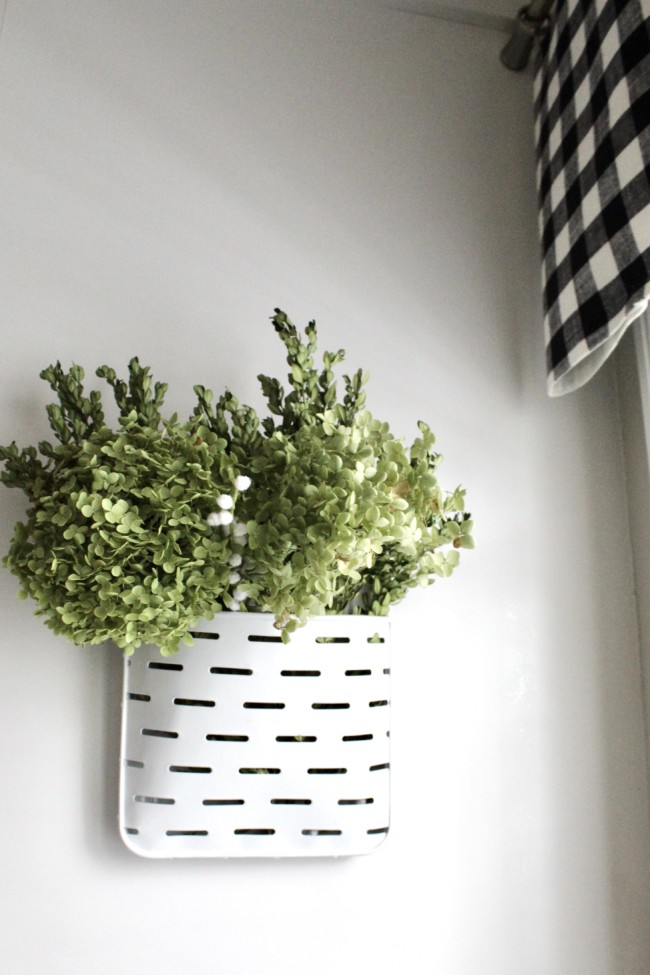 Did you see my post about inexpensive and easy no-sew window buffalo plaid valances?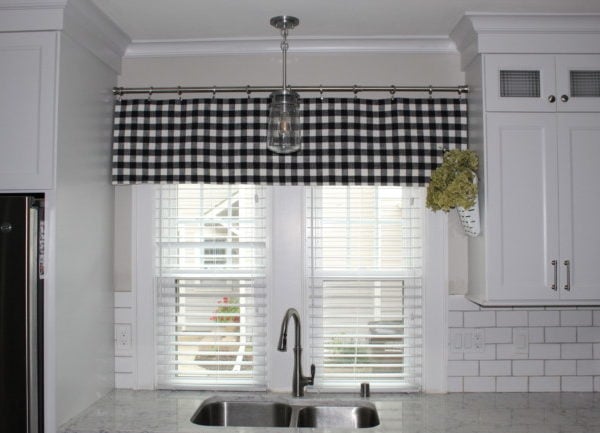 It was such an easy and simple way to get exactly the window valance I wanted.  And it was inexpensive too!
My kitchen and my dining room are now open to each other after I removed a wall in a major kitchen renovation.
My kitchen is brand new, and I love it!  It's just over a year old now!  And, that's brand new in the life of a kitchen!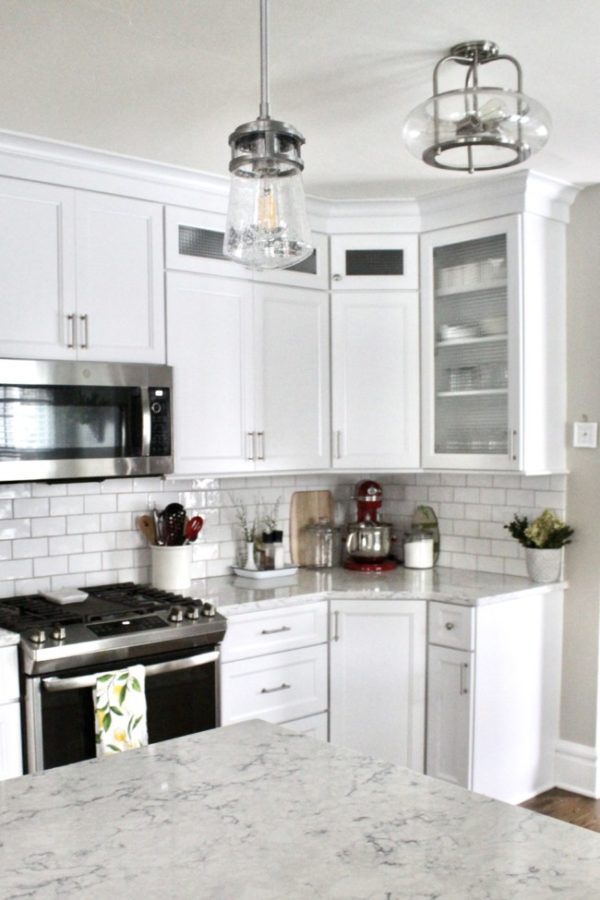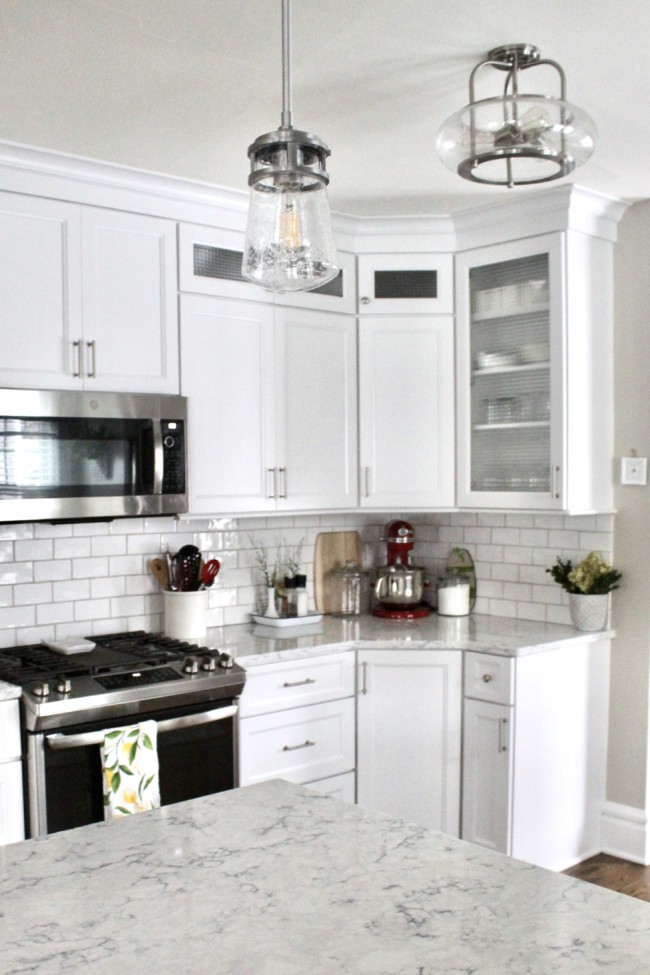 But my dining room is just a few years shy of 100 years old and it's the most beautiful room in the house.  The picture below is from my fall decor in 2018.  The two now are used as one room.  I didn't squeeze a small table in the kitchen.  I took out a wall between the kitchen and dining room (yes, it was an HGTV style reno!)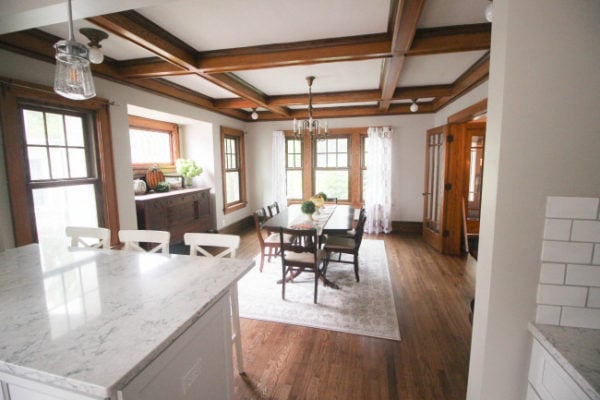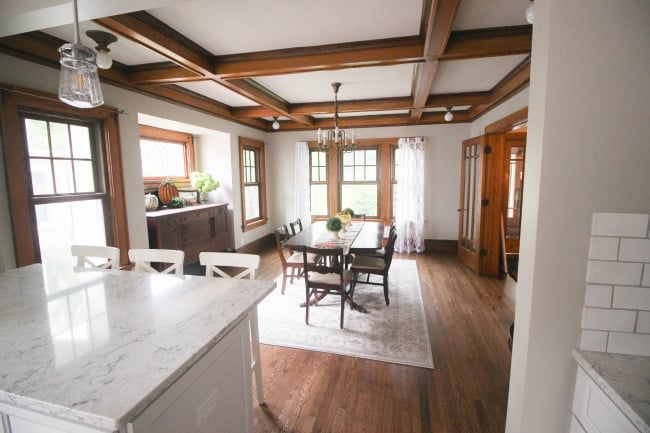 I can't help myself.  Let me show you what it looked like before!  That wall blocked the beautiful view of the dining room.  And, three generations of women did dishes facing that wall.  That was their view.  A wall.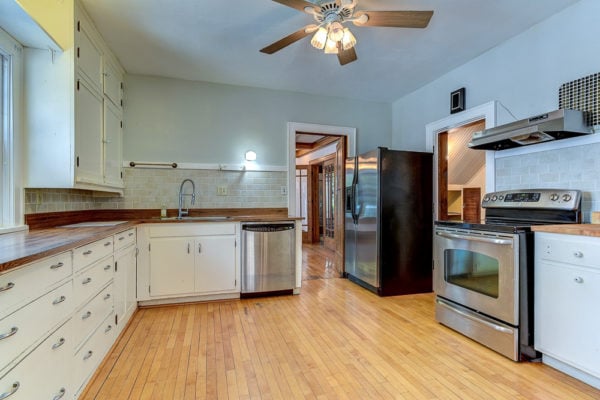 The dining room is one of the reasons why I bought this house.  It was a real fixer-upper at the time!  I needed lots of vision in many of the rooms but not the dining room.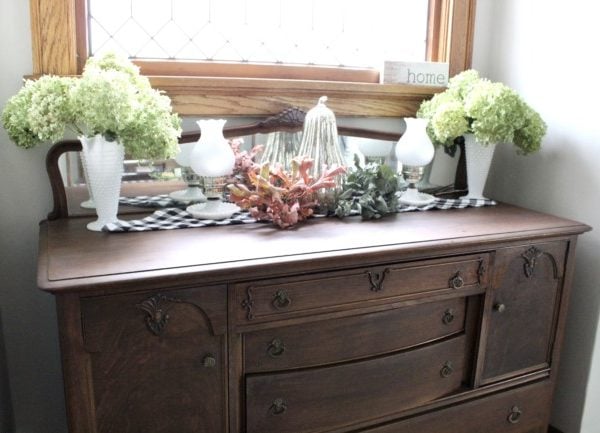 The leaded window is so pretty.  And this buffet is original to the house.  It was given to my by the original family who lived here for three generations.   It is at home here and is one of the most generous gifts I've been given.
I love milk glass, dried hydrangeas, and my mercury glass pumpkin.  I surrounded the mercury glass pumpkin with a branch of oak leaves and some dried eucalyptus. I used what I had for inexpensive fall decor.
Of course, my dining room table has fall decor on it too!  Shortly after I bought my house, I purchased this antique Duncan Phyfe dining table and chairs.  The chairs still need to be recovered, but that's another project for another day.  But I love how you can look right over the table and chairs and it doesn't block the view out the front window.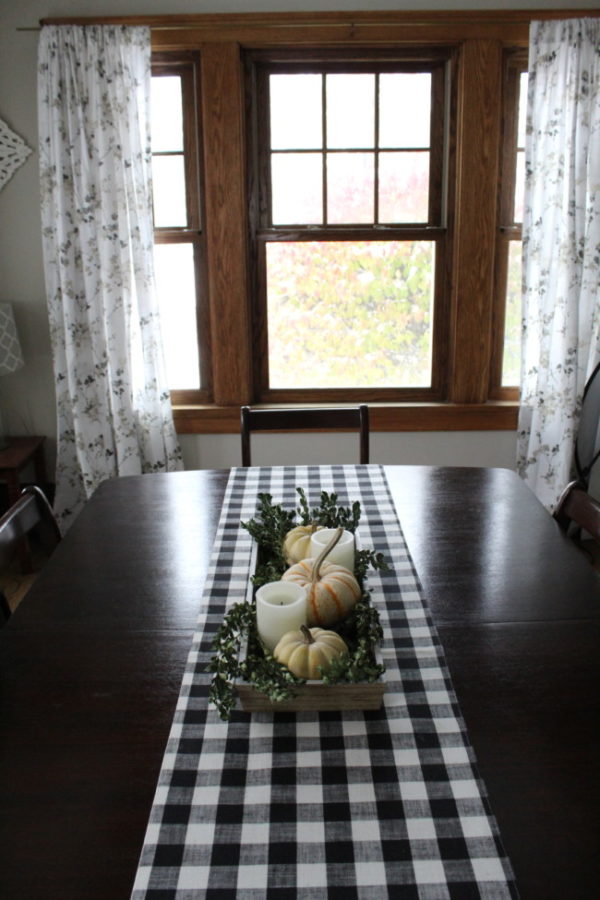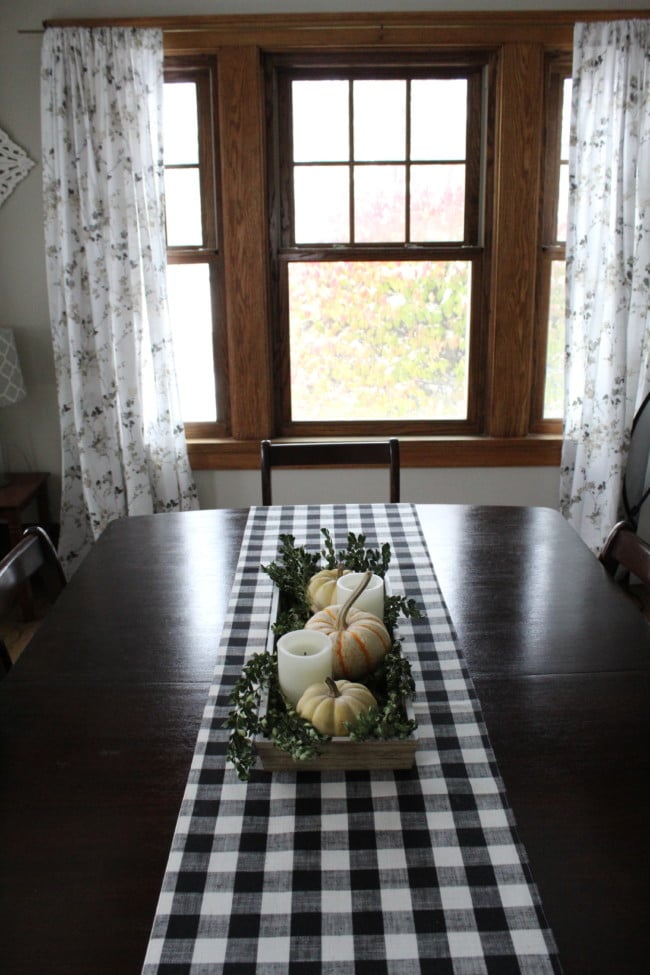 This fall tablescape has been on my table for over a month now!  The boxwood leaves have dried even prettier than I thought they would.  They have retained their pretty green color.  I love easy and inexpensive natural decor.  Oh, and the pretty wooden tray with the painted white trim - that was a $5.00 buy at Target last year.  One of my best buys ever!  I've used it so often in so many different ways.
Of course, I had to put a little fall decor on my coffee bar/beverage center!  This is also in my dining room.  I am trying so hard to keep my counters clear.  And this coffee station is a wonderful way to keep everything contained and in one spot.  I have different coffees and teas in the drawers.  It makes it easy for guests to help themselves, knowing where everything is!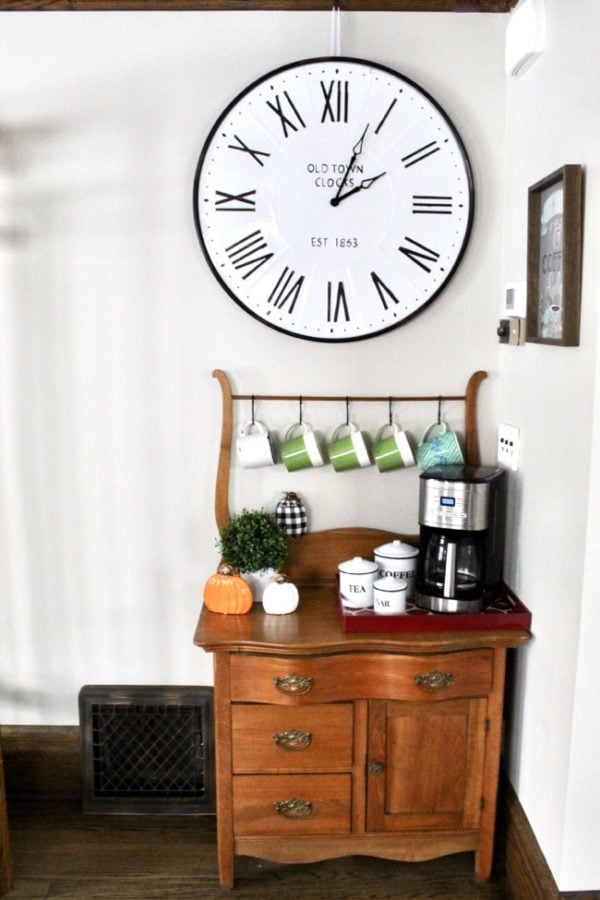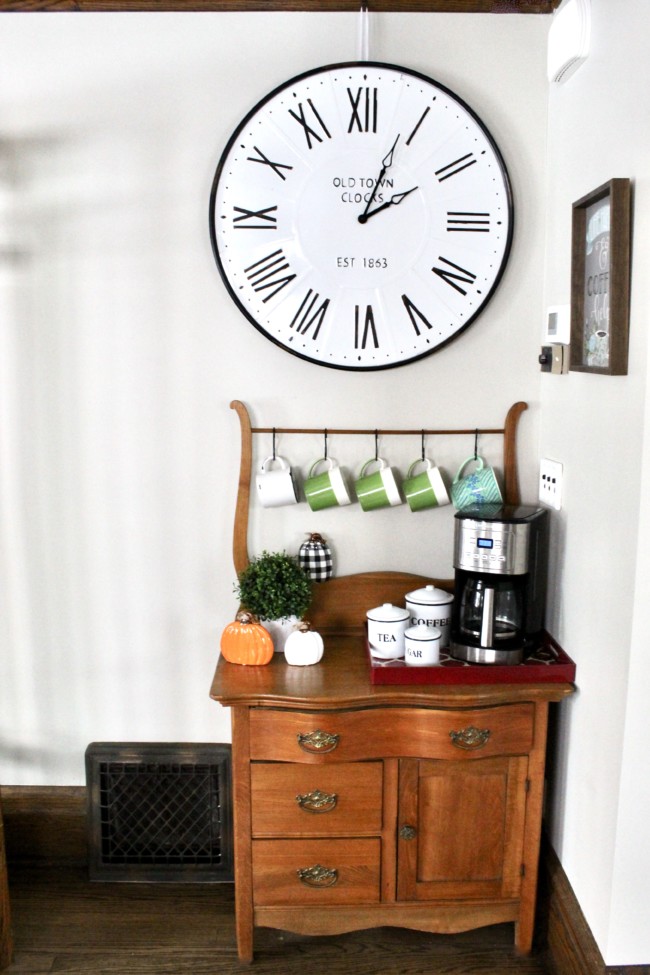 I just added a little bit of inexpensive small ceramic pumpkins on my beverage station.  Do you know this is actually a small dresser for a bedroom?  It would originally have had a towel on the bar and a pitcher of water and a bowl to wash up with.  But, don't you think it looks like it's supposed to be in my dining room as my coffee station?  You never know what you'll be when you grow up!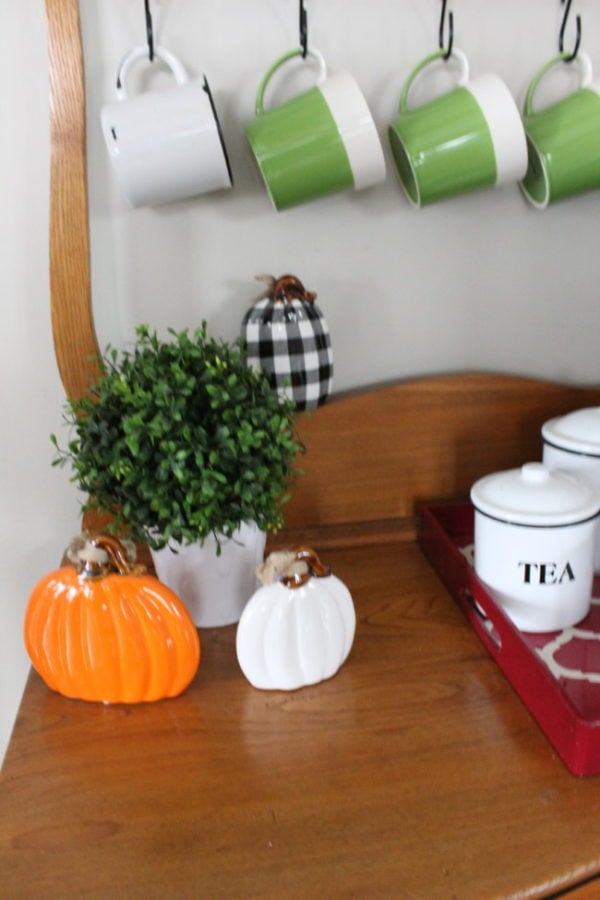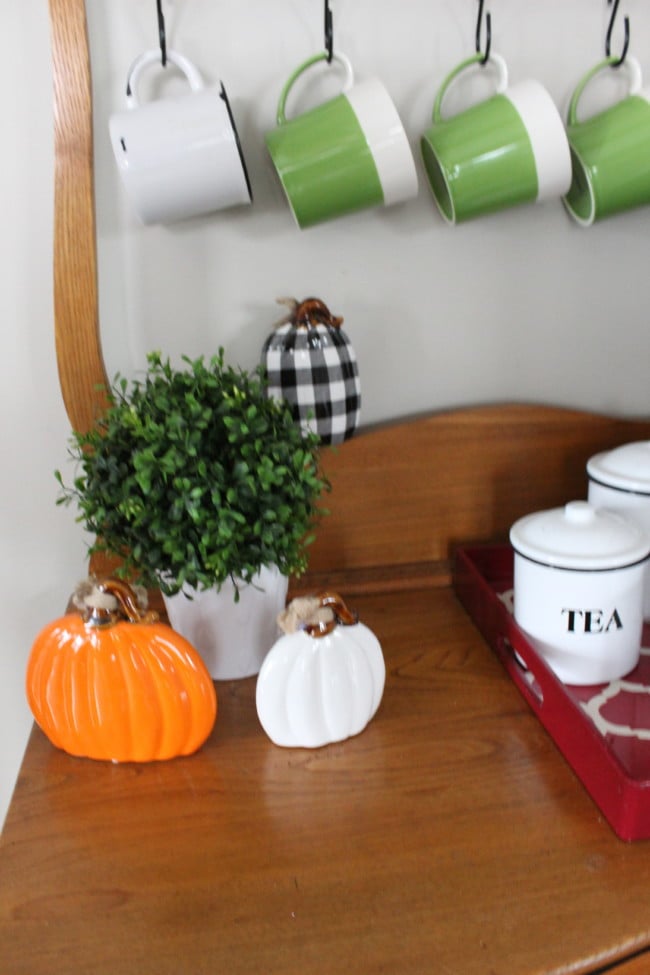 I'm sharing this sign in my kitchen because this is my home and it took quite a curveball in life and a bit of a renovation adventure to get here.  AND, it is a quote from the Wizard of Oz, which has special meaning in my community.  And I seem to be drawn for white enamel with black trim as decor for my kitchen.  It calls me when I see it in the stores .... "buy me, I want to be in your kitchen..."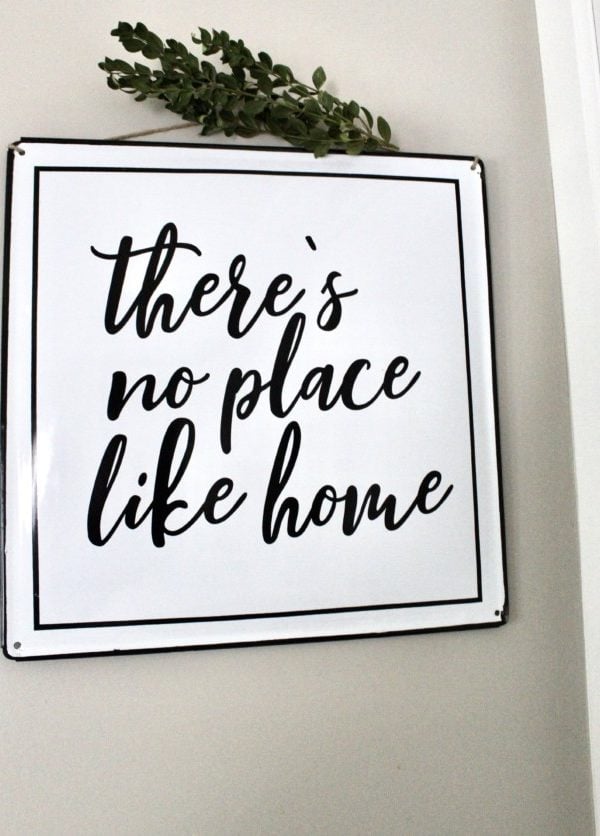 But let me continue with my inexpensive fall decor tour.  My living room!  The built-ins, the floors, and the fireplace are original.  The built-ins and the floors I love!  The fireplace is not working at this time and I'm suspecting there may be an update or two there.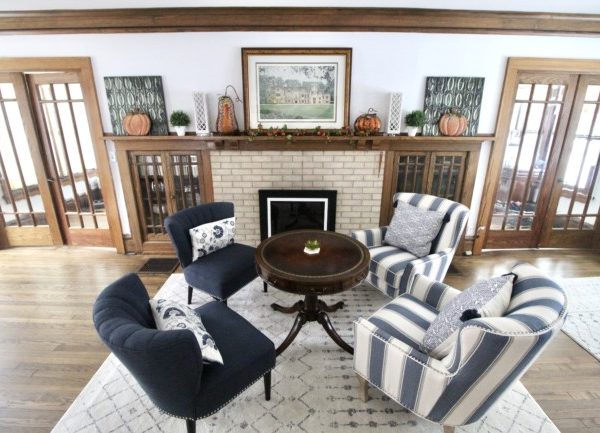 And let me give you a closer look at my mantle.   It's not like one I've ever seen before and I'm still working with trying to make it mine.  Above the built-ins, it is very narrow.  Only about 4 inches wide so it is a bit of a challenge figuring out how to use it.
I actually have a picture that shows you how narrow it gets.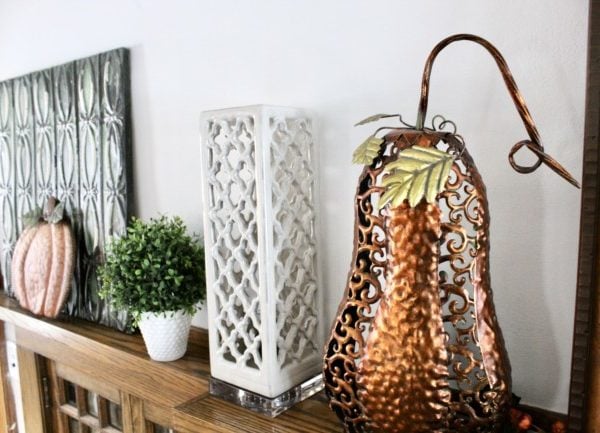 But I do love the water painting of an English Manor that I bought at an auction.  I did tell you my decor style is now incorporating things obtained that are not expensive.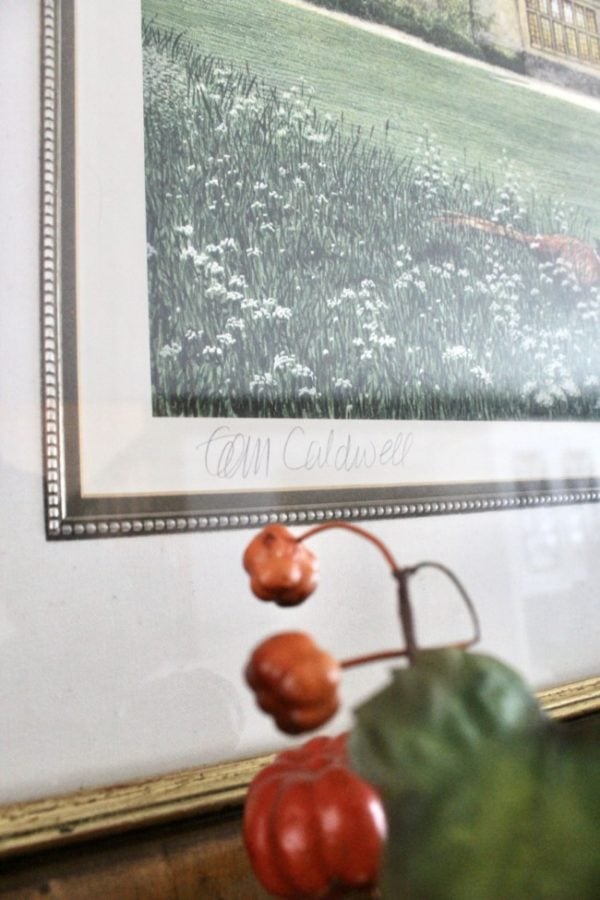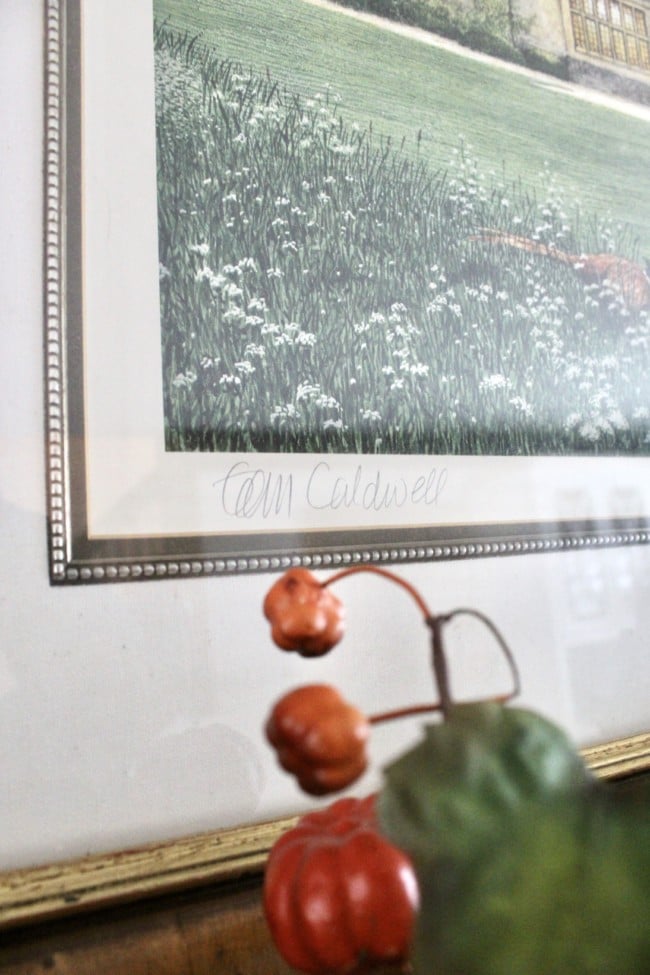 The artwork has an original signature.  And it was a total of $40 at the auction!  I love it.
I have both sides flanked by these beautiful green vintage ceiling tins that I've bought at a local consignment store.  I happened to put my metal pumpkin decor down at one point and decided it was perfect there!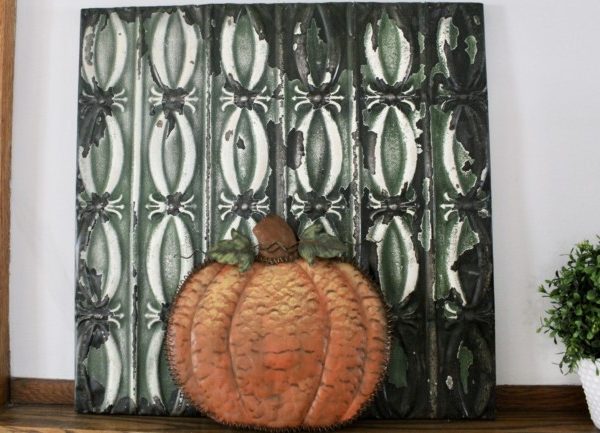 Below, I wanted to show how a little bit of garland can often pull everything together.  It makes my year-round English manor print seasonal - at least in my mind anyway!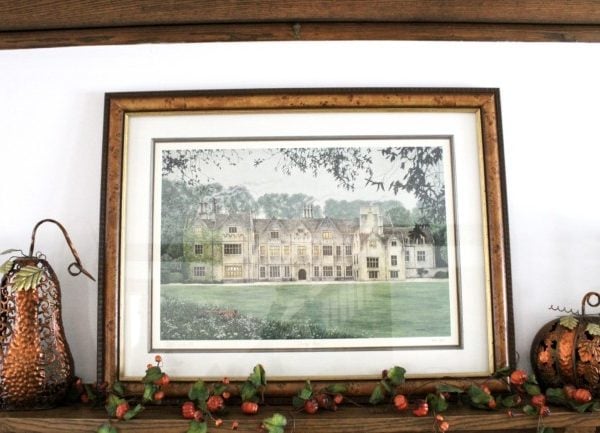 The garland doesn't even need to be super long! Just long enough to drape the main area where you feel you need something.  I also like using garland because it hides the electrical wires on my mantles.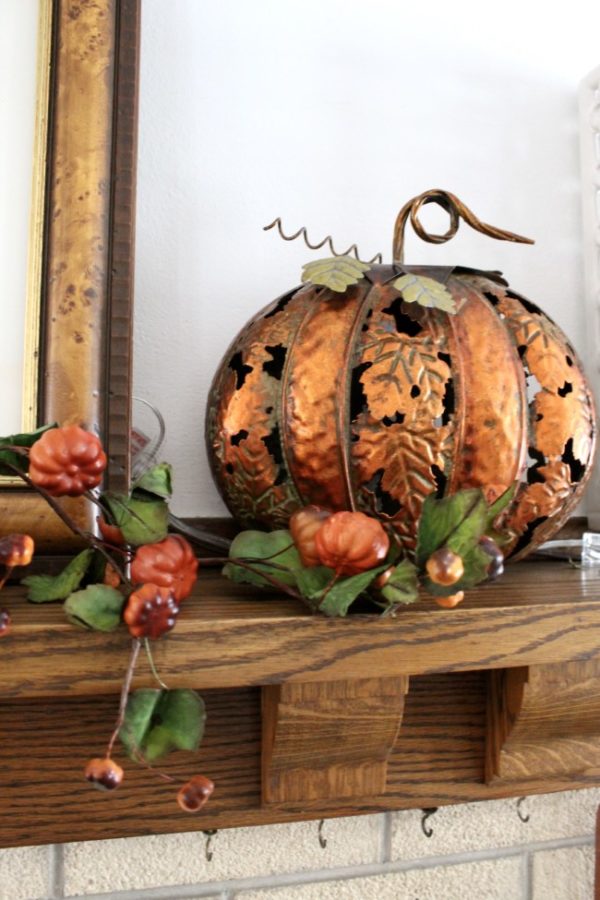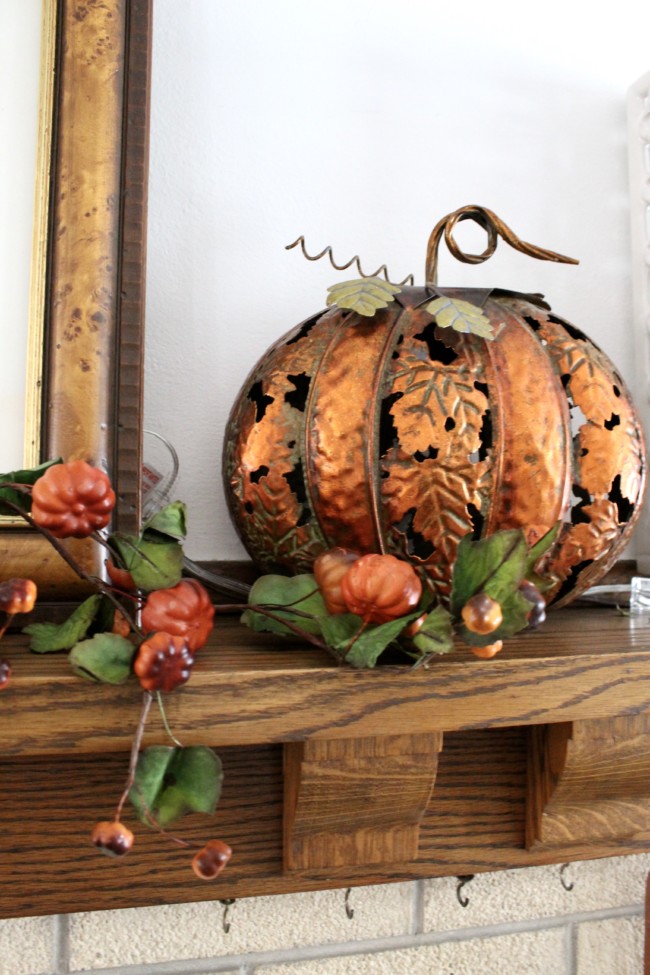 I'm still working at organizing, unpacking and figuring out how to decorate my home.  Things get moved around all the time.   When I was taking these pictures, I had a flashback to a post I shared about my blue living room in my 1920's house.    I loved the pictures except I felt you could see that I was actually using my built-ins for storage.  And it didn't look as nice as I wanted.  I actually remember having the whole post done and not wanting to publish it because of the cluttered look behind the built-in doors.   But, I owned it and even pointed out my dilemma of having these beautiful storage places that were so visible.
This time, I organized them before the picture.  Surprisingly, almost everything I originally in the built-in is still in there!   I put all the smaller junky stuff and put it in pretty boxes so it can't be seen.  I've been noticing a trend on the internet where decor designers are showing the pages of the books rather than the spine.  I just quickly flipped my books and LOVE the look.  I can keep my books but they look more unified, neat and neutral.  I had some extra fall decor that I didn't use so I displayed them.
My built-ins look neater, organized and what is in them looks more intentional.  And can I share a tiny secret?  I didn't realize how much they bothered me before.  It almost feels like I've been relieved of some stress!!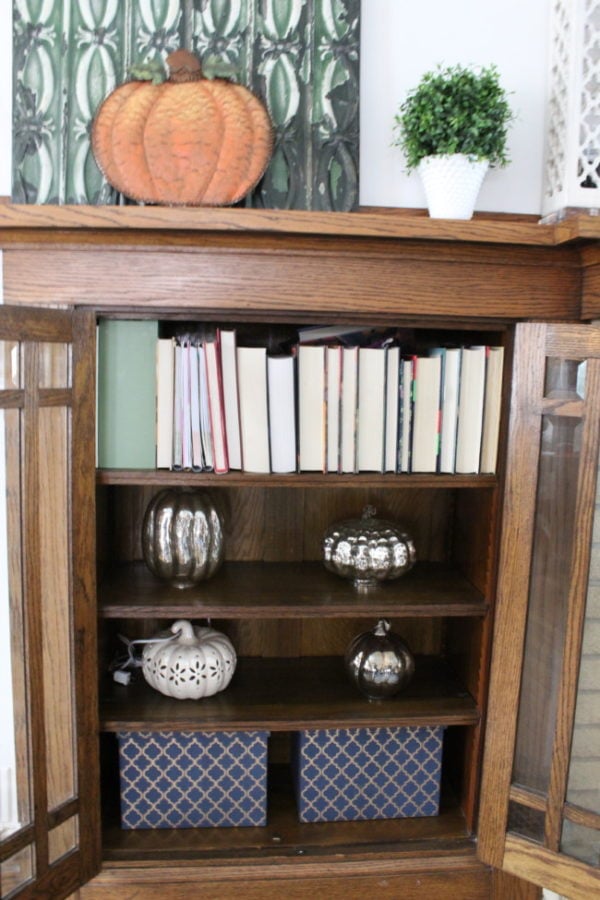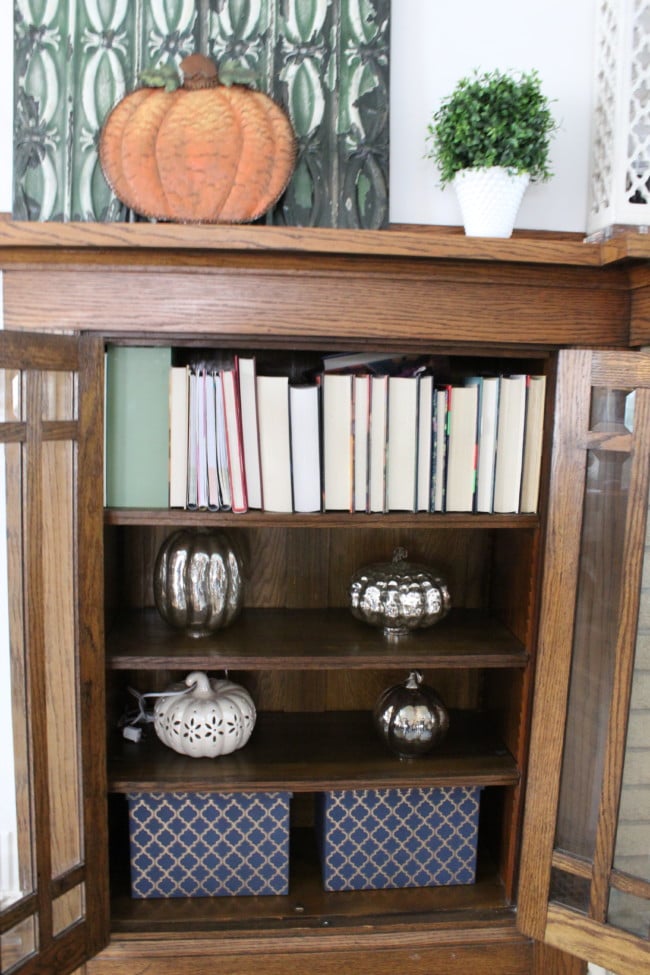 Do you reorganize (or organize) when you switch out your seasonal decor?  I'm hoping I will soon be done organizing everything!  I still have the odd stray box to unpack but it's getting there!
If you want to read more about my almost 100-year-old-home, here are some posts for you to look at.
Renovating my Kitchen - I bought a house without a kitchen