Why I created a coffee bar and beverage station.
I have a beautiful but smaller kitchen with beautiful quartz counters.  Nothing bothers me more than a bunch of 'stuff' cluttering those counters.  And that included having my coffeemaker and related supplies on the counter.  Now I have a cute coffee bar and beverage station.  It's pretty and organized.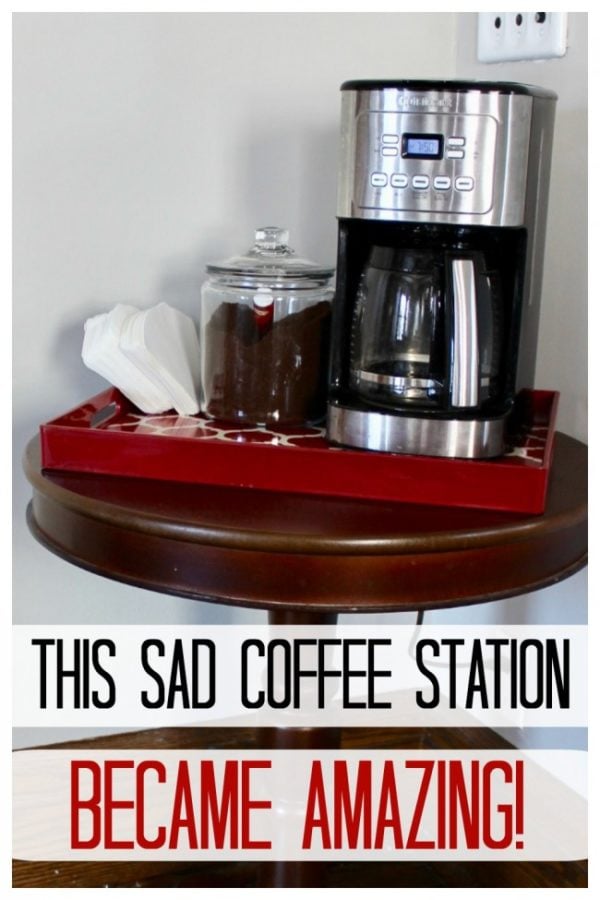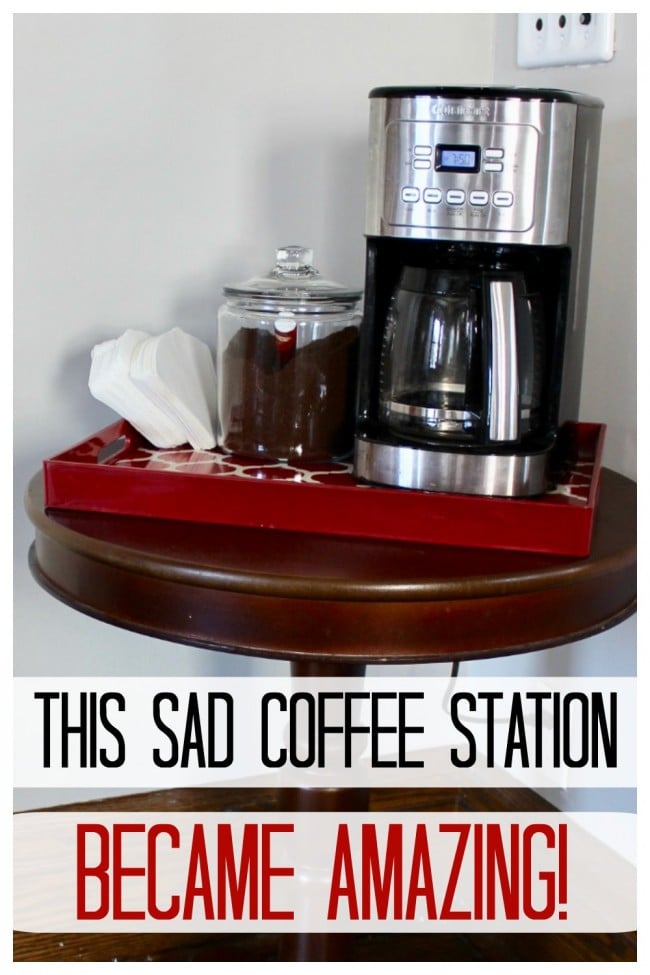 Where did I put the beverage station?
I removed a wall between my kitchen and dining room when I purchased my home.  It was an exciting renovation adventure.  I took lots of pictures and if you'd like a peek at my kitchen remodel (including images of the wall removal), take a look at my Kitchen Renovation post.
I have a corner in my dining room that is tucked away.   In my first attempt at a coffee station, I used what I had and just made a functional coffee station.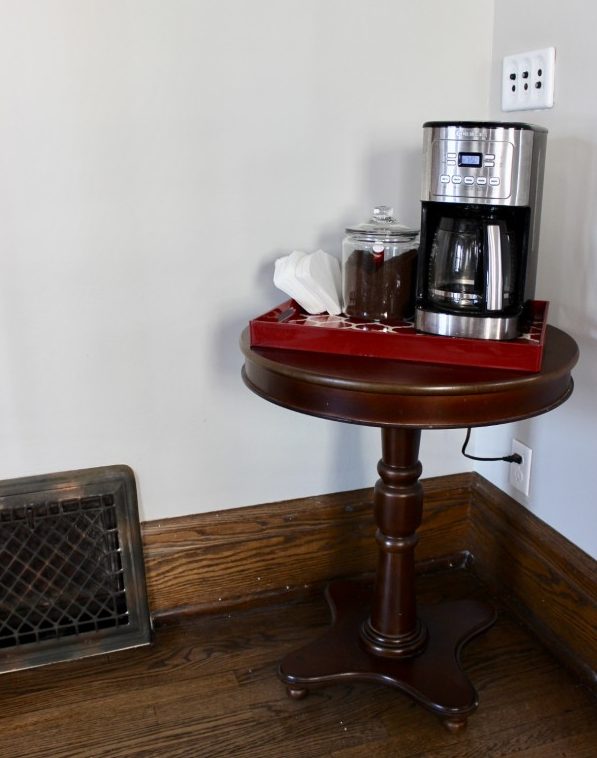 Well, it was functional and removed my coffee machine from the kitchen.  So, the primary objectives were achieved.  But, it didn't spark joy!
There are affiliate links in this post. Read my disclosure policy to learn more.
How did I come up with my coffee station | beverage center I have now?
I wandered through a new antique store in town. And I saw a coffee bar that I loved! But the problem was it had been painted the same color as my wall. I did contact the owner and we were working together to find another piece of furniture for me. In the meantime, I saw the PERFECT piece, described as a small dresser on a local Facebook buy & sell group.  I picked it up the morning after I saw it.
I did let the antique store owner know I had already found my coffee bar to-be piece and thanked her for her help. It takes just a minute to be considerate. I didn't want her to keep looking for me when I no longer was going to purchase this item from her.
Here is my coffee bar and beverage station.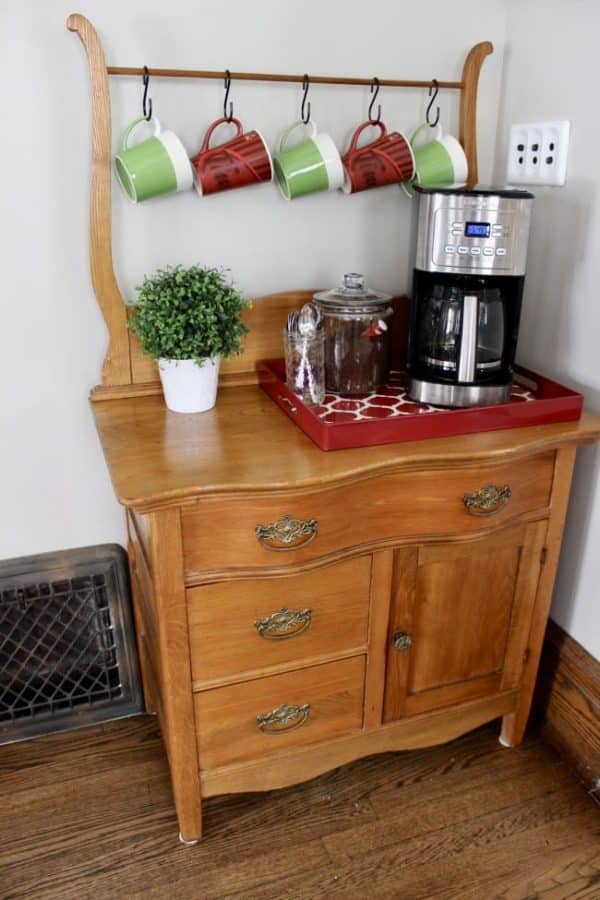 This vintage piece was described as a small dresser. This piece of furniture was used as the wash-up station in the bedroom. The bar where the coffee cups are hanging was where the towels hung.  This part is called a harp.  The old big water pitchers with the big bowls used to sit on the top and were used to wash up at night and in the morning (prior to running water in homes).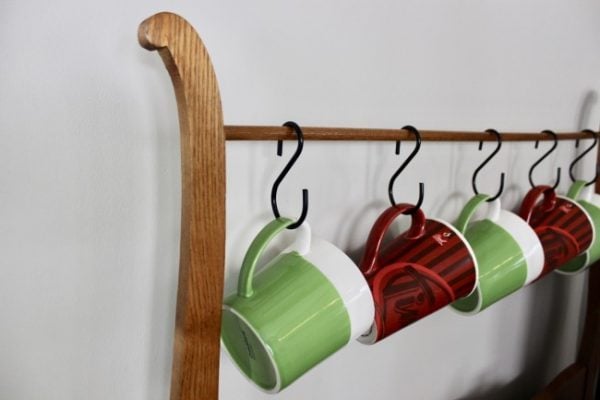 My cups are hanging from the towel bar with "s" hooks.  I had a bit of a hard time finding these. The ones from the hardware store were just so big and are made of chunky shiny stainless steel.
These hooks are actually (affiliate link) plant hanger extensions. They are not expensive but are the perfect size for what I needed.  I bought extra because these are the nicest "s" hooks I found and they are so inexpensive.  This is what they look like.

They also come in white!

What are you storing in the coffee bar | beverage station drawers?
In an attempt to organize and keep my space functional and efficient, I'm keeping all my hot beverage items together. I purchased some plastic trays to keep my teas and hot chocolate contained. If you have a Keurig coffee maker, you could easily dedicate one of the drawers to the K-cups. I found the plastic trays helped everything stay neat and where it was supposed to be. The ones I have are very similar to (affiliate link) these. I was fortunate that my local dollar store had some similar trays that were the perfect size!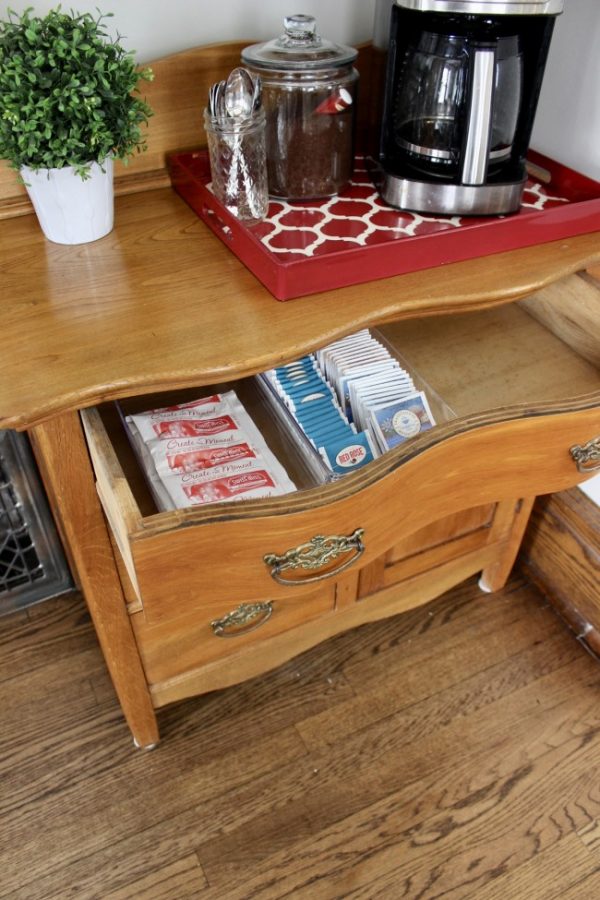 This little piece of furniture is absolutely adorable! I love the curved drawer and the curvey lines on the top. This is solid wood with the original stain. Not bad for $87, is it?  Give me a couple of days and I'm sure all the drawers will be full!
I love the little cupboard door to store my electric water kettle and my teapots.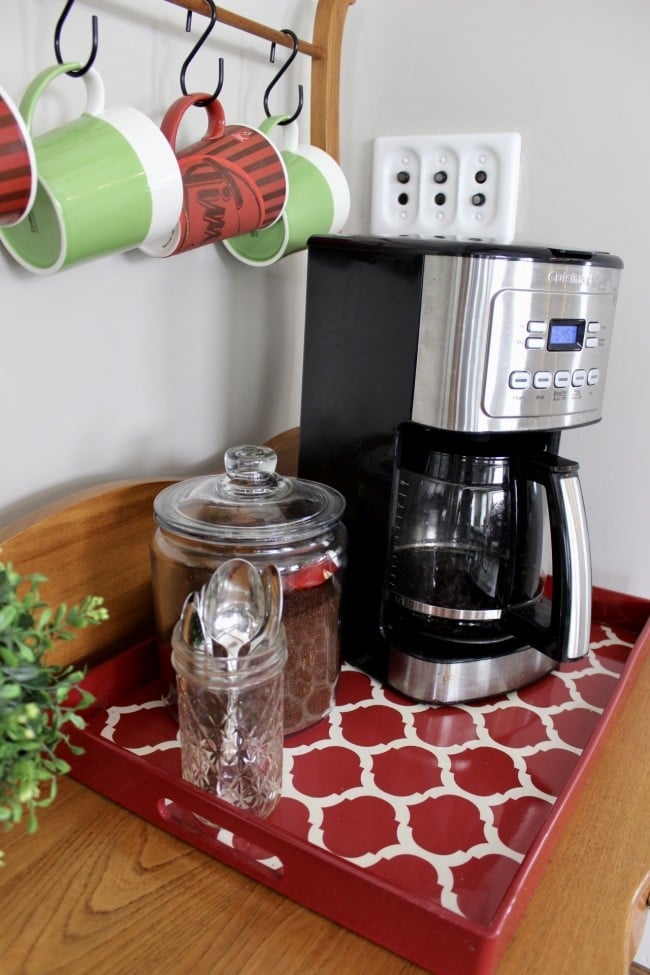 .
What to keep on top of the coffee bar?
I have a red tray that I was given a few years ago (thanks Amy!). I've used it in many ways. I love a little splash of red in my kitchen and dining room. The functional aspect of using the tray is the wooden surface is protected from water spills.
Now, I'm rethinking whether or not I should purchase a Keurig. My kids will be home from college and I'm thinking they'll like using it if everything is easy and convenient. A few years ago, I went back to a regular coffee maker. I still love it and will keep it for hot chocolate and other delicious single serve beverages like (affiliate link) a delicious cafe mocha!  I wouldn't even have to leave my house to order some of these delicious flavored coffees.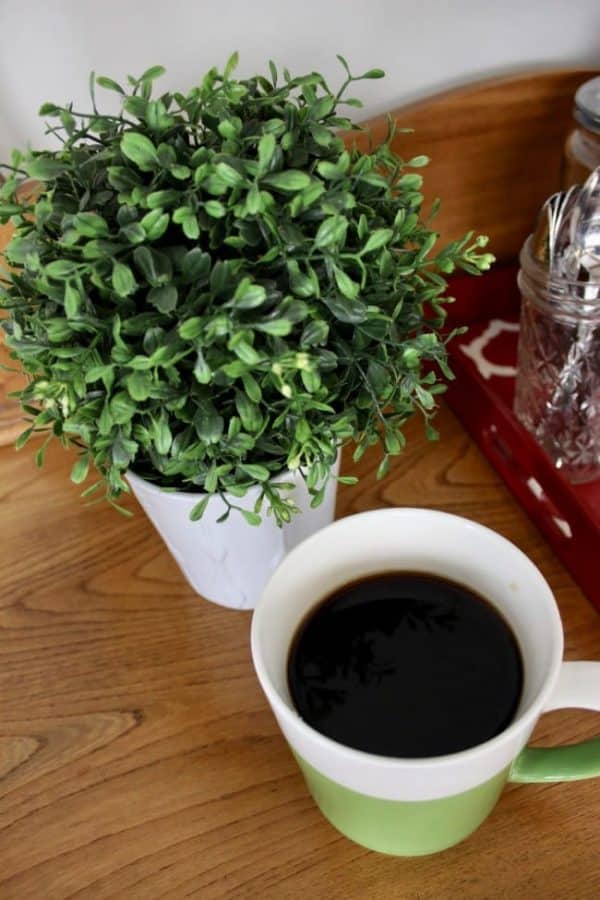 Do you have a beverage station?
Do you have a coffee bar or a beverage station? Where do you keep it? More importantly, what do you keep on it?  Please share how you made your beverage station and some organization tips you've used in the comments below.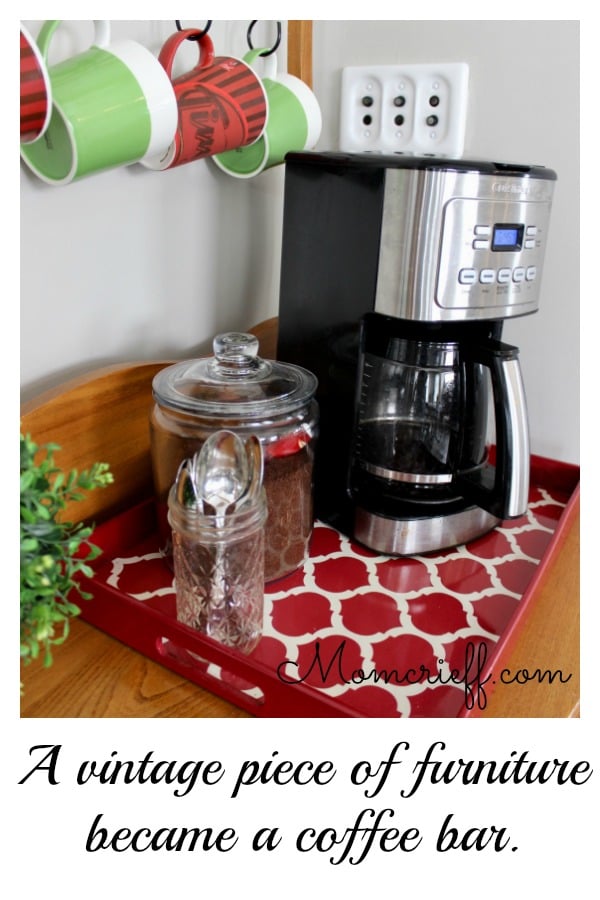 Like Old Homes?
My house was built in 1923. If you would like to see more about the house itself, including the work I've done (am doing) take a look at these blog posts.
My Door Lock Adventures - Skeleton Keys and Mortise Locks
My Kitchen Remodel - Removed a wall!
Painting Tips from my Painters.