3 Ingredient Banana Chocolate Muffins
This is one of those super easy recipes. No one else needs to know how little time and effort it takes. It's delicious, and quick, and you probably have all three ingredients at home already.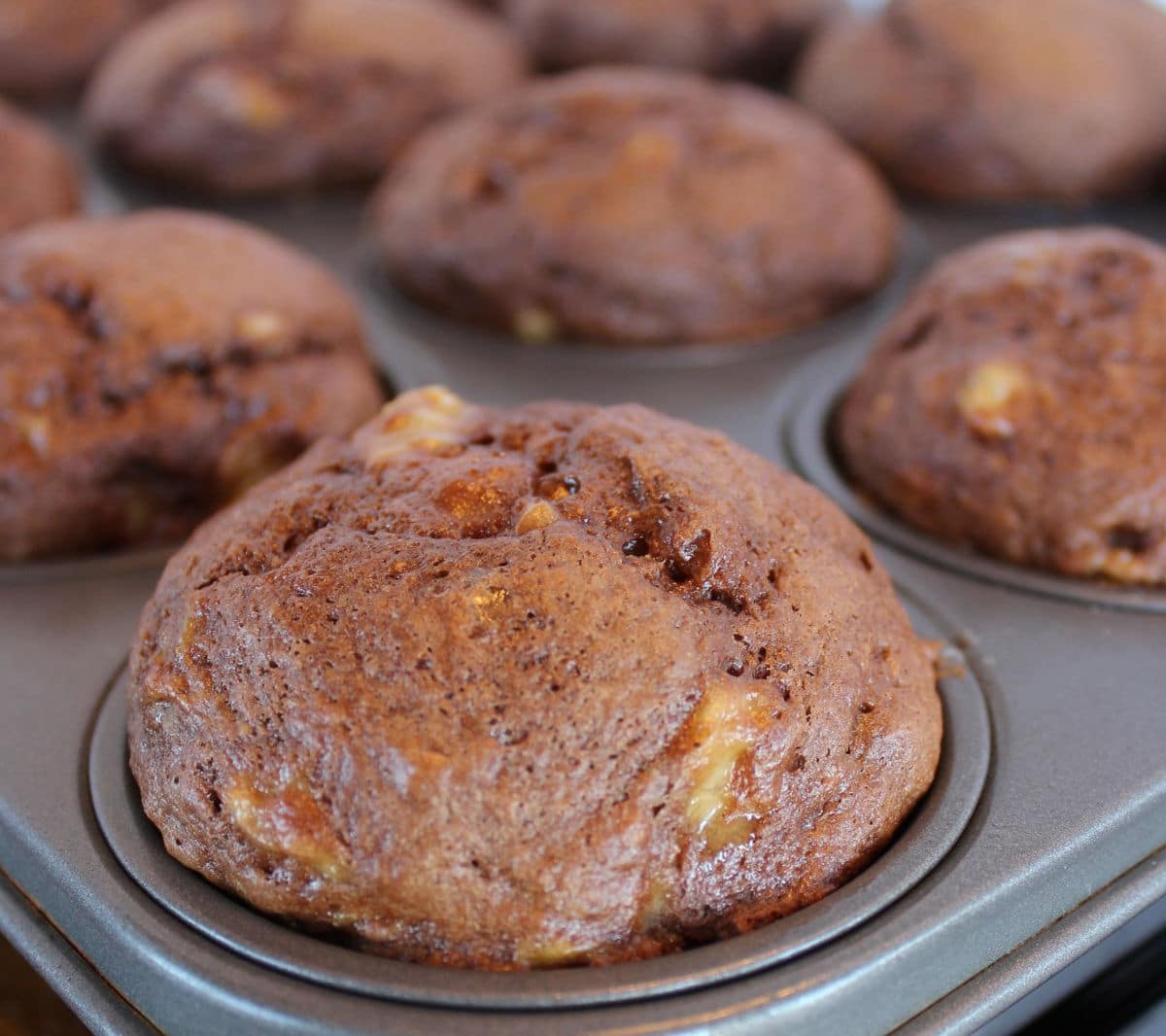 It is the PERFECT recipe to use up those old bananas! The mashed bananas go so well with the chocolate, making this a nice, flavorful muffin.
Another similar type of recipe is this three-ingredient apple spice muffins recipe. Move over pumpkin spice; apple spice is where it's at! Think of apple pie smell and flavor.
Why I love this recipe!
You'll be pleasantly surprised at how good this tastes! It's so quick to make and is delicious.
This is also a frugal recipe since you just only need three ingredients. You don't need to purchase a bunch of ingredients just to make one recipe.
Bananas and chocolate just go together! And it's nice to have a use for bananas that are a little over-ripe.
Ingredients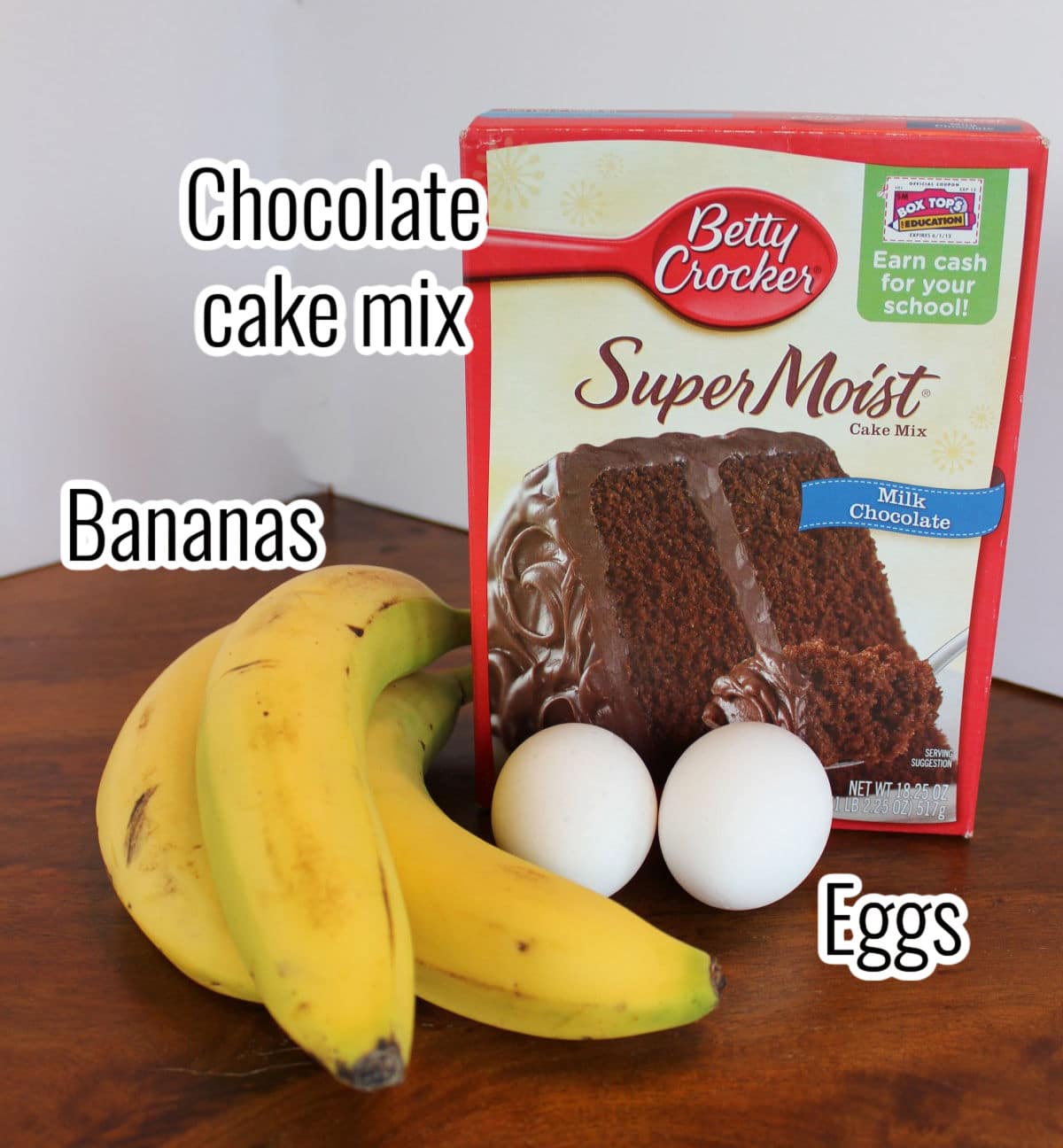 Chocolate cake mix - stock up when cake mixes are on sale
3 - 4 large, very ripe bananas. So nice that they don't go to waste!
A couple of eggs
Substitutions
You can't go wrong with this recipe! If you don't have enough bananas, add an extra egg. If you don't have enough eggs, add an extra banana. With fewer eggs, the muffins will be a little more dense but still delicious!
Thought you had chocolate cake mix at home, and you don't? That's OK! Use what you have, and I'm sure you'll love it.
Let me know if you create a delicious muffin!
Instructions
Step 1
Mash bananas. Bananas that are a little overripe are best! I often make these muffins when my bananas don't get eaten as fast as I anticipated.
Step 2
Add cake mix. Just the cake mix. Do NOT add the other ingredients that are listed on the box. I get asked this often.
Step 3
Add eggs. I gently drop them into the mix and use a fork to beat them before incorporating them into the ingredients. Why dirty another dish?
Step 4
Mix, then place the batter in a muffin tin. I use muffin/cupcake liners to keep my muffin tins clean. Let's avoid doing any extra dishes if we can.
Helpful Hint
A huge tip that makes cleaning up a lot easier. I've started using scoops for a lot of my prep. work. For this recipe, I use a muffin dough sized scoop. It ensures each muffin gets the same amount of dough and doesn't dribble onto the pan (or the counter). I also use them when I make my favorite meatballs and cookies!
Step 5
Bake at 350 Fahrenheit for 16-18 minutes. It depends on how much batter is in each muffin well. And that depends on how much banana you use.
Other Easy Delicious Muffins
Storage
Muffins can be refrigerated for 4-5 days. They should be in a sealed container or wrapped.
These muffins freeze well. I recommend individually wrapping and eating within a month.
FAQ
What if I don't have a chocolate cake mix?
A reader's comment shared she used a yellow cake mix and some cocoa!
Any flavor-boosting ideas?
Yes, swirling a little peanut butter in the batter would be delicious! But then it's a four ingredient recipe.
Other fun chocolate muffins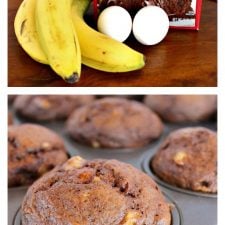 Banana Chocolate muffins
These chocolate muffins are a delicious way to use up those old bananas sitting on your counter. Simple, quick and a great portable snack!
Print
Pin
Rate
Ingredients
1

box

Chocolate cake mix

3-4

medium

bananas

mashed.

2

large

Eggs
Instructions
Mash bananas

Add cake mix

Add eggs. I just gently drop them into the mix and use a fork to beat them before incorporating into the rest of the mix ingredients. Why dirty another dish!

Bake at 350 Fahrenheit for 16-18 minutes. Check with a toothpick to see if done.

Enjoy!
Nutrition
Calories:
192
cal
|
Carbohydrates:
33
g
|
Protein:
3
g
|
Fat:
7
g
|
Saturated Fat:
1
g
|
Polyunsaturated Fat:
2
g
|
Monounsaturated Fat:
3
g
|
Trans Fat:
0.003
g
|
Cholesterol:
31
mg
|
Sodium:
309
mg
|
Potassium:
236
mg
|
Fiber:
2
g
|
Sugar:
17
g
|
Vitamin A:
65
IU
|
Vitamin C:
3
mg
|
Calcium:
60
mg
|
Iron:
2
mg
Please pin to your Pinterest account.