It's winter, and I need signs of spring! These signs will have to be in my house because they sure aren't outside!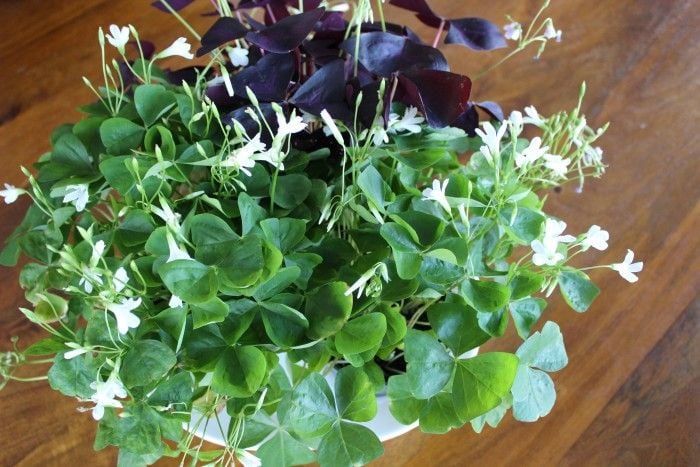 I saw these pretty oxalis in the gardening center. So I bought three. Kind of spring, St. Patrick's Day looking. I just loved the green! If you are looking for easy and quick St. Patrick's Day snacks, try these Easiest St. Patrick's Day Treats. They are on point for the holiday and very delicious!
St Patrick's Day Mantel
The oxalis were perfect to put in my pretty white milk glass vases! I had initially thought I would buy some fake forsythia to put in the vases. But, my cart kept taking me to the oxalis.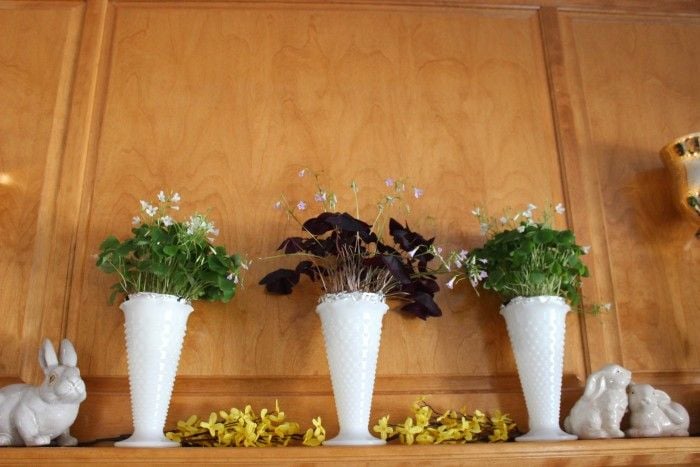 Did you notice the tin foil at the top of the vase? I used it to wrap the flower pot so it would hold water. I thought it wouldn't bother me, but it did.
How to make pots fit in a vase
What I did was cut some of the tops of the pot off. I did not want it to show out of the top of the vase. But I left about ½" on so I would have something to grab when I had to pull these guys out to water them.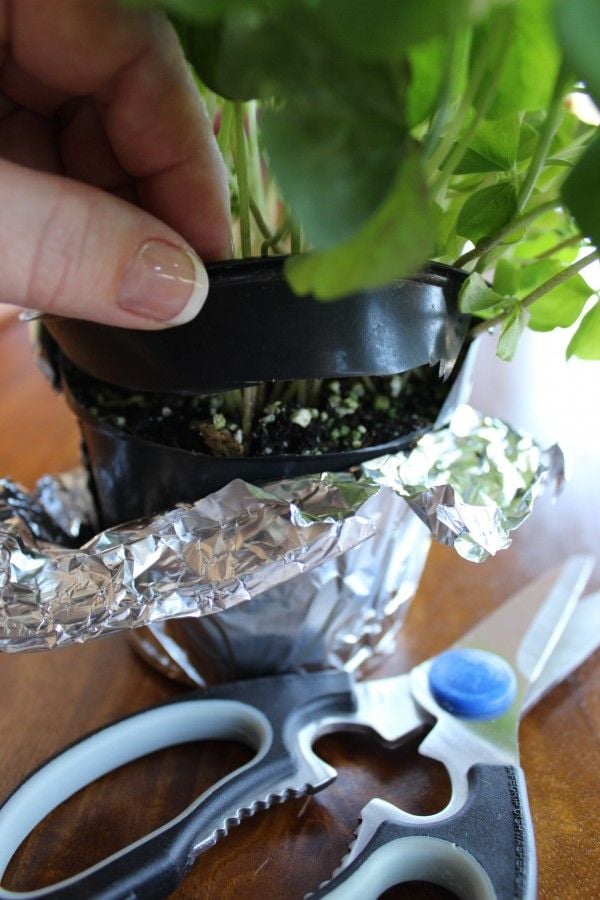 I love these little plants. I've done the same theme for my mantel a few years in a row!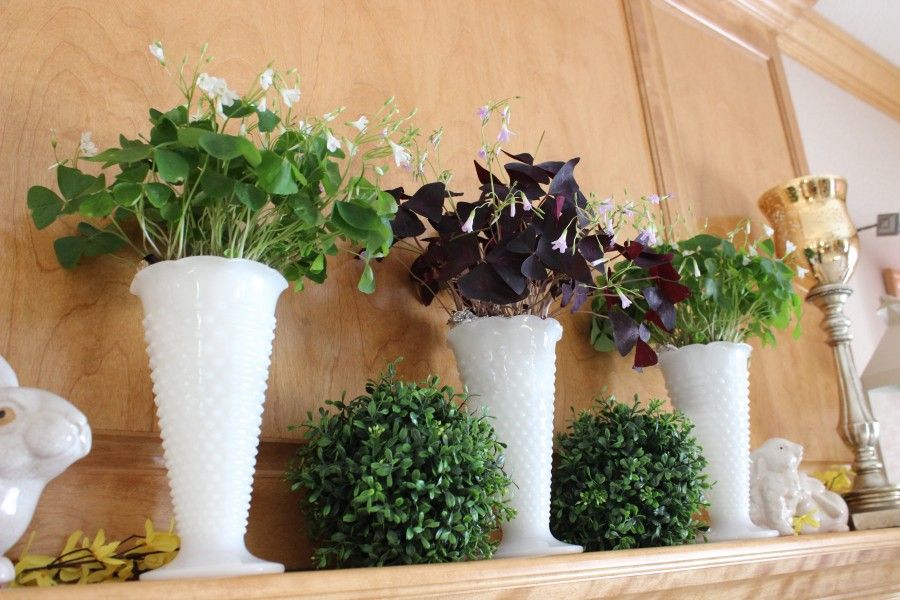 DIY Flower Frog to arrange flowers in a vase
I've been asked how to keep flowers neat and organized in a larger vase. They key is to use a flower frog. I usually just spend 5 minutes making a quick one. It's easy! Here is the tutorial to make your own easy flower frog.
Easter Mantel Decor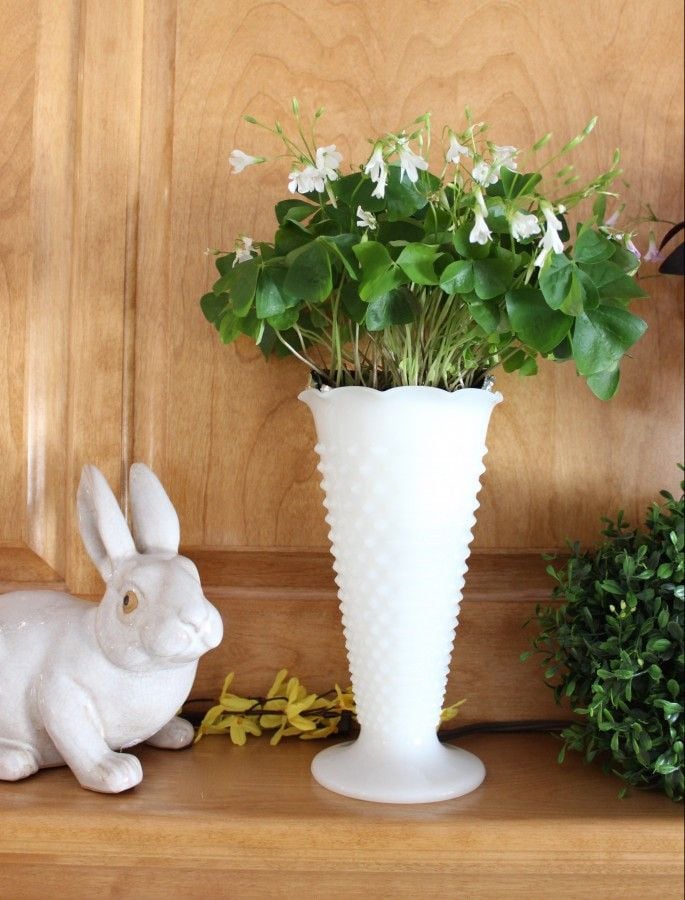 Of course, I had to add some bunnies to my mantle! Perfect for the upcoming Easter.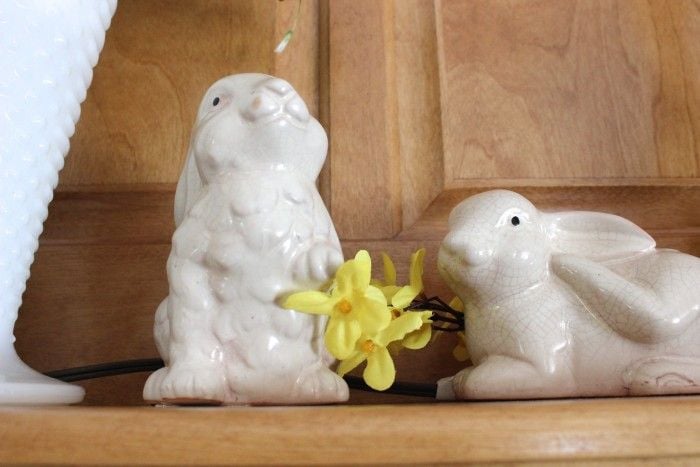 I added my spring outdoor wreath.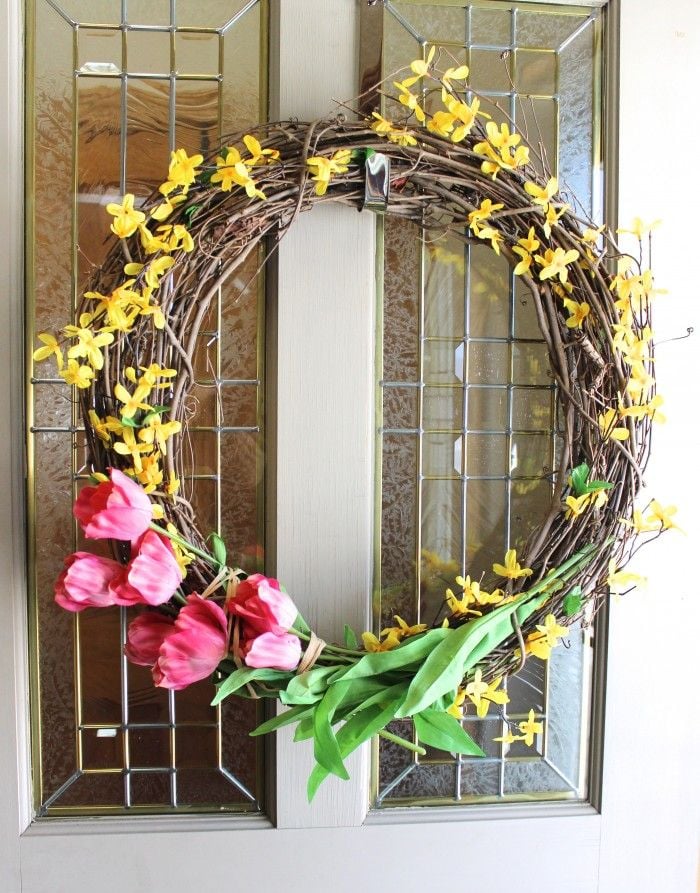 This wreath is so pretty and was very easy to make! I'll have to do a quick tutorial for you soon.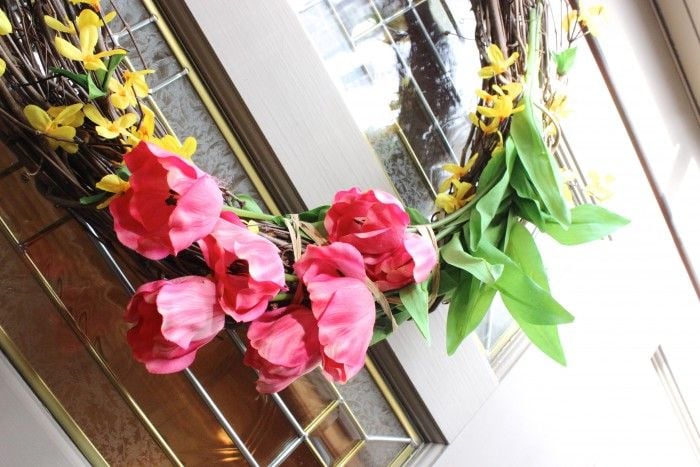 How did you make the spring wreath?
It's just an inexpensive grapevine wreath. I used some artificial forsythia (the yellow flowers) around the whole wreath. Then I added some artificial tulips. All were tied onto the vine with a natural colored thin ribbon (or use twine).
Are oxalis like the 4 leaf clovers?
Yes, that's what you are looking for. But, it's a naturalized potted plant sold in mid-spring.
I'm counting the days until spring. Soon my friends, soon!