St. Patricks isn't a big holiday for my family but I do like to have a few decorations and a few St. Patrick's Day treats.
It's for the kids, of course!
I spent an hour this morning making a bunch of treats for my kids and their friends.  And, since I'm a blogger, they are getting used to getting seasonal/holiday treats a few weeks ahead of time : ) .   Love those kids because they even eat my flops.  I'm sure you realize that food bloggers also have recipes that are amazing in their minds but don't work out in real life.
But, these two recipes are perfectly easy and really hard to mess up.  And, even though they are really easy, they are always the first treats to go at my house.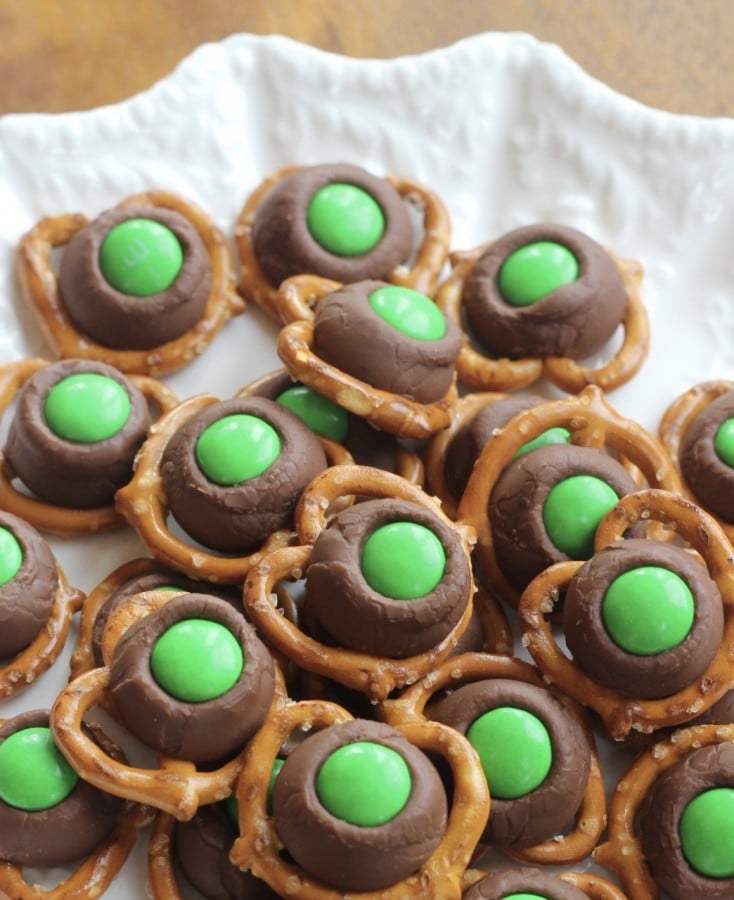 These are always popular!
BIG MONEY SAVING TIP!!!
Buy all the red and green candy and sprinkles you can during the after Christmas clearance.   No, you aren't going to keep it until next year.  Seriously, my Mom used to do that.  She did freeze everything but geez, I really wanted treats from the current year!   Here is why you do this.  Valentines Day uses the red. St. Patrick's Day uses the green.  You are welcome!   Buy it on clearance rather than when it's marked up for the holiday.
First I made some Leprechaun buttons.   I seem to make these all the time and the kids (and adults) just love them.   I think they are really called elf buttons (Christmas) but isn't Leprechaun buttons so much more appropriate?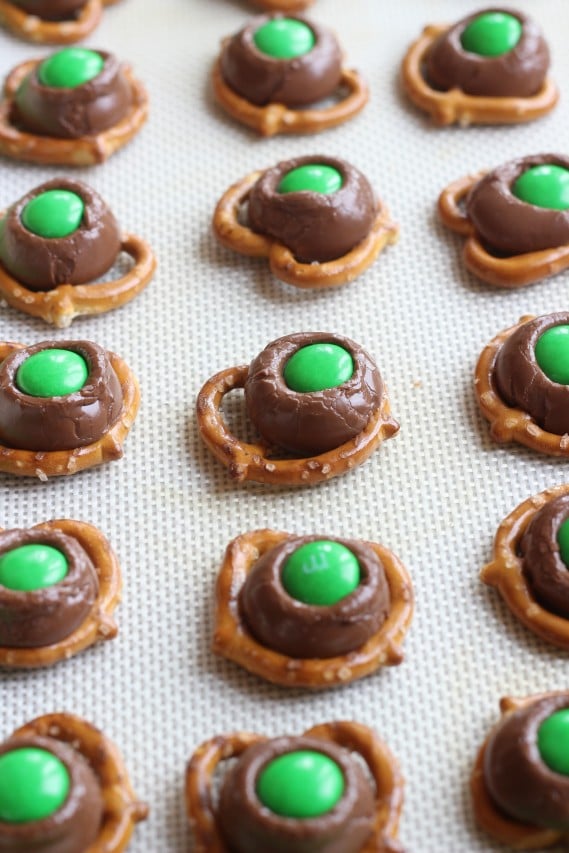 If you need easy step by step instructions, they are right here.
I love pretzels and chocolate together!  Here is the other easy treat I made.   My friend Lori, brought Valentines themed pretzels over.  They were gone in a flash.  And, again, are the easiest treats to make. We all need to have these kinds of recipes in our back pockets.  Because sometimes we are making these really late at night.  Yes, we all know it happens!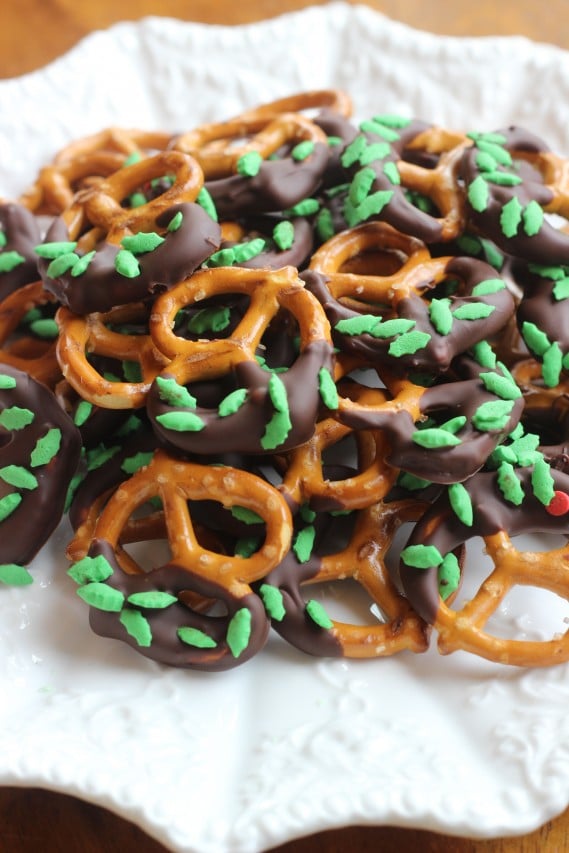 Here's how I made these easy St. Patrick's Day treats.
Melt semi-sweet chocolate according to the package directions.   It really is so much easier now that we have microwaves!
Dip half the mini-pretzel into the chocolate.
Then, if you have smaller sprinkles, just sprinkle them onto the chocolate part.  If the sprinkles aren't really sprinkles and are a little bigger, I just spread them out and dipped them onto the chocolate.   That way they were pressed into the chocolate a bit better.   Place your decorated pretzel on a cookie sheet because you are going to place in the refrigerator to harden the chocolate.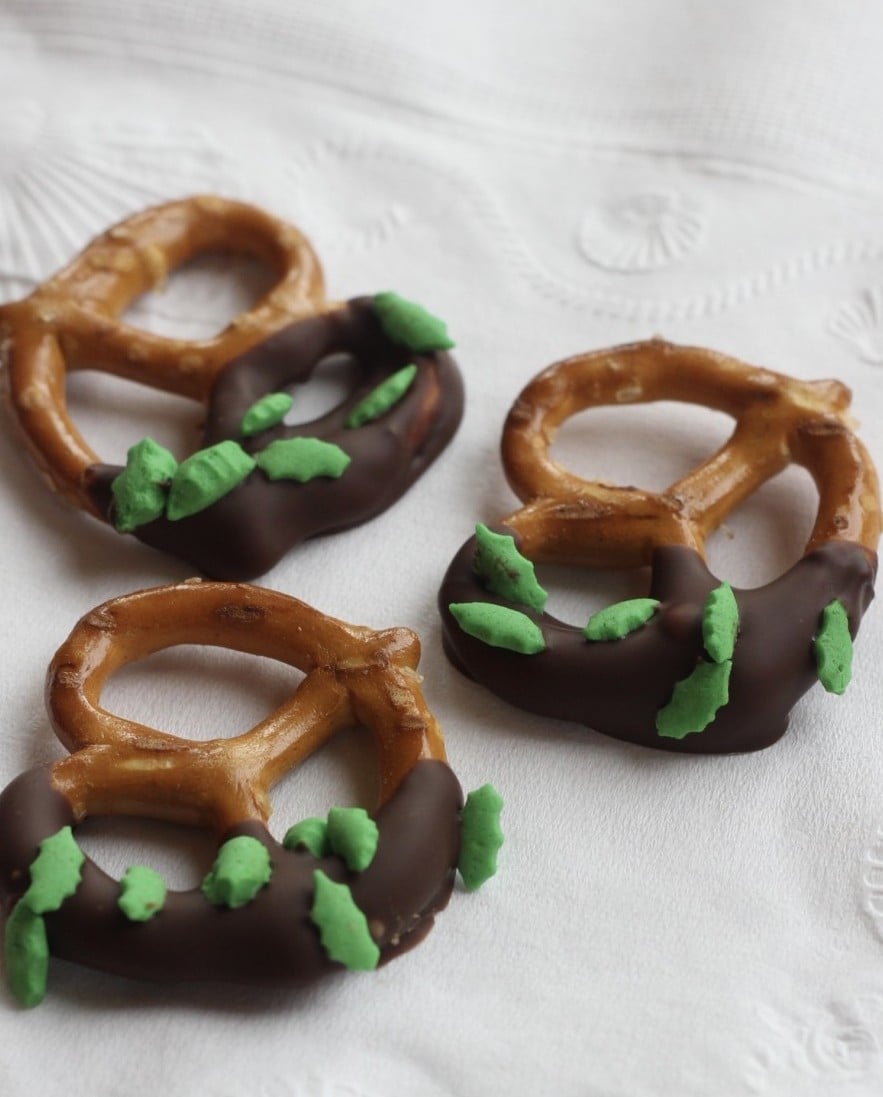 Lucky me, I live in Wisconsin and can consider my whole garage a refrigerator.  Unless it's really cold outside and then it's a freezer and all the soda explodes.  But, that's another story!  Just don't let it happen to you.  Frozen soda stuck to the walls and floors.  Not fun.
Hope you like these super simple St. Patrick's Day treats.  Not fancy but a hit every time.  Truly, St. Patrick's Day treats are the easiest to make.  All you need is some green!