Closet organization - organize scarves for under $10!
It's time to get organized and purge! My objective this year is NOT to buy storage containers! I plan to just use the space I have and organize storage in it. One of the key places is in my closet!
I love my scarves but they seem to be all over the place. I've folded them, hung them on hangers, put them in containers but they just seem to be everywhere, fall down and I still can't find the scarf I want. So, this is a tidy, out of the way method of storing scarves in my closet.  The bonus, it's a cheap fix for a frustrating problem!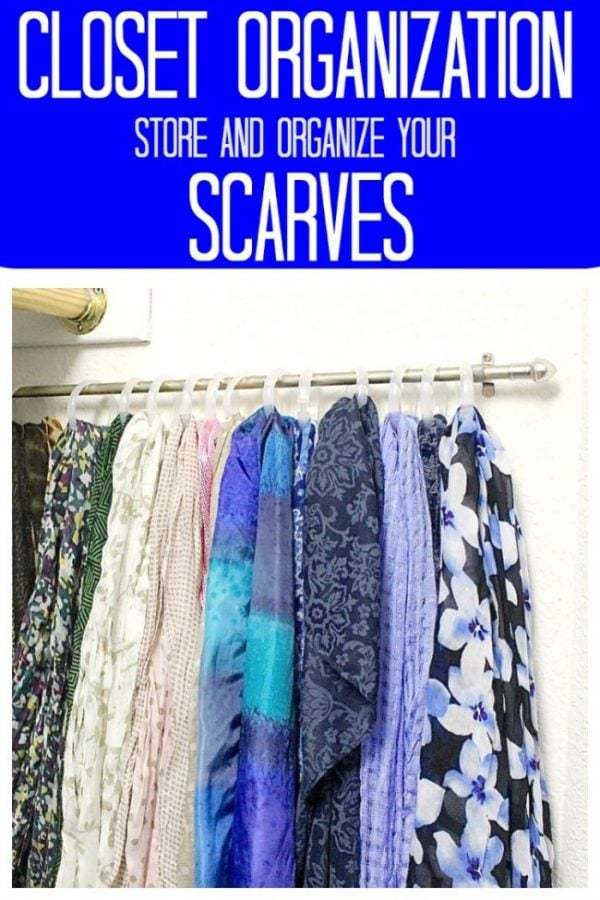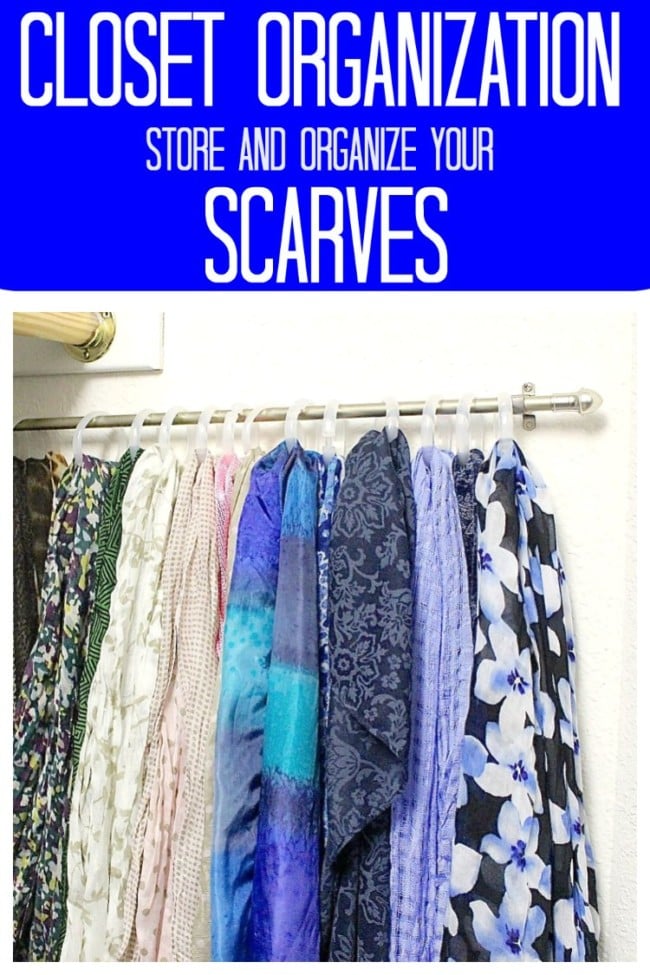 I own an older house with smaller closets.  No big walk-ins in this house!  I had put up a similar system in my old walk-in closet in my old house so I know how amazingly easy this is and how great it is for storing scarves.
Supplies needed to organize your scarves in your closet.
A small adjustable curtain rod. Make sure the curtain rod fits into the closet with the closet door closed!
Shower rings that open.
A screwdriver - often a Phillips (also known as a crosshead)
Instructions
These little curtain rods are adjustable.  Make sure you buy one that fits in your closet (with the door closed!).  These are the really inexpensive (aka cheap!) curtain rods that you can find at your local department store (or even a hardware store!)
I originally draped the scarves on the rod but didn't like how it looked.  It wasn't easy to get a specific scarf out.  The ones beside came out too.  As I was wandering up and down the household aisles at a local store, and I saw these plastic shower rings.   They were solid and they opened.  Perfect, I thought.   I could store all my scarves neatly, easily and color-coded (if I wanted).    They were also very inexpensive.  I bought two packages and they were less than $3.00 in total.
I threaded the scarves into the rings and then threaded the rings on the rod.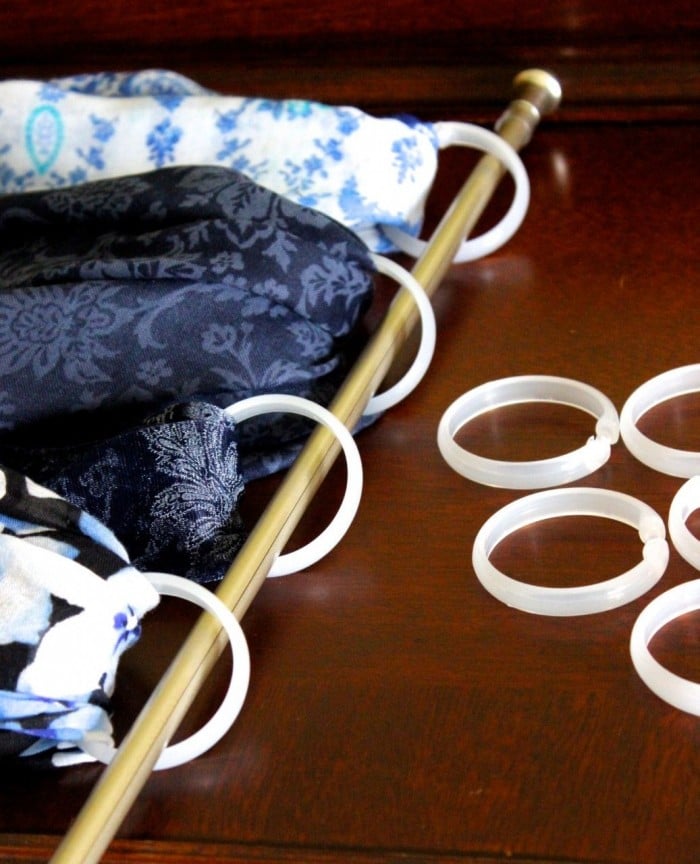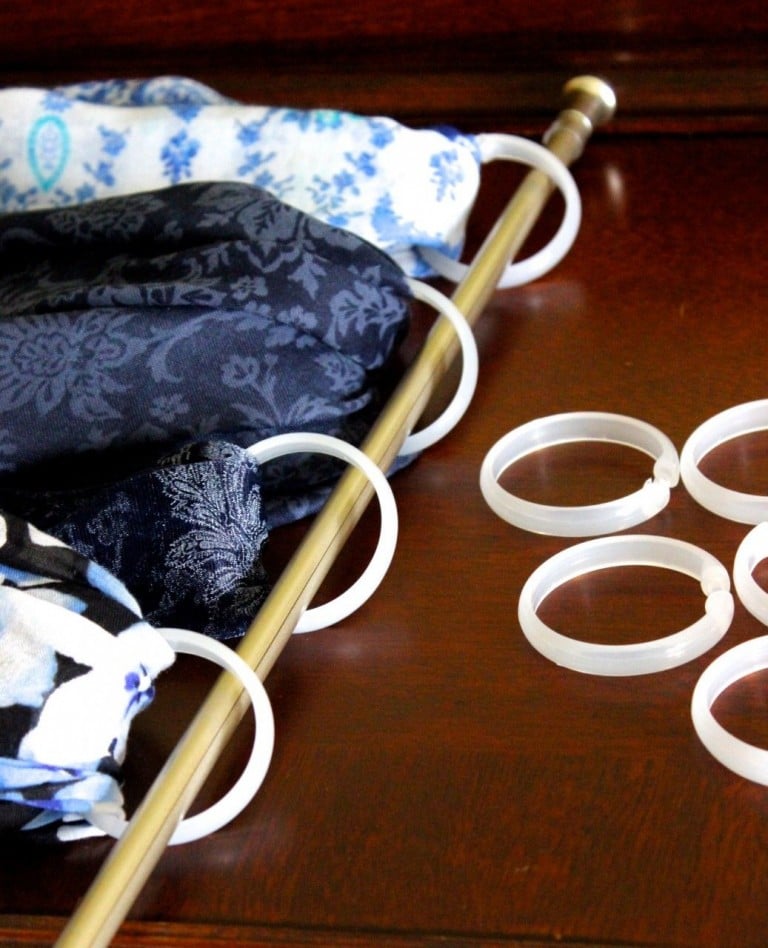 The joy of this system is, if you want to add a scarf in between existing scarves, just open the shower curtain ring and snap it into place.
Or, if you want to do a major scarf organization for a different season, just take that rod down and re-sort the scarves.   I put my winter, heavier weighted ones way in the back since I wouldn't need easy access to them.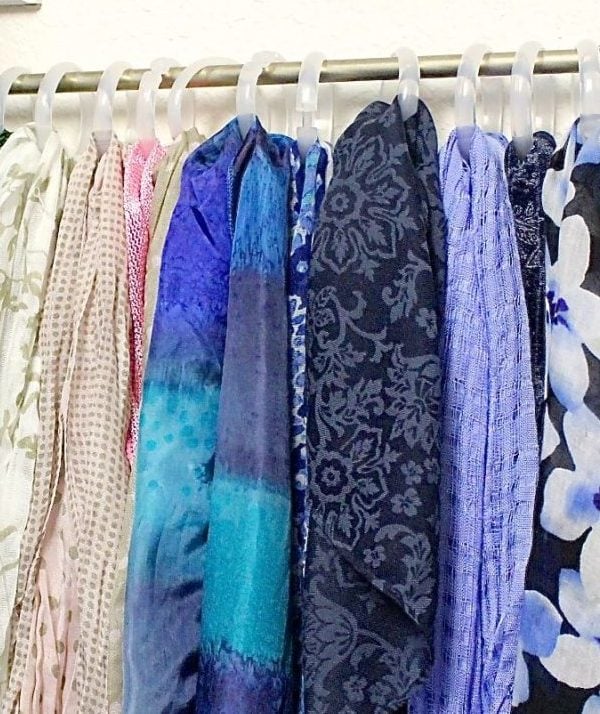 I LOVE this system!  The scarves hardly take up any room.  They are organized, color-coded and all within easy reach.   The rod and the curtain rod rings were less than $10 in total.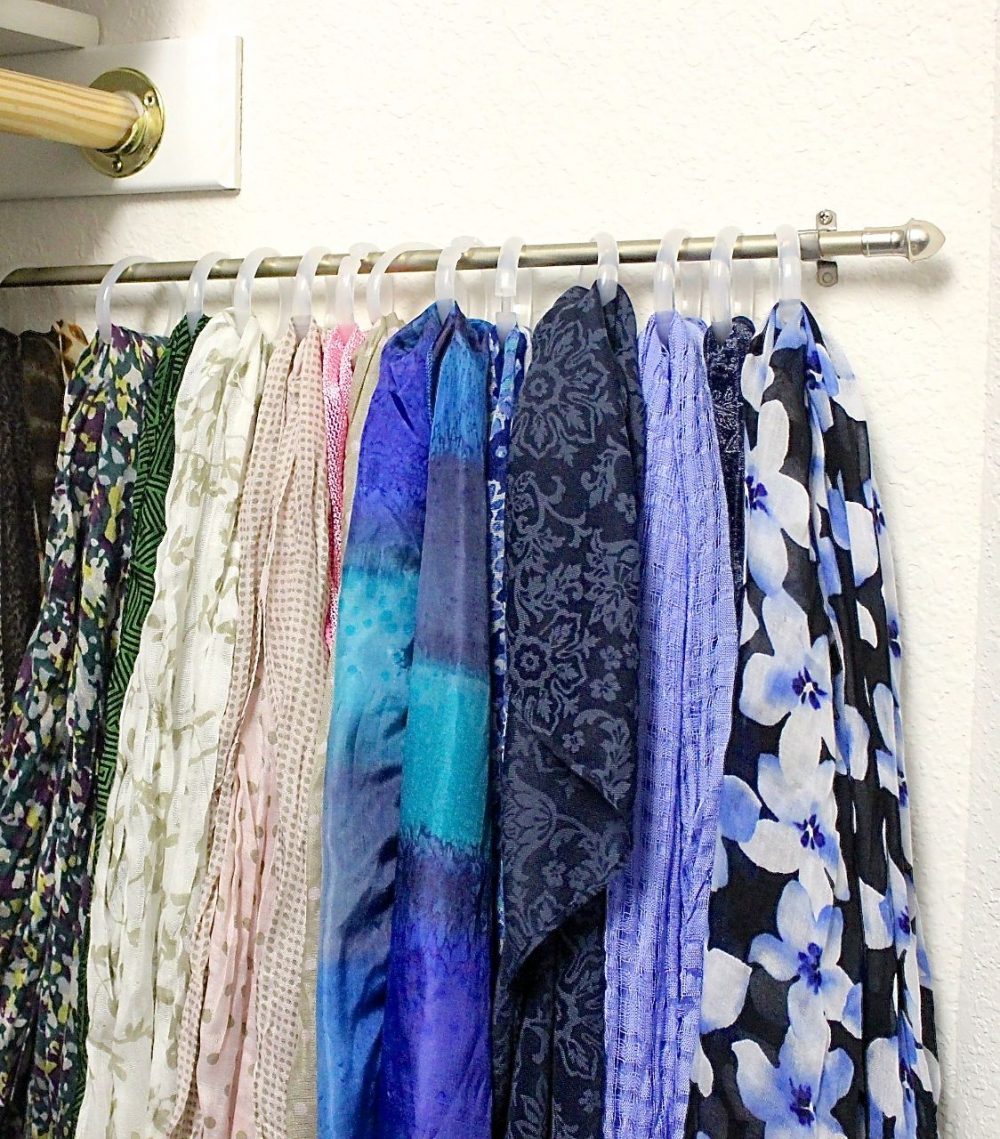 I'm getting my closets organized and not spending a lot of money!.    Let me know if you try this and how it works for you.  Do you have any other organizing ideas for your closet that were inexpensive but really helped organize your space?
Here's a similar closet storage hack about How to Store Ball Caps! Just as easy and organized. I would recommend doing both!