LOVE, LOVE, LOVE this place. If you have never heard of this place, it's in Northern Michigan (really northern Michigan!). You take a ferry to Mackinac Island and travel back in time. The main thing this island is known for is no motorized vehicles (actually, I think there may be one ambulance hidden away somewhere). The main mode of travel is by bike. Bring your own over on the ferry or rent one right on the ferry dock. Or, if a bike isn't your thing, grab the horse drawn carriage to your hotel. It's a little surreal the first time you experience it. You keep expecting to see cars on the road. It's just bikes and horse drawn carriages as far as the eye can see.
Every summer my kids and I ventured to Elliot Lake, Ontario in Canada to visit my Dad. Mackinac Island was our half way point (6 1/2 hour drive from Milwaukee). We made a point of spending a few days there each trip north. The kids and I love it.
We've stayed at three different places. The first was the Grand Hotel. This is the jewel of the Mackinac Island hotels. This is where the rich families of old vacationed to be pampered and to beat the summer heat. Yes, you still need to dress for dinner and stay in your fancy duds from 6pm on each evening. It adds to the experience. I always think of the movie Dirty Dancing when I think of this Hotel. One of the most memorable movie lines of my teenaged years was Patrick Swayze saying, "No one puts Baby in a corner!" Hmmmm wonder if I can find that movie on Netflix? But, I digress. It is so beautiful at The Grand! The HUGE wrap around porch is lined with white rocking chairs where you can savor a cool drink as you enjoy the view. A wonderful pool, and immaculate gardens on the grounds! Non-guests now have to pay $10.00 to view them now. No riff-raff on this property :).
The Stage Coach picks you and your luggage up from the ferry dock.
Love history? Stay at the Island House. One of the first, if not the first of the summer Island Hotels. Rooms are pleasant but a little on the small side.
My personal favorite place is the Lilac Inn. It's newer, the rooms are a little larger and it is right on main street. You're right in the action. Leave your windows open and wake up to the clomping of horses!
So, once you get to the Island, what do you do? Well, you relax!! Cell phone service is spotty and internet service is limited. That's part of the relaxing element and the feeling of stepping back in time. One of our families main activities is the ride around the island. There is a beautiful paved 8 mile road around the Island. Actually, it's Michigan Highway #1 – but no motorized vehicles allowed!
An easy flat ride. We always finish up at the Dawg House, to enjoy a hotdog at the end of our ride and to watch the kite flyers in the park on the shore.
On the bike ride, get a nice workout climbing stairs to check out the view from the Arch Rock.
Another main attraction is Fort Mackinac. It's up on the hill overlooking the town. It's a wonderful historical experience where the shoot of old cannons and have some time period re-enactments in a period restored fort. Love living a little piece of history!!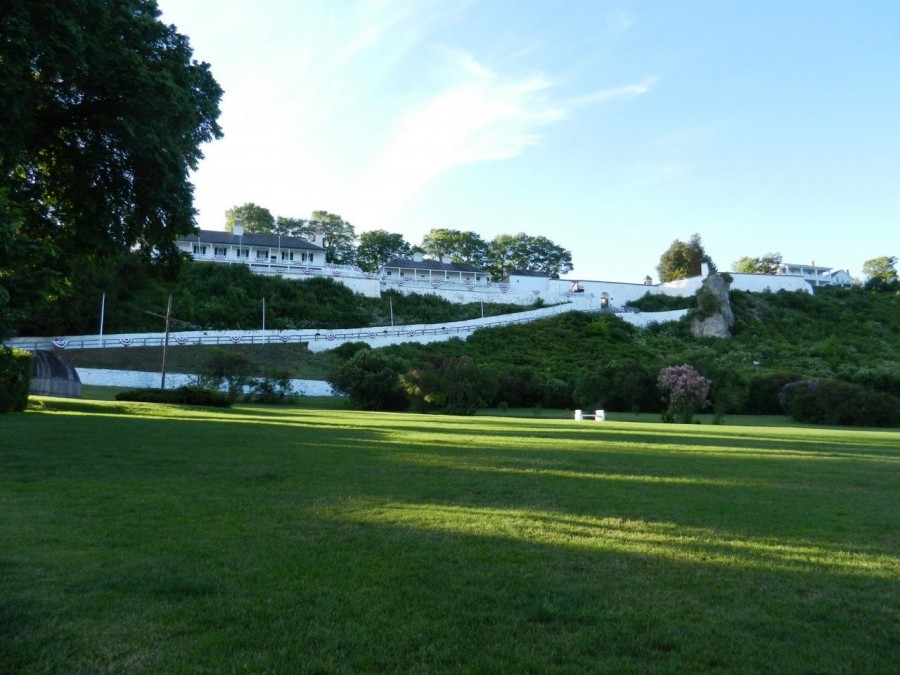 You can golf on Mackinac Island too. We didn't tackle the real course but always enjoy our round on the nine putting greens.
I'm an early bird. One morning I got up early, grabbed my camera and snuck out to wander around before the day really started. The flowers everywhere are breathtaking! Flower gardens, hanging pots and planters abound with vivid color. Can't get enough. But, I still am amused when I caught the early morning garbage collection. If you didn't believe that they are hard core about no motorized vehicles on the island – here is the 'garbage truck'!
Bet you won't see that picture on any brochures or on an official website :). Even UPS delivers via horse and carriage but I never did see that 'vehicle'.
A couple of tidbits of advice. Book early if you wish to stay on Mackinac Island. No Hilton's or Holiday Inns so the amount of rooms are limited. You can stay at Mackinaw City in Michigan and take the ferry over and back. That's an option but limits the experience. Most important advice, watch out for the horse poop! Ha, ha!!
If, like me, you are trying to figure out your summer, think about this as an old fashioned family trip. It's fun, relaxing and so different from what you have probably done in summer's past.
Enjoy your summer, whatever you choose to do!
Momcrieff.
Google+