**Reposted from our recent visit!
Actually, it's called Highclere Castle.   But, to many of us, it is and always will be Downton Abbey.  And Lori and I were so lucky to go to London, England for a week for a girlfriend's week.  It was the best Christmas present ever from our husbands!  And just so you know, this picture was taken by me, with my little camera.  When we honestly and truly visited Highclere Castle.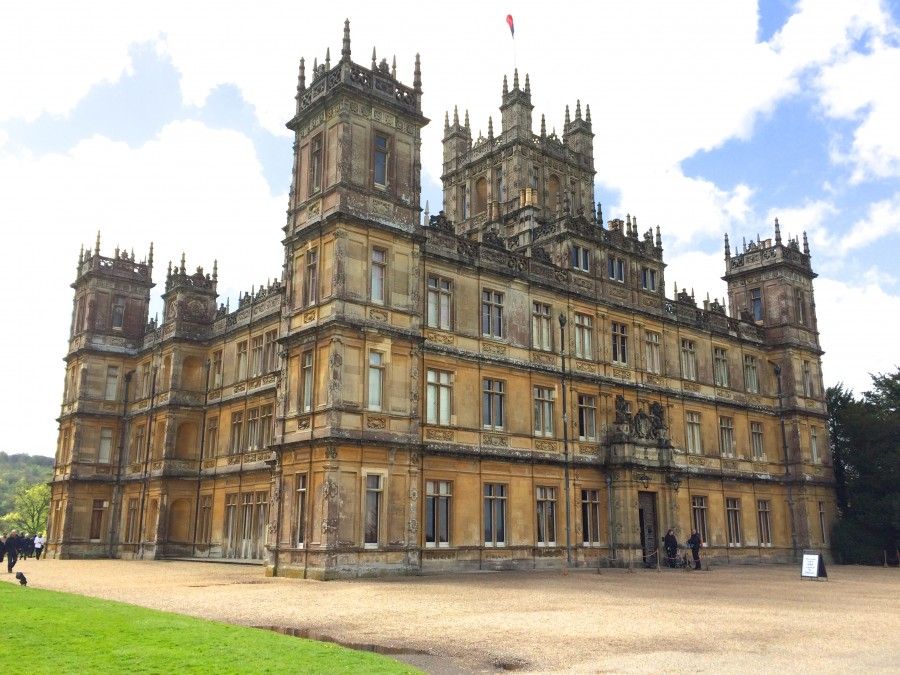 Just to share some quick history.   Highclere Castle is the home of the 10th Earl and Countess of Carnarvon.  And, they actually live there.  Their bedroom was not part of the tour.   They also have a house on the estate that they can live in if things are too crazy at the Castle.
The history of Highclere Castle is fascinating.  The 5th Earl of Carnarvon was one of two people who discovered the tomb of Tutankhamun.  There is an interesting Egyptian display
The Egyptian Exhibition lets you explore the fascinating discovery of the tomb of Tutankhamun by the 5th Earl of Carnarvon and Howard Carter in 1922. The cellars are very atmospheric and there are replicas from the tomb of Tutankhamun as well as real antiquities.
It sure looks the same in real life as it does on TV!
We went up and knocked on the door.   I'm on the left.  Actually, in all the pictures I'm on the left!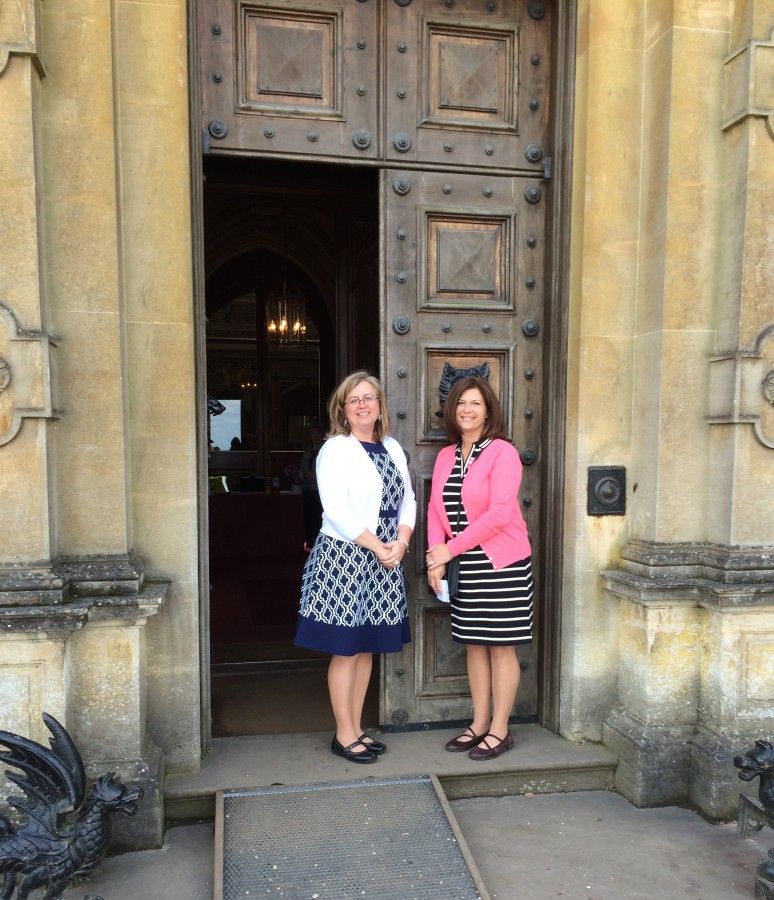 You know, I always find it funny that we hand our cameras or cell phones to perfect strangers to take a picture.  But, that's what you have to do, if you want to actually be in the picture!
Now the disappointing part.  They would not let us take pictures inside!  I was tempted to sneak a picture or two but they had people stationed in every room.  Of course, we talked to them.
I can share a few impressions.  On TV, the interior looks HUGE!  It's not as big in person.  Don't get me wrong, the rooms were certainly much larger than my home but the camera somehow makes them look much bigger than they are.
The red couches that the family sits on before dinner are there.  They were roped off but they were certainly there.  I always think of Cora sitting on them.
And the dining room.  It looks massive on TV.  The table isn't nearly as large as you would think.  And, the chairs looked delicate.
Unfortunately, we did not see the kitchen!   We were disappointed at that.  Apparently, it's a working modern kitchen in the basement now.  Actually, we still would have loved to see it.  Oh well.   Yea, the kitchen scenes are done in a set in the London area.
But, on the plus side, our hubbies also reserved tea for us to enjoy.
Lori and I like the English tradition of having 'tea' in the afternoon.  Our English tea was served in the Highclere Castle coach house.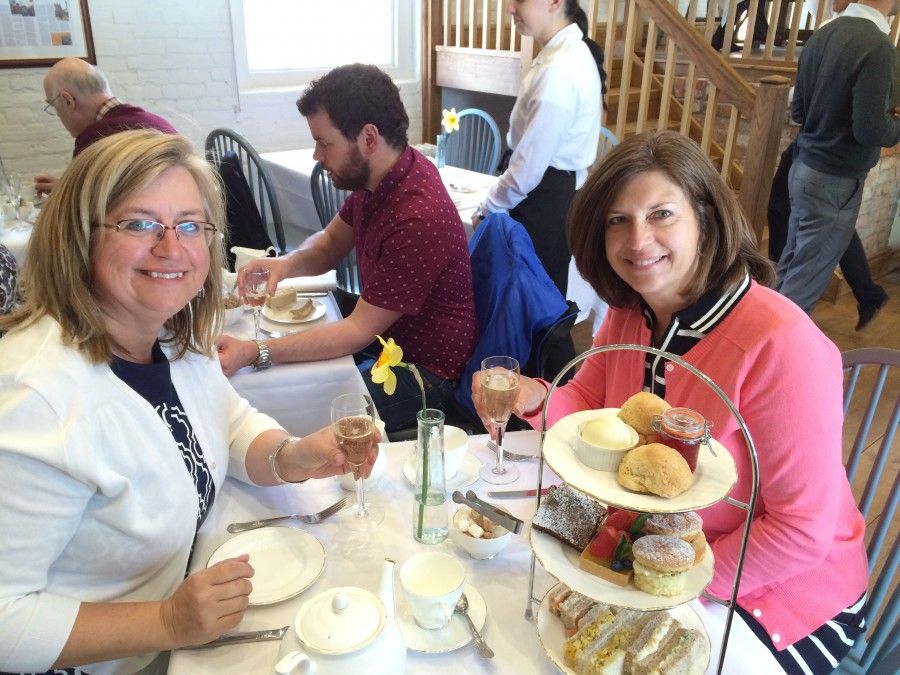 Here we are having tea.  With fancy sandwiches, baked goods and, of course, scones.
And, Champaign!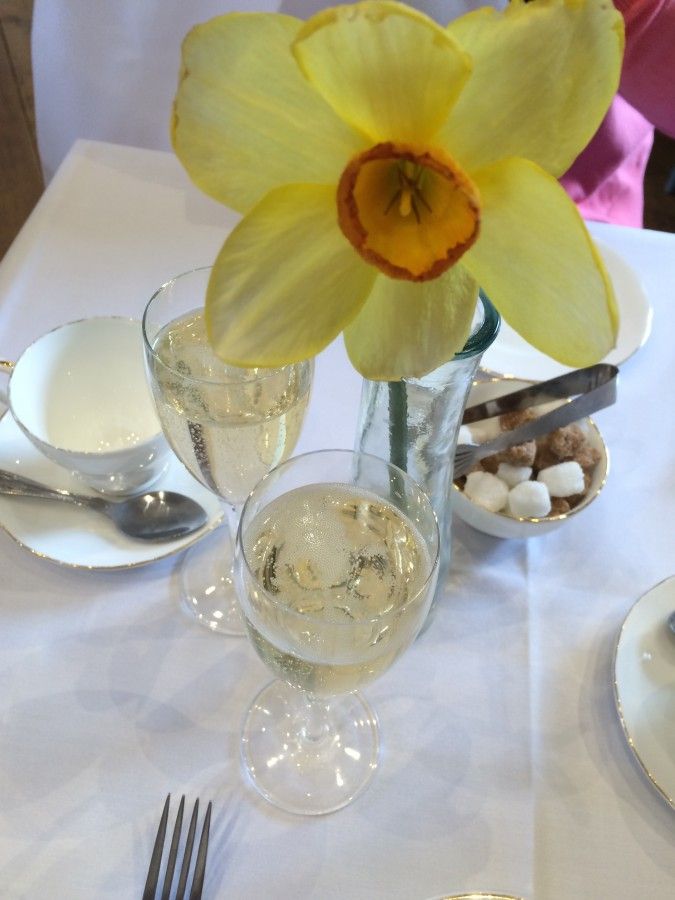 Let me share a closer look at our selections.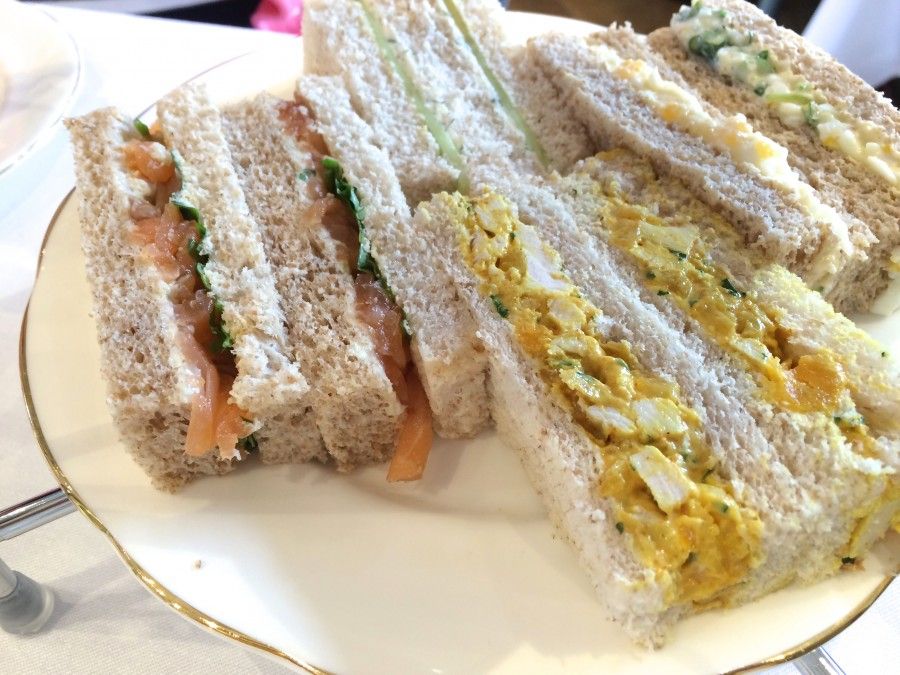 There were egg salad sandwiches, a chicken salad and salmon.  Salmon is not my favorite.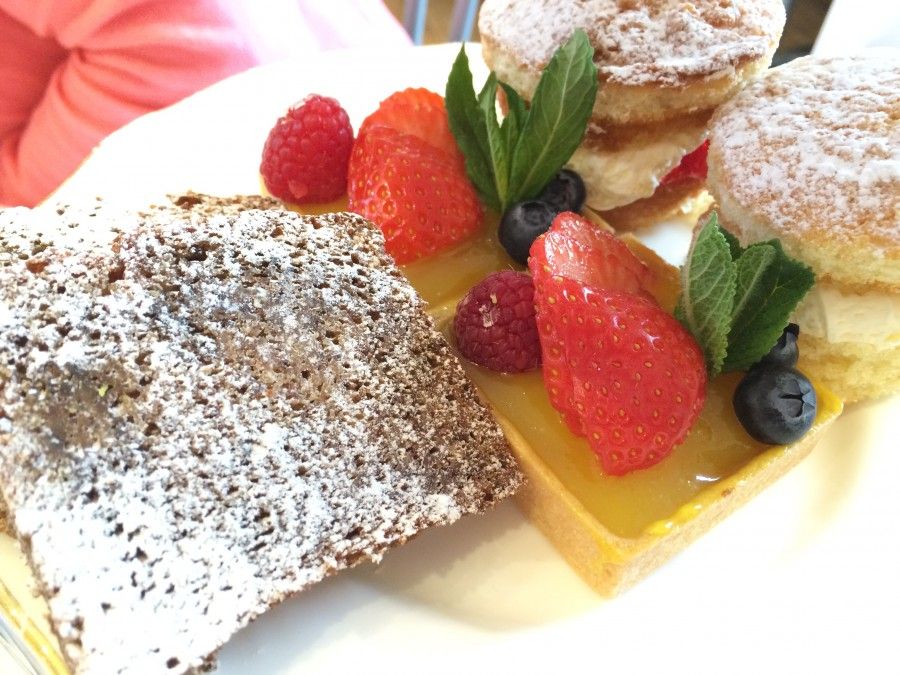 The lemon tarts with the fresh strawberries on them, were divine.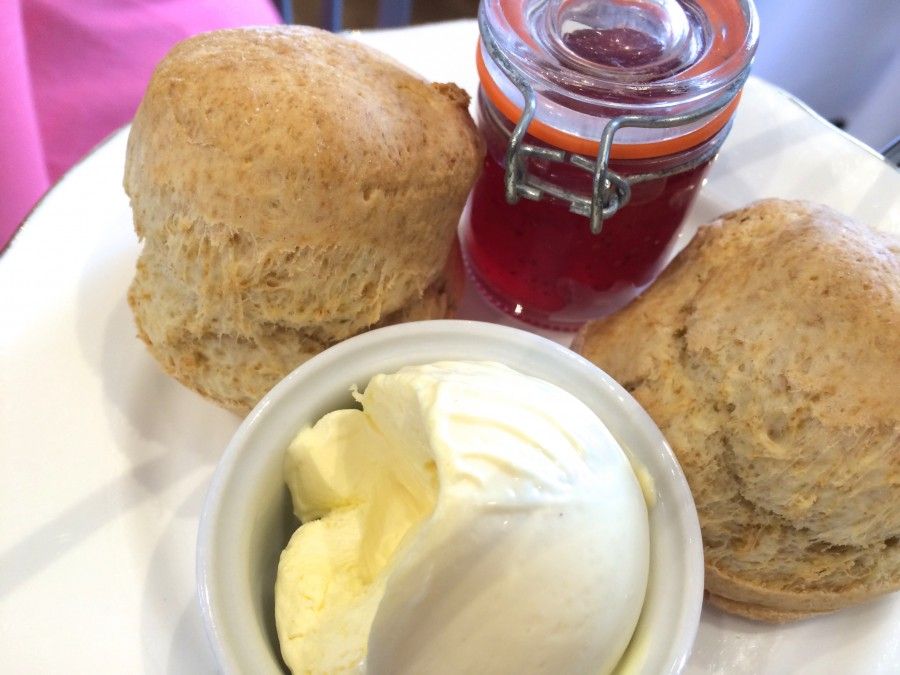 I have a serious obsession with scones.  We  had them a few times.  Scones in England are very different from what we have here in the U.S.  They are not nearly as dry and crumbly.  I'm working on a scone recipe and will share it with you soon (when I think it's as close to what we were served as possible).
OK, Lori and I really think some food items need a name change.  Scones are traditionally served with clotted cream.  Now, honestly, clotted cream doesn't sound like it would be appealing.  But it is.   Clotted cream is kind of in-between whipped cream and butter.  Probably a little closer to butter.  Lori likes to describe it as like a whipped butter.    Doesn't that sound more appealing than clotted cream?
Let me give you a HUGE hint if you think you may ever go to England and you might want to visit Downton Abby.  Book EARLY!!  My husband booked the tickets in October.  Our visit was the first week of May.  This isn't one of those things you can leave for the last minute.   Follow this link for the official website to Highclere Castle.
If, like myself, you are obsessed with Downton Abbey, follow the blog written by Lady Carnarvon.  It's surreal to think that she actually lives at Highclere Castle, isn't it?
Hope you have enjoyed this blog post!  Stay tuned for more posts about our trip to England!