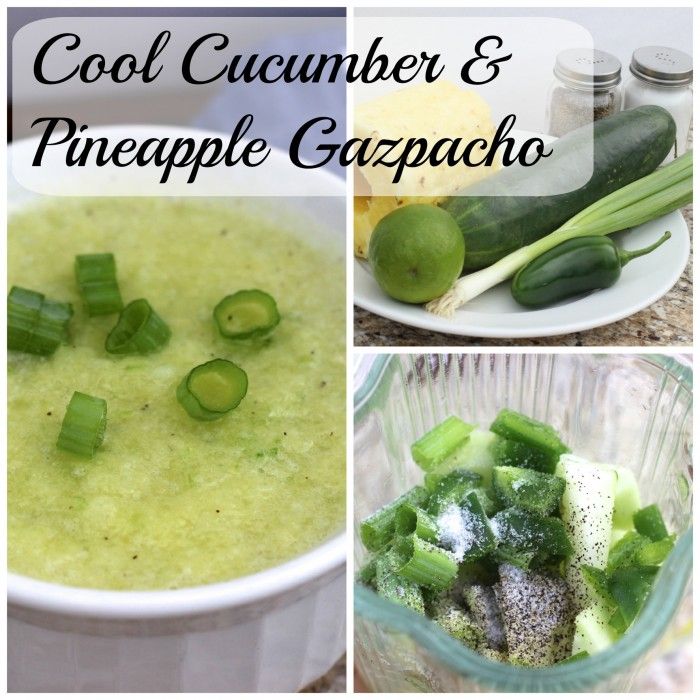 This cool cucumber & pineapple gazpacho is easy to make and tastes so fresh!  I had a hard time finding the right word to describe it but I think 'fresh' is perfect.  It's refreshing, all natural, easy, without a ton of ingredients and it's just got to be super healthy!!  This is one of those recipes that is perfect to make this time of year.  Use up a cucumber from the garden!  And, pineapples must be in season too, since they seem to be on sale everywhere.  Cucumbers and pineapple seem like an odd mix but, let me tell you, they really have an amazing combined taste!!  What I also love about this gazpacho is, no tomatoes!  I do love tomatoes but am suffering a little tomato overload right now : ).
Print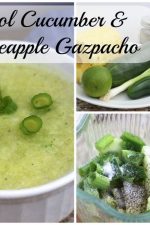 Cool Cucumber & Pineapple Gazpacho
---
Scale
Ingredients
1/2

pineapple (plus a tablespoon or

two

of the pineapple juice)

1

small cucumber
Juice of

1/2

lime (a tablespoon-ish)

1/2

jalapeno
Scallions
Salt and pepper
---
Instructions
In a food processor (if you like coarse chopped), or a blender (if you don't want to dig out your food processor and/or like a finer texture) add the following:
Chunked pineapple pieces (plus some pineapple juice – 1 tablespoon-ish)
1 small cucumber (I took out most seeds but you don't need to)
Juice of 1/2 lime
Chopped green part of 1 scallion (save some for garnish)
1/2 chopped jalapeño
Salt and pepper to taste (go easy – you can always add more!)
Pulse until you get the texture you like. I personally like finer but, I think in this recipe, courser would be awesome too!
---
One of my golfing friends told me about this gazpacho recipe.  She was at a luncheon and all the ladies loved it!  So much, that they asked the chef how it was made.  And, he told them!!  But, it was one of those recipes with a bit of this and a bit of that.  And add some of this to taste!  This is how wonderful my friend Lori is!  Not only did she think that this recipe was perfect for my blog, she helped get this Cool Cucumber & Pineapple Gazpacho recipe from the chef, then went home and recreated it WITH some measurements!   How lucky am I to get this much help so I can share recipes with you?  Thanks Lori!!
This recipe is actually soooooo easy to put together.   I figured it would be putsy (is that a word?), but it wasn't.  It was super easy and quick.  And, you can totally tailor the recipe to your taste.  Because it's a little of this and a little of that.   The main thing to start with roughly equal amounts of cucumber and pineapple.  Want it spicy?  Add more jalapeño!
A little pineapple purchasing hint!  Did you know many grocery stores will sell peeled and cored pineapple at the same price as the regular pineapple?  Buy it already looking like this!  Then you can easily use it for recipes or cut into spears for snacking.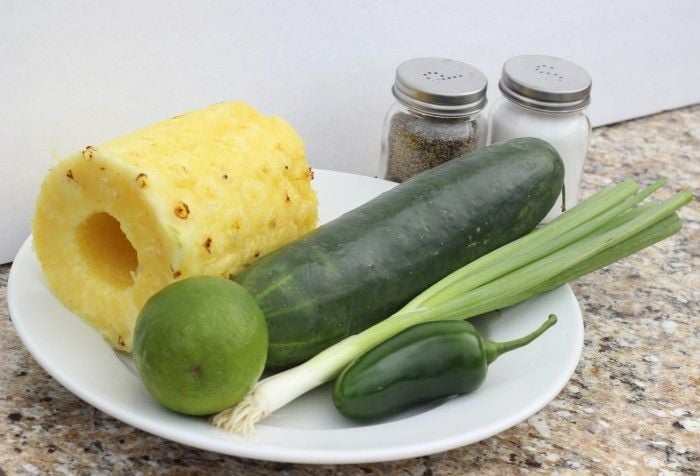 Yea, I cheat.  I hate peeling and coring pineapple.   Bought mine with that already done for $1.99.   Just sayin'……….let the store do the work for you!  Found that out a few years ago from a neighbor.
Make this now!  Use up a cucumber : ) !   I love eating fresh, seasonal food!  It just feels so healthy.  Truly, I doubt anything can be more nutritious than fresh veggies, picked that day from either your garden or the local farmer's market.
Enjoy everyone!  This recipe is a keeper!  Oh, if you aren't normally a fan of gazpacho, this recipe may change your mind (hint…no tomatoes!).