This layered Greek dip is both fresh-looking and very flavorful! The cut-up fresh veggies, which include grape tomatoes and cucumbers on layers of hummus and flavored cheese spread, makes my favorite appetizer! It is always enjoyed at any gathering. This is absolutely my favorite of all my dip recipes! Did you notice the kalamata olives and feta cheese sprinkled on top?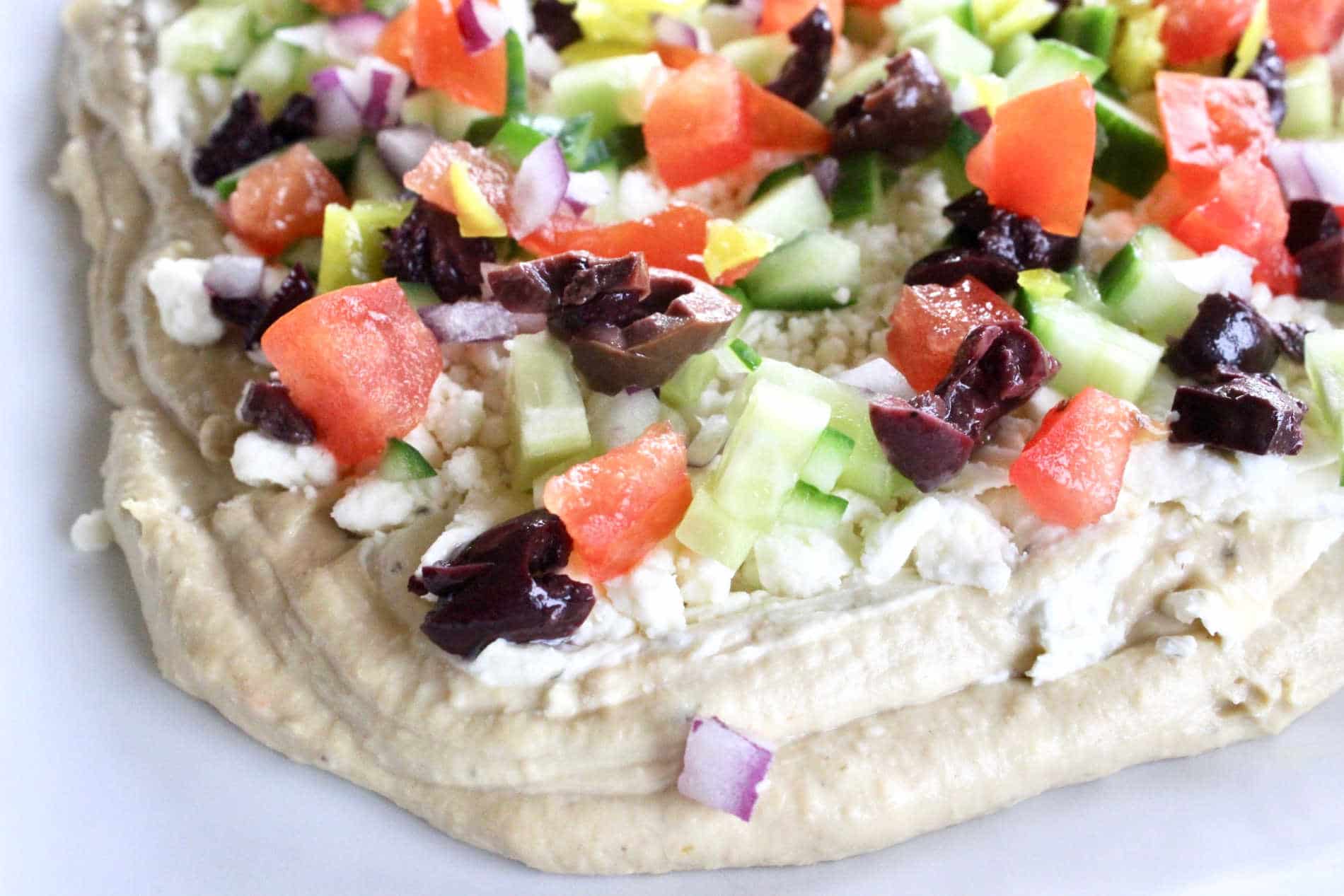 This is one of those dishes that people comment on when they see it. And truly, between you and me, doesn't well-presented and colorful food just taste good even before you actually try it?
If you love these Mediterranean flavors, you will also want to try this Tomato, Cucumber with Feta Appetizer recipe.
Why I love this appetizer
The ingredients for this appetizer are something I keep on hand in the summer. It's not hard to throw together. Invite some friends for a drink in the evening and whip this up a few minutes before they come. It's a great appetizer to bring to a gathering because it looks so bright and flavorful. I never bring leftovers home; it's that popular once people try it!
Is this quick to make?
This takes less than 20 minutes if you chop all your ingredients and assemble this Greek dip. If you want to make it even quicker, chop up the tomatoes and cucumbers a few hours ahead. It's that simple, delicious and flavorful! And I promise, it's so good!
Ingredients
2 cups hummus. Using your favorite brand of store-bought hummus is fine. Your favorite flavor works. Did you know hummus is made out of chickpeas?
1 package Alouette cheese spread (or something similar). The Alouette mixture is a soft mixture of spreadable cheese flavored with herbs. It comes in a plastic tub. It is often by the cheeses in the deli section.
½ cup finely chopped English cucumber - skin on for color. If there are lots of seeds, remove them.
1 - 2 cups crumbled feta (depends on how much you like feta - I LOVE it!)
1 cup Kalamata olives (10-12 large ones sliced then coarsely chopped)
2 tablespoon red onion (finely sliced then chopped)
¼ cup finely chopped tomato (grape or cherry tomatoes work great)
4 tablespoons Peperonchini peppers or banana peppers (slices). Optional if you would like a flavor kick.
Crunchy pita chips OR warmed pita bread triangles are used to scoop up the dip.
Instructions
I assemble this right in the serving dish. A white quiche dish or a deeper serving platter (large plate size) is perfect for this dish.
I try to assemble close to the serving time.
Step 1
Prep. by all ingredients by chopping to roughly the same size. It makes the presentation look nicer, and it's easier for your guests to scoop.
Step 2
Allouette cheese goes on on the bottom. Hummus, feta cheese, cucumbers, olives, and red onions come next. The chopped tomatoes still need to be added, but I wanted you to see the layers better.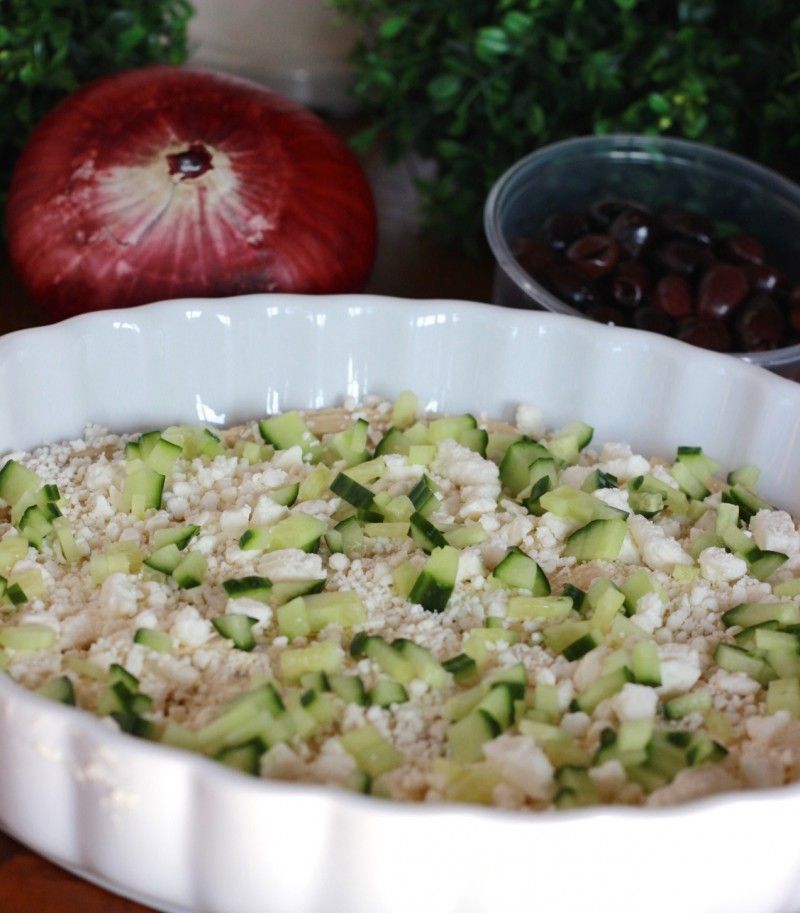 Helpful Tip
The Allouette cheese layer and the hummus are sticky. Spray the back of a large spoon or spatula with nonstick spray (over the sink). Then spreading is easy.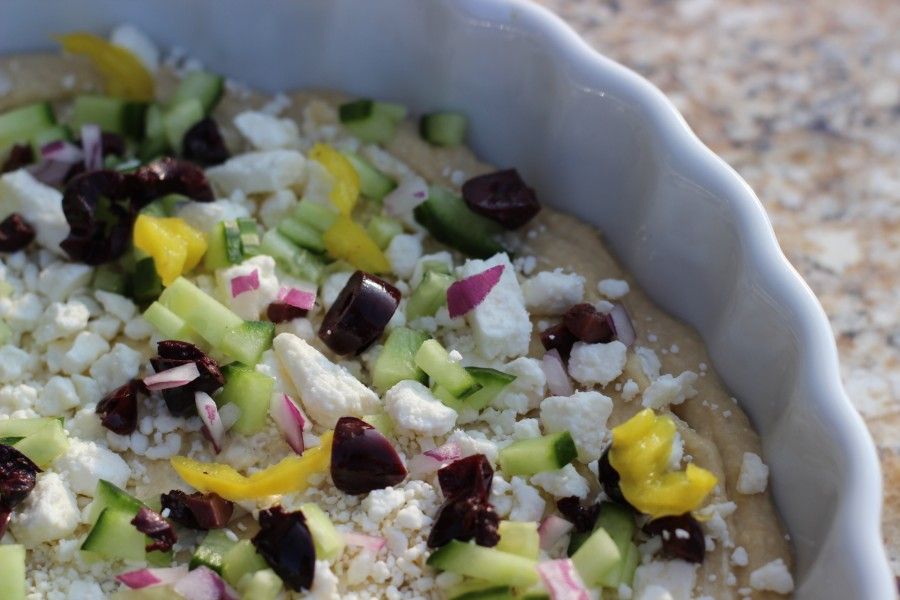 Step 3
Add chopped tomatoes and chopped pepperoncini. Make sure to remove the liquid part of the tomatoes (and the seeds) if using regular tomatoes.
Is your mouth watering? It will be if you see it in person!
Optional substitutions or additions
I often use what I have on hand. Because of that, I sometimes substitute or add different ingredients. Here are a few that you may want to consider.
Chop and sprinkle some fresh red pepper or yellow bell peppers as a final layer. They add to the fresh look, color, and flavor.
Sprinkle either fresh parsley or fresh dill on top. This is one of the few times I'll insist it has to be fresh and not dried.
Green onions would also be pretty added on top.
Sometimes, it's hard to find pita chips. Tortilla chips will do in a pinch!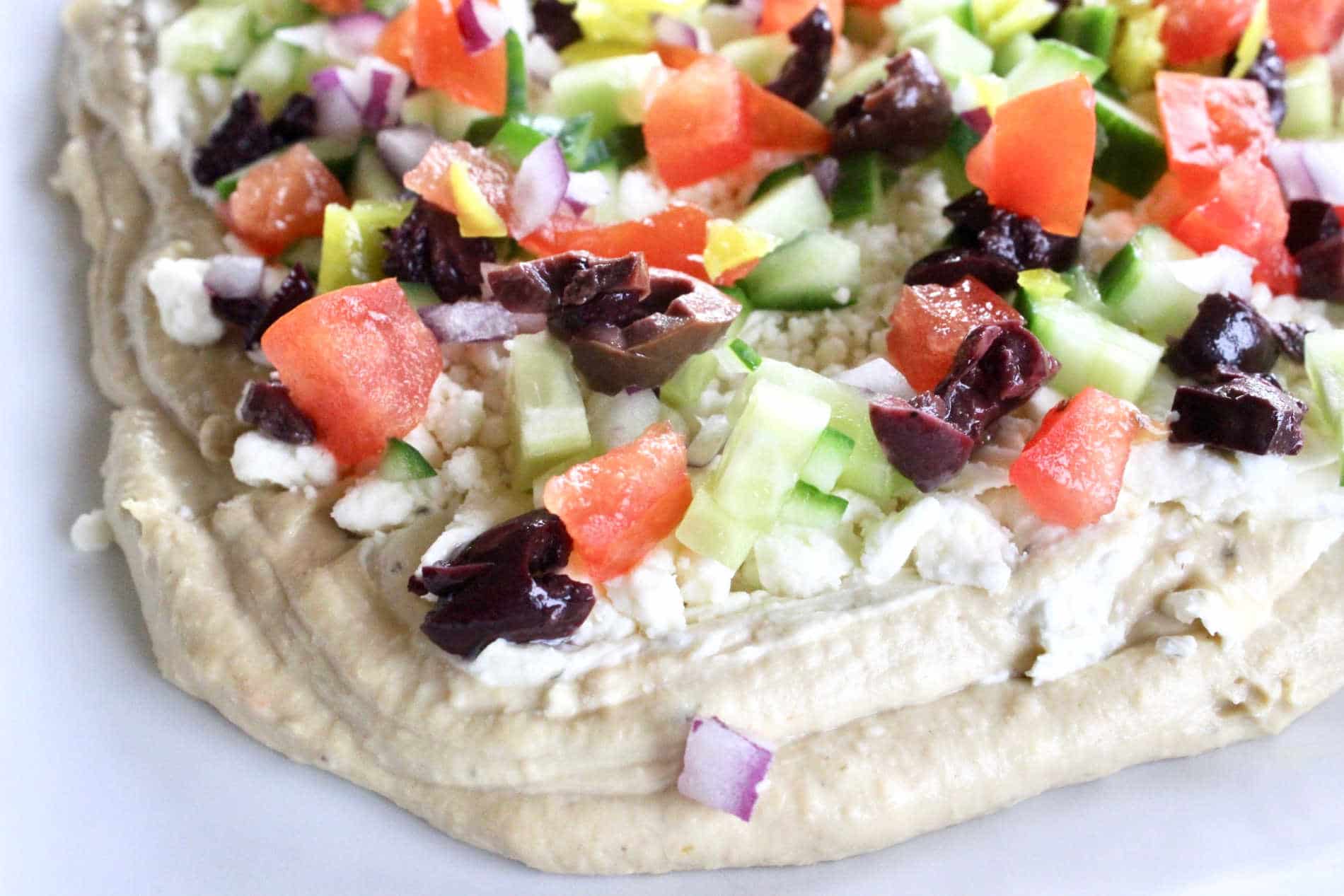 Storage
Store this well-covered in a refrigerator. I don't keep this for longer than 3-4 days.
This dip should not be frozen. The fresh vegetables will lose their crunchy texture and colorful appeal if put in the freezer.
FAQs
What if I don't like one of the ingredients?
Leave it off. But, I sometimes offer a small bowl of that topping for people to add to their dip.
OR, if it's the red onions you don't like, substitute milder chopped green onions instead.
Can I use something other than pita chips?
Spread a thin layer of olive oil on fresh pita bread. Heat in the oven until soft and pliable. Season with a little salt before serving.
I've had people scoop up this Greek dip with thicker cucumber slices and enjoy it that way, too!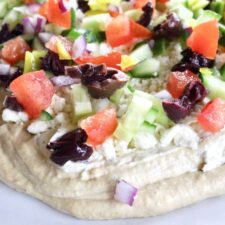 Greek 7 Layer Dip (with hummus and feta)
Delicious Greek appetizer dip includes hummus, feta cheese, olives, tomatoes and cucumbers. Quick and easy appetizer to put together. Very flavorful!
Print
Pin
Rate
Ingredients
2

cups

hummus

store bought is fine!

1

package

Alouette cheese spread

this is a seasoned cheese spread

½

cup

English cucumber

skin on for color

2

cups

feta

depends on how much you like feta - I LOVE it!

1

cup

Kalamata olives

10 large ones (sliced then coarsely chopped)

⅛

cup

red onion

chopped

¼

cup

tomato

finely chopped

4

medium

Peperonchini peppers

sliced OPTIONAL
Instructions
Once you have all of the above ingredients prepped, this recipe comes together so fast!

I use a 12 inch quiche dish or a deep serving dish the size of a large plate

Spread Alouette seasoned spreadable cheese as first layer.

Spread hummus over Alouette layer. I just put 'globs' all over the Alouette layer and then gently spread with the back of a spoon (sprayed with cooking spray). Don't stress if it's not perfect! No one will see this layer. You just want to spread it as well as you can because this has the big flavor punch.

Sprinkle feta evenly over first two layers. You want the fetta chunks to be fairly fine so you can scoop with a cracker.

Sprinkle chopped cucumber evenly.

Sprinkle olives, red onions and peppers. And, don't forget the chopped tomatoes! Either remove the liquid & seed parts before chopping or squeeze the liquid out using your hands.

Serve with either fresh warmed pitas cut into small pieces OR, buy the crunchy pita chips from your grocery store.
Notes
The first couple of layers are sticky. Spray the back of a large spoon or spatula with nonstick spray. It will be much easier to spread!
Nutrition
Serving:
1
g
|
Calories:
305
cal
|
Carbohydrates:
15
g
|
Protein:
13
g
|
Fat:
23
g
|
Saturated Fat:
10
g
|
Polyunsaturated Fat:
3
g
|
Monounsaturated Fat:
6
g
|
Cholesterol:
51
mg
|
Sodium:
1058
mg
|
Potassium:
254
mg
|
Fiber:
5
g
|
Sugar:
2
g
|
Vitamin A:
635
IU
|
Vitamin C:
20
mg
|
Calcium:
256
mg
|
Iron:
2
mg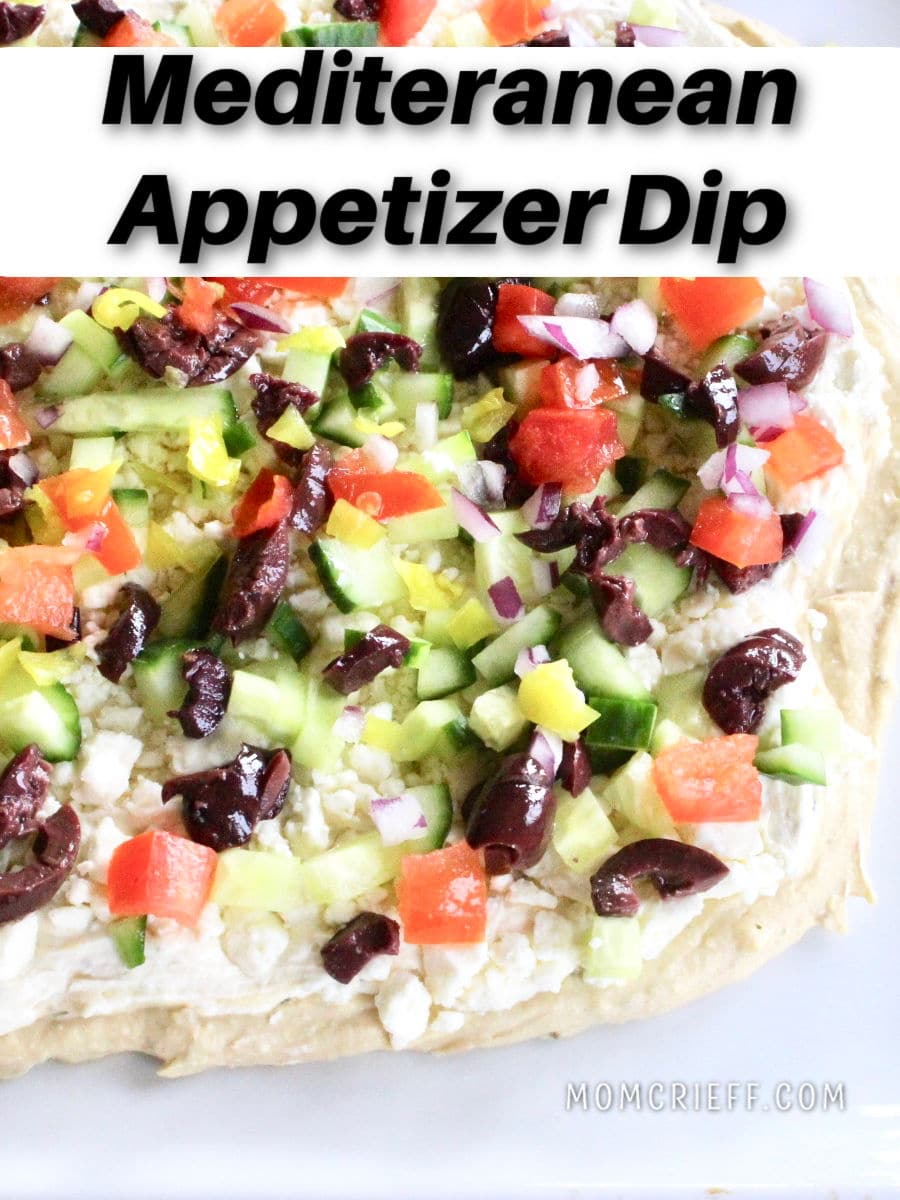 I hope you enjoy sharing this recipe with friends!
**Originally published April 26, 2015