I love making these banana muffins when I have overripe bananas. These muffins taste delicious, and are a great to-go breakfast or snack. They are kid-friendly and very portable. This recipe makes 12-15 nice sized muffins.
Three ingredient banana muffins
I have made the two ingredient pumpkin muffins a lot these last few weeks. But banana muffins? Well, I'm here to tell you, they are easy to make and are really good!  This is the BEST use of those extra bananas!
There are affiliate links in this post. Read my disclosure policy to learn more.
This is the perfect recipe when you have those ripe bananas that need to be used really soon.  Like today! In less than 30 minutes, you can have banana muffins!
Ingredients
1 box yellow cake mix
3 large bananas (or 4-5 small bananas)
2 large eggs
½ teaspoon cinnamon (totally optional)
Instructions 
Preheat oven to the temperature stated on cake mix box. Usually 375 Fahrenheit
Add bananas to a large bowl.  I used 3 large sized bananas. You could use 4 - 5 small ones. I use a potato masher.  Actually, sometimes I use a hand mixer.  Just don't overmix, you still want some of the banana texture.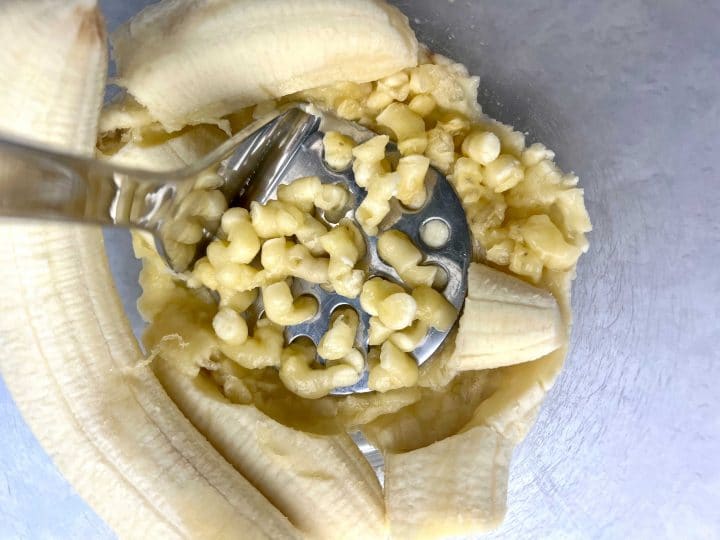 Add two large eggs to the mashed bananas.  I usually just crack the eggs into a small well in the bananas, and try to beat just the eggs and then mix them all in.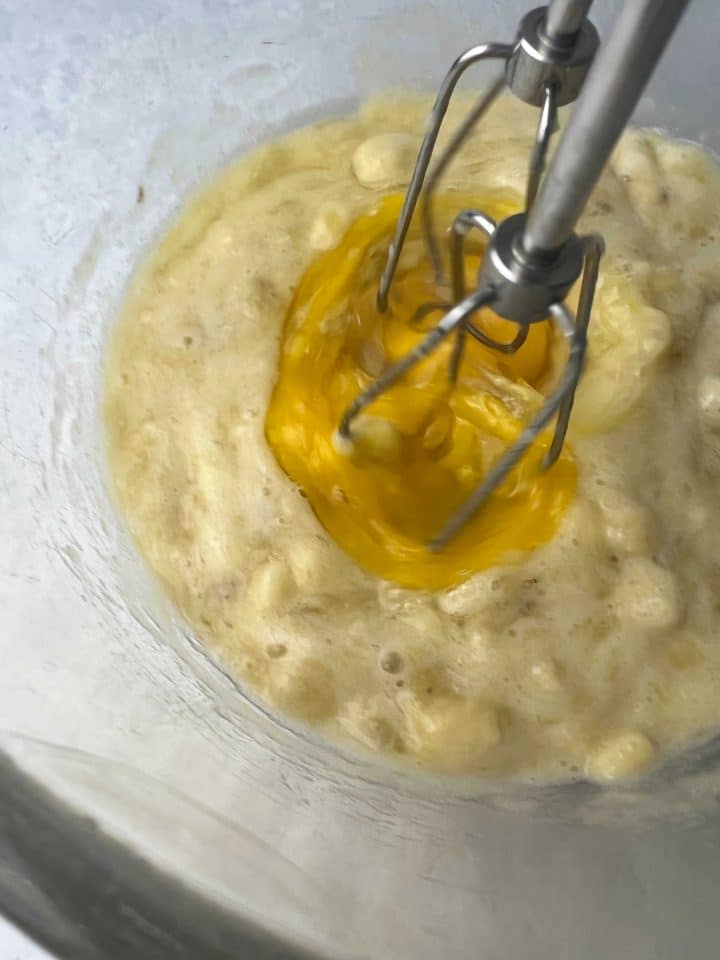 Add a box of cake mix. Just the cake mix. Not the stuff you are told to add on the box.
My family loves cinnamon.  I add about ½ teaspoon.  This is a totally optional ingredient.  If you like the cinnamon flavor, add it.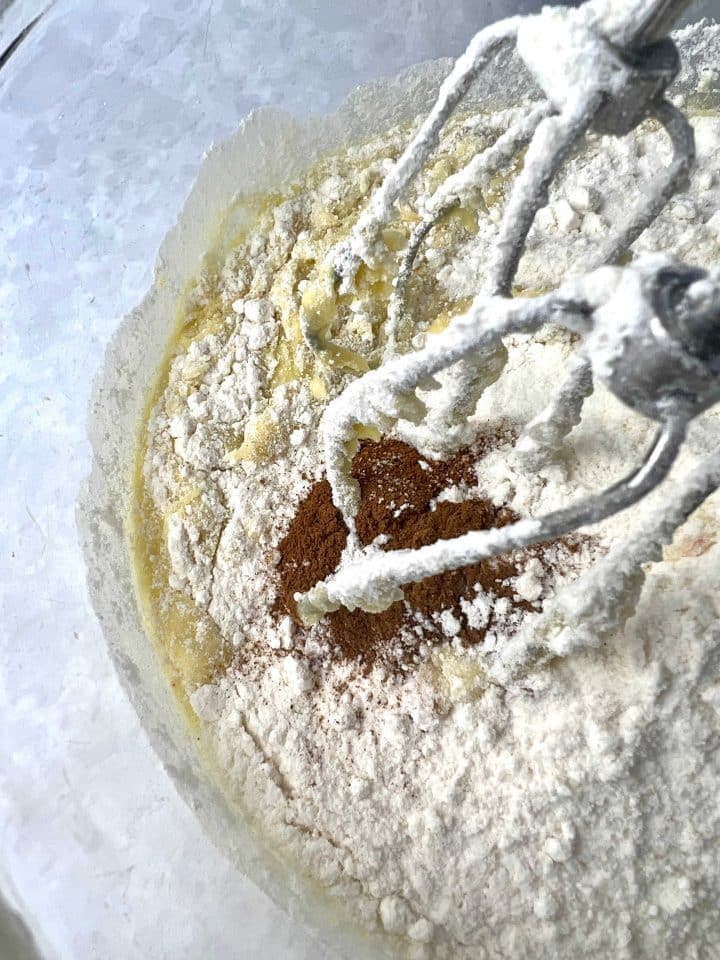 This is a sticky dough and you won't be able to pour it.  I spry the muffin wells in the muffin tin with baking spray.  Then I scoop the mixture into the muffin pan with a scooper.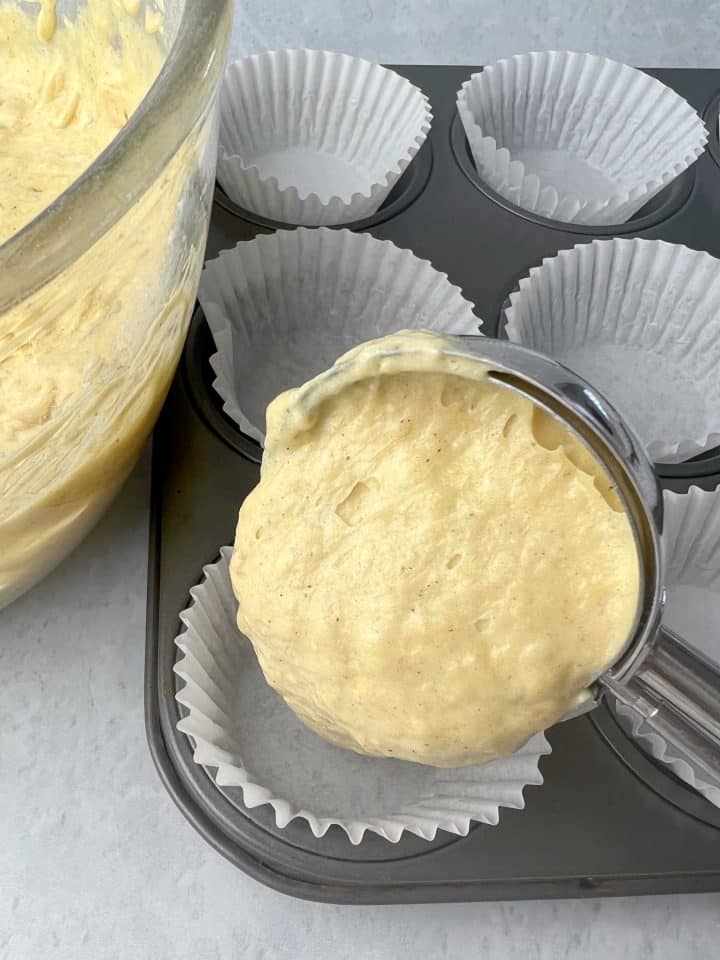 Just an FYI, the texture of this is a little different from a scratch banana bread recipe. It's not as dense. Not better or worse, just different. It has a great place in every person's recipe collection of quick and easy recipes.
Bake approx. 18 minutes (test with a pick for doneness). Mmmmmm they smell so good when they bake.
Helpful tips
If you are going to frequently make muffins, buy yourself a good nonstick muffin tin!  Also, I'm a huge fan of using scoops to transfer the batter into the muffin tins.  So much easier and less messy (no drips of batter everywhere!  These are the type of scoops I use (click on the picture for more info.).  Oh and paper cupcake liners are great with these muffins!
Substitutions and add ons
If you want these muffins to be more of a special treat, add broken up walnuts or chocolate chips. Peanut butter chips are good too!
Can I make this as a two ingredient banana muffin?
Don't have any eggs handy? This works out perfectly fine without eggs. It just makes a couple less muffins.
Print
Easy Three Ingredient Banana Muffins!
The easiest way to use up those extra ripe bananas!  Use a box of cake mix and some bananas to make banana muffins.  You'll be impressed by how easy and how delicious and moist these are!
Author:
Prep Time:

5 minutes

Cook Time:

18 minutes

Total Time:

23 minutes

Yield:

15-18 muffins

Category:

muffins

Method:

bake
1  box yellow cake mix
3 large bananas (or 3-4 small bananas)
2 large eggs
½ teaspoon cinnamon (optional)
Instructions
Turn oven on to temperature recommended for muffins on the cake mix box (often 350 or 375)
Mash bananas
Add and mix in the two eggs
Add cake mix.  Do not add ingredients listed on the box!
Add optional cinnamon
Stir until everything is well mixed.  This can be done by hand or at a slow speed with a hand mixer
Bake for approx. 18 minutes.  Test for doneness with a toothpick
Notes
The dough will be sticky and muffins will be lighter than traditional banana bread.  Different but delicious!
If you like this recipe, this chocolate banana muffin recipe is a family favorite!
Feel free to add things like pecan nuts, walnuts or chocolate chips.
Storage and freezing
These keep for 3-4 days in the refrigerator in a covered container. They do get a little moist so I take them out and take the lid off prior to serving them.
They should freeze well, but I never have any leftover to freeze!
Other popular two or three-ingredient recipes
Three Ingredient Banana chocolate chip recipe
If you liked the last recipe because it helps you use up bananas, you are going to love this recipe for banana chocolate chip muffins. It just satisfies that chocolate craving we all get. And, there are bananas in these muffins. So it's healthy, right?!
Two ingredient pumpkin muffins.
The first two ingredient recipe I published was this two ingredient pumpkin muffin recipe. I remembered it from years ago. Our Weight Watcher's leader told us about it. Now everyone is making it. This recipe has had thousands of pins on Pinterest - every fall it goes crazy!
Click here to get the recipe.
Three ingredient peach crumble/cobbler.
One more for you! How about an easy peach crumble? Using canned peaches, cake mix and butter. Yup, that's it! It's one of my family's favorites. Easy, quick and delicious! Click here for the peach crumble / cobbler recipe.
Put everything together the night before and bake in the morning.  You will love the wonderful smell and taste of the caramel sauce baked over yeast roll morsels.