Welcome to my blog, it's called Momcrieff!   Do you know that I live in Wisconsin?   And, that Wisconsin has a huge tradition of having fish fry every single Friday night?   Don't try to go out Friday night without a reservation.  Or go really early.
One of the main sides are potato pancakes.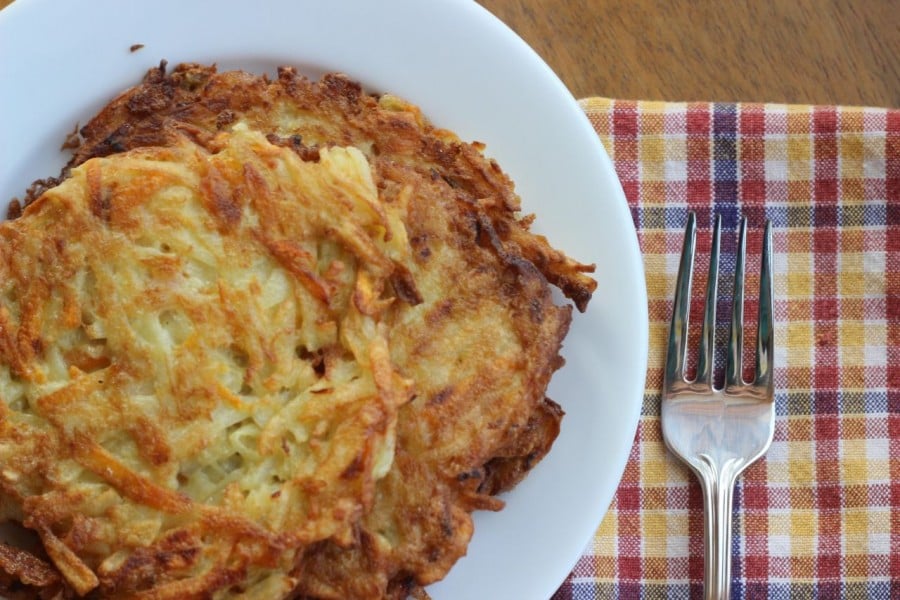 I've had them a couple of times in restaurants and wasn't too thrilled.    Then, a couple of weeks ago I was out for coffee with a friend and, we were talking about some of the cheap foods we survived on in college.   My friend was talking about how she had learned to make a mean potato pancake.  Of course, I asked for the recipe.
How did I not know these are so good?   I've never made scratch potato pancakes.  They aren't hard to make and use very simple ingredients.
The printable recipe is a little further down.  But, let me take a minute to show you how they are made.
Peel and coarsely grate two russet potatoes.   Use a clean but thin dishtowel and squeeze all the juice out of the potatoes.  I added about a 1/4 cup of sweet potato (that I had patted dry with a paper towel). Just trying to make the potato a little healthier.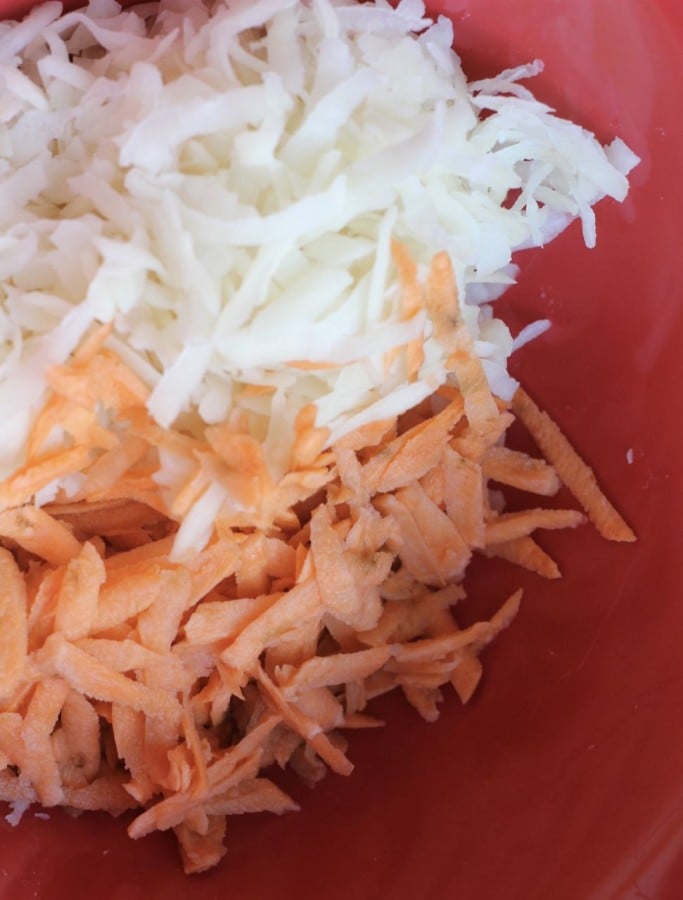 Add three lightly beaten eggs, 1 1/2 TBSP flour, 1 TBSP flour,  1 TBSP finely grated onion and a bit of salt (1 1/4 tsp) to the potatoes.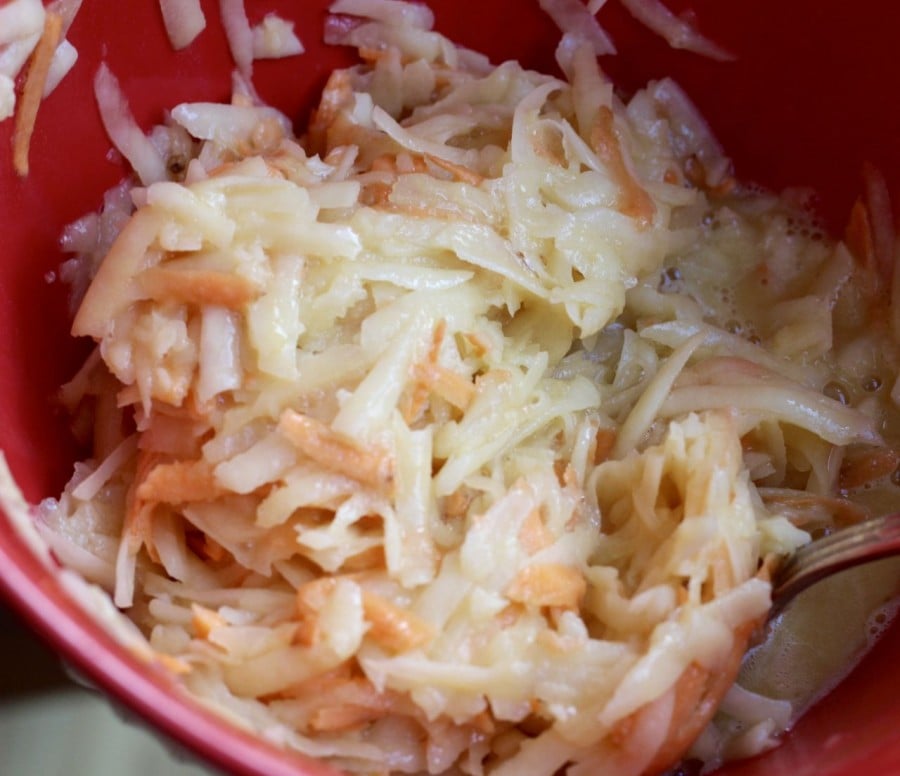 Heat 1/4 cup vegetable oil in a heavy skillet.  Medium high heat.  Make sure the oil is nice and hot when you add the potato mixture.
Drop large spoonfuls of mixture into the hot oil, and spread with the back of the spoon until the potato pancake is approx. 1/4 inch thick.  Fry until a nice golden brown on the bottom.  Anywhere from 3 -5 minutes, depending on how hot your oil is.
Flip and cook the second side until brown and crisp.  About another 3-5 minutes.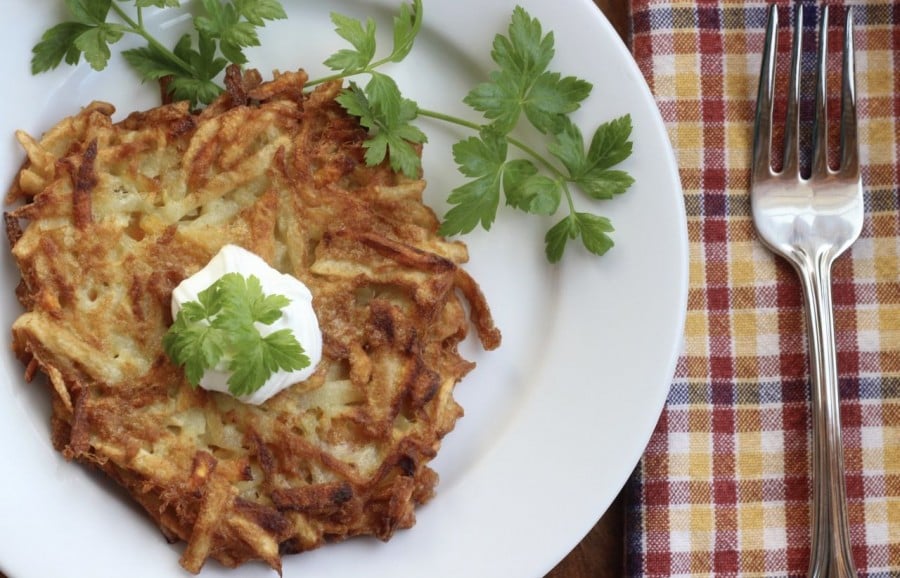 Some sour cream is wonderful with these.   I know some people like serving potato pancakes with applesauce.  And, I have heard worchestershire sauce is also good, although I haven't tried that myself.
Of course, I tried these.  I couldn't tell you how wonderful they are unless I did, now could I?   Well, instead of a little taste, I ate the whole potato pancake and had to stop myself from eating a second one.  They are really, really delicious!
Don't tell my Wisconsin friends, but I'm not a fish fry gal.  But, I think I will be making these potato pancakes as a side from now on.  It's the time of year where I get tired of my regular rotation of food so I love the idea of something different.  My kids tried them and liked them too!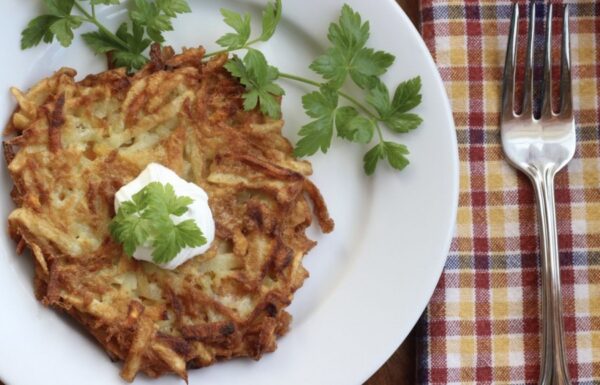 | | |
| --- | --- |
| | |
Wrap grated russet potato in a clean tea towel and squeeze to remove as much moisture as possible. An older, thinner dishtowel works best.

Dry grated sweet potato with a paper towel (I didn't want to stain my tea towel).

Add eggs, grated onion and salt to potatoes and mix in.

Sprinkle flour over the mixture and mix into the potato mixture.

Heat oil in heavy skillet - medium high.

Drop heaping spoonfuls of potato mixture into pan. Using back of spoon, spread to about 1/4 inch thick.

Fry for about 3-5 minutes, until golden brown on the bottom.

Flip and fry other side to golden brown (3 - 5 minutes).

Serve with either sour cream or apple sauce. I heard Worcestershire sauce is a good option too.

Makes about 5-6 potato pancakes.
If you want some more interesting and creative potato ideas, take a look below! A group of bloggers accepted a challenge to make recipes using the potato. There are some wonderful, interesting recipes I know I'm going to try. Take a peek and see what you can find!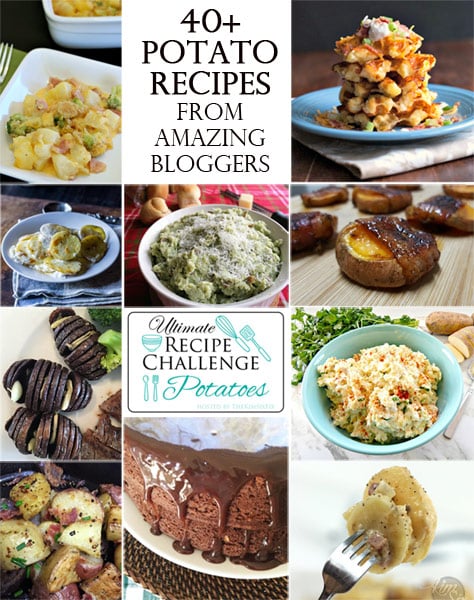 Google+