Pimm's - A deliciously refreshing summer adult beverage.
This is my favorite summer cocktail because it's easy to make, refreshing, and also looks pretty with the traditional garnishes! I'm very fortunate that the first time I had this deliciously garnished beverage was in London, England. What a fantastic city. The history, the people, the architecture, the parks, and, the Pimm's.
The English have rules about this beverage, only in the summer. A girlfriend and I visited London last year in early May and there was no Pimm's yet. It was too early and wasn't truly summer enough.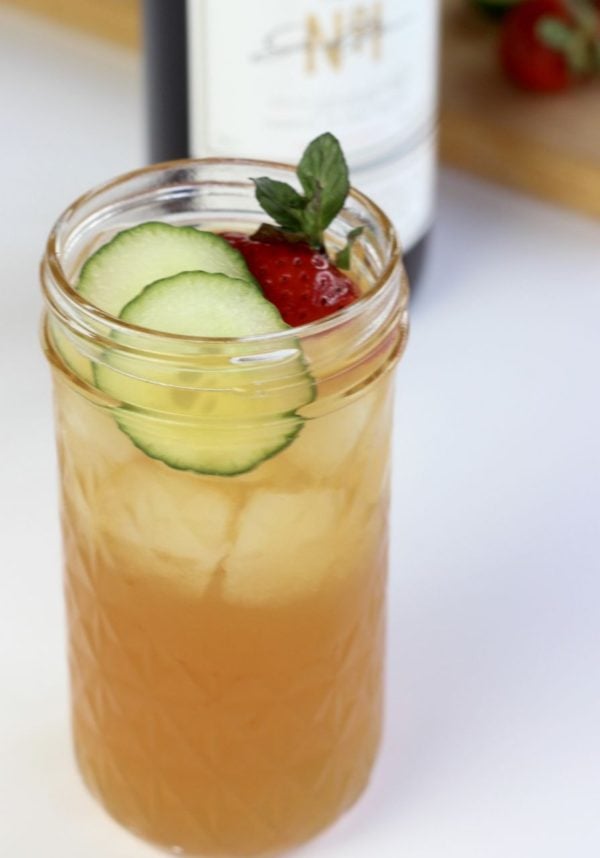 London's Globe Theatre
My first Pimm's was at The Globe Theatre. As in Shakespeare! A little tidbit about me. I love Shakespeare. Shakespeare and I share the same birthday. It's in April. Not the same year.
Here are a couple of pictures of The Globe. It's a replica of the original theatre. The location is close to Shakespeare's original performance, but the replica was moved a little. The Thames River now flows over where The Globe was originally located.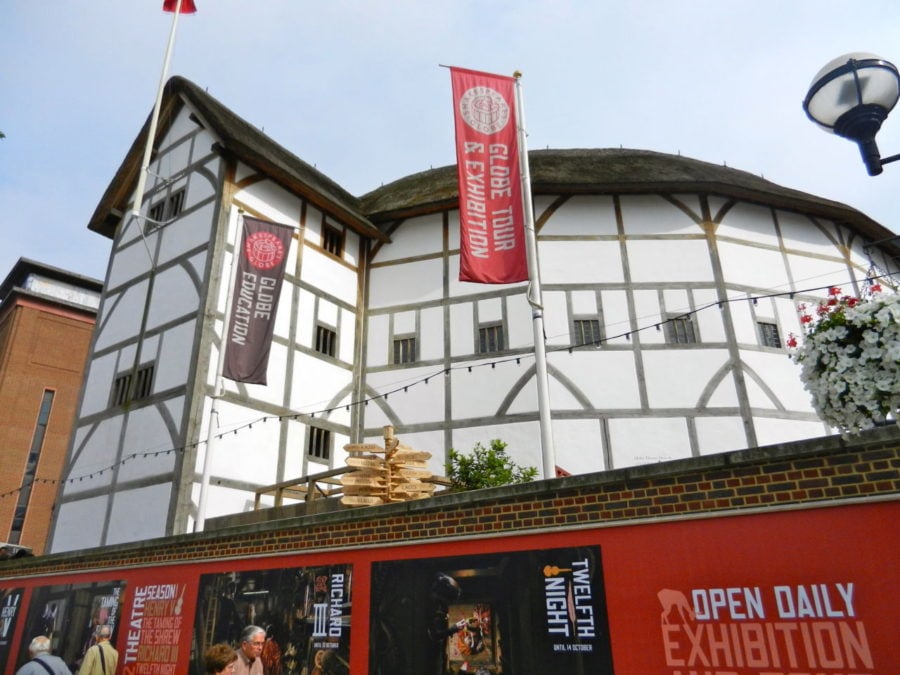 Below is the inside.
So, during an intermission of Shakespeare's Taming of the Shrew, I had the wonderfully refreshing summer beverage known as Pimm's. I was chatting with a Globe Theatre guide who shared the ingredients and the customs and traditions of this refreshing beverage.
I need to share with all of you that I truly thought everyone we met in London and the London area was very warm and friendly. None of that English coolness that I had heard of and expected. Everyone was always helpful, interesting and proud of the history of their amazing city. And, I've been there twice! My one piece of advice. If you look and act friendly, it will be reciprocated. And I think that applies to everywhere you are and everything you do.
Back to my favorite beverage. I'll be the first to admit, the folks in London will cringe when they see the pictures of my Pimm's. I've really 'Americanized' it by serving it in a mason jar. It is traditionally served in a 'tall glass'. I used a tall mason jar ; ) the real reason is that I purged a ton of my drinking glasses and have no 'tall glasses' left.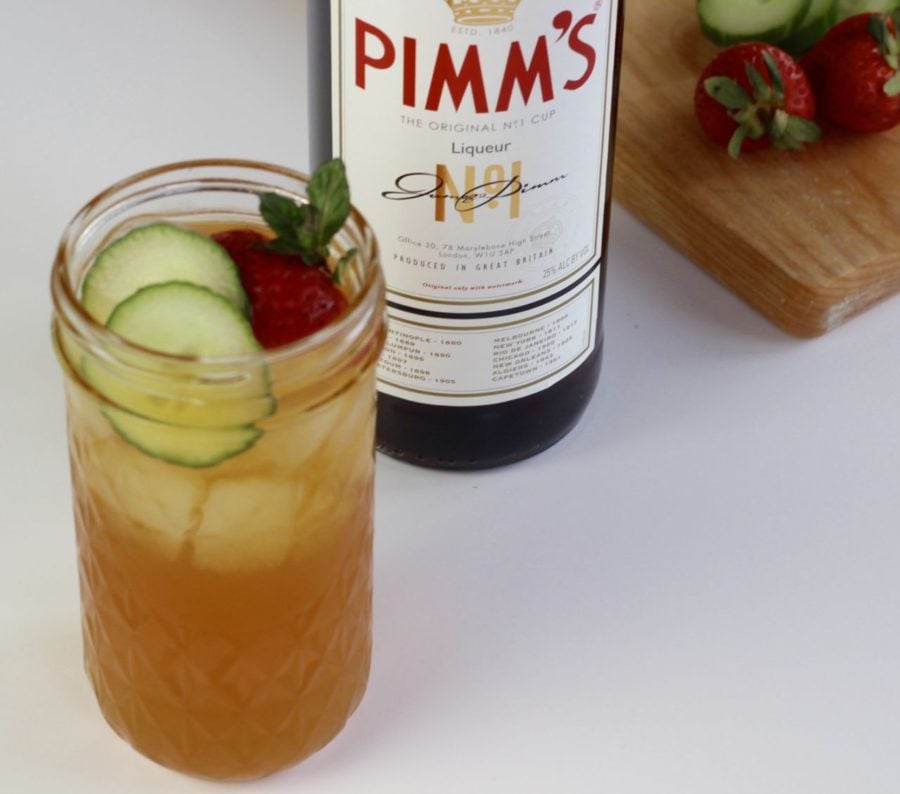 First, you need to obtain a bottle of Pimm's. We have a big liquor store near us that carries it (Milwaukee area friends, it is carried at Discount Liquor).
Ingredients:
Ice (absolutely necessary!)
1 part Pimm's (Pimm's No 1)
3 parts Lemonade
Sliced cucumber
Strawberry
Sprig of Mint
Instructions:
Put it all together and enjoy!
I'm sure the fine folks in the UK would gasp that I'm serving this traditional cocktail in a Mason Jar. My rule is that when we have cocktails outdoors, they go in mason jars (because they rarely break!). I specifically love these Mason jars because they have a pretty design on them.
What is Pimm's?
Let me tell you a little more about Pimm's. It is gin based. Hmmmm, here is where I tell you I don't like gin. Not even a little bit. But, I can't tell there is gin in it. It's just refreshing! The gin takes some of the sweetness away from the lemonade. Pimm's also has herbal botanicals and delicate spices in it. I don't know what they are, but they do contribute to this taste good! And, you can even taste the fresh garnishes. Always, always serve with the garnishes!! I really can't say enough about how perfect this beverage is on a beautiful summer day. It's also the perfect girlfriend drink! Mix up a pitcher and then it's really easy to serve.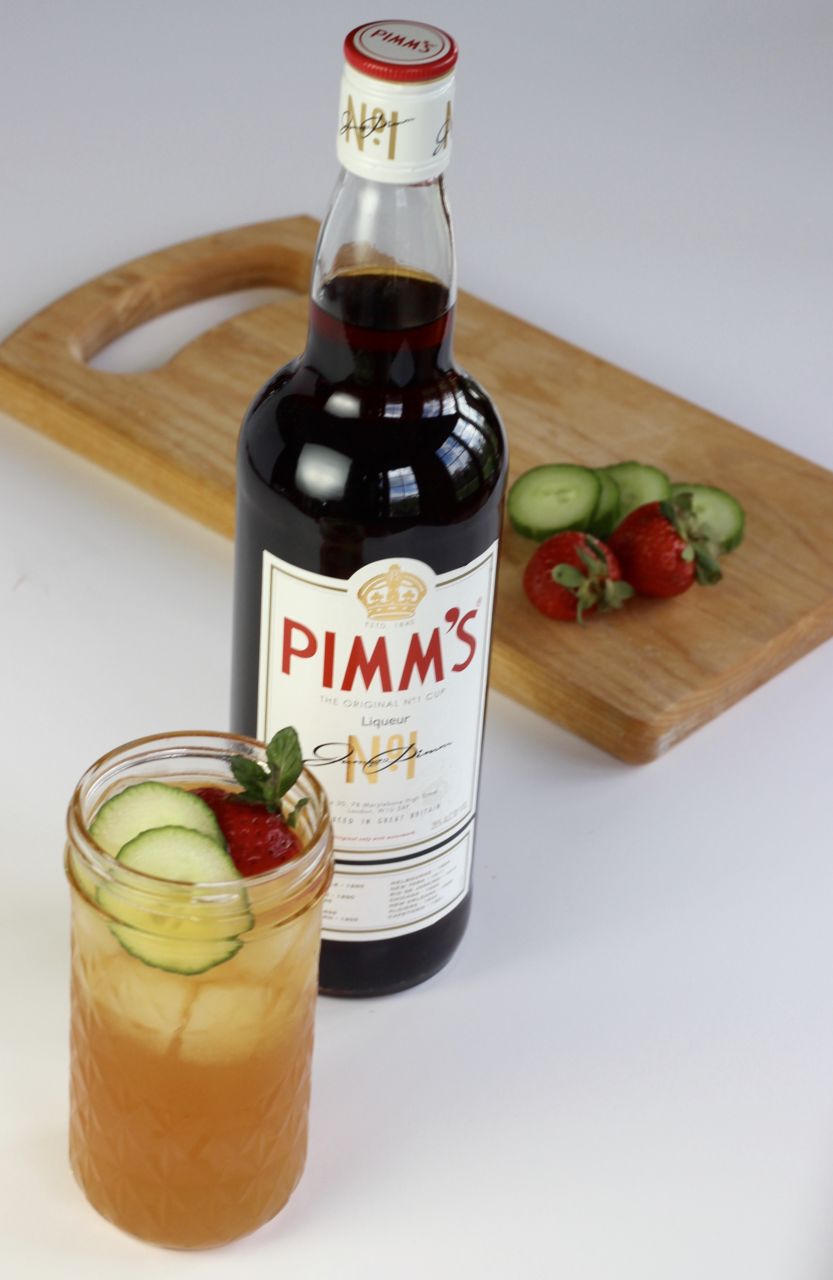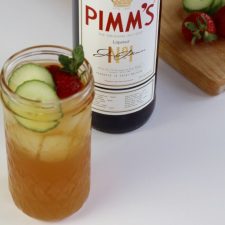 Pimm's - A refreshing summer adult beverage (from England)
A delicious and refreshing adult summer cocktail.  Not overly sweet and looks delicious with the traditional garnishes (as done in England).  I was introduced to this beverage at The Globe Theatre in London, England.
Print
Pin
Rate
Ingredients
Ice

absolutely necessary!

1

oz

Pimms

Pimm's No 1

3

oz

Lemonade

1

slice

cucumber

1

medium

Strawberry

Sprig of Mint
Instructions
Fill a tall glass approx. ⅔ full of ice.

3 parts Lemonade.

Garnish with fresh sliced cucumbers, strawberries and a sprig of mint.
Notes
Pimm's can be purchased in many large liquor stores.
Nutrition
Serving:
1
g
|
Calories:
113
cal
|
Carbohydrates:
12
g
|
Protein:
0.1
g
|
Fat:
0.1
g
|
Polyunsaturated Fat:
0.02
g
|
Monounsaturated Fat:
0.01
g
|
Sodium:
6
mg
|
Potassium:
28
mg
|
Fiber:
0.3
g
|
Sugar:
11
g
|
Vitamin A:
6
IU
|
Vitamin C:
7
mg
|
Calcium:
3
mg
|
Iron:
0.1
mg
Be warned, my friends! This is the type of drink that will sneak up on you. Enjoy it but please be responsible.
What is your favorite summer outdoor beverage? Funny how some beverages truly are summer beverages!