Recently both my boys told me they like coffee. But not MY coffee. They like Starbucks coffee. Hmmmm. I don't drink Starbucks coffee often because I find it really strong.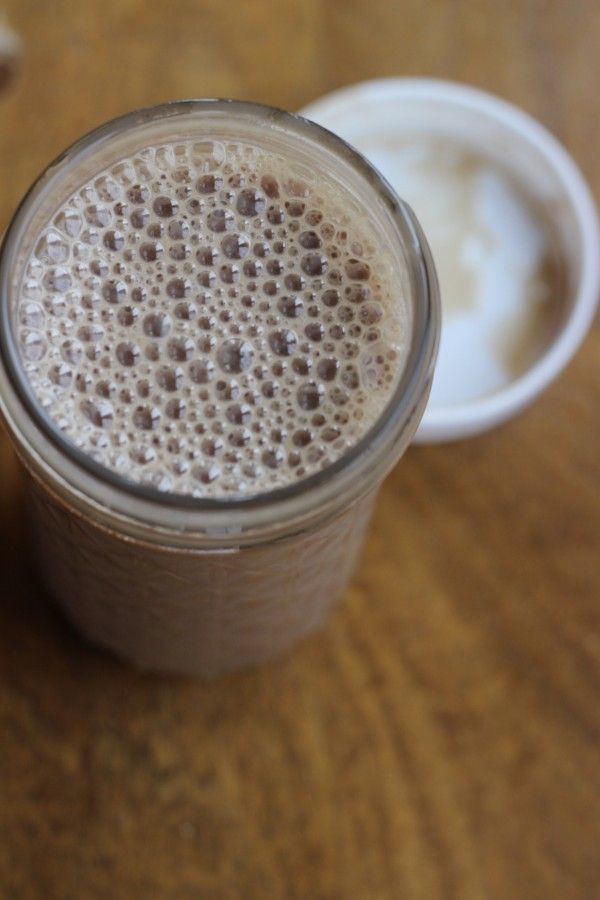 At the grocery store, my son pointed out what they like from Starbucks. They like a coffee flavored bottled drink called a Frappuccino.
I bought some and found it tastes like chocolate milk with a hint of coffee. A tiny hint of coffee. Iwasn't going to buy my kids this drink on a daily basis. So I figured out to make my own. Just like I figured out how to make the Starbuck's passion tea lemonade (which is a delicious and refreshing iced tea beverage!).
Why I love making this recipe
The cost. This is very expensive when you buy single serve bottles. My kids didn't need expensive drinks like that on a daily basis.
I also liked to control the ingredients. The last thing I wanted was my kiddos having a bunch of caffein before bedtime.
I was able to make this with THREE ingredients! They are simple ingredients! I was able to add a mild coffee flavor with just 4 oz of coffee.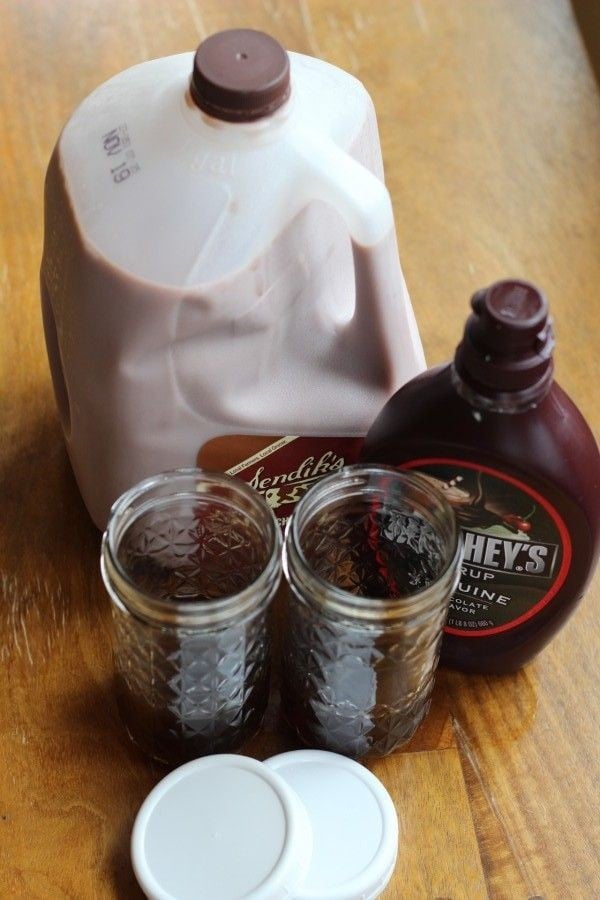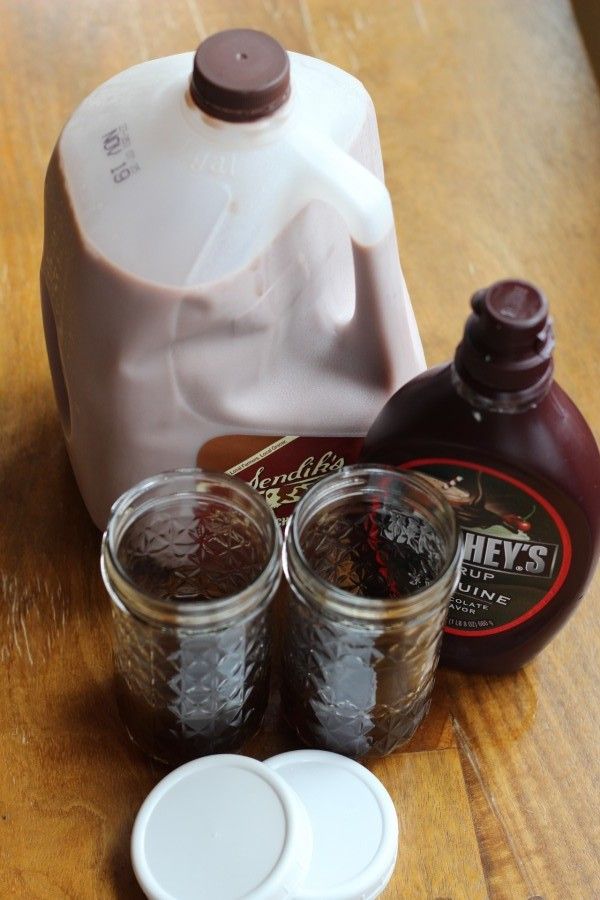 Ingredients
4 oz brewed coffee (cold)
8 oz 1% chocolate milk
1 TBS Hershey chocolate syrup.
Whipped cream (optional)
Instructions
Stir the above ingredients well. Using a blender with some ice cubes will elevate this cold coffee drink. If you have any whipped cream to top it with, you are making this a luxurious treat!
The appeal of this drink is the individual servings. A 12 oz mason jar with the these reusable mason jar lids makes this just as portable as the Frappuccino bottle. Just a quick note, the reusable jar lids I've linked to are great because they don't leak!
Storing this cold coffee beverage
This will store well in the fridge with the same expiration as the chocolate milk you used. I so not recommend freezing this mixture.
FAQs
Does this recipe have caffeine?
It has some because of the coffee and a little more because of the chocolate (in the milk and syrup).
I have Starbucks frappuccinos every day. Will I notice the difference?
Probably! This is intended to be an inexpensive substitute. I made it because I was too cheap to buy the real ones for my kids. It is however, a good standin when you just can't go get your favorite Starbucks beverage.
How do you make it frothy?
Put it in a jar and give it a good shake. Or, if you have a frother, go ahead and use it.
Don't forget to try my other Starbucks copycat recipe - Starbuck's passion tea lemonade.
Printable Recipe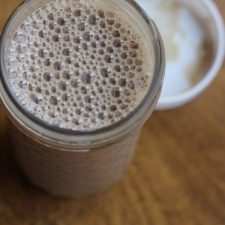 My Frappuccino recipe - Starbucks coffee beverage copycat recipe.
Frappuccino, a delicious coffee, and chocolaty tasting beverage made popular by Starbucks. My simple copycat recipe using a few simple ingredients. I also tell you how to store this so it is portable.
Print
Pin
Rate
Ingredients
4

oz

coffee

cold

8

oz

1% chocolate milk

1

tablespoon

chocolate syrup.
Instructions
Stir well.

Adjust sweetness to taste with the chocolate syrup.

If you want the bubbles, just give it an aggressive stir, or put the lid on the mason jar and give it a good shake.
Nutrition
Serving:
1
g
|
Calories:
202
cal
|
Carbohydrates:
36
g
|
Protein:
8
g
|
Fat:
3
g
|
Saturated Fat:
2
g
|
Polyunsaturated Fat:
0.1
g
|
Monounsaturated Fat:
1
g
|
Cholesterol:
11
mg
|
Sodium:
164
mg
|
Potassium:
490
mg
|
Fiber:
1
g
|
Sugar:
32
g
|
Vitamin A:
445
IU
|
Vitamin C:
1
mg
|
Calcium:
298
mg
|
Iron:
1
mg
Please pin this to your Pinterest Board!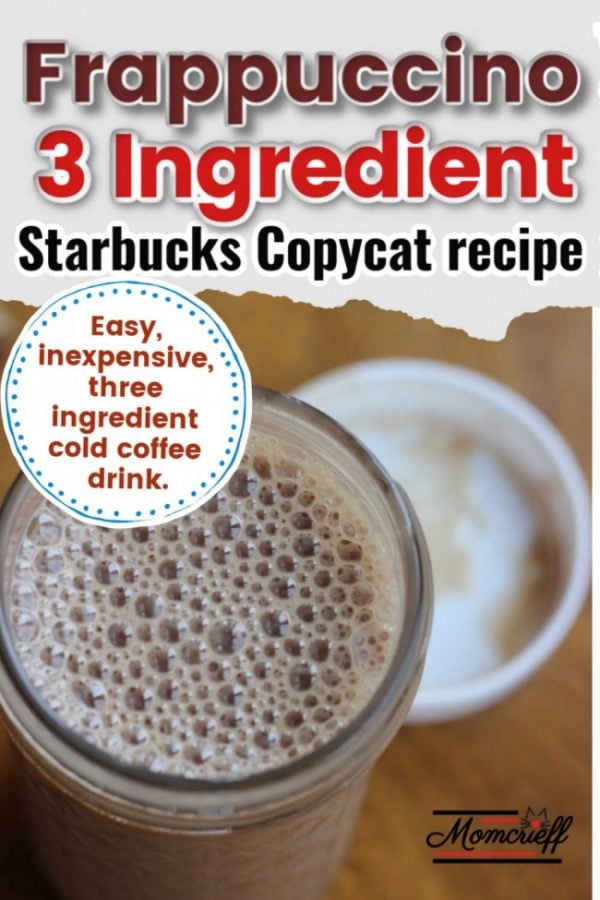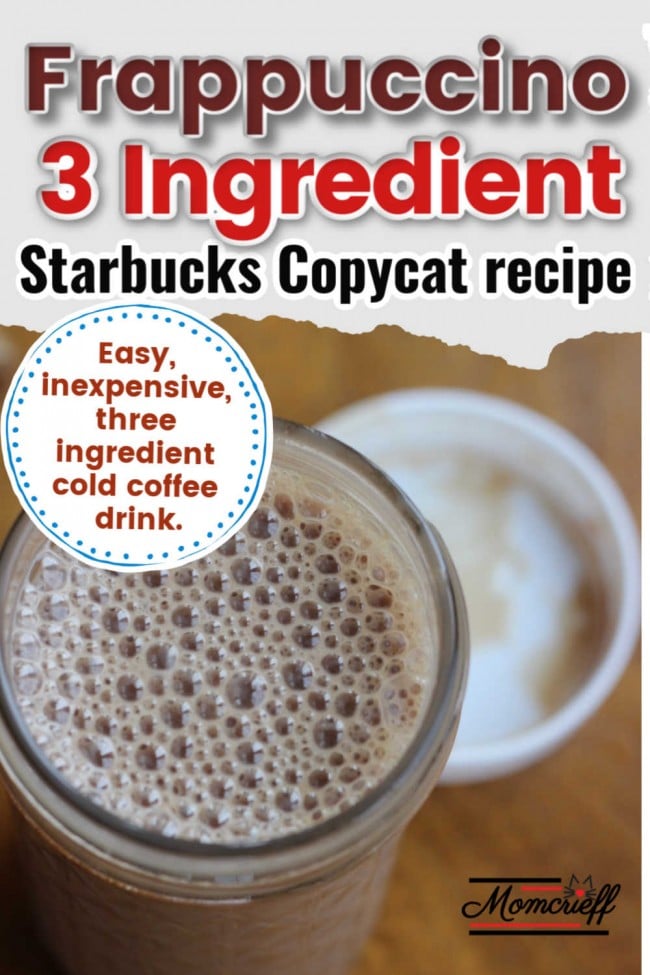 Sign up to read about easy recipes, gardening tips and my 100 year old home.