How to organize  jewelry?  Is it necessary?  Ummmmm YES!!  Hate it when you are rushing to get ready but can't find that second earring? Or you can't find the necklace that matches those earrings?  This is a huge time killer when you are in a hurry.  I broke down and figured a way to organize  jewelry.
This is a repost of an older blog post.  But, this is on my 'to do' list this weekend.  Because I'm feeling like there are so many little undone 'things' in my home.  Piles of paper that need to be files, small purchases that need to be made (that darn CO detector really must be broken if 2 sets of new batteries don't help), clutter zones and other areas that are just in disarray.  These little things sometimes just cause me stress.  Everywhere I look I see things I've intended to do but are undone.  So, I will write them down and will get them checked off THIS WEEKEND.  Organizing  jewelry is one of my projects.  I've been finding I'm not wearing my jewelry and I think it's because it's harder than it should be.  I can't find the earrings I want, or even worse, I only find one :(.    So, here is the post.  If you've seen it before, I hope you enjoy the reminder.  If it's new to you, please let me know if you like my jewelry organizing system or it you have one that that you think works better.
The solution is simple and inexpensive.
See all this jewelry?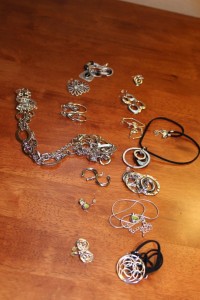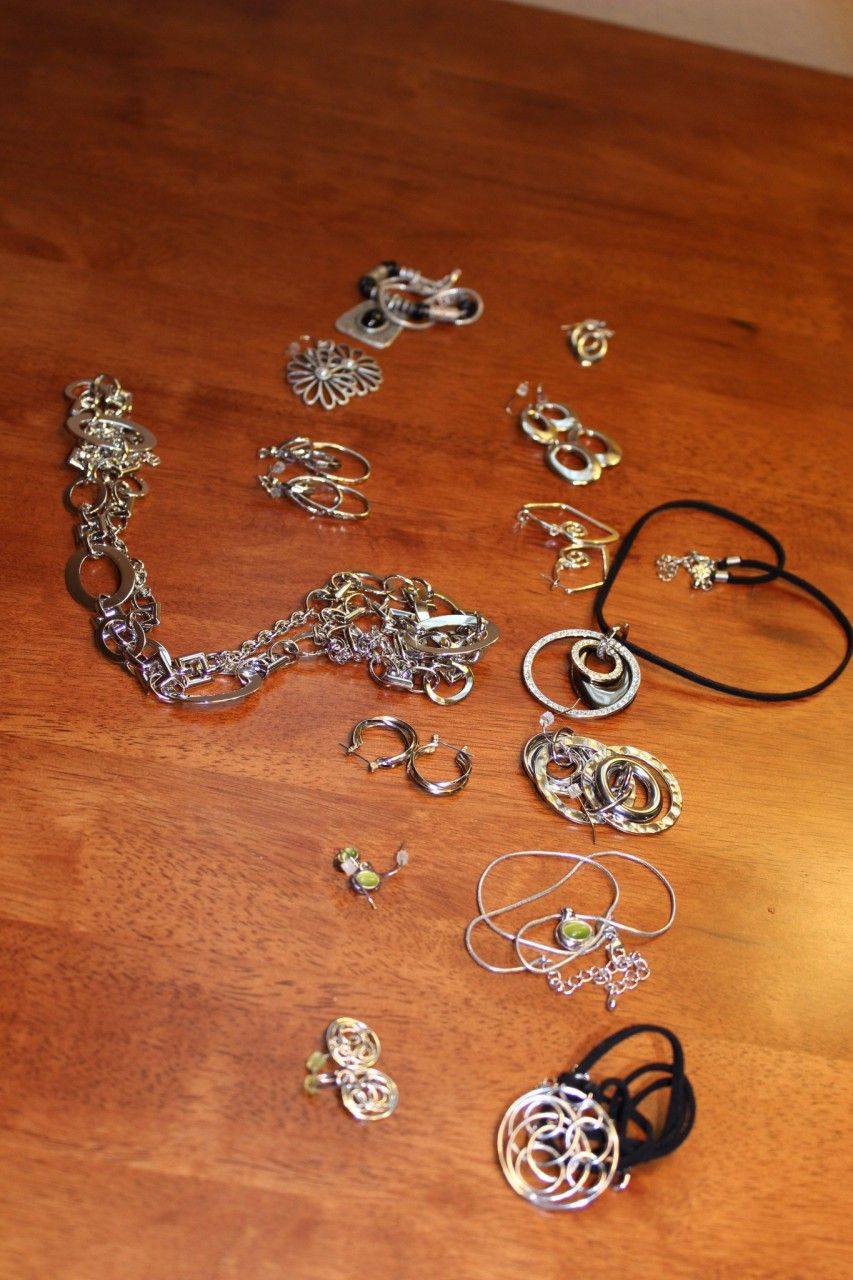 Here is my simple and quick organizing fix: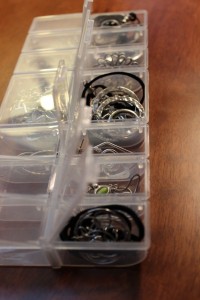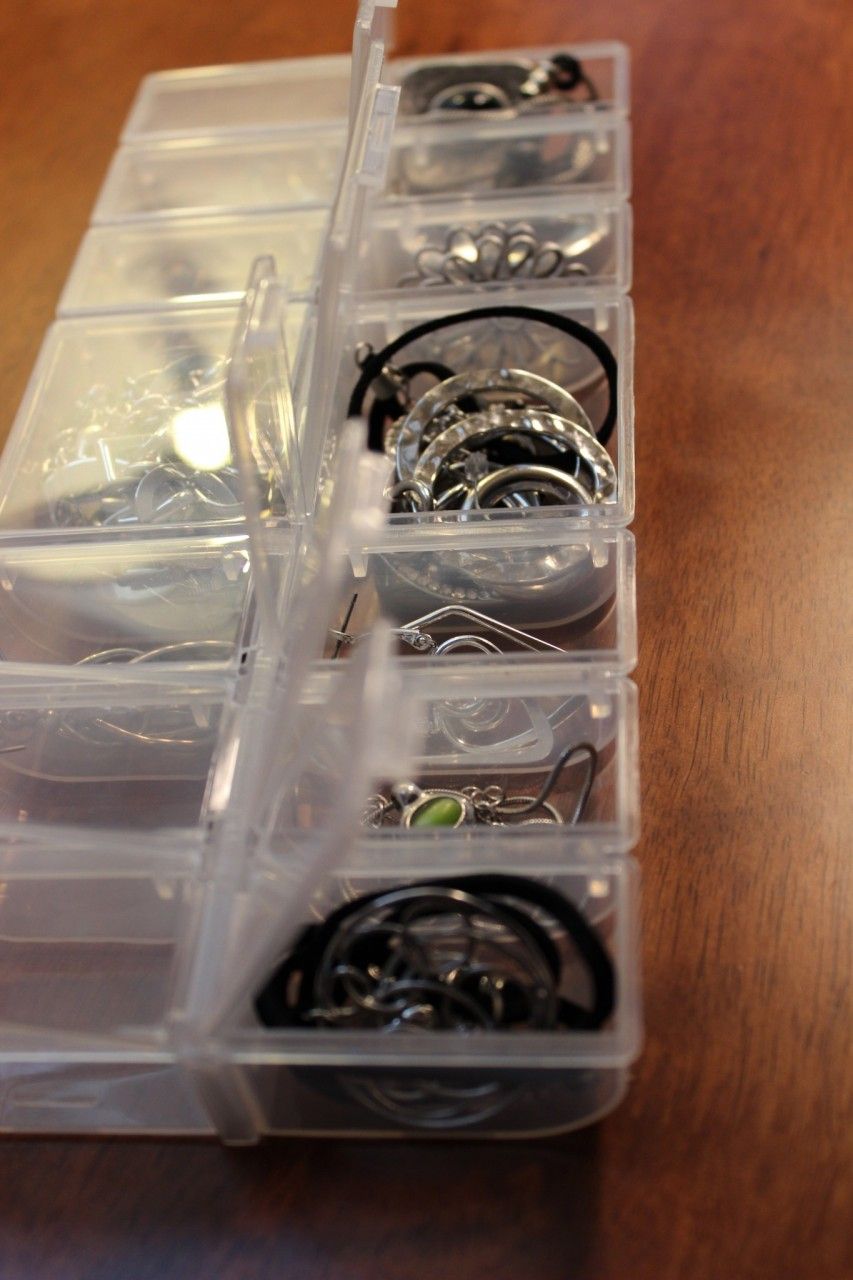 A total of 14 compartments. I stored 5 necklaces and 11 earrings (doubled up a necklace with matching earrings in a larger compartment).
The containers are found at places like Joann's and Michael's. They are around $5.00 when they are regular price. However, they are often on sale and it can be a good use for that 40% off coupon. Look in the jewelry making area. These containers are called bead organizers. There are some that have more compartments that would be perfect for a whole bunch of earrings. They aren't fancy but they sure can do the job. The wonderful thing is that the top flap is clear and you can see what is in each compartment. Put your matching earrings and necklace beside each other so they are easy to find. Or, you can even double up the set in one compartment.  Simple, inexpensive, and an organized way to organize  jewelry.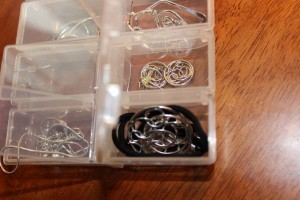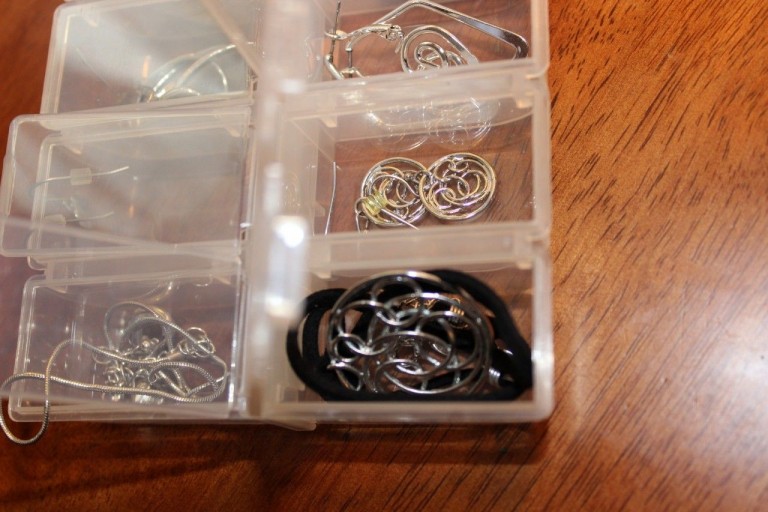 Buy a smaller one and use it to travel!  Wow, how about you organize  jewelry for an easy jewelry travel option. Hope you find this tip helpful!
Momcrieff.