Hi! Welcome to my blog called Momcrieff! I often share delicious but very simple to prepare recipes. This easy ham and swiss casserole is soooooooo good! And, my golf friend Cindy was right. Easy to make and delicious! I'm truly flattered when people share their favorite recipes with me. Of course, I test them out and then I can share them with you!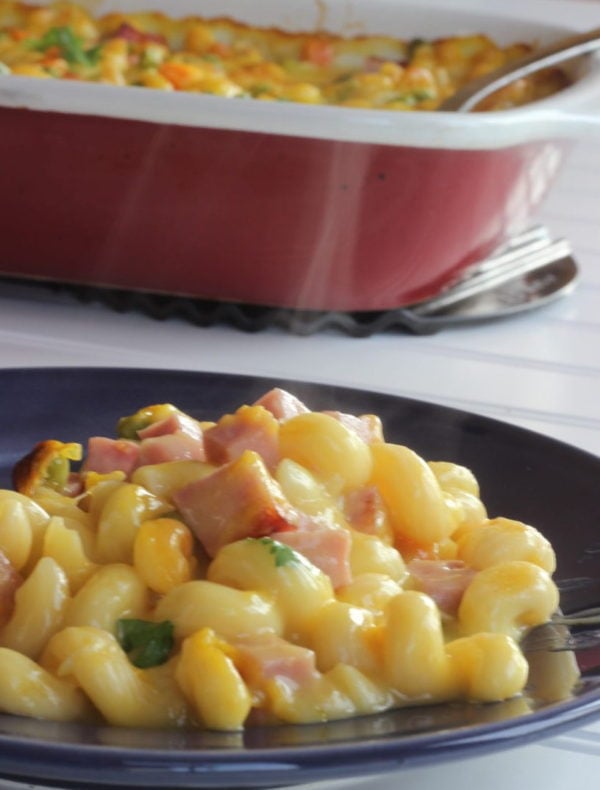 This Easy Ham and Swiss Cheese Casserole was so very easy to make. There was very little prep time, which was great. I used frozen veggies but, if you prefer, it would be totally fine to use fresh. I do want to suggest you give this casserole a quick stir halfway through cooking so that you don't have the odd crunchy noodle on top.
And, the best thing of all, my family really enjoyed this. It's more than we can eat at one sitting. But, the leftovers were heated up the next day by my teens and enjoyed again. Two teenagers both agreed this was good! That never happens in my house!
I'm actually trying to collect some recipes to teach my boys how to cook some simple meals. The boys will be making it next time around. If you are wondering why there seem to be some very detailed details, that's why : ).
I did adapt it a bit for my family's tastes. That's the sign of a great recipe in my book. When you can easily adapt it for personal preferences.
One of the things I love about this ham and swiss cheese casserole dish is that you don't need to precook the noodles. For some reason, I don't like doing that step. Probably because sometimes I overcook those noodles. Nothing worse than mushy noodles! By putting the noodles in uncooked, no mushy noodles here!
Print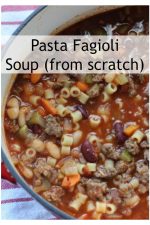 Easy Pasta Fagioli Soup.
Author:

Yield:

12 or more!
---
Ingredients
2 Tbsp vegetable oil
1 1/2 lbs lean ground beef
3 large carrots – diced
5 celery stalks – diced
1/2 large sweet onion (diced)
1 28 oz can of crushed tomatoes (the large can)
1 30 oz beef broth
2 leaves Bay (optional but I love the flavor)
1 1/2 tsp dried oregano
2 tsp basil
1/2 tsp dried thyme
1 15 oz can cannelloni beans (drain then rinse)
1 15voz can red kidney beans (rained then rinse)
1 cup ditalini pasta – uncooked
---
Instructions
Add oil to large skillet and brown ground beef. Set aside.
In a large dutch oven or pot add all ingredients except beans and pasta.
Bring to low boil and cook for approx. 1/2 hour.
Add beans and pasta. Cook until pasta is al dante. Approx. 10 minutes.
Remove bay leaves before serving or freezing.
Serve with fresh crusty rolls.
Do you have a favorite easy to prepare casserole that your family and friends love? I'd sure love to hear about it! You can put some info. in the comments or you are always welcome to e-mail me – Susan @ Momcrieff.com – take the spaces out around the '@' sign when you send. Sorry, have to write it like this or I get spammed : (
If you want to pin this to your Pinterest account, here is a pretty pin for you. Just hover over the left side of the image and a pin button will appear. Just follow the steps to pin to your board.
I love Pinterest! Please consider following me at: Momcrieff Pinterest Page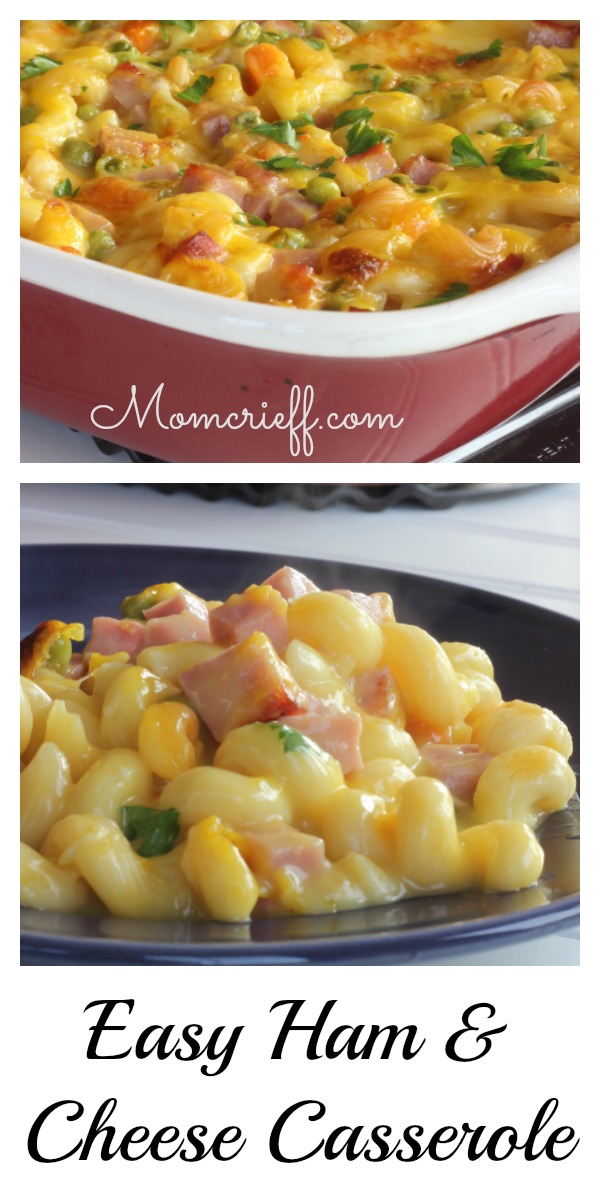 Momcrieff - Home page