My favorite Ham and Swiss Cheese Casserole
This easy ham and swiss casserole is soooooooo good!  This is the perfect recipe when you have leftover ham. Personally, I love using leftover ham because I find it so flavorful! But, if you don't have any, a couple of thick slices from the deli also works.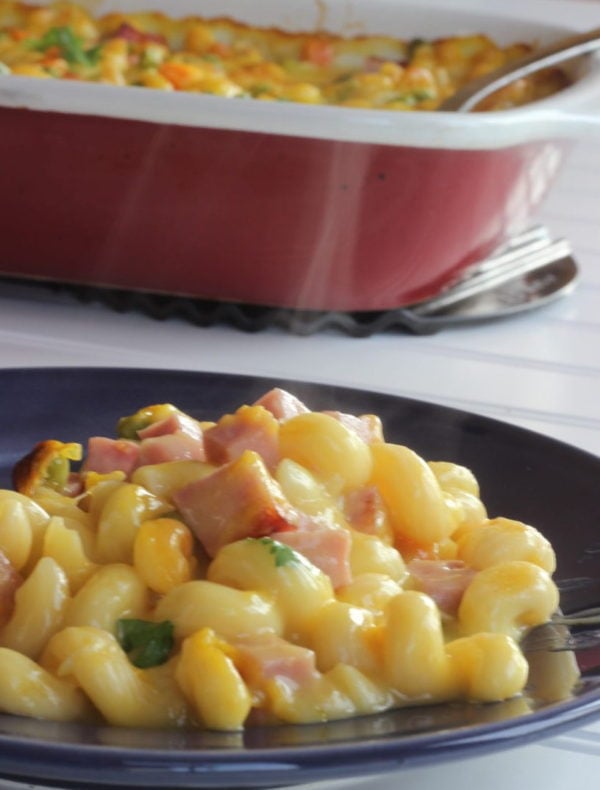 This Easy Ham and Swiss Cheese Casserole was so very easy to make.  There was very little prep time, which was great.  I used frozen veggies but, if you prefer, it would be totally fine to use fresh.  I do want to suggest you give this casserole a quick stir halfway through cooking so that you don't have the odd crunchy noodle on top.
And, the best thing of all, my family really enjoyed this.  It's more than we can eat at one sitting.  But, the leftovers were heated up the next day by my teens and enjoyed again.  Two teenagers both agreed this was good! That never happens in my house!
I'm actually trying to collect some recipes to teach my boys how to cook some simple meals. The boys will be making it next time around. If you are wondering why there seem to be some very detailed details, that's why : ).
I did adapt it a bit for my family's tastes.  Being able to do that is sign of a great recipe in my book.  
What I love about this ham and swiss cheese casserole recipe.
I love that with this ham and swiss cheese casserole dish you don't need to precook the noodles.  For some reason, I don't like doing that step.  Probably because sometimes I overcook those noodles.  Nothing worse than mushy noodles!  By putting the noodles in uncooked, no mushy noodles here!
Do you have a favorite easy to prepare casserole that your family and friends love? I'd sure love to hear about it! You can put some info. in the comments.
Print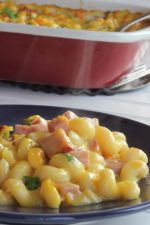 Easy Ham & Swiss Casserole
---
2 cups

ham, cubed (I bought

two

thick slices of boiled ham from my local deli - just under

1

lb of meat)

2 cups

elbow macaroni, uncooked

2

can cream of chicken soup (or cream of mushroom)

1

can of milk (use the soup can!)

1 ½ cups

peas and carrots

1

10 oz can chicken broth

2 tablespoon

dried minced onions (or

1

small diced onion)

8 oz

shredded swiss cheese (I bought sliced and chopped into thin slivers)

¼ cup

diced red pepper (optional)
---
Instructions
Do not precook the noodles.
Preheat oven to 350 Fahrenheit
Add everything in a bowl and mix until noodles are covered with sauce. It's easier if you mix liquids first then add noodles etc.
Place into a sprayed 9 x 13 casserole dish
Bake for 1 hour (stir at about ½ hour point so top noodles get mixed into sauce)
Serve with a salad for an amazing meal!
---
If you want to pin this to your Pinterest account, here is a pretty pin for you.  Just hover over the left side of the image and a pin button will appear.  Just follow the steps to pin to your board.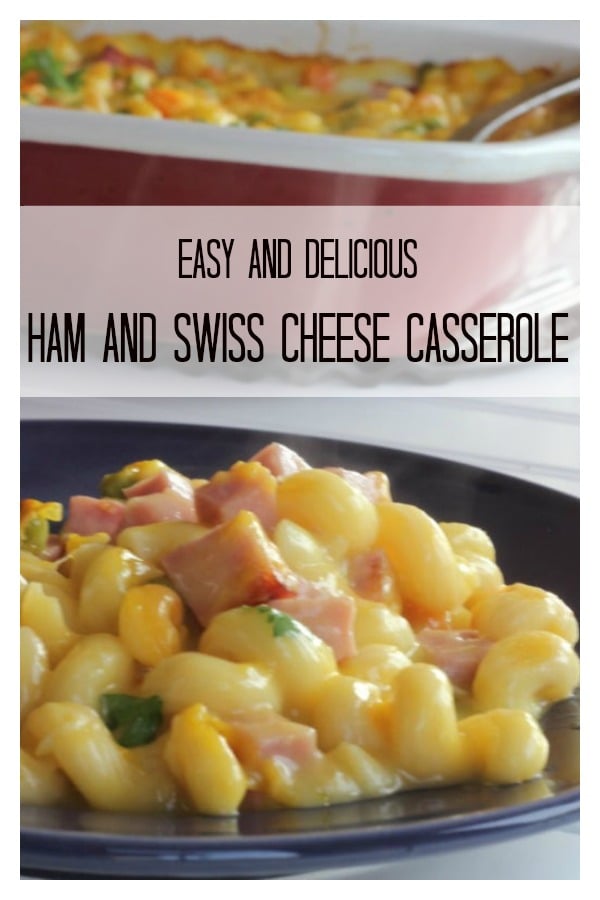 I love Pinterest!  Please consider following me at:  Momcrieff Pinterest Page
Looking for another similar type casserole? Try this Easy Chicken Noodle and Cheese Casserole