I LOVE pretty planters at my front door. It has become so easy for me to put them together because I have a simple planting formula and I have favorite annuals that I like to use. Some years my planters look totally different and all I've done is change the color of a couple of the annuals
The formula for great looking planters
This is a well known formula, used and sometimes slightly adapted by many gardeners. If you tell someone you are planting a flowering container garden, they will blurt out to make sure you have thrillers, fillers and spillers. You can sound like you are a container garden pro by knowing what these terms are. Just make a comment like, "I really like the tall grass you are using as a thriller". Ha!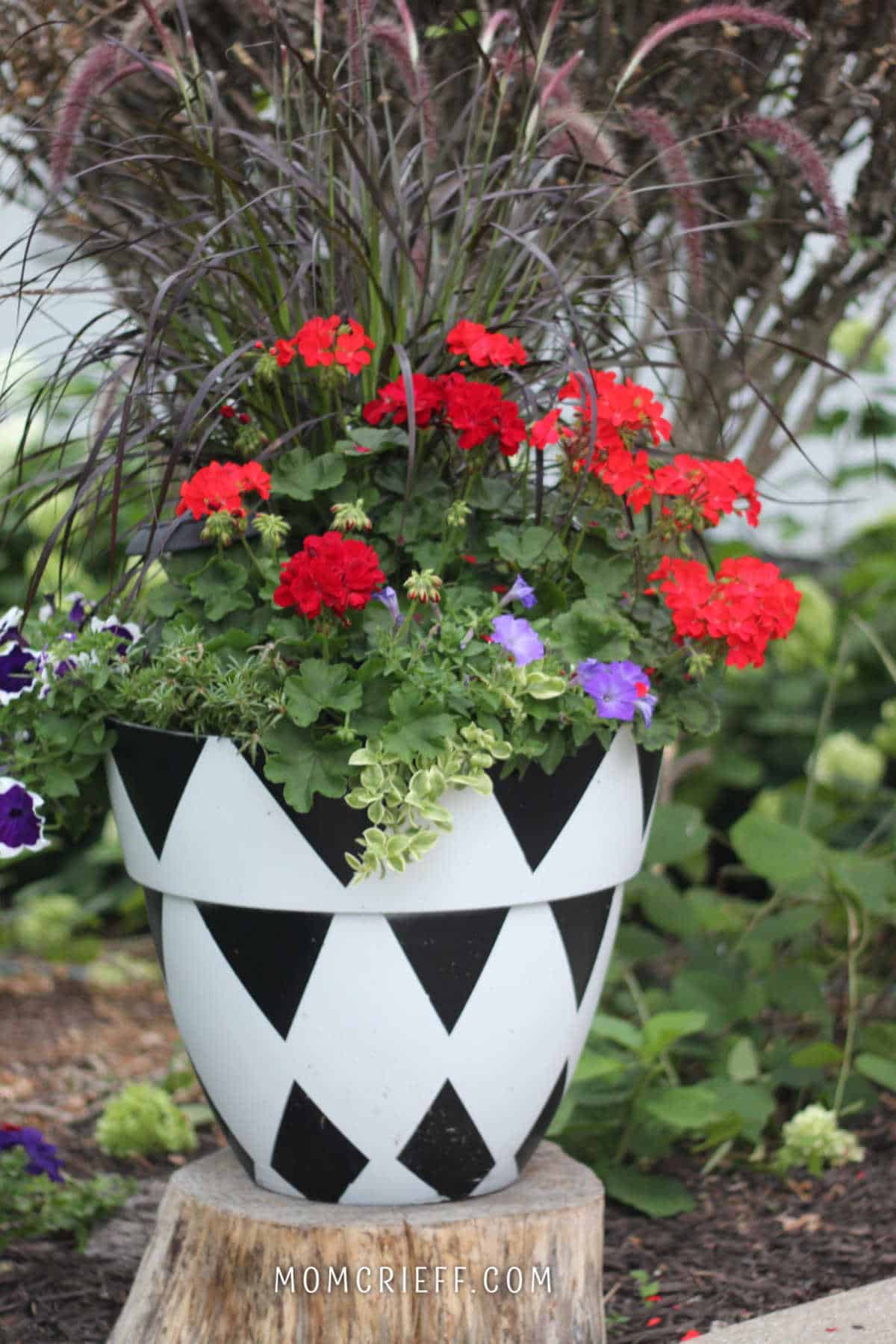 First I'll give a quick outline as to what these types of plants typically are and then further below I'll share my favorites with you! I just want to make sure you know some of the terms before we go down the rabbit hole of pretty flowers!
I've been asked about the above planter. It was an easy DIY to paint one summer and it is a few years old now. Take a look at how I did this in my post about flower pot painting.
Thrillers
Thrillers are the first part of the traditional planter plant formula. Those are usually the taller plant. Or they might not be super tall but there is something exciting about them. Like perhaps a bright-colored plant in the middle of a more muted color theme. Generally, think of the tall spikey plant you often see in the middle or towards the back of the planter.
I like grasses as my thriller because they provide the height in the summer and a backdrop for your fall planter. In most cases you are just looking for a plant with an upright habit.
In the center of the coleus plants (with it's colorful leaves) is the taller thriller plant. This planter, based on what is in it, is placed in a partial shade area.
Did you notice how the orange begonias and the multi-colored coleus are being used as the fillers in these window boxes?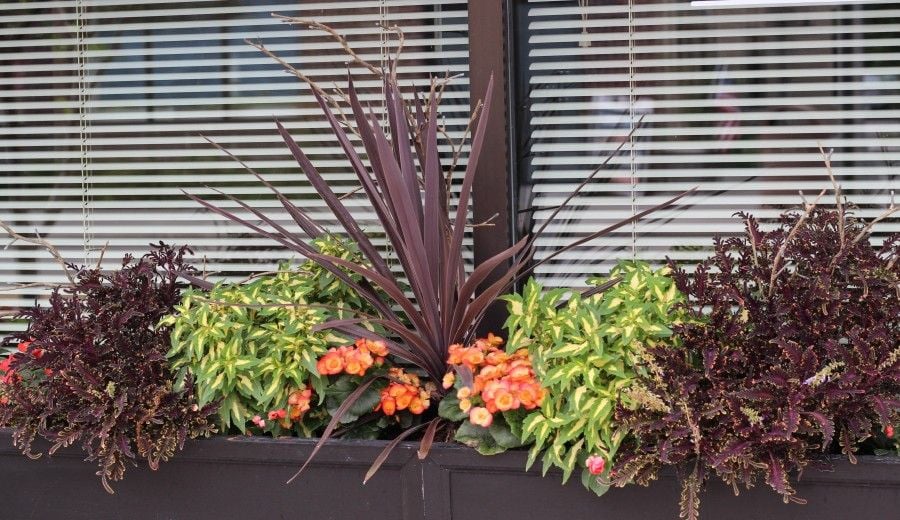 Fillers
The filler normally does its job of filling the planter with flowers. They often mound and make sure there are no bare spots in the planter. Sometimes these fillers are also a draping type plant that also mounds in the pot. The picture below is a good example of the red geraniums being used as fillers. Also a little tip. I've been seeing more and more marigolds being used as a bright-colored filler. They aren't your grandmother's plant anymore!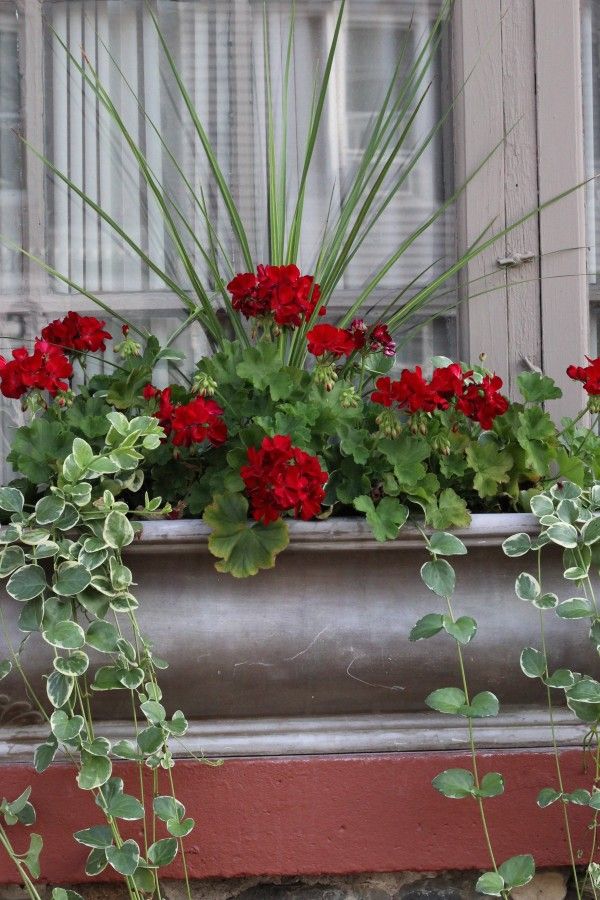 Spillers
It's the spillers I love. These plants drape over and down the planter. I've used different colors of sweet potato vine for this (love the colorful foliage), Wave petunias (specifically wave petunias) and I also like and look for alyssum that spills over the planter. Read the tags in the plants to see if the plants grow in a more mounded compact form (fillers) or if they are a trailing plant and spill over the side of the container. Below, the sweet potato vine is on the right of this planter. The pretty chartreuse green color makes the flower colors pop!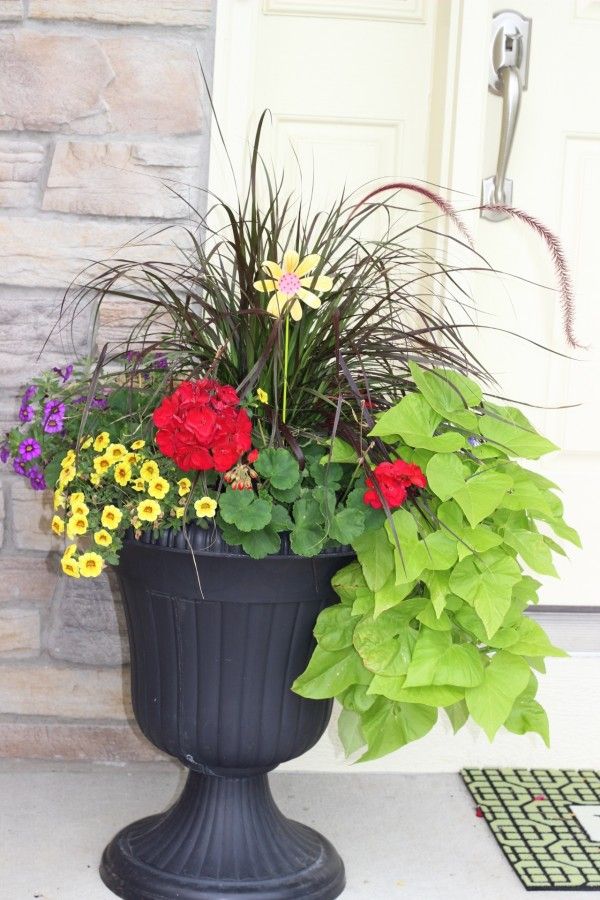 What are annual plants?
Most planters are traditionally filled with annual flowers. Essentially, that means you have to buy them annually! They die because of the frost/freezing winter weather in most parts of the U.S.. They are usually a more inexpensive plant and you can find many that bloom repeatedly for the whole summer. Perennials are the plants that come back each year. So why not use perennials in your planters?? Well, they are much more expensive. And, even if they are perennials, they often don't survive in a planter because the roots of the plants are not as insulated as they are in the ground.
So lets look at some examples of each of the three types of plants recommended to create a beautiful, lush flowering planter!
Ideas for Thrillers
I have my good old standbys and I just used a new one this year (the plant variety this spring didn't seem as varied this year). When I first started doing container gardens I knew to put a tall spike plant in it. That's what it's called and that's what I bought. I'm sure it has a better name but I always just see them labeled as a spike plant. It kind of looks like a tall grass.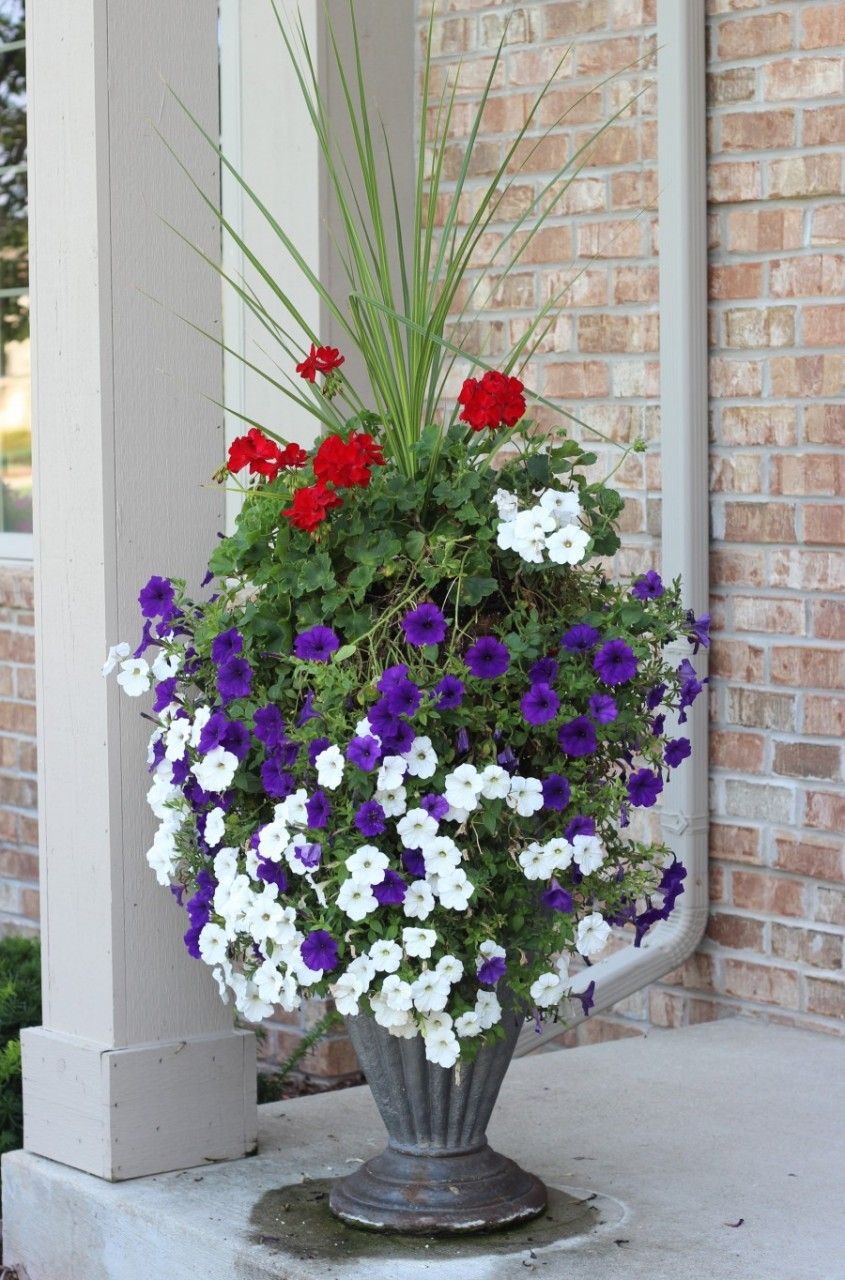 The above is often planted as a red, white and blue themed planter. There aren't too many big blue flowering plants so people often use a purple and just consider it blue! This planter is in full sun and as long as it gets regular waterings, the white and violet petunia are happy!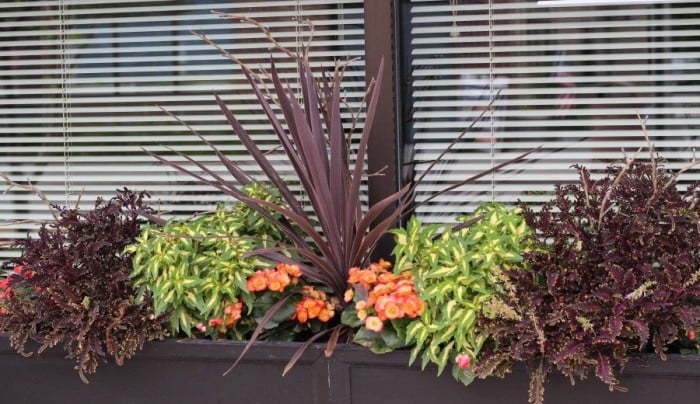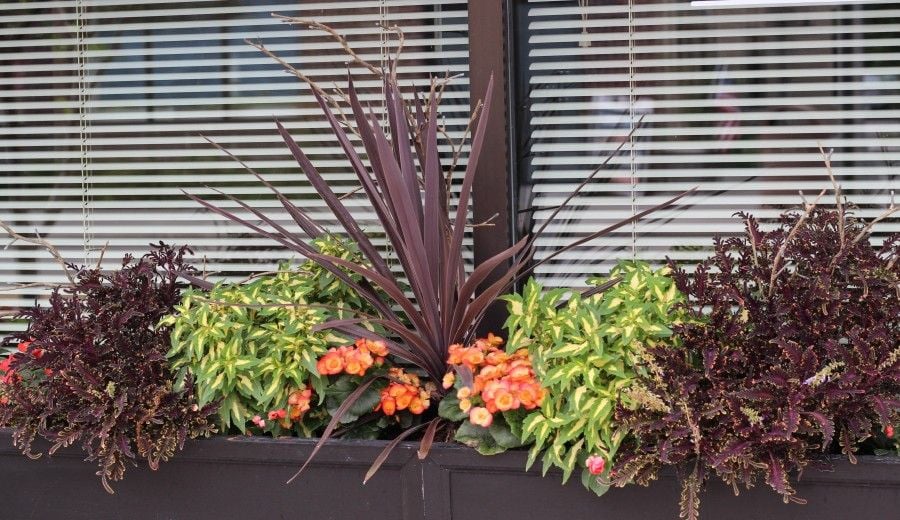 Another spike plant is in this shade planter that you already saw from above. But it's a bit bigger.

My all time go to thriller plant is an annual grass (so yes, it dies each year in the northern part of the country) called purple fountain grass. It can be hard to find but I buy many when I do find them. Here is what it looks like in the summer. You are looking at the taller grass in the center of the planter.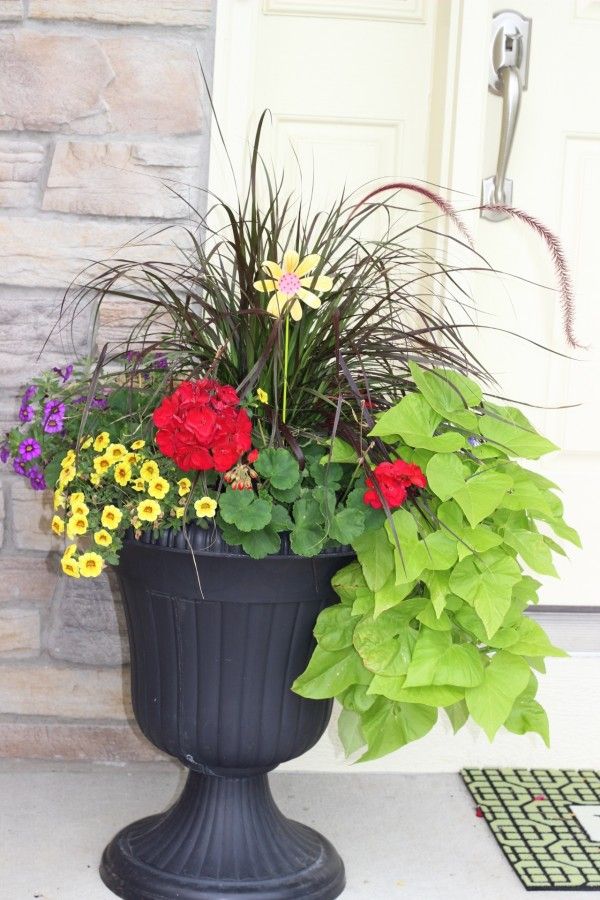 This grass fills in and gets much taller as the summer progresses. And, as the weather cools, it starts drying out. I think it's so pretty in a fall planter! That's why I love using purple fountain grass. It makes transitioning from a summer planter to a fall planter quick, easy and cheap!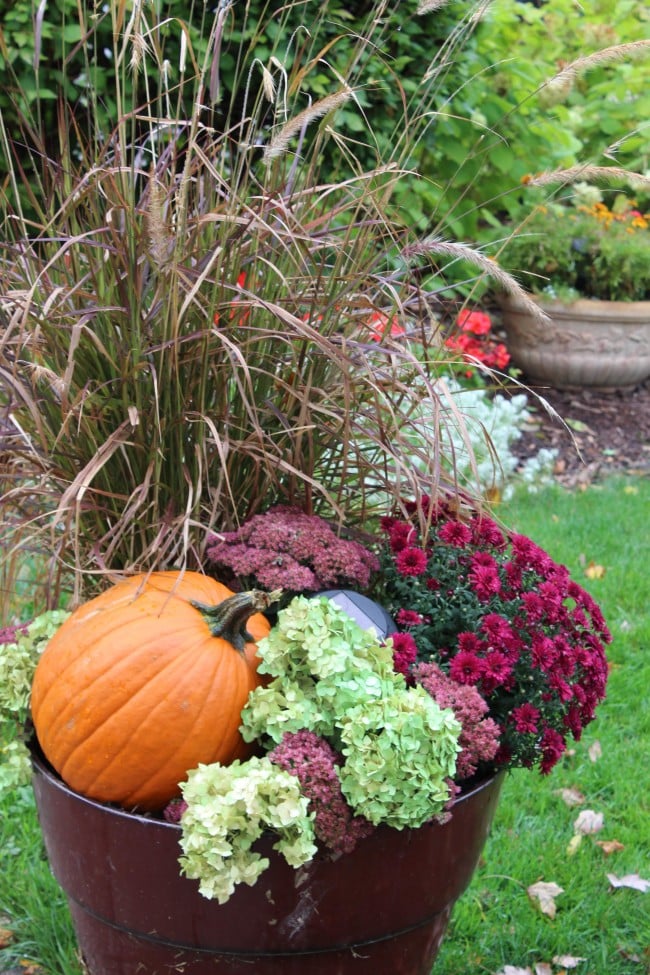 My favorite filler plants
Geraniums! I especially LOVE the bright red ones or the bright deep pink ones. Geraniums are an awsome summer container plant that need just a bit of work to keep them looking wonderful and in full bloom. They do need to be deadheaded regularly but that is a process that doesn't take long, especially once you learn the right way to do it. Take a peak at my Deadheading Geraniums post for more details on how to easily deadhead them.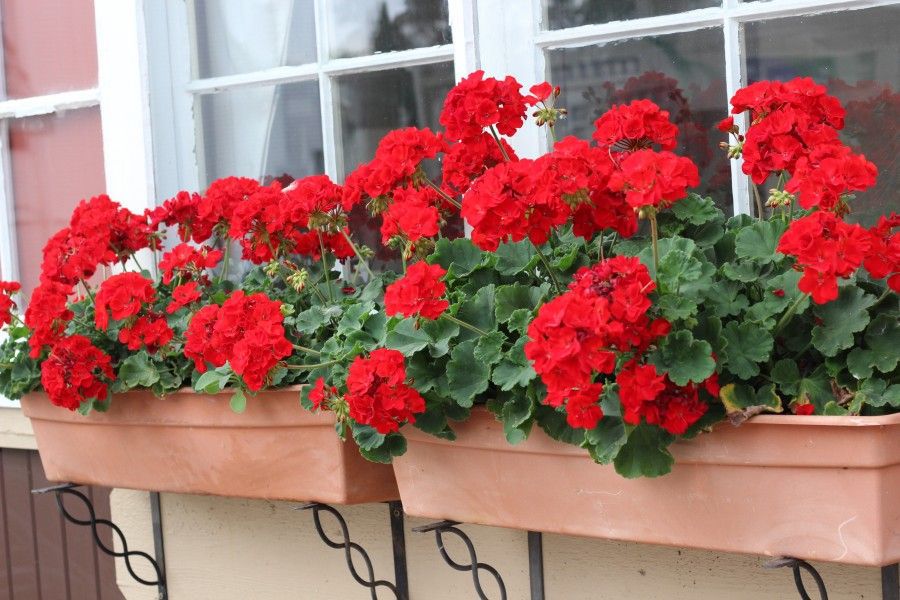 Here are a few pictures where geraniums are the filler plants.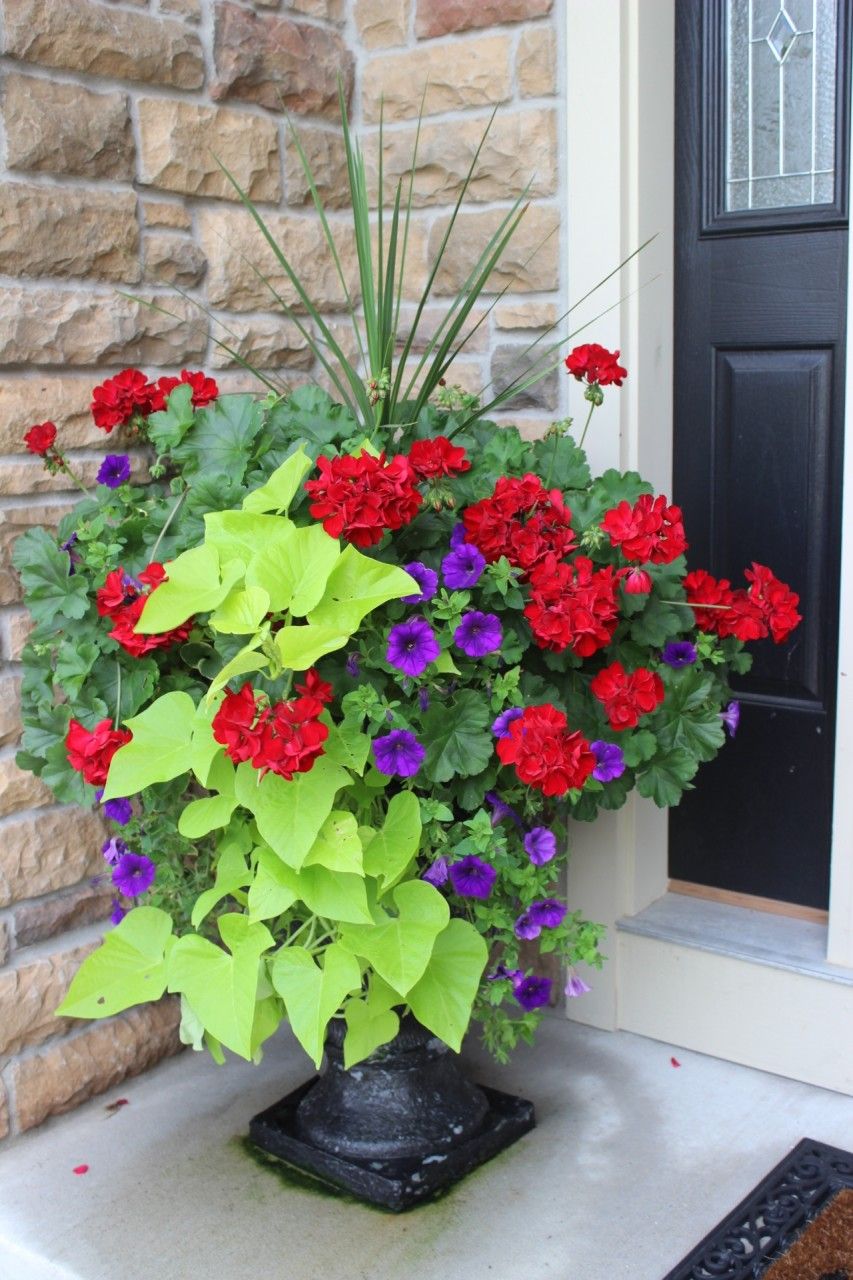 The purple/blue petunias below are also a combination filler and spiller type plant. Wave petunias are the best because they don't need to be deadheaded and they really spill down the side of the pot. They are more expensive than the other petunias but worth every penny!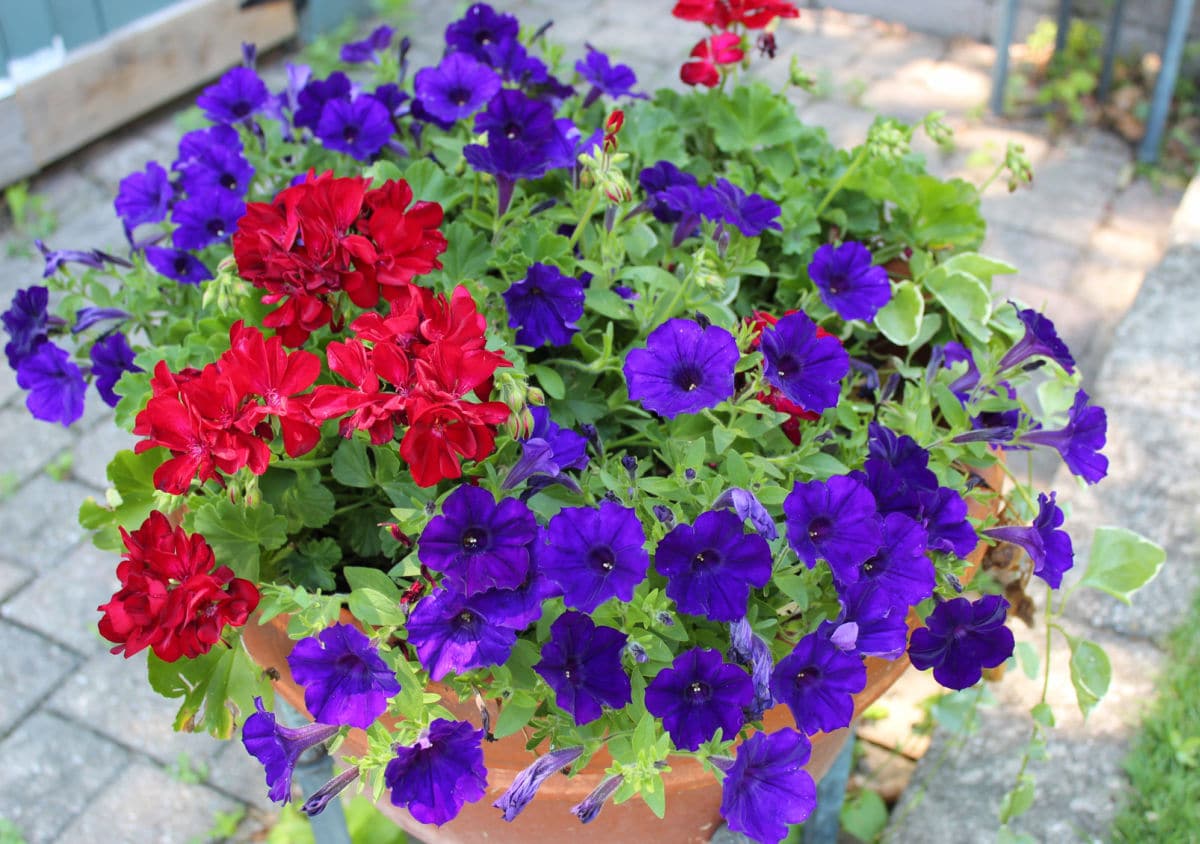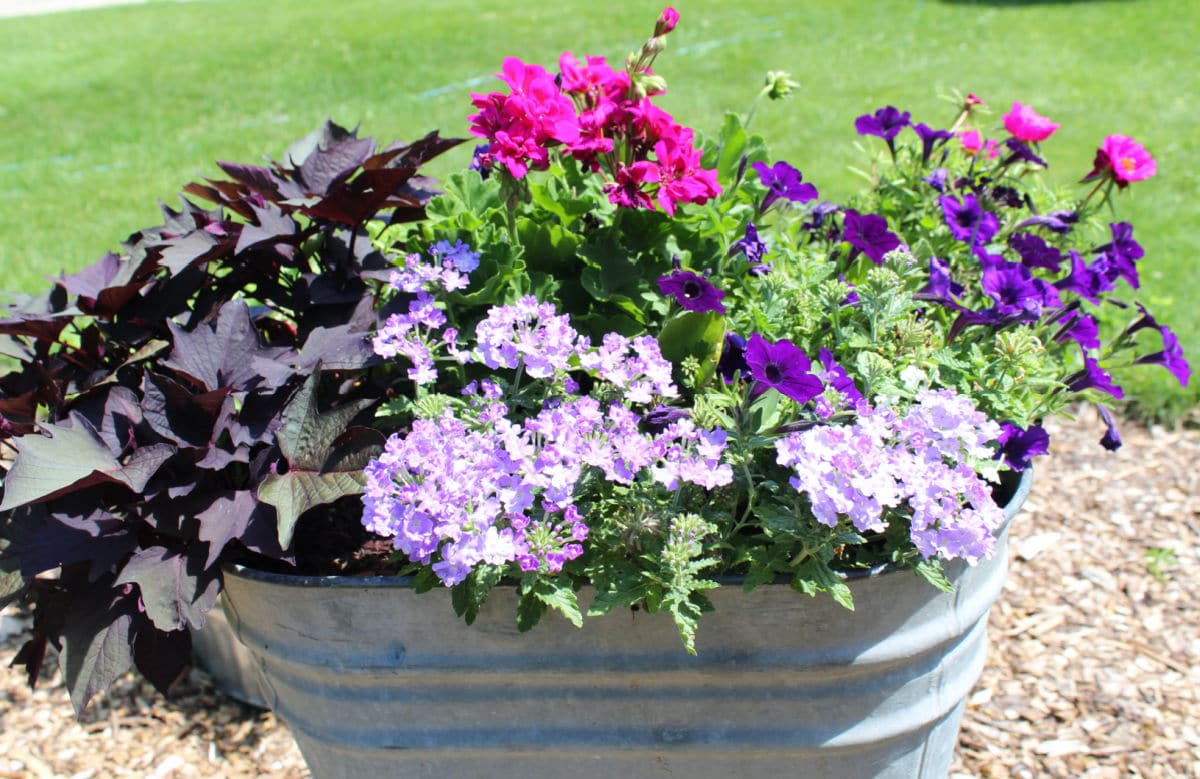 Ideas for Spillers
When the spillers are growing well, it just makes the planter seem huge! Because they drape (or spill) so nicely over the planter. I actually planted a couple of planters of mine black and white because I wanted the contrast with the pretty plants spilling over. Here are the black and white planters - and easy and inexpensive DIY in an afternoon!
The picture above, has a great plant that is perfect as a filler and a spiller. The lavender plant in the front of the galvanized wash tub is a lavender colored verbena. A very similar plant that is usually yellow is lantana. Verbena and lantana give you a wide range of colors as options in your planters.
The sweet potato vine is a classic spiller! It's that pretty lime green leafy plant in the front of the planter below. The leaves are a nice contrast to all the colorful flowers. Sweet potato vine comes in different shapes and even colors!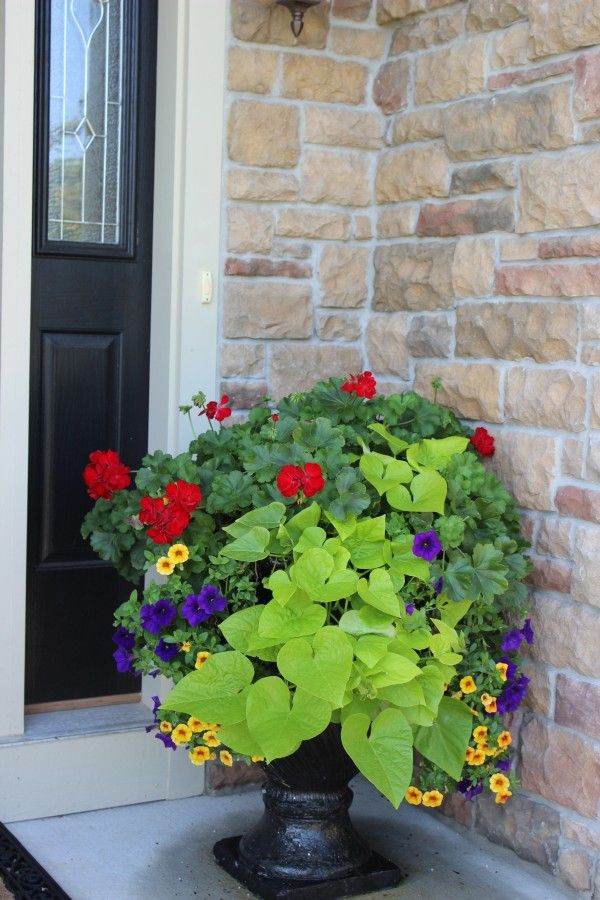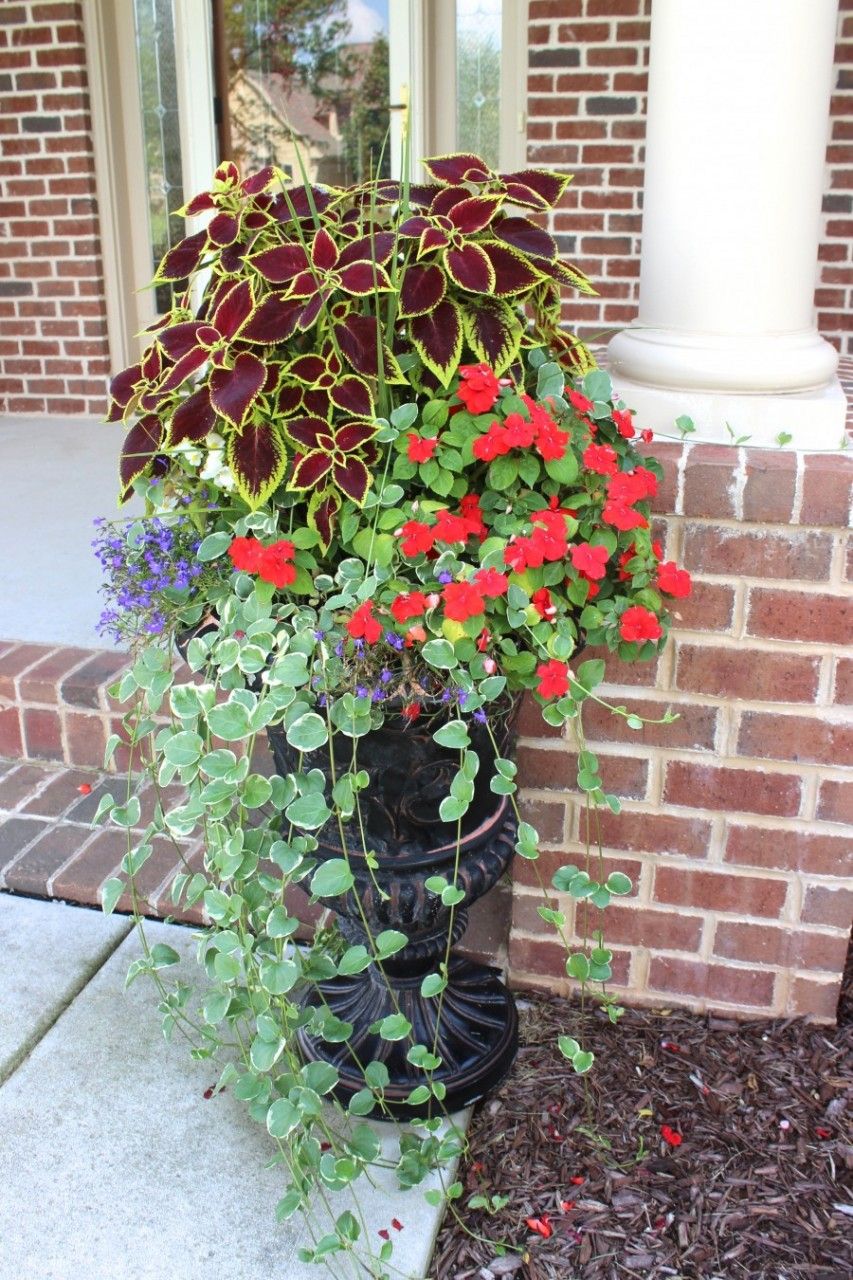 The planter below has some draping vinca. It doesn't nearly cover as well as the sweet potato vine, but I also like that about the vinca. It's a little more delicate.

Petunias and million bells are a very common spilling plant. In the picture below, the petunias are the purple flowers. Million bells look very similar but they are smaller flowers.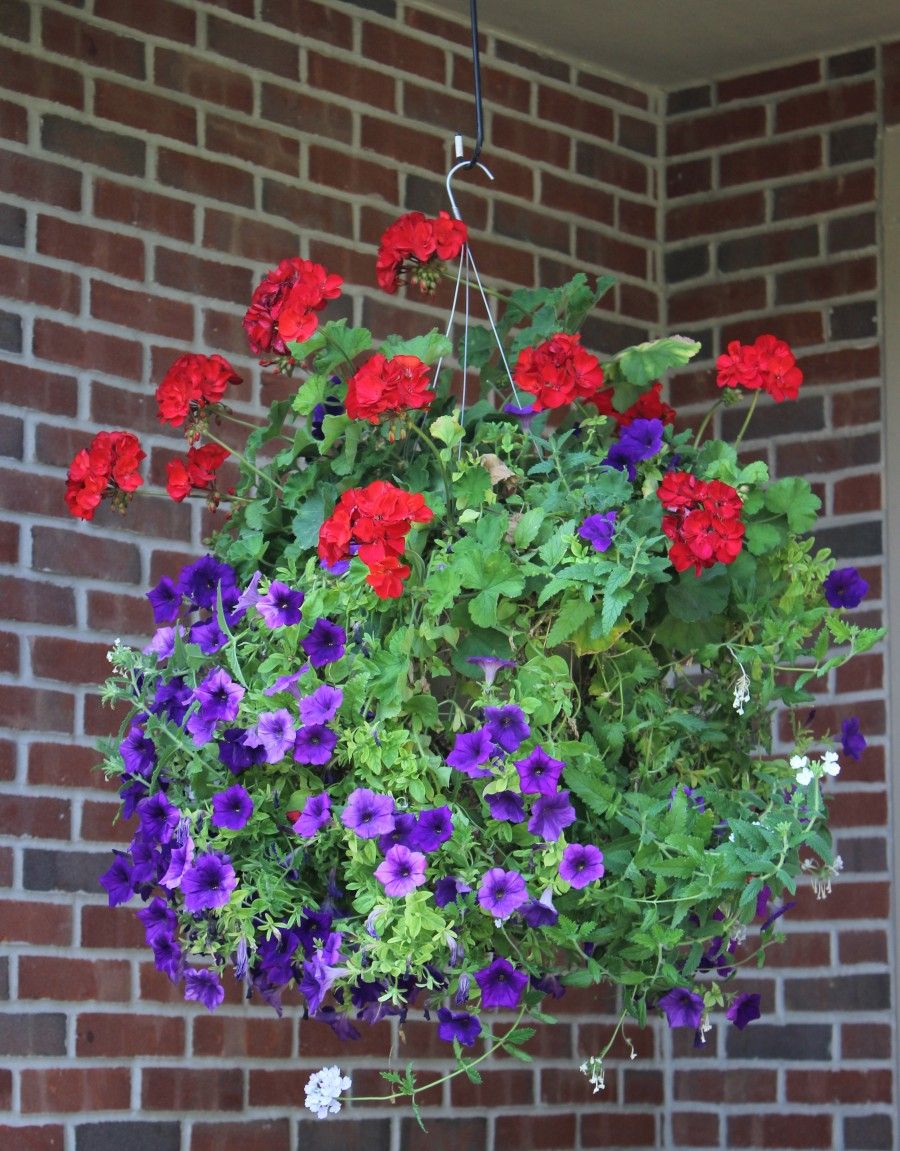 I hope this has helped break down a little more about what types of flowers/plants help make your planter look great. When you put together your planter, it will look a little sparse for the first couple of weeks. Keep in mind that those blooming planters or hanging baskets have a big head start in a greenhouse. But, give your planter a little time, water regularly and fertilize as required, and your planter will look nicer and you will have saved money by DIYing this. For details on how to actually plant your planter, take a look at this How to plant your container garden post.
One other tip! Make sure you wait until the weather is nice before planting. Night temperatures should consistently be in the 50's. And the ground temperature should be that too. Annuals don't do well in cold ground.
Have fun planting!!