Oh yes, I have gray paint samples on my wall. I'm committed to a big project now! We are repurposing our dining room into an office space for me. What good is a dining room when we haven't used it in years? Our kitchen is big and we have a HUGE table in there so our poor dining room is very neglected.
The dining room has pretty white trim.  I so love the gray colors I've been seeing on Pinterest and on other blogger's posts. I narrowed down my paint choices to two. Dorian Gray by Shirwin Williams and also Mindful Gray. My third initial choice was Repose Gray but the awesome lady at the paint store told me if it was a bright day, the paint would look more white than gray. So, it was off the list. Did everyone know that you can get a sample of Sherwin Williams paint mixed for about $5.00? I bought one of both Dorian and Mindful Gray. Then I painted samples on my walls. I still wasn't 100% sure which gray I wanted so I put this picture out on Facebook and Instagram.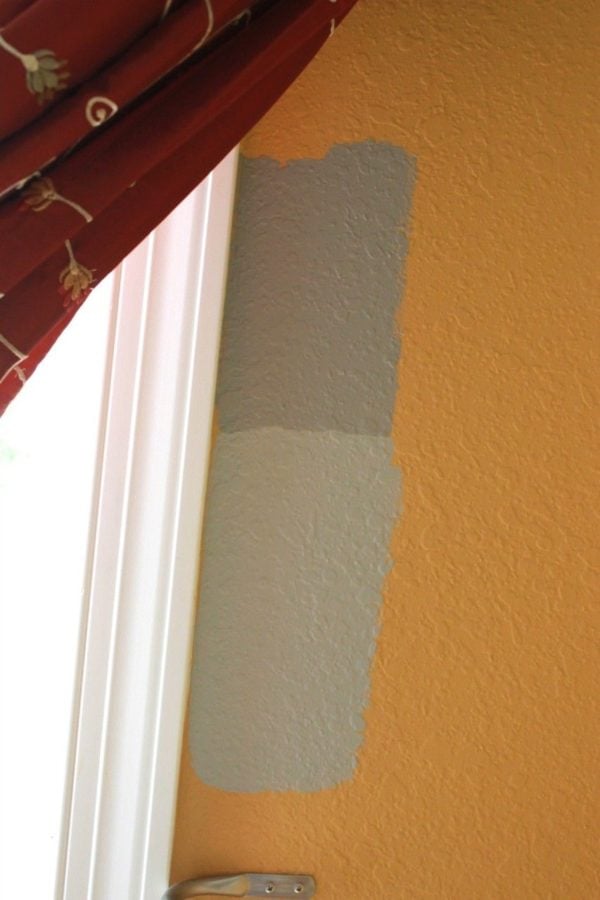 The darker color is Dorian. The lighter is Mindful gray. I promise I will share the results of my Facebook and Instagram poll with you later on!
I did want to share a tip with you. One of my friends came over to look at my paint swatches on my wall and had never thought to do them so discreetly. You can thank my friend Lori for having me share this with you! I had a picture up and then lightly drew a pencil line around the frame.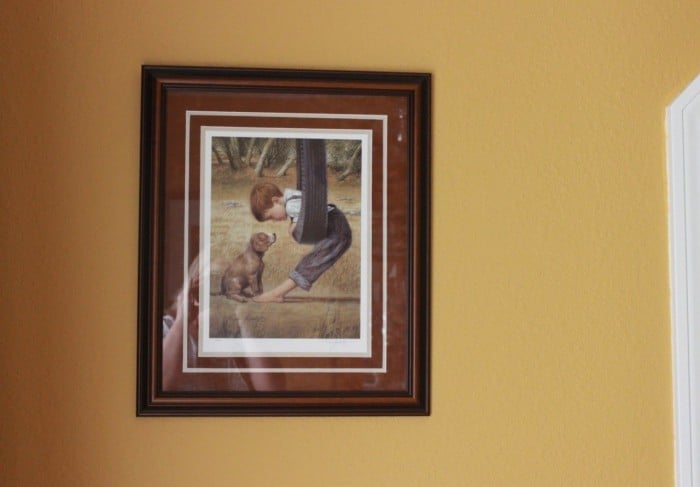 Wait for it, take a little peak underneath!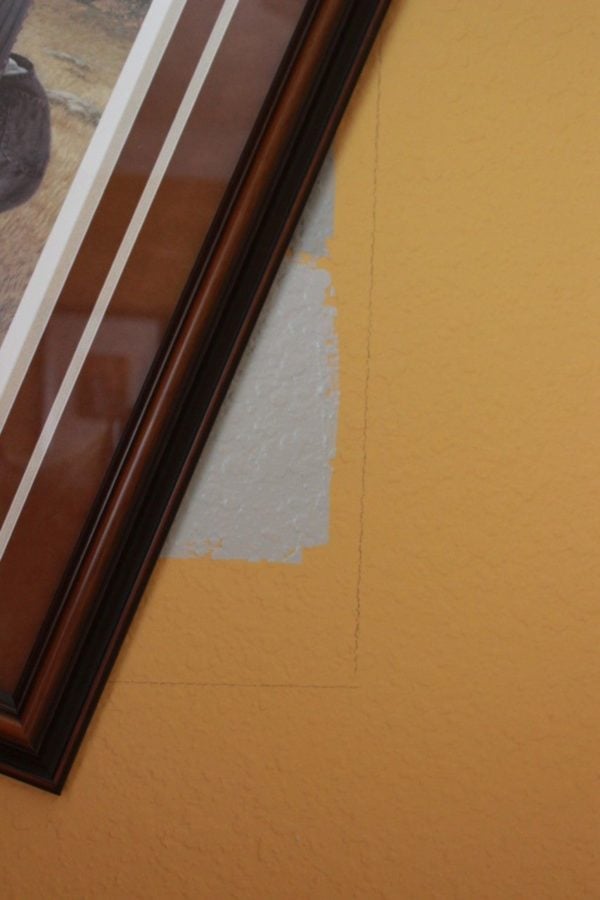 If I take the picture down, here is what is underneath: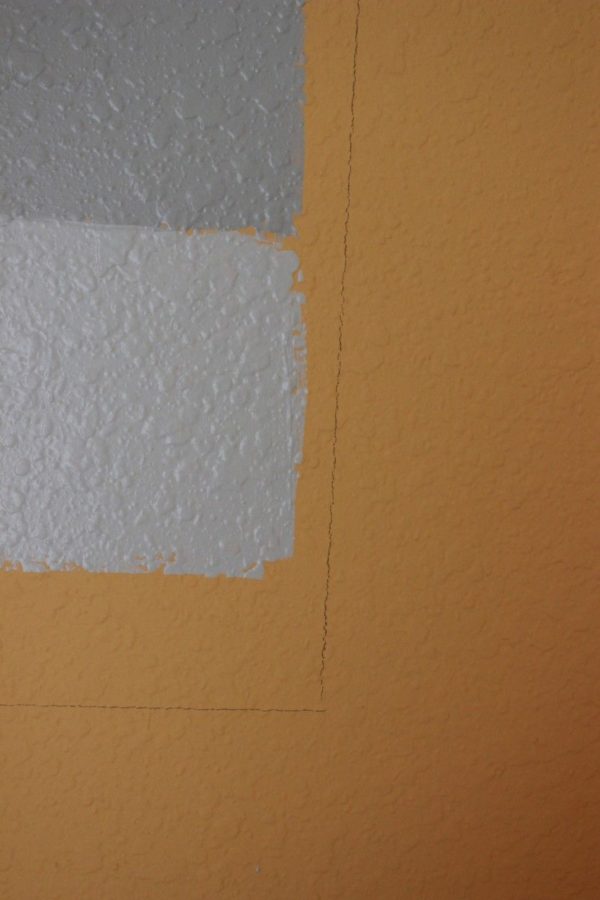 When I don't have a need to look at the samples, I just put the pictures back. No need to look at a project in progress!
I also really wanted to see what these colors looked like against the white trim. If you pull the curtains back, you can see my gray paint samples. When the curtains fall into place, you don't see the paint on the walls. I LOVE that I don't need to look at those samples and my room looks 'normal'.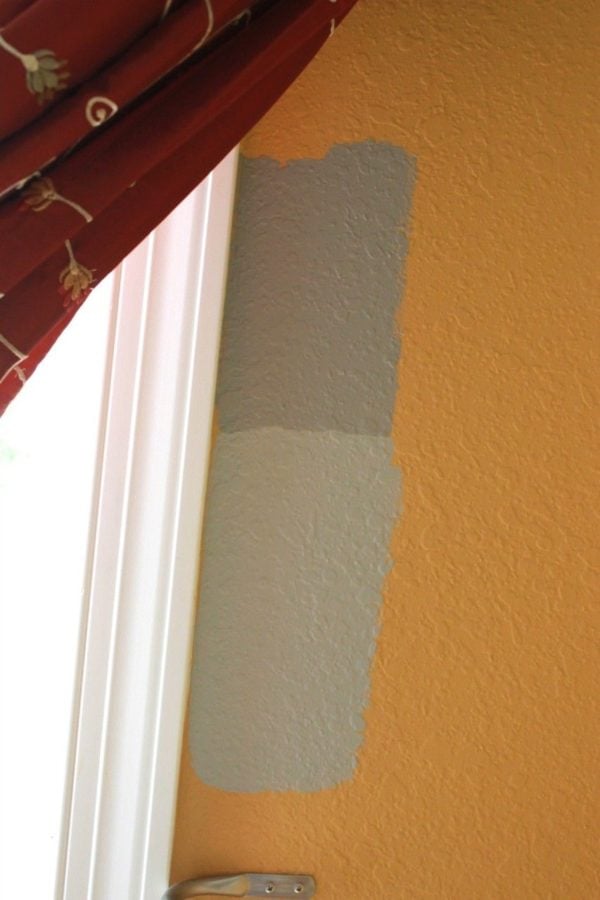 So, which gray do you like?   The majority of the people who voted on Facebook chose Dorian Gray.  That's the darker one.   So, the next couple of rainy days, I'll be painting!  I will let you see the final results when it's done.
Please share any helpful painting tips with me.  I'm going to need them!
If you liked this tip, want other helpful ideas & DIY's and, of course, simple recipes, please sign up to follow my blog!