Brunnera plants, also known as Siberian bugloss are my new favorite perennial shade plant! I was doing my morning walk through my gardens and was shocked that it was already blooming just past mid-April!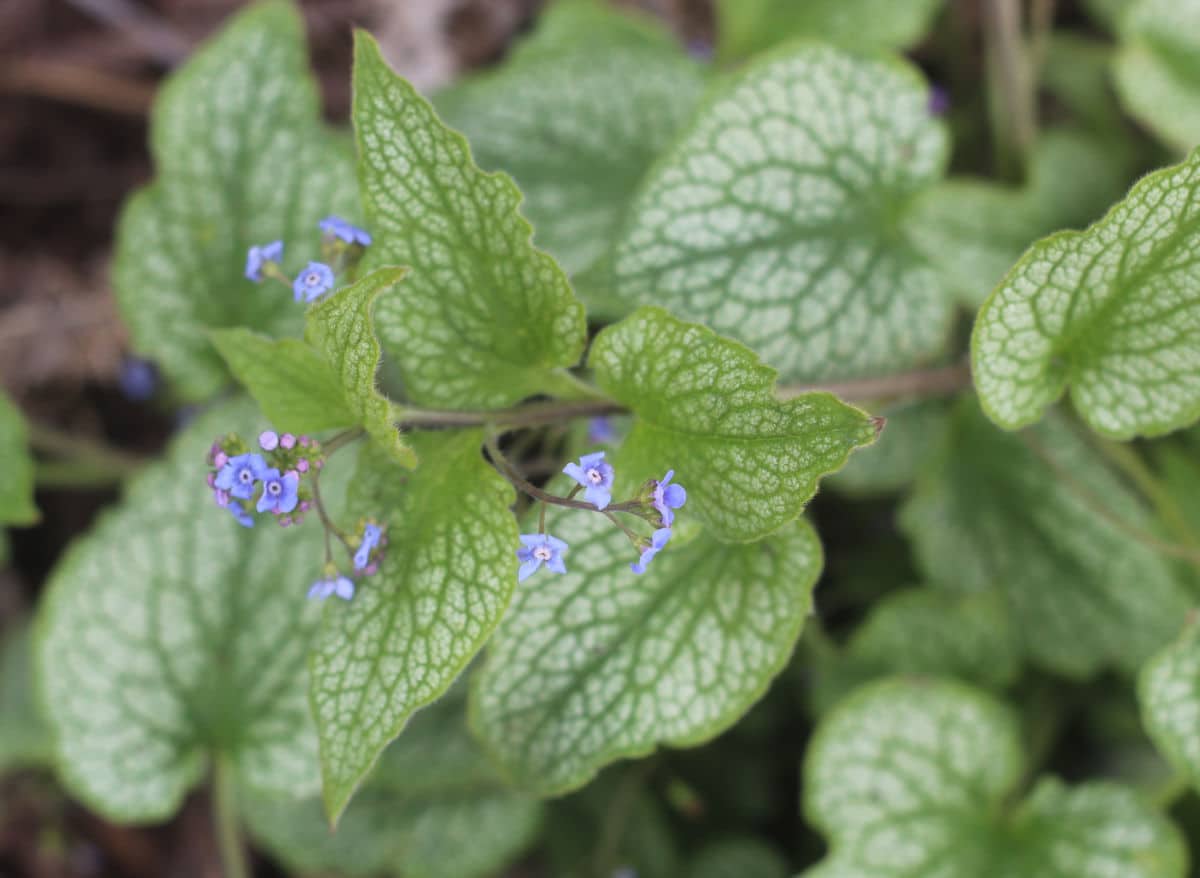 The flowers are tiny but the pretty variegated leaves draw you in for a closer look. Then you see the lovely sky blue flowers with the little white centers. After a long winter, this was an absolute delight to see. The little clusters of flowers are such a pretty sign that the garden is waking for a new season. I'm still surprised at how pretty shade perennials can be. Take a look at some others that I have in my yard - 31 perennial shade plants. I've also planted perennial shade planters in my yard and will do more this year.
In comparison to this early bloomer, just a couple feet away a variegated hosta was growing. It was only about 3 inches out of the ground and the leaves were still tightly curled! I just wanted you see how far ahead this plant was.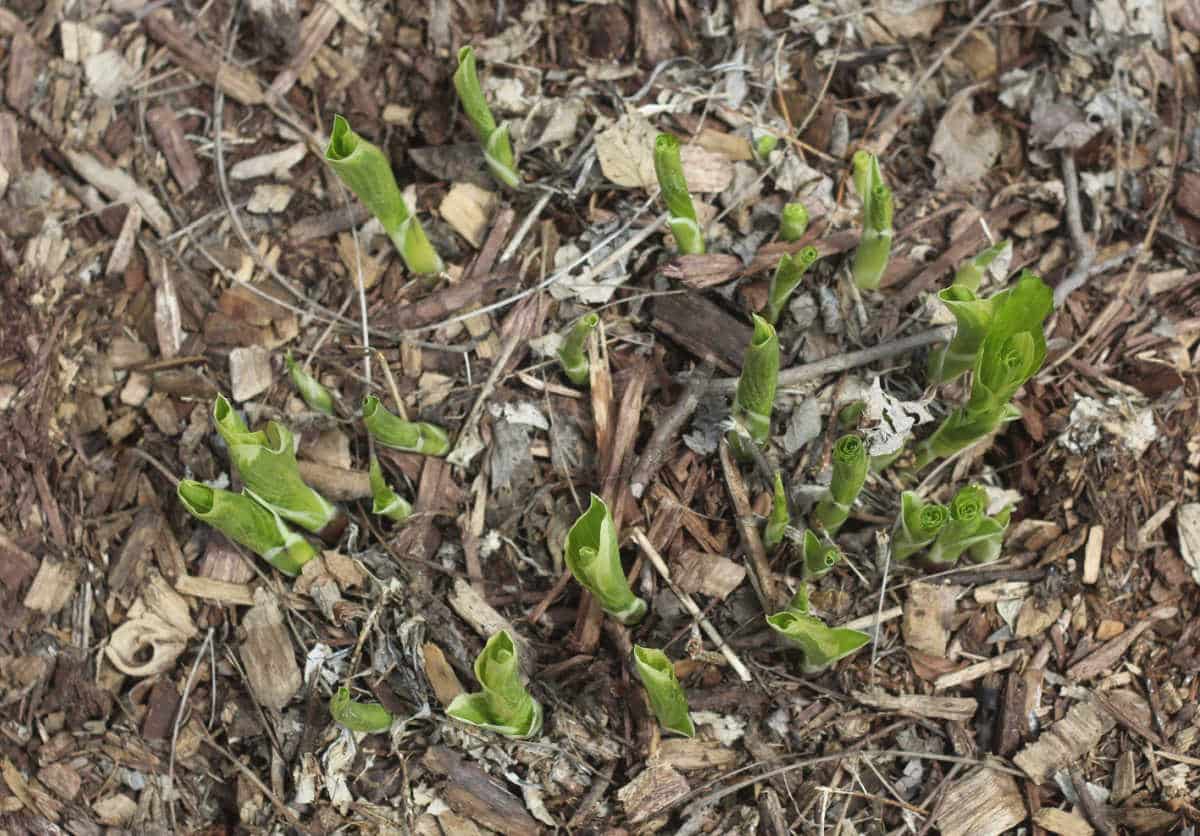 This was the third week of April in zone 5 (a slow starting spring, though).
Why I enjoy growing brunneras
This is an easy-to-care-for perennial that doesn't create work. It looks pretty and is a bright spot in a shady garden. It also self propogates but is not aggressive. Let me share some more details below on why this has become my favorite shade perennial.
Variations of patterns
Some variations make different cultivars of this plant intriguing. I purchased a variety called Alexander's Great last year. It has beautiful large leaves. The edge and veining of the leaf is dark green. The rest of the leaf is white. I promptly went back to the store and bought two more! At the time I did not realize there were different kinds and I purchased two of the Jack Frost Brunnera. The leaves and flowers look very similar. However, the leaves of the Jack Frost are smaller. They are planted right near each other so it will be interesting to watch them grow. I may have to switch two around so my purchase looks more purposeful!
Versatile usage
I have them as a combination ground cover and border between my back perimeter lawn and shade garden. Being under a canopy of my large trees, it is also in a natural woodland environment. If you have a woodland garden, it would be perfect there! If I can find inexpensive ones, I will try them in a container garden or two! The leaves are so pretty.
Naturalization and spreading habit
This plant spreads both by rhizomes (underground) or by seeds. It is a nice slow contained growth and it isn't a lot of work to keep it where you want it in your beds. Some of my shade perennials have turned out 0to be a little aggressive in spreading but not this one!
Propagating can easily be done by splitting the rhizome (roots) and creating separate plants.
A tougher perennial
I live in USDA zone 5 and this is USDA rated for zones 4-9. I have seen it suggested that it's a good idea to leave the old foilage on the plant through the winter and early spring to insulate the roots and crown a bit.
Full shade-tolerant plant
In my yard, this plant gets a few hours of early morning sun then its in full shade the rest of the day. It is hard to find pretty plants for the shade level in that spot.
Gardening Knowledge Tip
In gardening, full shade does NOT mean no sun. It means less than four hours of sun but usually more than two. Sometimes dappled sun can be enough. Full-shade plants do require some sun. Plants requiring deep shade need less sun than full-shade plants.
FAQs
Do these plants require regular watering?
Living in a shady area, they don't need as much watering as plants in sunny locations. However, you do need to be aware of the amount of precipitation that actually reaches the ground (my tree canopy blocks light rain). I do find unestablished brunnera plants are drama queens and they let you know when they need water!
The leaves don't look great at the end of the summer. What should I do?
I cut off the leaves that are browning or really torn. This cleans up the plant and encourages some new healthier looking leaves to grow. Remember not to remove all the foliage in the fall. The leaves protect the roots and crown during the winter.
Plant tag details summarized
| | |
| --- | --- |
| Sun Exposure | Part shade to full shade |
| USDA Zone | 4-9 |
| Bloom time | Spring |
| Soil Requirements | moist, well-drained soil |
| Height | Approx. 18 inches |
| Spacing | Approx. 30 inches |
More Shade Plant Posts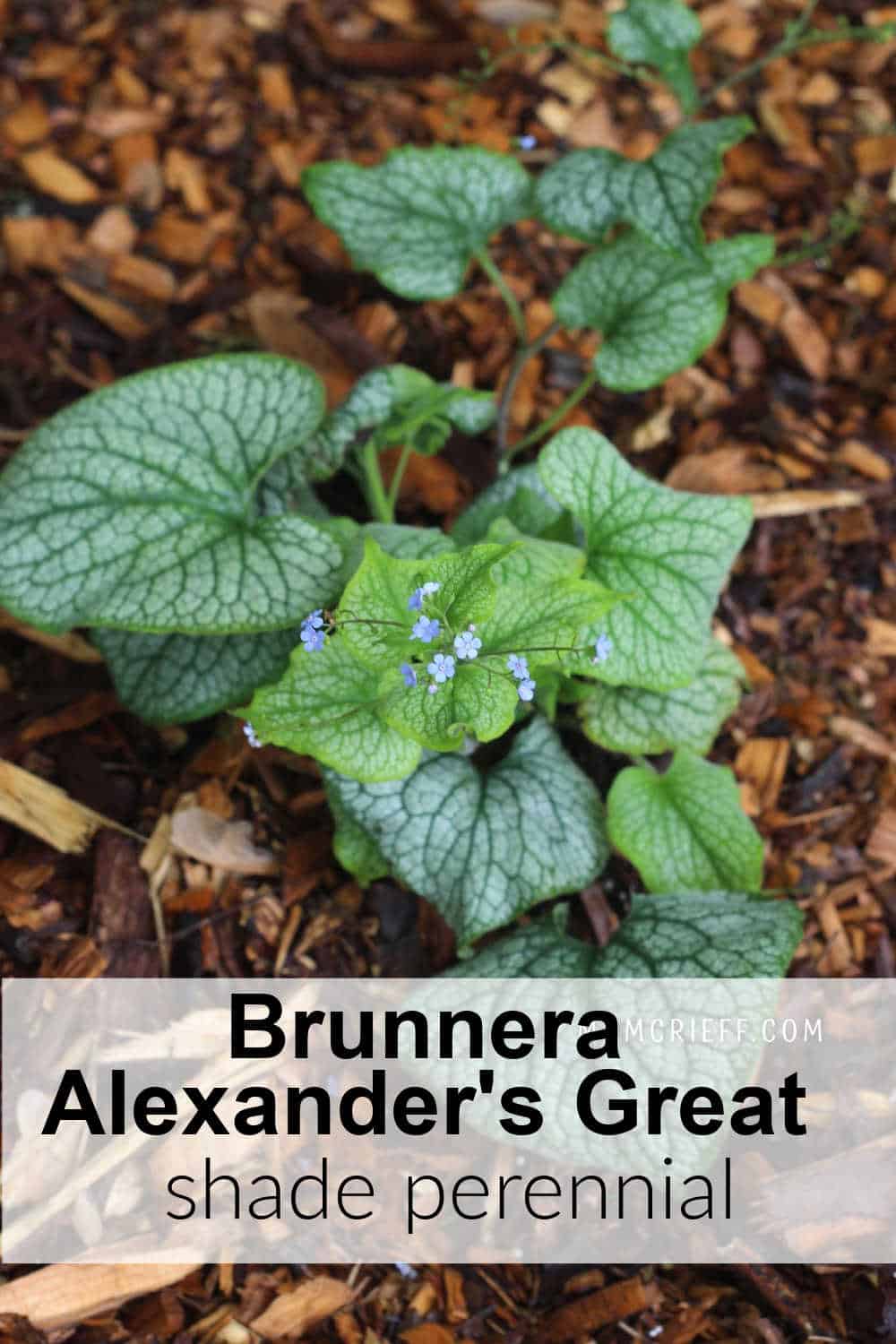 I hope you are gaining some ideas and inspiration for your garden. This Outdoor Planters post is my most popular post. It has a range of planters with different sun requirements. Enjoy!