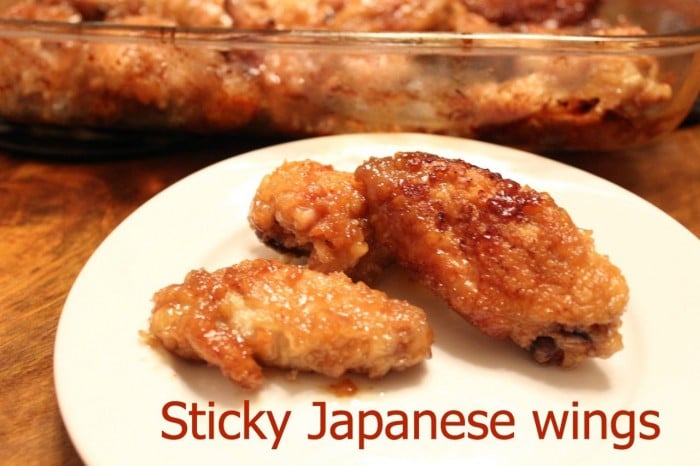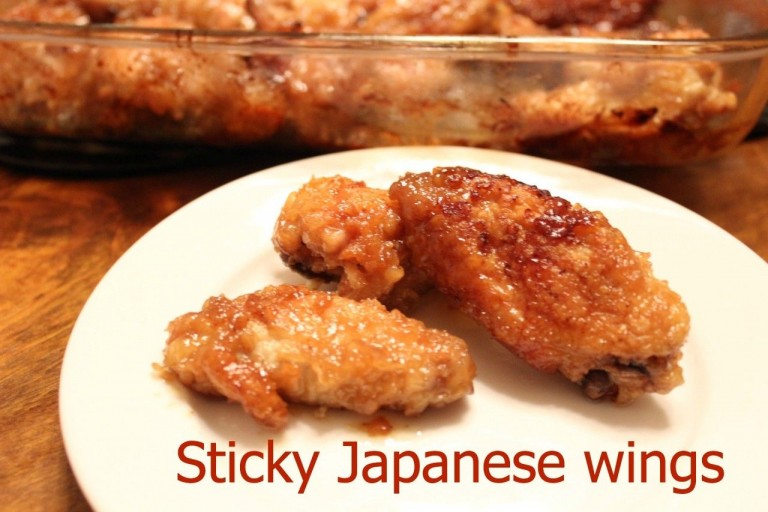 Wings are one of my favorite treat foods! These sticky Japanese Wings are awesome any time of the year but, I like them for the cold weather months. Because they get baked. And that warms our homes. And we don't need to use a grill to finish them off. Good thing, since there are about 3 feet of snow all around that grill of mine. I keep looking at the calendar to remind myself that it's March. Soon, hopefully, very soon, that nasty snow will melt. March should be a spring month, not a winter month! Just crazy weather this year. Let's hope it means we have the best summer this year.
These wings are really flavorful and have kind of a sweet and sour taste. Sugar and vinegar will do that to food! You can easily double the recipe if you want to. I love using the frozen wings that I get from Costco. It's a huge bag that easily makes two batches. Now I feel like making some!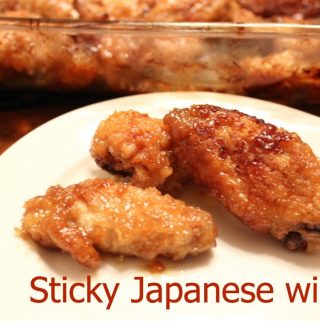 Ingredients
3

pounds

chicken wings

Costco has awesome large wings with drumsticks and wings (and that icky little wing part already cut off.

2

eggs

beaten

1

cup

flour

1

cup

butter
Sauce
5

tablespoon

soya sauce

5

tablespoon

water

¾

cup

white sugar

½

cup

vinegar

½

teaspoon

salt
Instructions
Sauce
Combine sauce ingredients in a medium bowl, mixing well. I heat in a microwave so the sugar dissolves in the mixture. Set aside
Instructions
Dip wings into beaten, egg, then into the flour.

Once you have done this with all your chicken pieces, melt the butter in a frying pan (medium to medium-high heat). Add wings and drumsticks and fry. Don't overcrowd your pan. Turn occasionally until crispy and a nice golden brown cold. Easiest to do with tongs. You probably will have to do a few batches.

I place all the wings into a 9 x 13 dish. Pour the sauce on the wings.

Bake at 350 Fahrenheit for about 40 minutes. Turn the wings a few times (about every 10 to 15 minutes). They will be nice and sticky when they are done.

Savor the extra sauce on your rice. If your crowd loves sauce, you may want to cook some extra in a saucepan to have enough for everyone.
Enjoy these wings! Do make sure you have lots of napkins. These wings are as messy as they are good! Obviously, you can make these any time of the year. But, when we are obstructed from our grills, this is perfect! The other main reason I love these is you can do the prep. ahead. You can enjoy time with your guests when they are baking. They can be served right in the dish they are baked in (which keeps them nice and hot).
Thanks again to my Canadian friend Cathy for this recipe! You are an amazing cook!