Last year we had so many appliances fail on us last year! It was horrible. My washing machine, microwave, garbage disposal, and my dishwasher all died within a few minutes. Oh, and do I even want to remember the adventure of my siding replacement??
So, here goes my story about my microwave adventure. It was a normal day in the middle of the summer. I was home alone putting away laundry. I heard someone programming the microwave. Thought one of my kids just got home and needed their popcorn fix. "Hello?" I yelled down the stairs. "Who's home?". No answer but I could hear the microwave buttons were still being pushed. "Hello?" At that point I was getting nervous. Grabbed my cell phone and cautiously headed to the kitchen to see who the heck was using my microwave. Much to my surprise, it was a ghost! Yes, I could see no one but could see and hear that the microwave buttons were being pushed. I carefully opened the microwave door (carefully because the handle had broken the week before). Nothing in there. Hmmmmm. Tried to resolve that like I do most things that aren't working right. Turned it off and then unplugged it, waited for a minute and plugged it in. Fine! No problem! Three weeks later, same thing happened! Went on vacation and unplugged it. Didn't want the darn thing to turn itself on and burn our house down!!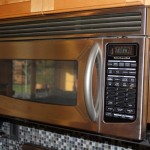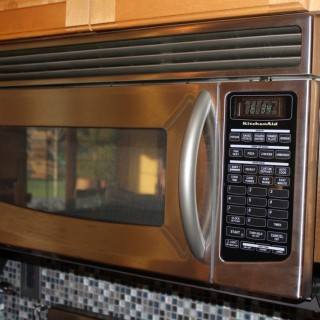 Earlier this year, I received a notice that I could extend my microwave warranty for $98. After hearing the issues my friend had with replacing a built-in microwave, and knowing how my luck seemed to be going, I paid for it. To summarize this story, the microwave started to continually try to start itself and I literally had a stool in front of my stove so I could climb up and plug it in when I needed it and unplug it when I was done. You don't realize how often you 'nuke something, just for a minute' until it gets difficult! Happy ending to this story. My extended warranty actually was valid and worked! My microwave door and the control panel were replaced. A $375 repair!! A great return on a $98 investment. Wooohooo, I actually had a warranty cover the full expense. I was a little dubious that this extended warranty would be valid but it was!
So..............why is the floor by the kitchen sink wet all the time? I seemed to be wiping water up every second day. Tackled the job of pulling everything out from under the sink. Tossed everything that was soggy at the bottom and just kind of gross. Figured out after a day that it was the garbage disposal leaking. Yes, that same disposal that was leaking earlier. The one that cost over $400 to replace earlier this year. Called the phone number on the disposal to see what to do. Need to find my receipt for the installation of the disposal and then I might have a warranty. You better believe I'm going to look for that receipt. But, sadly, I purged the paper piles in my office. And purged my files. No receipt. Thankfully, I have the e-mail address of the plumber who helped us out a few times this year. E-mailed him my dilemma. He e-mailed back that he will be mailing me a copy of my receipt. Yeah! Today I will call and see if this will help. Will my 'new' disposal be replaced under warranty? Why do I think I'll get reimbursed for parts, not labor??? Didn't want to tell my husband because I knew he'd be crabby over ANOTHER thing breaking that we would somehow have to pay to repair. Just put a bowl under the leak, changed it regularly and pursued figuring out the warranty and the repair.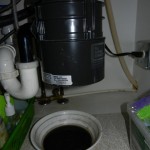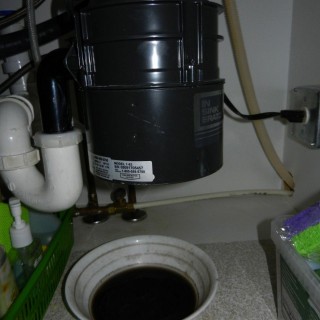 BUSTED!!! Husband actually decided to wash some pots and pans for me and went under the sink to find the disposal. "Why is there a bowl under the sink and what's that black stuff in it?" CRAP! I explained we had a little leak and I was pursuing our warranty info. I tensed up waiting for the nasty comments about all the things breaking. He LAUGHED!! The amount of stuff breaking is getting funny (and very expensive). Thankfully, with the receipt my plumber sent me, we were not out a penny. My biggest complaint was that we were not able to upgrade. Apparently, our disposal was a be basic model. I wanted a more heavy duty but was not able to this, even if I paid the difference. So, let's see how long out THIRD disposal will last.
My washing machine is still working! If you didn't see my blog about my $1,300 parts (covered by warranty), and $350 labor, not covered, check out that blog.
The Washing Machine Adventure.
If you have Certainteed siding and think you have an issue, or just want to see what happens when you have an issue, see my siding post.
My siding replacement adventure.
Have a wonderful day!
Momcrieff.