I'll tell you what they have in common. They all failed me. This year. And most had a warranty that eased the pain. A bit. BUT, I would really rather these items just did what they were supposed to for as long as they were supposed to. Throughout these blog posts, keep in mind my house isn't old. It's only 7 ½ years old! Why don't things last like they used to? Don't even get me started about my Christmas lights!
These are the boxes with the parts needed to repair my washing machine. These are the parts that I'm told are valued at $1,300. For my 10-year-old washing machine! Really???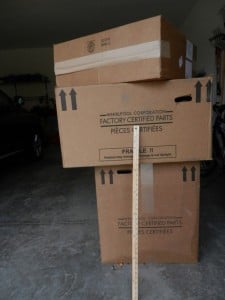 Thankfully, my washing machine still has a warranty. The parts are provided free but I still need to pay the $409 labor. When I heard the labor cost, I did what many of you would do. Asked the guy to give me a minute and looked up prices on the internet of a similar new machine. I was better off repairing since a similar new one still costs $1,300. And won't fit on the drawer stand (which was and I believe still is $250). And won't match the dryer. And is a different size. So, as the parts in my garage allude to, it is getting fixed!
Our adventure began on Dec. 30th, 2011. My husband went into the basement and found the floor to be soaked. Soaked to the tune of squish, squish, squish on the area rug that was down there. Armed with flashlights we followed the pipes overhead to figure out where the water was coming from. Then we discovered the issue was down, not up. It was our water heater. It had failed (the bottom rusted out) and water was continually leaking. Luckily the water was contained in the unfinished portion of our basement. We found a plumber who put in a temporary water heater so we could survive to the New Year. Then, we had our first warranty success.
Initially the water heater company (A.O. Smith) told us we were one month out of warranty. I challenged that, picked up a copy of our occupancy permit which proved when the water heater was initially used. Go figure, we were one month IN our warranty. Don't accept "no" as the final answer! Be nice to the customer service person. Explain your dilemma Ask if there is a way to get coverage. We did upgrade from a heater which did not supply the needed hot water for 4 morning showers. Our out-of-pocket was just under $500 for the upgrade and the labor. That was after the $450 credit from the original water heater warranty was applied. An important note. Our plumber told us that he sees many of the 50 gallon A.O. Smith water heaters fail. The larger ones, not so often. Next time you are in the basement check and see what you have. If you have a 50 gallon A.O. Smith water heater, Google "AO Smith Water Heater reviews. You won't feel good about it! That was the start to our new year. Little did we know what was coming. It was only the beginning.
As the year progressed, we had problems with our garbage disposal. No amount of fiddling with the key to loosen things worked. It was jammed. Called the plumber and we did indeed need a new water disposal. New disposal and labor was over $400. Plumbers are expensive!
Called the plumber again to replace the kitchen faucet. Actually, texted him. Have his cell phone, business phone and e-mail address too. That's when you know you've given someone too much business. The faucet was leaking and wouldn't stop. Was getting worse. Bought the new kitchen faucet and our plumber came back and replaced the kitchen faucet. Then I magically pulled out a new faucet for the laundry room tub to see how much that would cost to replace. Ummmmmmmmm....returned the laundry room faucet :(. Really, sometimes these trade people should learn from retail. Buy one install, get the next ½ off! You're here anyway and don't have travel time. Seriously!!
Hope you will continue to follow my warranty/repair adventures! Seems I am not having much luck in 2012. The easiest way to see if I've posted onto my blog is to just scroll down to the bottom of the blog and add your e-mail address where it asks for it. That way you get notified that there is another post and you don't have to try to remember to check my site to see. Thanks for joining me and I'll be sharing more about my repair journey, especially about the siding warranty! If you have CertainTeed siding, you really want to read this! If you aren't sure, I'll give you some tips to find out.
Enjoy the last week before Christmas.
Susan.
The Momcrieff.