Why would I be vacuuming my Christmas tree?   I'm sure you are thinking that's weird.  Or, you think that's a great way to clean it and that makes you……….um……… a clean freak?  Sorry!
This fall I spray painted my hydrangeas.  I did a bunch in a beautiful, shiny silver.   I loved how my silver hydrangeas turned out.
My plan was to use them for Christmas. This year, I'm downscaling my Christmas decor. Simplifying. The look and the work. Silver, white, some natural elements (greenery, pinecones) and a clean uncluttered look.
Here is what my tree looks like:
I love it! It's bright, sparkly AND, it looks great in the day. The hydrangeas really helped fill it in and they add some daytime visual interest.
So, why would I be vacuuming my Christmas tree? First clue.
Isn't he cute??
Here is what he did:
And on my tree, hydrangea stuff everywhere. It was raining silver hydrangea.
So I began vacuuming my Christmas tree.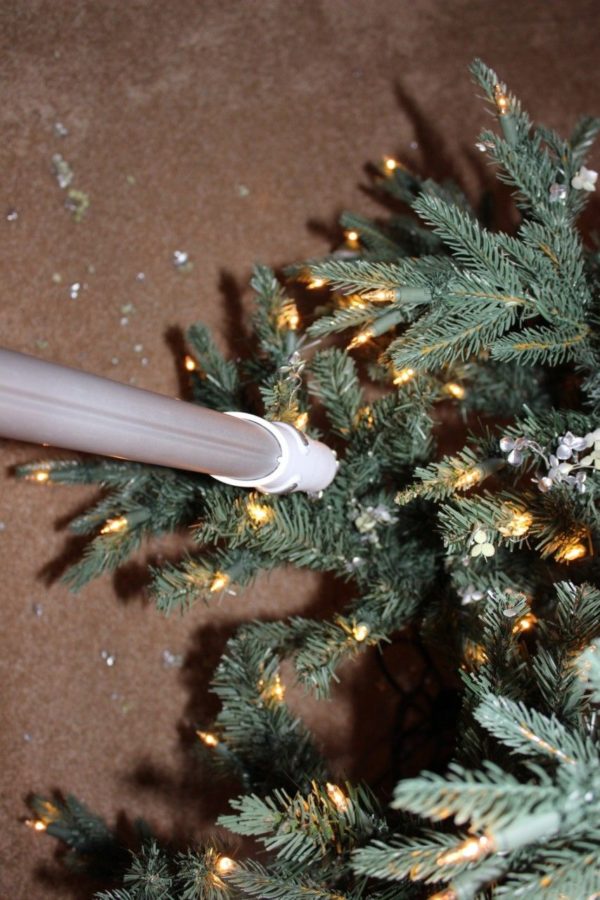 And straightened out the tree skirt for the millionth time.
So my kitty could get comfy in his favorite spot.
I've been telling him all morning, "You are so lucky we love you so much!"
Google+