This story is brought to you because the good folks at Chobani asked me to write about someone who deserves to take a break (have you heard of Chobani Flips?).  So here is the story of the cat, the car and the cat's human.
Foster the cat is a lucky guy!   He is surely on his 9th life.  I personally know of two lives.  He has had it tough but he has a good human taking care of him.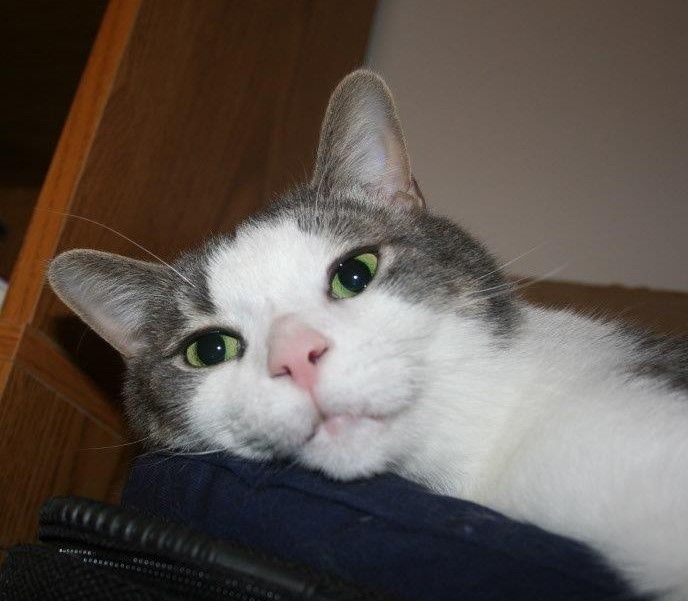 Mr. Peter Foster, is this cat's his full name.   My brother went to the SPCA and found him and decided to take him home.  But, Mr. Foster had a medical issue.  He had a badly infected arm (leg?) so he couldn't be adopted at the time.  He had to go out as a foster.  Hence his name!  The shelter called him Peter so that's where the Peter in Mr. Peter Foster comes from.  Not many people would take home a cat that needed to have a (gross looking) wound dressed.  And needed to take medicine to prevent an infection.   But, my brother, who has never had a cat, took him home anyway.
Mr. Foster and his human enjoyed each other's company.  They got along well!  Especially since Mr. Foster had a fun and rambunctious personality.
Then one day Mr. Foster had to go to the vet.  After the appointment, on the way to the car, the bottom of Mr. Foster's carrier came off.  And, there was a lot of construction going on in the area.  So, Mr. Foster was spooked and he ran.  That happened August 25th, 2014.   He was found on October 29, 2014.  On an abandoned railway track.
I actually got the first call.   His leg was mangled and he had a broken jaw, and some broken teeth.  I think the guy from the SPCA was hoping this poor mangled kitty would be put down.
Mr. Foster was fortunate in many ways.  His human had pet insurance for him.  His vet was a feline specialist, so able to deal with the injuries.  And, she was compassionate, even taking Mr. Peter Foster home for his first night after he was found.   His leg had to be amputated.  But, it surprisingly hasn't bothered him much!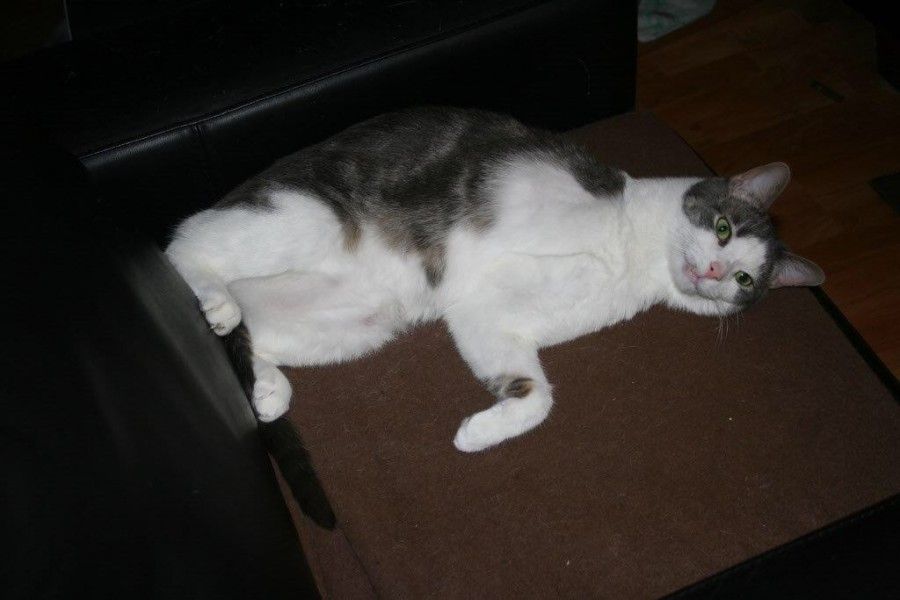 You have to look closely, he only has three legs!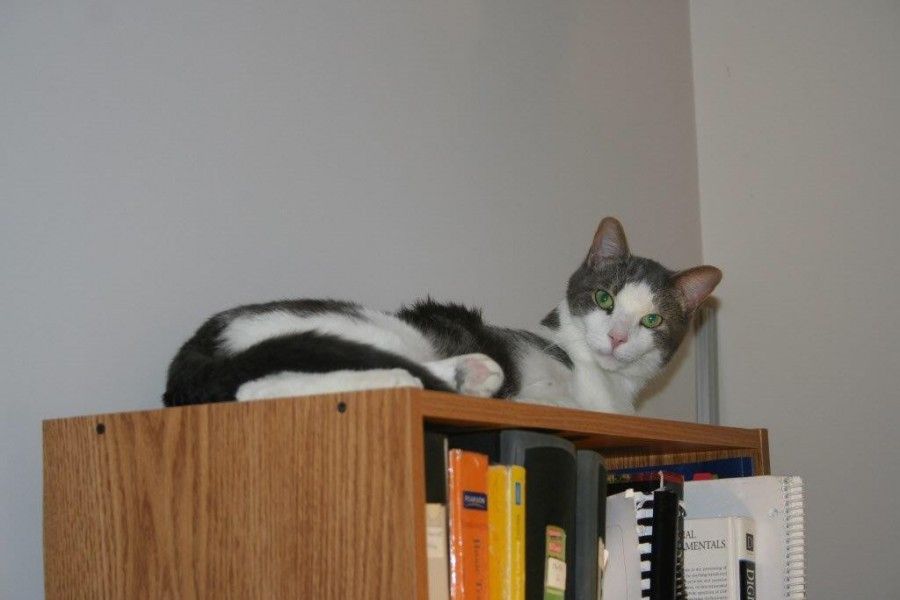 He's climbing back up to the top of the full sized book cases again!
Mr. Foster is doing so well.  Because he has a strong will to live and because he has an awesome human.  His human is my brother, Holger.
I know it was a lot of worry, work and stress taking care of this poor cat.   All the while going to school and having to study for exams.   Honestly, not many people would be so kind and caring.  Especially when they are so busy.
Because of what both Mr. Foster and my brother went through, I hope they remember to take a break each day.   And, just hang out together.
And try a Chobani Flip.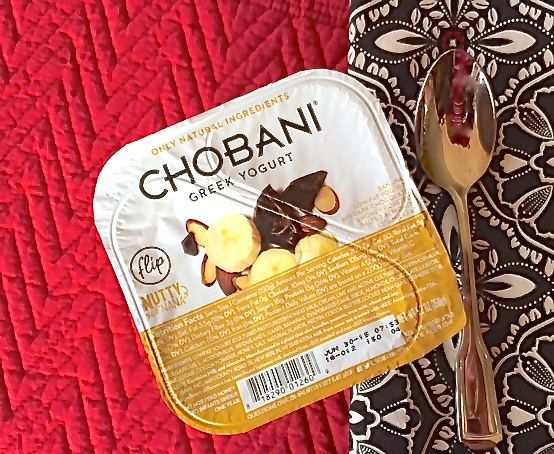 Because it's just so good!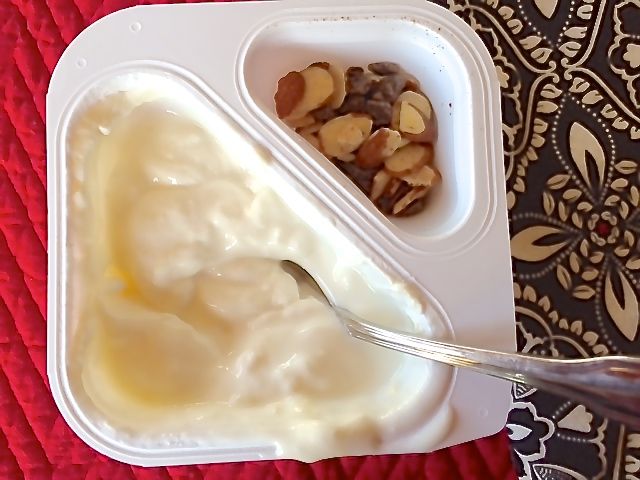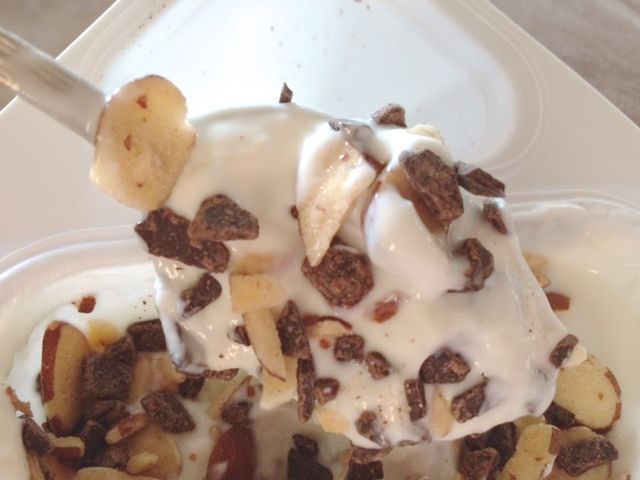 Yum!  Perfect for an adult snack when we need to refuel.  Or when we are just hanging with our three legged friend.
(Oh, if you want to see more about Mr. Peter Foster, he has his own web page.  Just click here.)