This is a sponsored post written by me on behalf of Breyers for IZEA. All opinions are 100% mine.
Hi there!  Thanks for dropping in.  I have a wonderful recipe to share with you today.  I'll show you how to make some spice roasted figs with hazelnuts.  And, you will love it served with vanilla ice cream.  Yum!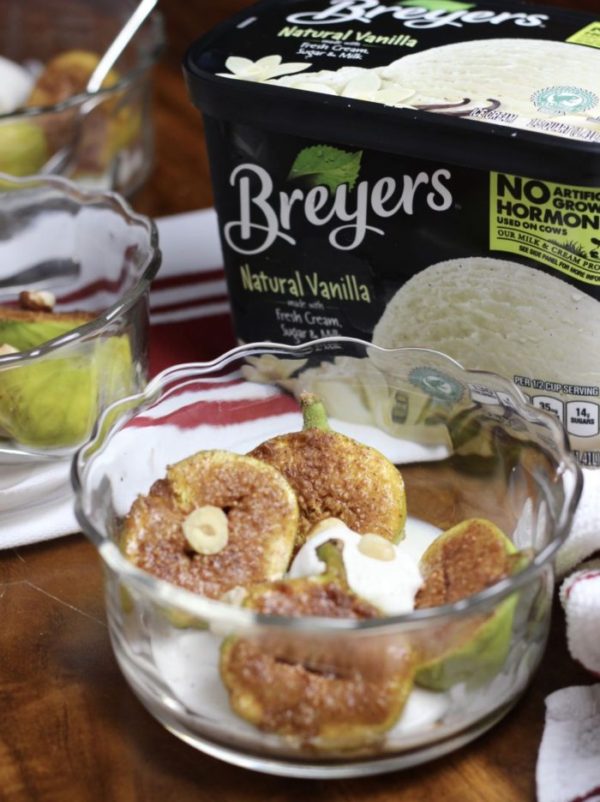 It's easy and it'll be a hit at any get together.  It actually looks and tastes like it's a fancy recipe but it is easy to do.
I love vanilla ice cream!   My last year of college, I actually worked for a dairy company.  My official title was:  Ice Cream Ambassador.  Yup.  That was my job title.  I begged my boss to let me change it.   I called on grocery stores and helped straighten up freezers (brrrrrrr).   And hung stuff from the grocery store ceilings (I got pretty good at climbing up ladders with my hands full).  Plus, I worked with a bunch of ice cream scooping shops.  I ate sooooooo much ice cream that summer.   But, let me tell you something that's probably hard to believe.  My favorite ice cream is vanilla.  There is nothing like a great scoop of vanilla ice cream!
I served the spice roasted figs with Breyers® Natural Vanilla ice cream.  All Breyers® vanilla is real and from sustainably farmed, Rainforest Alliance Certified™ vanilla beans*.  I can tell the quality of a good ice cream when I try the vanilla flavor.  Plus, I love it when the ice cream is made with carefully sourced ingredients.  Breyers only sources milk and cream from cows not treated with artificial growth hormones.*
Now, onto the figs!  This is the first time I have had fresh figs.  I usually buy the dried ones that are all over the stores around Christmas.
Have you ever seen fresh figs?  This is what they look like.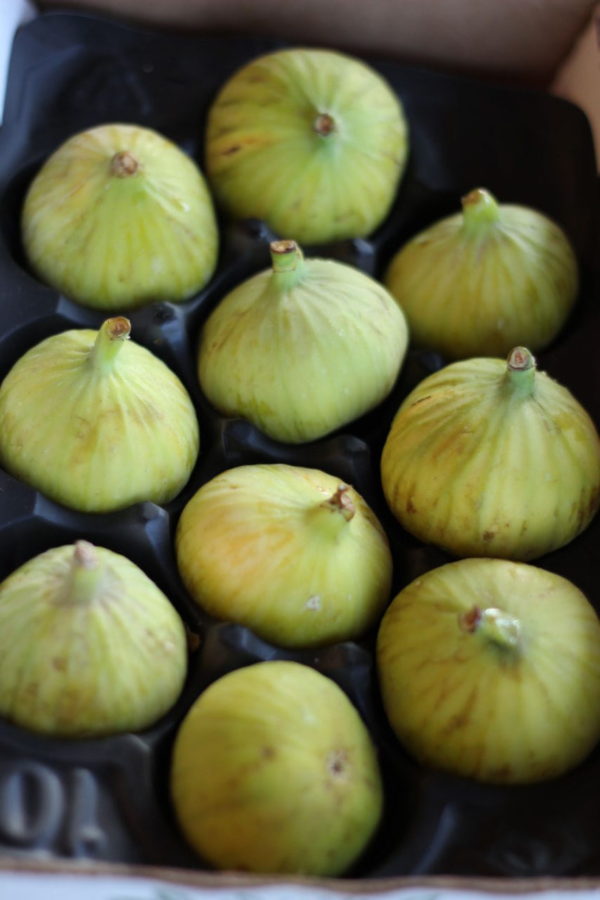 And, this is what they look like when they are cut.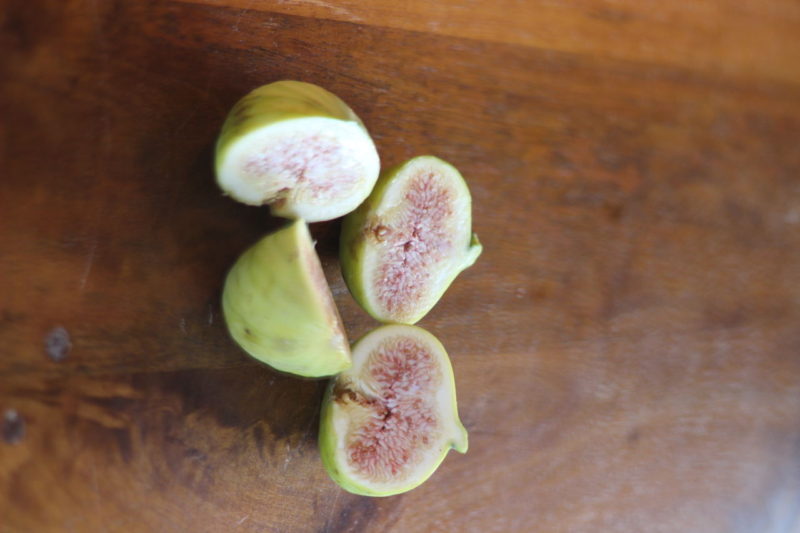 Time to share this amazing recipe.  I'll have to confess.  I didn't make up this recipe so let me share how it came about.  Breyer is celebrating its 150th birthday and has partnered with celebrity chef Curtis Stone and his wife, actress Lindsay Price Stone.   Take a look at this link to see them – Spice Roasted Figs with Hazelnuts and Vanilla Ice Cream
Spiced Roasted Figs with Hazelnuts and Vanilla Ice cream
Serves: 4 / Prep Time: 10 minutes / Cook Time: 4 minutes
Make-Ahead: Figs are best served warm with ice cream.
Ingredients
2 tbs. sugar    

1/2 tsp. each ground cinnamon, ground ginger     

1/8 tsp. ground cloves     

8 ripe figs, halved lengthwise     

1 1/3 cups Breyers® Natural Vanilla Ice Cream      

1/4 cup blanched hazelnuts, toasted, coarsely chopped
Instructions
Position broiler rack 6 inches from heat source and preheat broiler. Line a large baking sheet with aluminum foil.
In a small bowl, mix sugar and spices. One at a time, dip figs, cut side down, in sugar mixture to coat. Then coat figs a second time with sugar mixture.  Arrange cut side up on baking sheet. I used a small rack to keep the figs sitting up straight.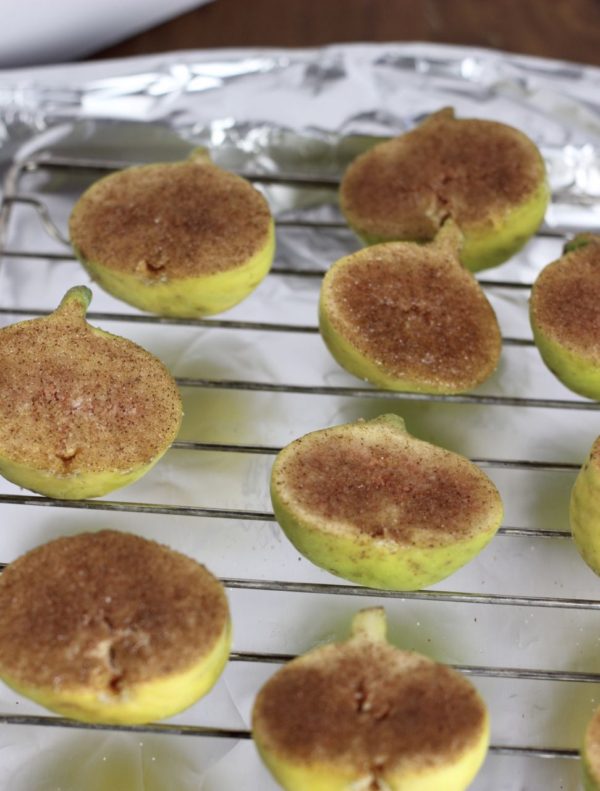 Broil figs, watching closely, for about 4 minutes, or until sugar melts and begins to caramelize and figs soften slightly and begin to ooze their juice.
Divide figs among 4 bowls. Spoon 1/3 cup of Breyers® Natural Vanilla Ice Cream into each bowl. Sprinkle with hazelnuts.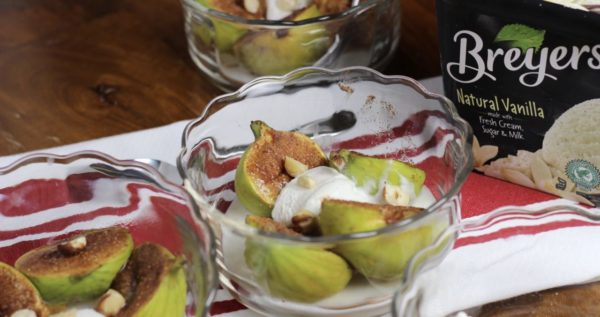 For more information about Breyers, make sure to click through this link.
To see more ideas and to visit Breyers' social pages, here are the links for you:  Facebook, Pinterest, Twitter
Thanks for visiting my site!  Hope you enjoy this recipe.   Have you ever used fresh figs before?
*Suppliers of other ingredients such as cookies, candies & sauces may not be abe to make this pledge.  The FDA states that no significant difference has been shown between dairy derived from rBST-treated and non-rBST treated cows.