Yes, we had snow in April - AGAIN!
My poor daffodils! We actually had quite a bit of snow on the forecast. Like it was a snowstorm with snowstorm warnings. At one point we were expecting a total of 8 inches.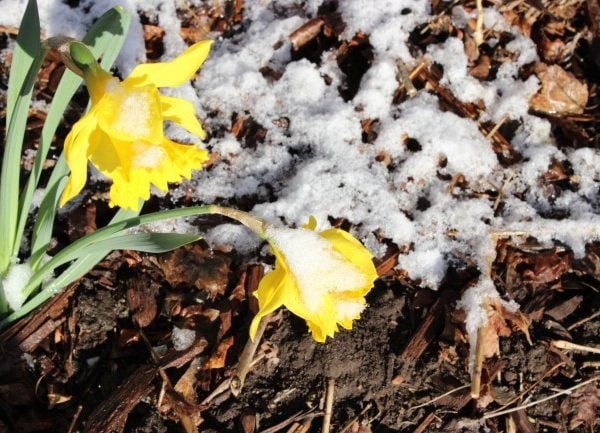 Daffodils and tulips can certainly handle a bit of snow and some frost but 8 inches would have been enough to break the flowers and the stems. Especially because we were expecting heavy wet snow.
I did go around and used some of my empty planters to cover my daffodils. I did this right when it started to snow. However, some little guys didn't get covered but they survived.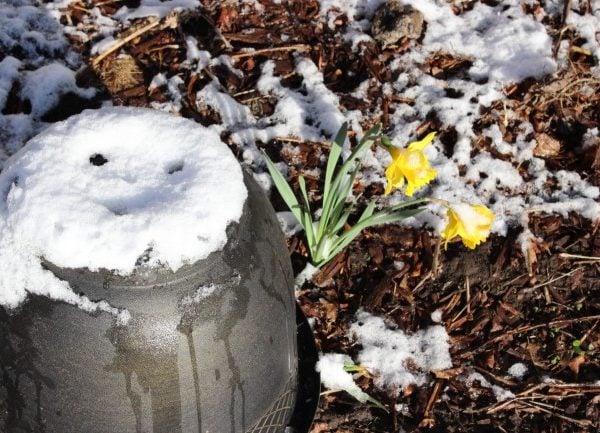 There was some flower drooping from the weight of the snow. But, this morning the snow is quickly melting and I can just hear it melting! A sound that is bringing joy this Sunday morning!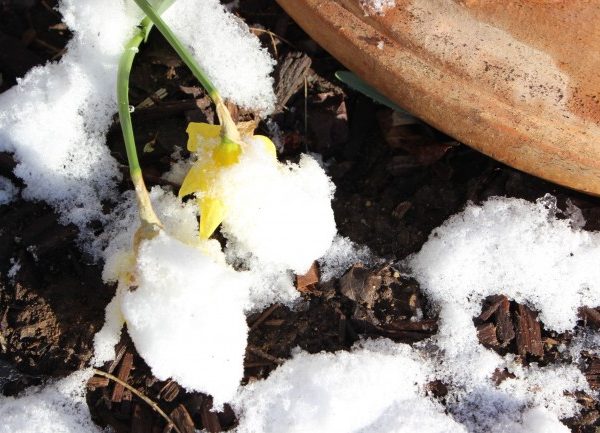 A good portion of my yard had a good three inches of snow. Below is one of my favorite planters that I bought a few days ago. It was such a bargain and it was beautiful!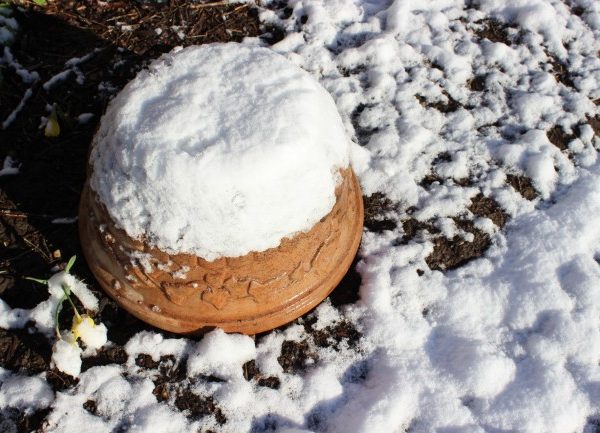 Here are the daffodiles that were protected under the planter.
Here is another planter that covered a group of my daffodiles.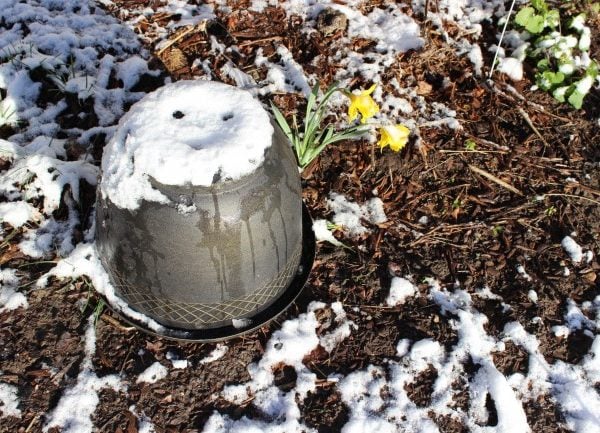 Peek-a-boo! Here are the daffodiles that were protected by the planter. The were able to enjoy the beautiful sunshine today and will get a slow watering as the snow melts. The snow isn't all bad!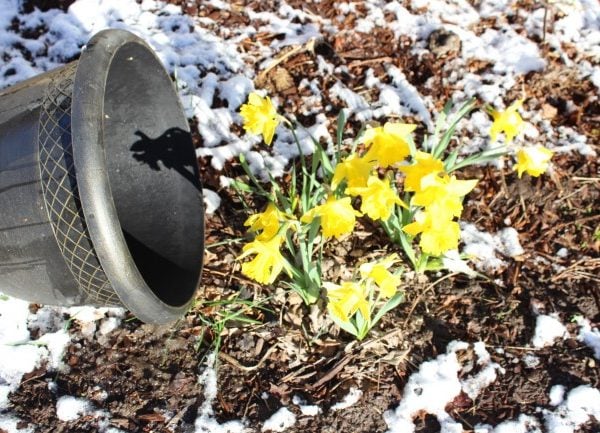 My big burning bushes flanking my front stairs seemed to have enjoyed the cool night and the snow yesterday. They are starting to green and leaves are forming. They look so pretty with snow on them!
These little guys waiting for the snow to melt so they can face the sun again!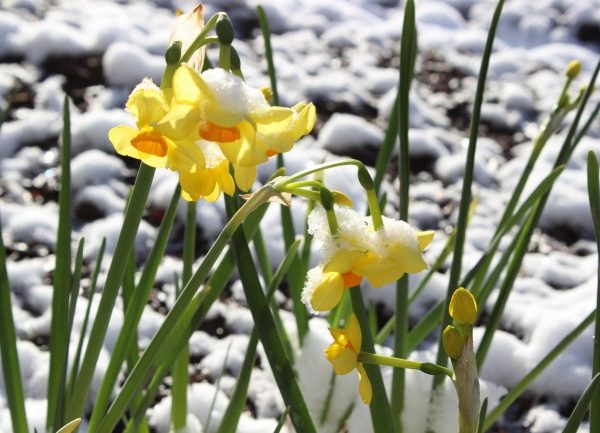 Peonies that didn't get covered have some snow on the leaves.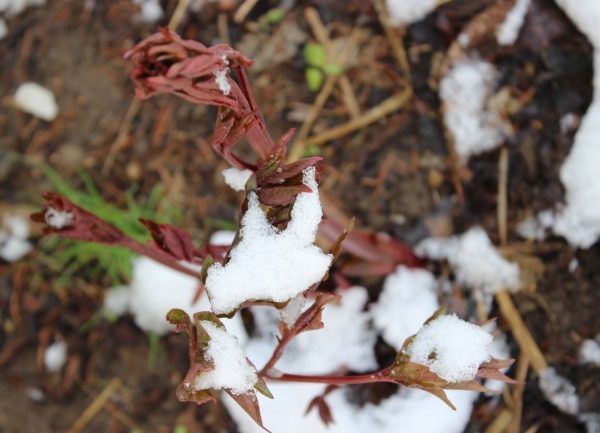 I don't think I've ever looked this closely at my maple tree in the spring. The snow makes the newly growing maple blowers and budding leaves look so pretty.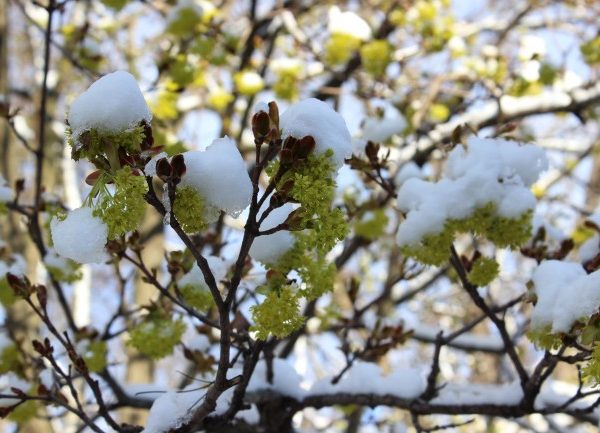 Did you realize maples actually have flowers like this? I didn't and am a little surprised by that!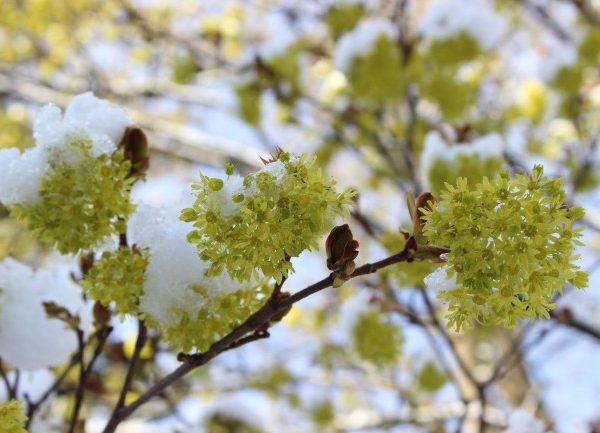 I know many people were really worried about thier spring flowers. A little snow and temperatures just below freezing won't hurt them. Mother Nature planned for these flowers to be hardy enough for those times she plays a joke on us and send snow late in April. However, if we would have received those 8 inches that we were forecasted, the flowers and the plants themselves would have had a problem because of the weight of the snow.
It took a couple of minutes to move my empty planters and cover some of my spring plants.
Keep this in mind for next year! Hopefully, you won't need this tip this year!!