Really I am. I'm returning a strand of LED lights that don't work. Yes, I actually phoned the 800 number. And complained! Adamantly. I don't remember what the guarantee/warranty time was. I think it was at least 15 YEARS. My lights lasted a total of about 6 weeks on my outside tree last year and the test plug-in this year. Yes, I tested the strand. All lights worked. I wrapped my blue spruce with 6 stands of wonderful LED lights that should last for years and years! That night, the middle strand didn't work. Not the bottom. The middle! No, that's wrong. It did work. But, the lights were so dim that you couldn't see they were on.
I picked up another strand from Costco, said bad words under my breath, and took down the broken strand. Not happy! But, with the new strand, I had the phone number to call and demand satisfaction. I had information. I had power! I called the Saint Nick's Service Center (Really? Why not the Ho, Ho, Ho, Service Center!)
Just a fyi, when you call the 800 #, you end up at the same foreign call center you call when you have computer/software issues. Same script.
"Yes, Mrs. Momcrieff, I understand your frustration. Please let me apologize that the product did not work to your satisfaction. Please be assured that I will work very hard with you to resolve the problems you have to your satisfaction. (Oh no! This is going to be a long, painful process). First I need some information from you. What is your first name?
"Susan," I stated.
She replied, "Susan. Please spell that for me." (OMG. Give me strength!!) About 10 minutes later after I repeated everything a few times, spelled everything at least a couple of times, all my information was recorded. "How is the weather in Wisconsin today?" (WTF?? Do you really think I want to spend my morning discussing the weather with someone I don't know who is somewhere in the world other than the U.S.??).
"Ummmm, can we please just get this finished? I don't have much time." I tried to be polite. I did. But an alternative dialog in my head was begging to come out.
"OK. I will help you resolve your issue quickly. Do you have your receipt?" (Are you f***g kidding me?? I have a purse full of receipts but I'm certain I don't have the receipt to Christmas lights I bought over a year ago.).
"NO!" We were already over 15 minutes and I hadn't even had a chance to explain the problem yet. But, I was ticked. If people don't complain and hold companies accountable for a certain level of quality, there is no motivation to produce quality. I get stubborn sometimes. My hubby would support that. Actually, he'd be shocked I admitted that. In writing even :).
LONG, LONG, LONG conversation later, I was given a return authorization. I pay the postage there and am supposed to be happy that they pay the postage back.
Here is a picture of the Warranty card that came with my Costco lights (Don't get me wrong, I LOVE Costco. Just hate this light string). The 800 # is at the bottom. Here, let me help you. The number is 866-489-0019. And, you don't need a receipt. But, you do need the info. that is on the tags. Just make sure that you are calling about the lights you bought at Costco. It will say on the little white tag on the light string.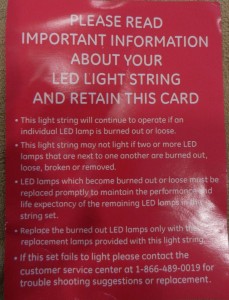 Bye, Bye lights. Have a wonderful journey to the Saint Nick's Customer Service Center! I will eagerly be waiting for my "REPAIRED" light string.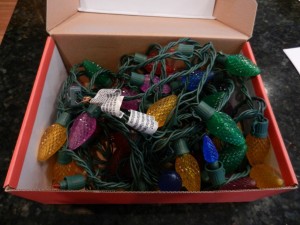 Hope you had a wonderful Christmas and are looking forward to a happy and healthy New Year!
The Momcrieff.
Google+