My kids sure do enjoy it : ) !!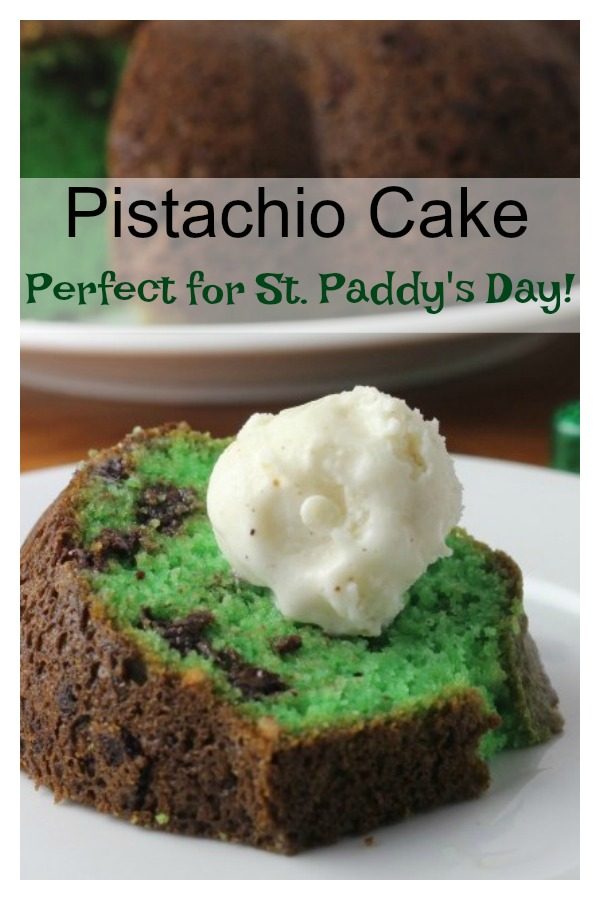 | | |
| --- | --- |
| | |
Preheat oven to 325 Fahrenheit.

Mix first five ingredients together. I usually do beat my eggs a bit and then add them.

Add chocolate chips unless for some crazy, weird reason you don't like them.

Bake for 1 hour. Yes, it did take the whole hour. Check with a toothpick to ensure 'doneness'.

Cool about 10 minutes. If the cake is sticking in the bundt pan, run a plastic knife around it.

Turn onto your cake stand or pretty platter.

Serve with frozen vanilla custard (yes, we are from Wisconsin!), or vanilla ice cream.

Enjoy!! Very tasty and very moist. Still as great the next day!!
Just to repeat, even though you use green pistachio pudding mix, the finished cake isn't green! Honestly, if I were making this around St. Patrick's day, I might just add a tiny bit of green food color.
Do you remember the days when pistachios's were colored green? All that green food coloring we ate. I honestly had no idea pistachios were actually just a subtle green. But then, until I was an adult, I had no idea pistachio's were a nut. I thought it just described green ice cream. What a sheltered life I lead!  I never even had a bagel until I was in University.   That comes from living in a small rural town which wasn't even near a large city.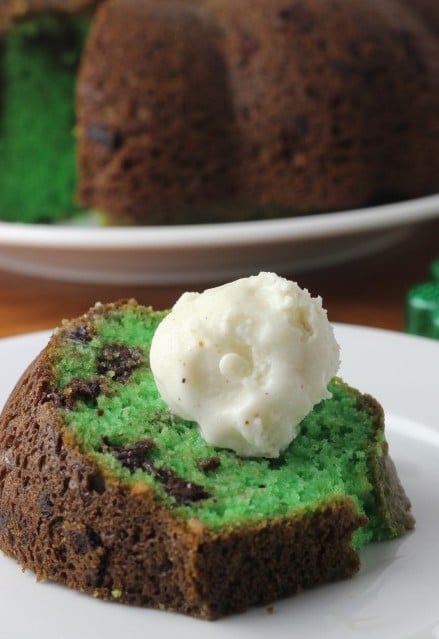 Back to the pistachio bundt cake. Super moist and flavorful. This is one of those cakes you can quickly whip together and tidy while it's baking. It would be wonderful to serve to your guests! Oh, and for those of you with picky kids, they don't need to know about the pistachio pudding. They will never know 🙂

Google+