Was enjoying some much needed wine with a couple of girlfriends this weekend. Somehow the conversation turned to how to organize and clean your house. I was surprised that others also use a variation of the 15 minute rule. It does help get you into the organizing mode.
As an FYI, I'm not a fan of housework. Not at all! I do know some people who I honestly think have a deep down passion for cleaning. Not me. It's just an unfortunate necessity in my life :(. Four years of university and I'm cleaning toilets and dusting. Not my idea of fun mental stimulation. Oh well, a necessary evil!
Here is what I do. Faithfully, I put my timer on for 15 minutes each morning and get that household wiped into shape. Well, at least tidied. It's not a perfect system but I don't dread coming home to a big ol' mess. Here is what I did Tuesday March 12th. For the purposes of this post, I timed the things I normally do individually. This is what I normally do in approx. 15 minutes. A little cleaning and a little organizing and what you get done is amazing!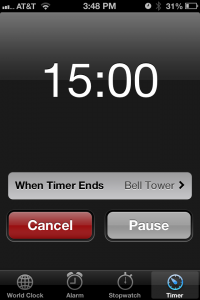 3 minutes 22 seconds - Unloaded, folded and hung laundry from dryer. Started another load in washing machine. The second pile of laundry was already in front of washing machine.
2 minutes 48 seconds - Unloaded dishwasher. A very full dishwasher. One I loaded taking advantage of every inch! Many years of experience make me the most excellent dishwasher loader. Seems many husbands can't acquire this skill!
2 minutes 55 seconds - Load said dishwasher with snack dishes from previous evening plus breakfast dishes. A quick sweep of bedrooms to find why we are missing so many bowls, cups and spoons. Wow, almost a full load so run the dishwasher.
4 minutes 22 seconds - Cleaned my counters. Did need to soak a few spots to get them clean.
1 minute 39 seconds - Noticed I didn't wipe down my stove last night. Oh well, it happens! Did it this morning.
1 minute 49 seconds - Shoot, garbage day! Did a quick purge of fridge (misc. leftovers, lunch meat, soar cream etc.).
Hear the garbage truck! Run out garbage so I don't need to keep the stuff purged from fridge in my garage for a week. Forgot to time myself but this was an extra that I don't do every day!
I am going full out to beat that timer. Sometimes I beat the timer, sometimes I don't. It depends on how full the dishwasher is and how much laundry there is in the dryer:) Total time that the above took (not including the run out to the garbage): 16 minutes, 43 seconds. I guess I could have stopped before my last chore but, it was garbage day!
One very important point! Do not under any circumstances get distracted, start one thing, and then go do something else. For example, if you are cleaning the counters, do NOT stop and switch loads in the laundry. If you are like me, you then find something else you need to do and then don't get back to finishing the counters right away. If you are over 40, a stay at home mom, or just need a chuckle, see my post about AAADD - Age Activated Attention Deficit Disorder! If you flit from one thing to another, you get nothing finished!! It is amazing how that can happen.
I also use my timer to help me tackle some chores I don't want to do. I can suffer through trying to tidy up my kids rooms for 15 minutes. Or, go through my closet for 15 minutes looking for clothes to purge. Or, attach that HUGE mountain of clothes that needs to be put away. Truly, you would be amazed at what you can do in 15 minutes. Try It!