This shop has been compensated by Collective Bias, Inc. and its advertiser. All opinions are mine alone. #HostingHacks #CollectiveBias #ad
Yes, 'tis the season for guests of all kinds right now.  Family, friends, former neighbors are all visiting and enjoying each other's company. As a hostess, making your guests feel comfortable and welcome is a big priority.
I'm actually shaking my head in disbelief, because the guests that visit my home the most are teens!  How did my kids both get to be so old?  They're both teenagers and all their friends are these almost grown up people.  They're interesting and fun to talk to.  Surprisingly, I have never had an instance of a teen being rude or inappropriate.  I think that comes from respect and appreciation going both ways.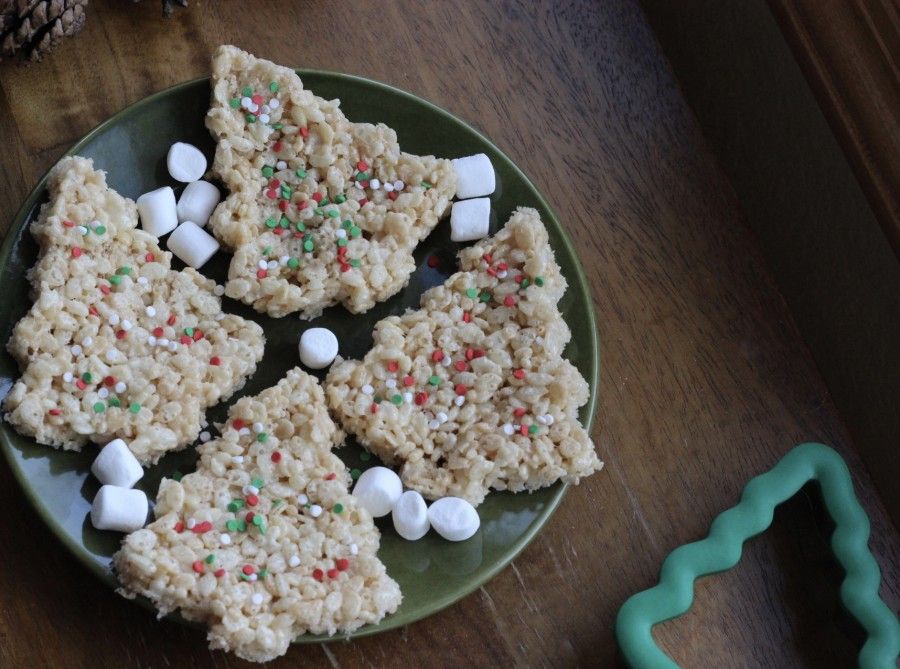 One thing I know for a fact.  With teens, you need to have food!  And, often, lots of it.  But, sometimes they surprise you and start cooking in your kitchen. It's hard not to hover 🙂 . Sometimes it feels weird when you give some distance but that helps with making your guests feel comfortable in your kitchen.
What I have found, with our teen guests and our other guests, is that going overboard is not necessary.  I really feel it's great for your guests to feel comfortable and welcome but they don't want to feel like you have gone through a ton of trouble over their visit.
I am a regular Costco shopper.  Not only does it save me money at the checkout, but, shopping at Costco saves me a ton of time by not having to run to the store for regular necessities every few days.  And, we are not talking only about food.  But, necessities to stock the bathroom.  Unexpected visitors aren't a problem at my house.  We are well stocked.  Even in the summer when all of a sudden a big group would come over to use the pool.  Trust me, I've learned to keep my bathrooms well stocked. No one has to find me to ask for toilet paper, pads or tampons. It's all in a convenient cabinet in the bathroom. I'm so glad that Costco stocks my favorite brands. I've been a regular purchaser of Charmin, Always and Tampax products for years (all Procter and Gamble products).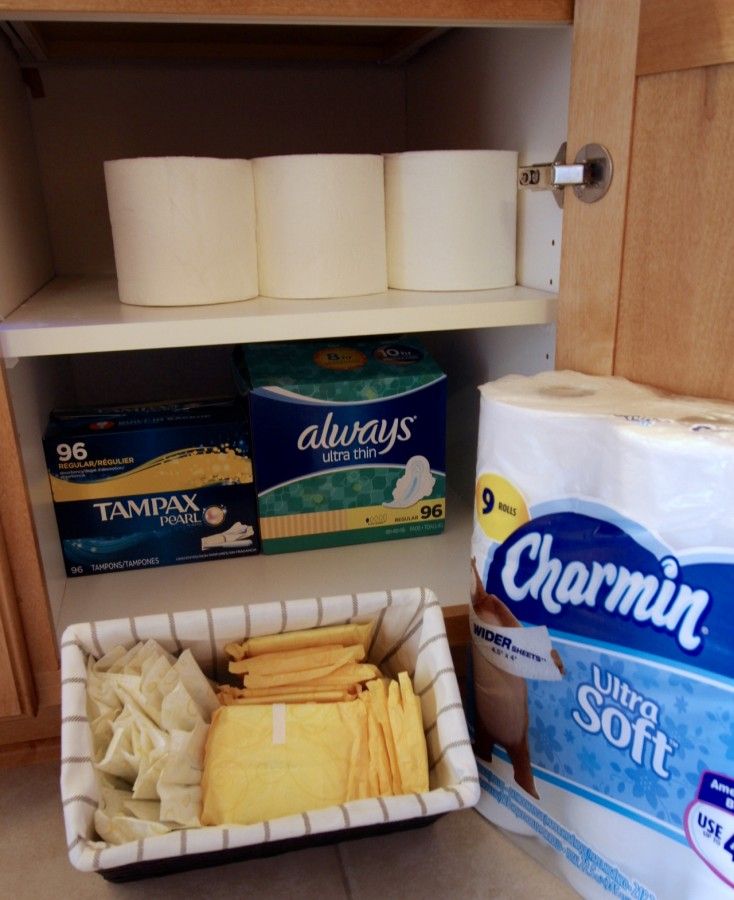 Nothing like a few supplies in a pretty basket to make sure guests have what they need and feel comfortable to take what they need.  By buying these products in bulk, I'm never caught without these household necessities. And, don't be intimidated by the bulk sizes. Just stock your bathrooms and store the rest. Love not having to worry about running out of these items. And not worrying that guests don't have what they need. Trust me, with a pool, our bathrooms get lots of use in the summer!
The same applies for pantry food items. Keep extra of your frequently used food products. If I have to whip up a quick snack, it's easy!  As I mentioned earlier, I think guests want to feel appreciated but don't want to feel like they have inconvenienced you.
More than once, I've whipped up a quick cereal based snack for the kids.  Quick and easy. And they love them.  With just a tiny extra effort you can take something from boring to fun with a seasonal theme.
Let me share with you some of my tips for making these Christmas tree marshmallow cereal treats. A simple to make and appreciated snack by young kids to older teens (and some adults too!).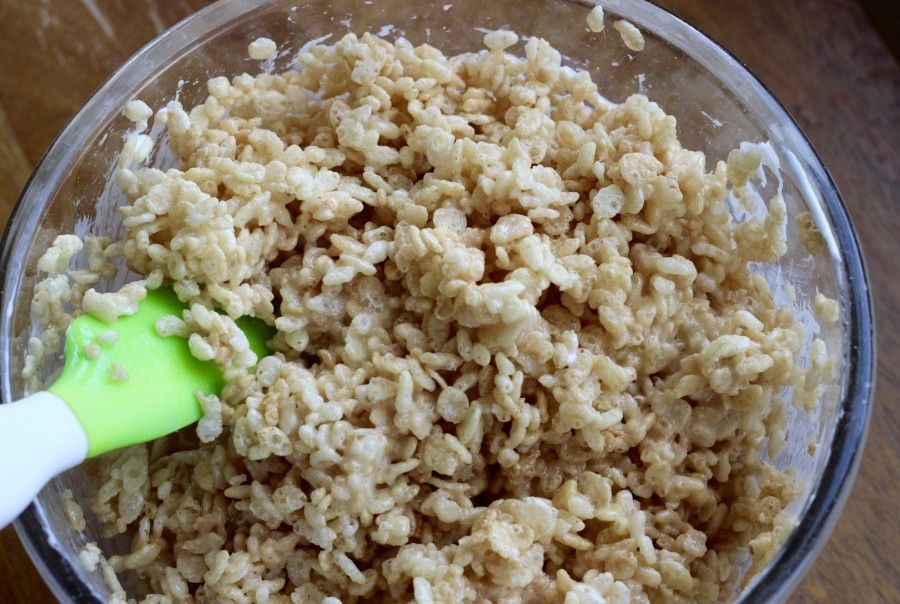 Seriously, am I the last person to realize how much easier it is to make cereal snacks by melting them in the microwave?? It makes this recipe a one bowl recipe!
Christmas Tree Marshmallow Cereal Treats
Ingredients:
3 TBS butter
10 oz bag of Marshmallows
6 cups of a 'plain' type cereal.  Puffed rice cereal is the cereal most frequently used.  But, I've tried about half a dozen other types of cereal and they work great.
Decorative sprinkles or candies.
A seasonal large cookie cutter.
Directions:
Melt the butter in a microwave safe bowl. I like using a big glass bowl. It took about 30 seconds on high for the butter to melt.
Swirl the butter around the bowl so the parts that the marshmallows touch are buttered.
Add the bag of marshmallows.
Heat on high for a minute and then stir. It took my marshmallows a total of 2 minutes to be all melty and liquidy.
Stir in the cereal. Keep stirring until cereal is well coated and sticky.
Place parchment or sprayed tinfoil on a jelly roll. You are going to press the marshmallow, cereal mixture so that it's about an inch high. I stick my hand in a plastic bag that I've sprayed with non-stick spray and then I can press the mixture down without it burning my hands or sticking to them.
Let it cool for a couple of minutes, then take your favorite seasonal cookie cutter and cut out the shapes. Sometimes you need to fix the shape a little when you push out your cereal. That's because the mixture is still pliable when it's warm. But, you want it this way so you can respread and recut the unused parts just like you do with cookie dough. And, if the marshmallow is still soft and sticky, your decorations stick better. A little tip. If you don't have a tree cookie cutter, just cut the cereal treats into triangles!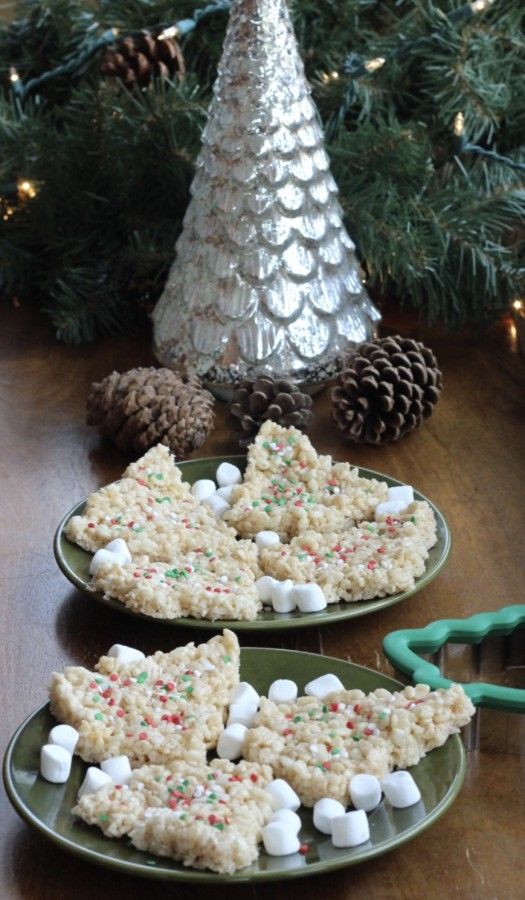 Can I share something with you? These were my second set of Christmas tree cereal treats. I had made my cereal trees green by stirring in a bunch of green food color into the marshmallows. It was funny to hear my kids comment that they thought it weird that I would be using  for those treats. And, they were right! I don't normally use much but thought they would look better. Wow, my kids actually pay attention when I talk about healthy ingredients and ingredients they should avoid in food. So, please note that the Christmas tree treats are NOT dyed green. They are just lightly decorated with some colored candy sprinkles.
Yes, it is important to make your guests feel comfortable and welcome. That means taking care of things that your guests may need but would be embarrassed to ask for. Keep those bathrooms well stocked! It's so easy to buy these products at Costco!
The Charmin is usually right at the very back of the store.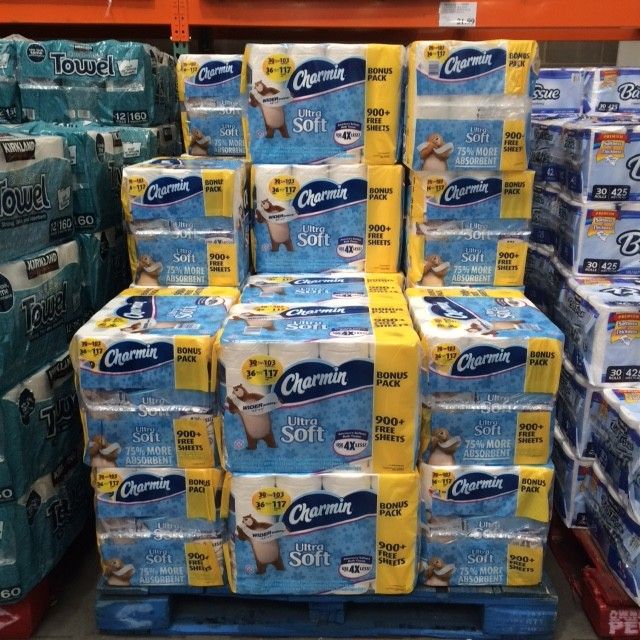 The feminine supplies, including Always and Tampax products are in the section near the pharmacy.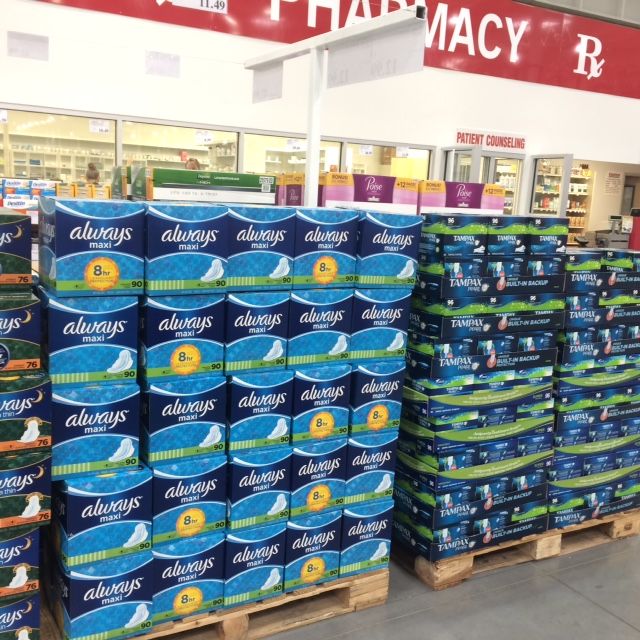 Make sure you don't get caught without necessary household supplies. Take a look at many of these Procter and Gamble products at Costco! Stocking my bathrooms and keeping regularly used foods in my pantry keep me prepared for visitors. What things do you do to stay organized and make your guests feel comfortable and welcome?