I remember a couple of years ago having all my fall/Halloween outdoor decorations on my front lawn. I was trying to figure out what I had and what I needed. Somehow, inspiration struck and I have been converting my walkway lights to jack-o-lanterns every year since.
Sometimes, things work out without a major plan, work or cost! Love it when that happens! Here is how I made my Jack-o-lantern walkway lights.
Just slip the plastic Jack-o-lantern over the walkway light.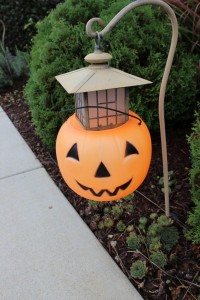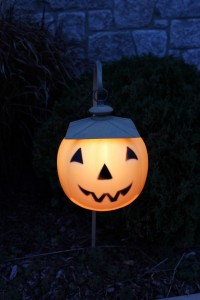 Sadly, it's probably my last year doing this. I've had these for 3 years now and my kids are older. I have a suspicion next year our Halloween theme won't be Jack-o-lanterns. It'll be more along the lines of The Walking Dead. Sorry little kids!