I've been having bursts of purging energy lately!  Which is kind of odd since it's the middle of the dreary winter here in Wisconsin.  It's been so cold, I have totally been avoiding going outside.
I've been in a bit of a decluttering mode.  But, some projects were intimidating and I just couldn't start.  So, I gave myself permission to start small.  To just find 10 items of each type.  Even that was a great start!  And, it helped me get a better idea of what decluttering projects are ahead of me.  Some aren't bad, some are major.  And, this is a continual project!  The bonus was, I found a couple of things I've been looking for : ).
I'm thinking my energy boost comes from trying NeuEnergy™.   I like the caffeine without having the acid from coffee in the afternoon.  And, it has half the caffeine as an energy drink.  There truly is too much of a good thing.  NeuEnergy™ includes antioxidants from blueberries!  No sugar or calories and no spike and crash, sustained energy without all the high levels of caffeine and ingredients you can pronounce.
So, here's some of the purging I finally got the energy and motivation to start.
1. Empty Containers - Yes, I have turned into an empty container hoarder!  I've been purging and cleaning out a little at a time (for the last few months) and for some reason I was leaving the empty containers in closets.  My closets still looked full, even though there wasn't a ton of stuff in them.  Can you believe it??  Empty containers!  These included the big plastic storage containers, empty shoe boxes, plastic shoe boxes, and some storage items (scrapbook paper holder and a magazine holder).    Seriously, my high school kids don't need empty shoe boxes for school craft projects.  It was my biggest pet peeve in elementary school when the teachers told us we needed an empty shoe box in the next couple of days.  Those days are over for me but, obviously not my shoe box collecting tendency.   I pledged to myself that containers will either leave the house or will be purposely used.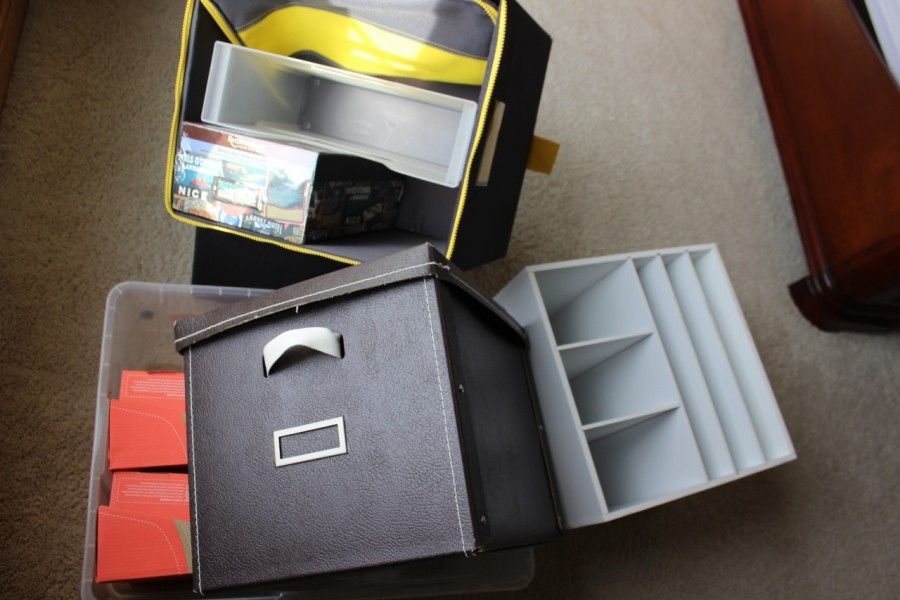 2.  T-shirts - I don't know why the t-shirts get so short!  I swear I try to buy them longer but after washing them a few times, they shrink up.  I hate them and won't wear them.   My first yoga class, my main concern was pulling that t-shirt down!   It was frustrating.  So, I decided to do a purging of 10 that I don't wear. Then I will buy 3 better quality, longer t-shirts.   I will try them on at the store before I pay for them!!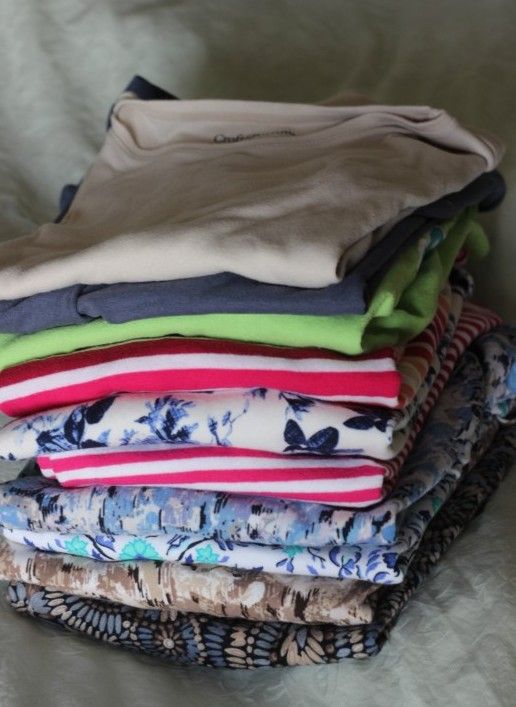 3.  Sweaters & Long Sleeved T-shirts.  It's February in Wisconsin.  If I have not worn it and don't plan on wearing the sweater or long sleeved t-shirt/mock neck or turtle neck in the next couple of weeks, it's time to go.   I am finding some sweaters make me way too hot, the mock and turtle necks are too confining, and some I just don't like.  Purging pile!  Bye, bye!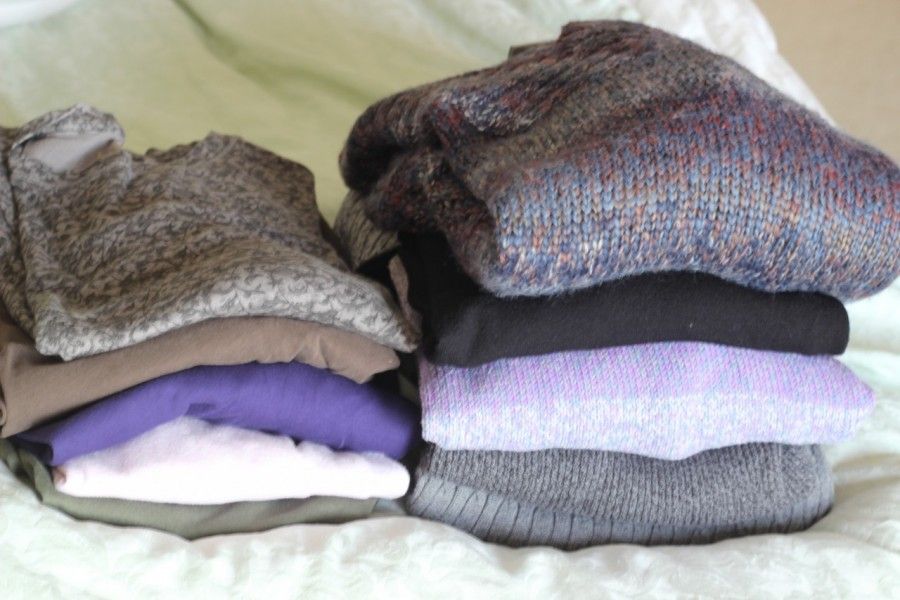 4.  Ladies suits and dressy cloths.  I will confess, I counted my two piece suits as two items.  I have NOT WORN A SUIT IN TEN YEARS!!!  What made me think it was necessary to keep them?  Plus, if I do need to wear a suit in the future, it would probably be for an important meeting and I would feel better with a new suit, knowing it is of a current style.  Plus, I had a few party dresses/outfits that I will NEVER wear again.  Total of 10 pieces - gone!  These types of items take up lots of space and are long.  Purging these out of my closet make my closet a little neater.  Definitely need to revisit purging more out of my closet!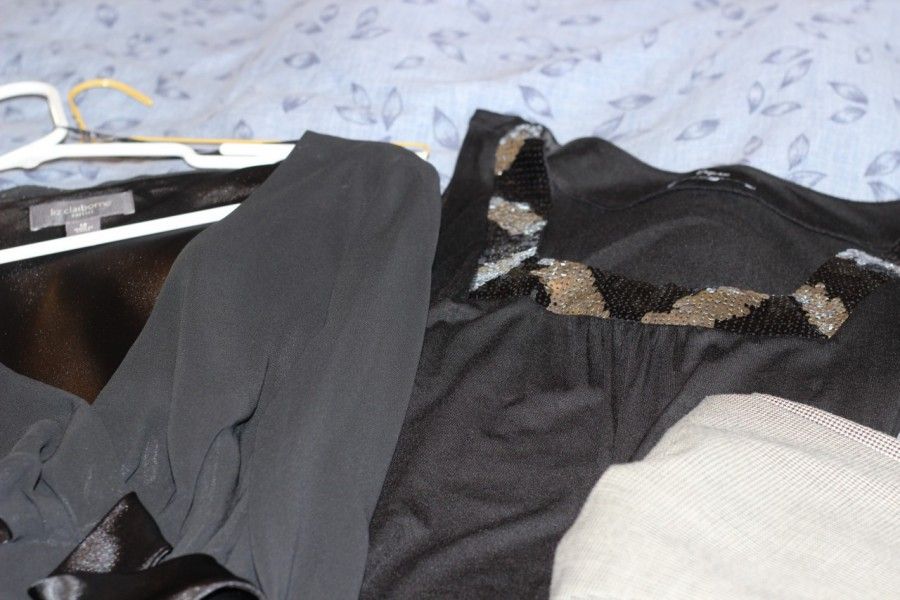 5. Socks.  I removed 10 pairs of socks.  Socks in colors I don't need (what was with all the beige socks I have??).  Ankle socks that slip into the shoes and off my ankles.  Blister city for my feet.  GONE!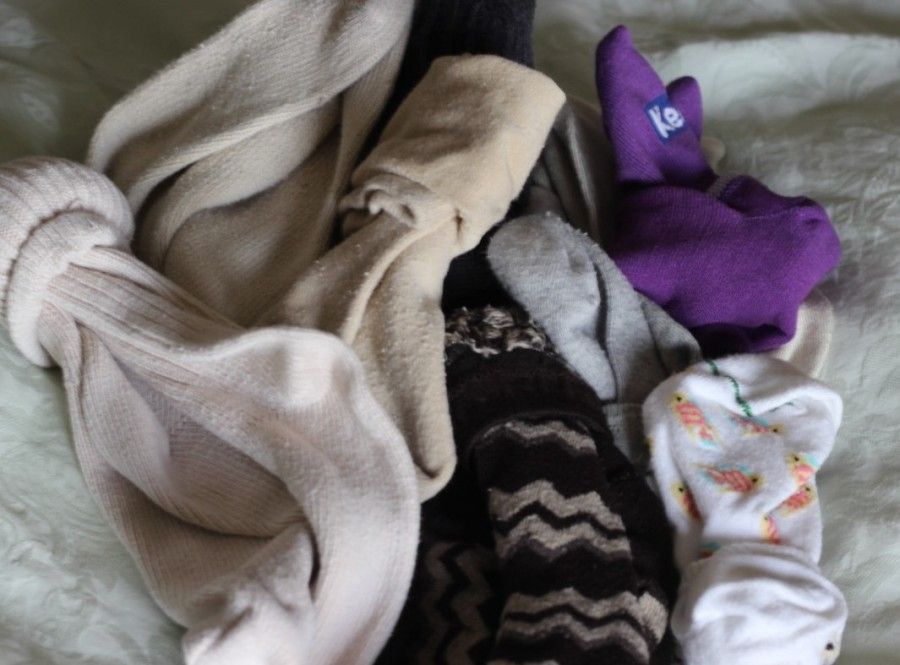 6.  Socks - part two.  Single socks to be specific.  I started by removing 10 single socks from my single sock plastic container (one of those BIG plastic storage containers). It didn't make an impact.  I switched tactics.  I KEPT 10 single socks.  The expensive ones and the favorites ones.  Socks reappear right after I do sock purges so I wanted to keep a few.  Now we are down to about ⅛th of the storage space.  We are using one of the plastic shoebox sized containers (from step 1!).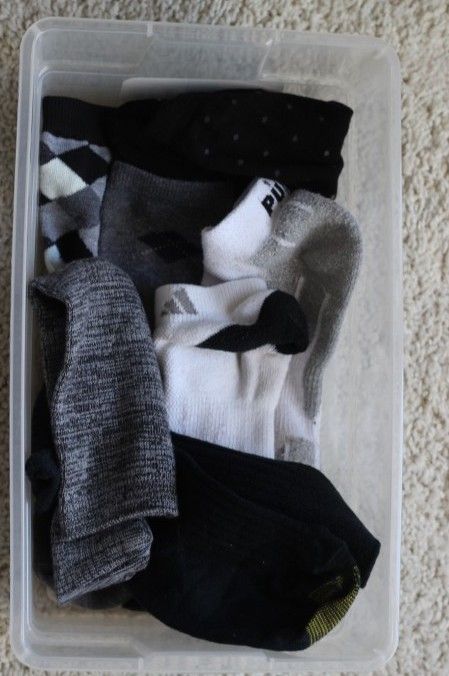 7.  Office Supplies, School Supplies & Correspondence Cards.  I had a full box of legal sized file folders and hanging folders.  I don't know why I have those and I will never use those.  I'm sending them to my husband's office.  Then I purged correspondence cards.  How many thank you notes does a girl need?  Gone are the ones that I never used because I didn't like them when it was time to send one.  And the 4 boxes of cards that had just a couple cards be box were consolidated.  Also gone are the 30 extra personal christmas cards from 3, 4 and 5 years ago.   I did keep the envelopes because I seem to always need those.  I kept three copies of each old Christmas card.  That's lots.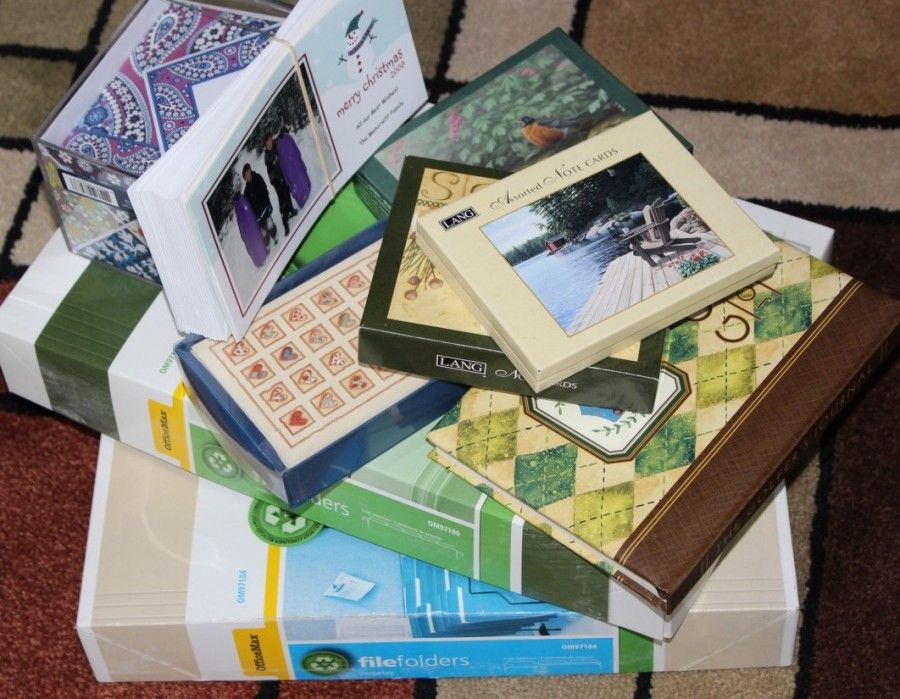 8.  Accessories.  I have belts I will NEVER, EVER wear.  I don't even know where they came from.  GONE!!  Also I have to many scarves.  One I bought to accessorize at a conference when my luggage was lost for 10 days.  That scarf annoys me every time I see it.  It brings me no pleasure so it's gone!  Scarves I've owned for over a year and don't already have an outfit/occasion I would wear it with are also gone.  Prescription glasses I can't see with anymore are useless.  Little formal purse that I haven't used ever, gone.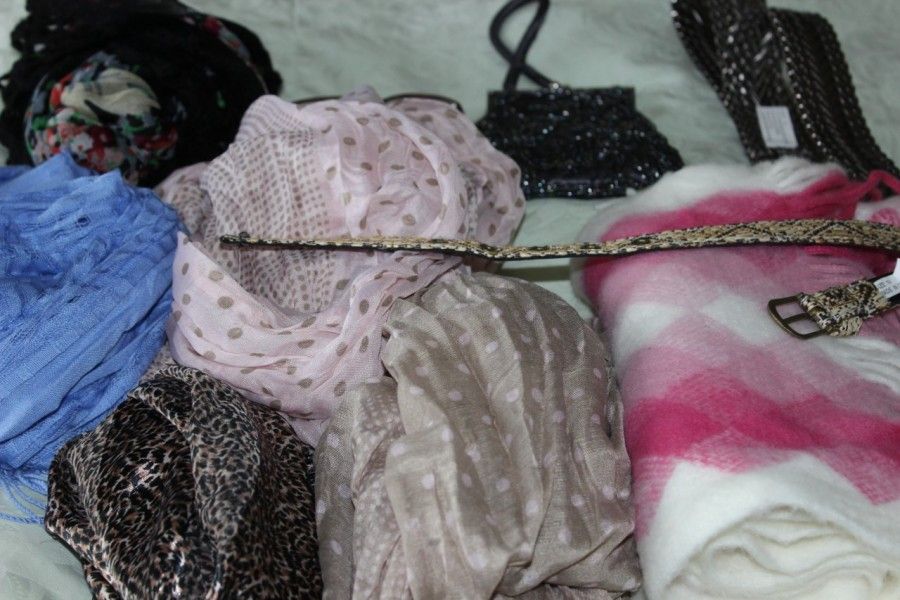 9. Ten items of Costume Jewelry.  Some, I don't know what I was thinking.  Some were broken and in spite of saving them for years, they weren't repaired.  If it wasn't worth the effort to get it repaired tomorrow, it's not worth keeping!  Watches that don't fit well.  That need a battery, but I won't get the battery, are also gone.  Oh, as an fyi, I counted the cheap beaded necklaces as one item.  This is an area where I will have to do some more purging!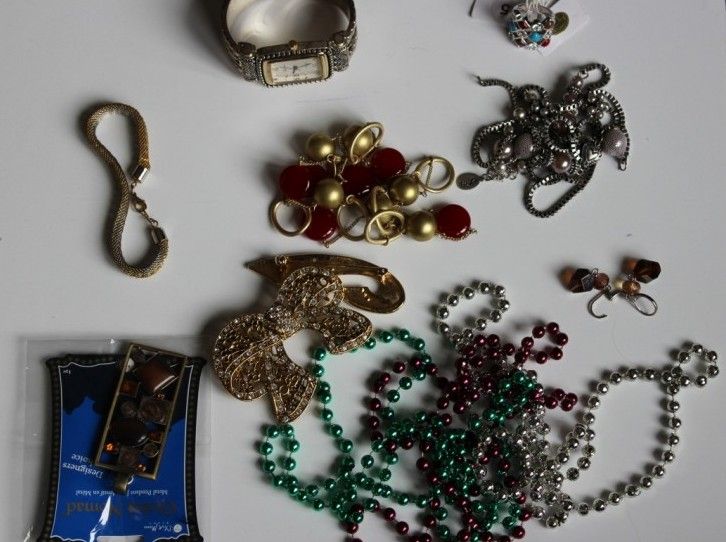 10.  Wires and small electronic things.  Yes we all have that wire drawer or container, don't we?  I just can't do a full purging of it right now.  But, it was easy to find them miscellaneous wires/electronic stuff that could easily go.  USB to micro connecting wires, which we have dozens of, are gone.  Earbuds that don't work properly really don't need to be saved.  USB thingies, that we really weren't sure what they were, are gone.  Cell phone charging cords for phones we don't even remember are gone.  This was probably the easiest category to find 10 items in.  Which means it will need some serious attention soon!
11.  Magazines and Books.  Seriously!   I'm not going to read the magazine twice because I had to force myself to read it the first time!  Hello Pinterest addiction!!  I see a lot of the stuff on Pinterest that is in the magazines.   And, it's free.   Books that I won't read, or have read but won't read again went to the used book store.  And, I received $10.00.  Best feeling ever to get paid for purging!
Forgot to take a picture of the books.  I'm sure you all know what they look like though!  I went to a store called Half Price Books to sell my books.  You bring them all in.  They take a few minutes and give you a price for the books you brought.  They don't tell you individually.  They take them all and they don't laugh at you for having so many old books.  As an aside, my son loves going there because they have a huge selection of reasonably priced records.  (Not a sponsored blurb!  I just love the whole concept of this store and it's prices!)
Did you notice I gave you an extra ten items?  Just in case one of the categories didn't work for you.  Then you have options.   I have a sneaking suspicion there will be a part 2 to this post.  I kept seeing more areas that could use my 10 item purge.  It's a great way to evaluate and prioritize areas that need the BIG purge!
On a totally different topic, do you like selfies? Or contests? How about both??
NeuEnergy is running a selfie contest on Instagram.
How to enter: Post your favorite selfie of yourself and the NeuEnergy Stick Container. Mention @NeuEnergy and include the following hashtags: #GetNeuEnergy and #Contest
I'm not a big selfie person and my teenagers are still laughing over my selfie. But, hey, if I can do it, so can you!!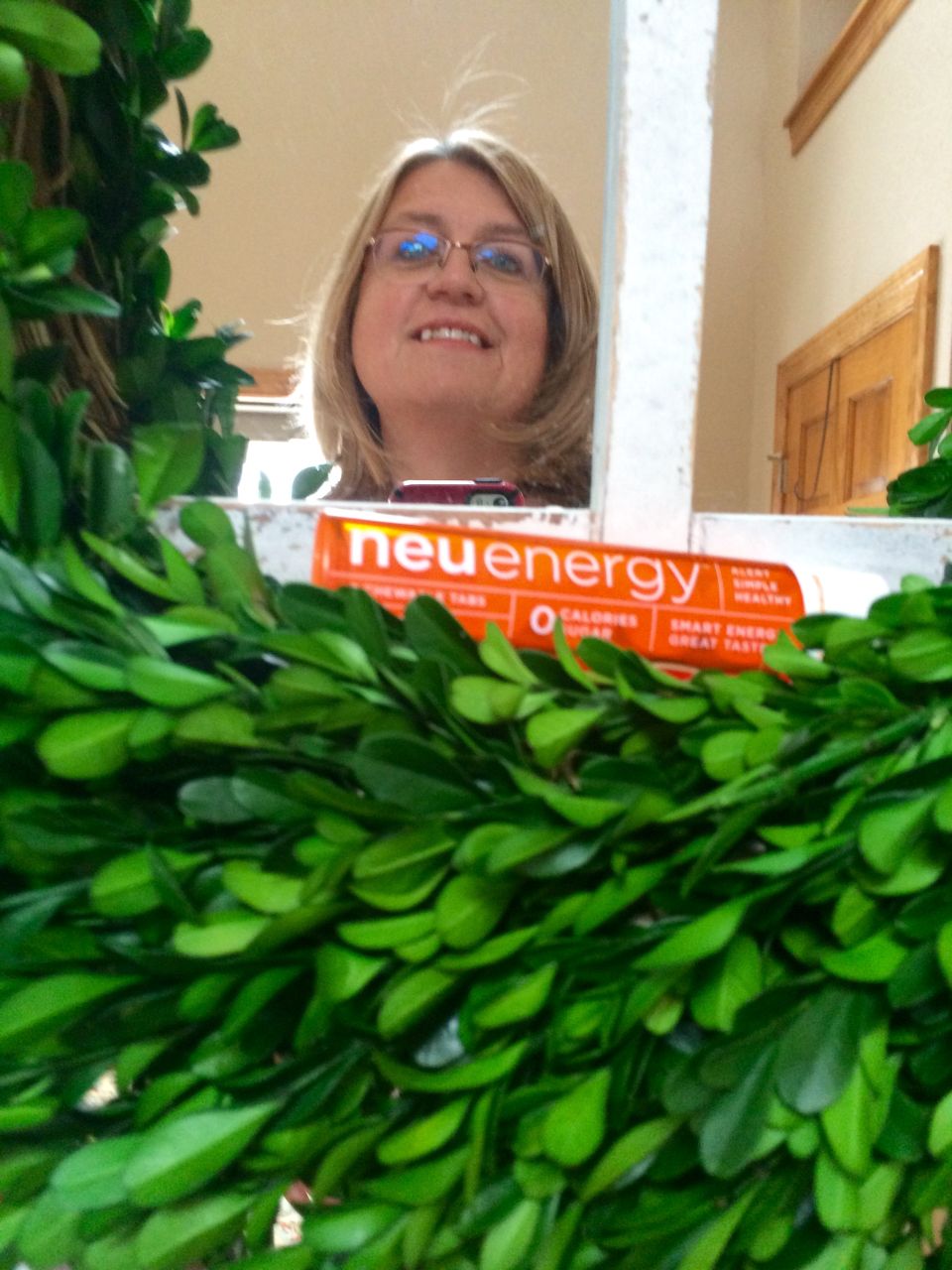 Ha!
Winners will be voted on by the public!
Bi-Weekly winners will have their choice between Prize Packs, which may include NeuEnergy products, Bose Headphones and Fit Bits. Grand prize winners will receive a trip to Disney World or Cabo San Lucas.
Here are the contest details and rules.
NeuEnergy is available at: Amazon, Meijer supermarkets or at NeuEnergy. Click through the NeuEnergy link to read a little more about this product. Give it a try!