Slice cucumbers.  I slice mine very thin.
Stir about ⅔ of the ranch dressing package into the cream cheese.  Make sure it's well mixed.  If you have time, let it sit in the refrigerator for a few hours to blend the flavors.
Spread some of the cream cheese/ranch mixture on each pumpernickel slice.
Sprinkle dill, chives, or seasoning salt on top of the cucumber as a garnish.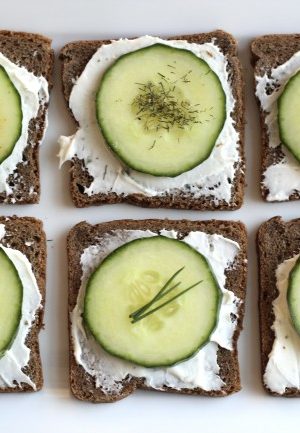 If making cucumber sandwiches
Spread cream cheese mixture onto each side of the white bread (with crusts cut off)
Place 2 to 3 layers of thinly sliced cucumbers.
Garnish the cucumbers
Cut sandwiches in squares or triangles.