This past April, we decided to start tackling with our siding warranty. Yes, our 7 year-old house needed the siding torn off and replaced because it was failing. When siding fails, it shrinks, buckles, chips, crumbles and the finish had spider cracking throughout.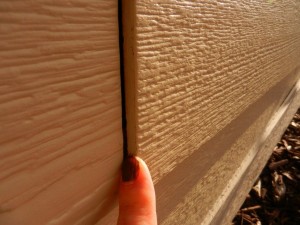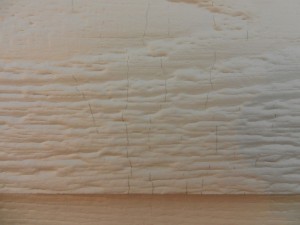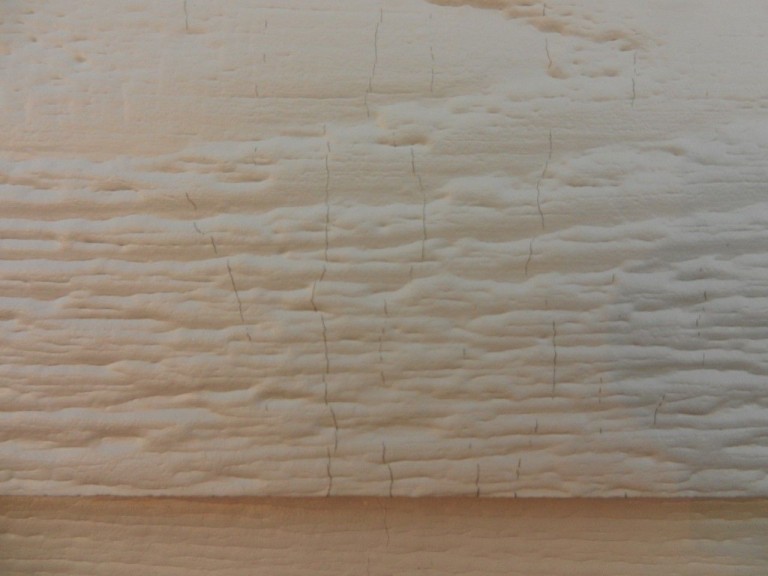 Spider cracking in the paint. We had the Diamond Finish, prefinished CertainTeed siding.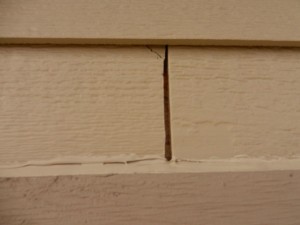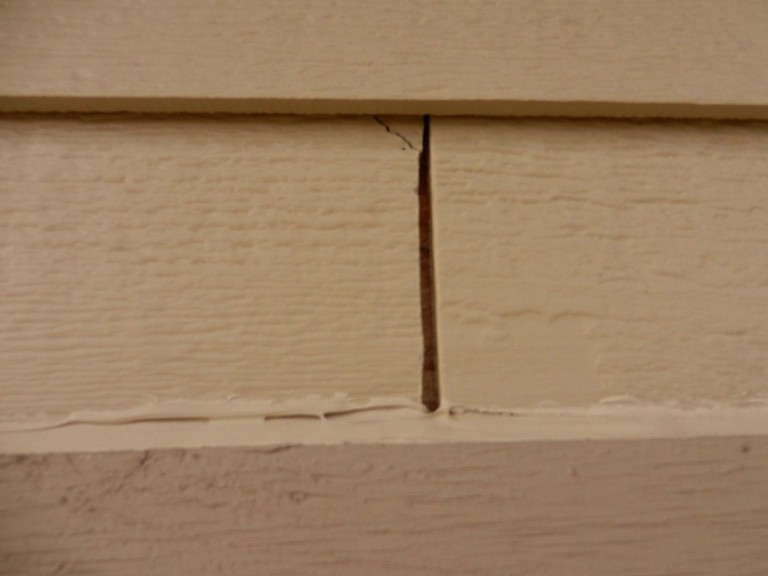 Wide spaces where edges butt up. Have been told differing 'official' spacing which is allowable. During the inspection, they use a tool to determine if the spacing is too much.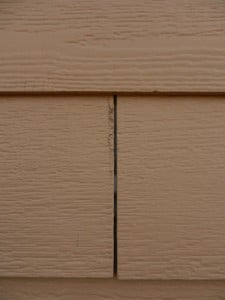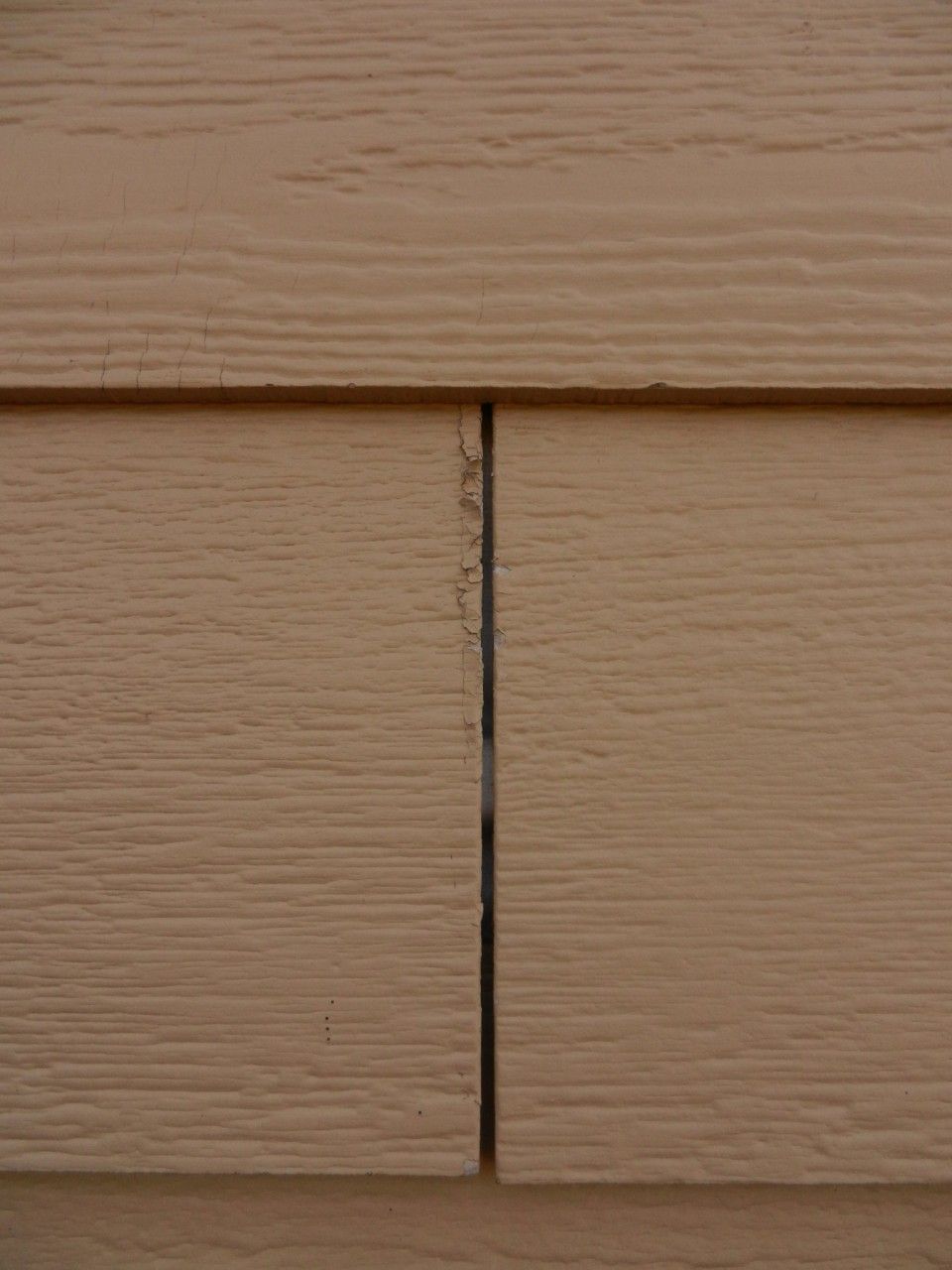 Siding itself is crumbling. Also spider cracking in top row.
***Note that the variations of color between the pictures isn't a warranty issue. It's a sun/different time of day and camera issue.***
Our main worry was that if we ever wanted to sell the house, no one would buy it if we didn't address this issue. Filled out the forms, took lots of pictures and mailed it in. The form actually wasn't too difficult. I did contact my builder who provided me with the original receipt for the siding. This receipt ended up being what the value of our settlement was based on.
A week or so after I submitted my claim, I showed the official inspector around. She approved replacing the siding on both sides, ½ the front and nothing in the back. I wrote back that unless they guaranteed that the new and the old in the front would match perfectly and guaranteed that no more siding would fail, I would insist on getting all the siding. I asked to be reinspected. Was told to send pictures and a description of what issues I felt were missed and where via e-mail. It took some more correspondence back and forth but in the end we did get the whole house approved. HOWEVER, the warranty only covers the product, not the labor, not the disposal of the defective siding, and not reinstalling the original siding that should have been fine for many years. Yes, we have a new house, did nothing wrong and would have to pay thousands to get this done. Out of pocket. Just before Christmas. Merry Christmas to us!
Three long weeks of constant hammering, a dumpster in our driveway and a freaked out cat are finally over. I wrote the check. Ouch! The siding installer was a nice guy and so were his workers. He did a great job. Unfortunately, it took effort for me to be nice - he was going to cost us a lot of money even if it wasn't his fault.
If you know you have CertainTeed siding, the link to the website warranty section is: http://www.certainteed.com/warranty/warranty-information.aspx?ExpandSlide=2&div=4.
If at all possible, get a copy of the receipt. You need information such as date of purchase, quantity etc.. It's very easy with the receipt. I talked to the original builder of my house and he provided it to me.
If you don't have a receipt, the form also says you can submit a sample. Personally, I wouldn't take a sample off my house if I didn't have a piece lying around. I did ask my siding contractor if a visual inspection can determine if the siding is manufactured by CertainTeed. He said that they have a specific look - type of grain - so it is apparent if it's their siding or not. So, my suggestion would be having Certainteed look your submitted pictures. They should recognize their own product. And stand behind it.
Hope this helps and if you do decide to pursue a claim, that all goes smoothly.
The Momcrieff.