Delicious Crockpot Butternut Squash Soup - with coconut milk
This is a delicious and hearty soup, perfect for the fall when squash are a good buy!  The coconut milk adds a wonderful flavor enhancement.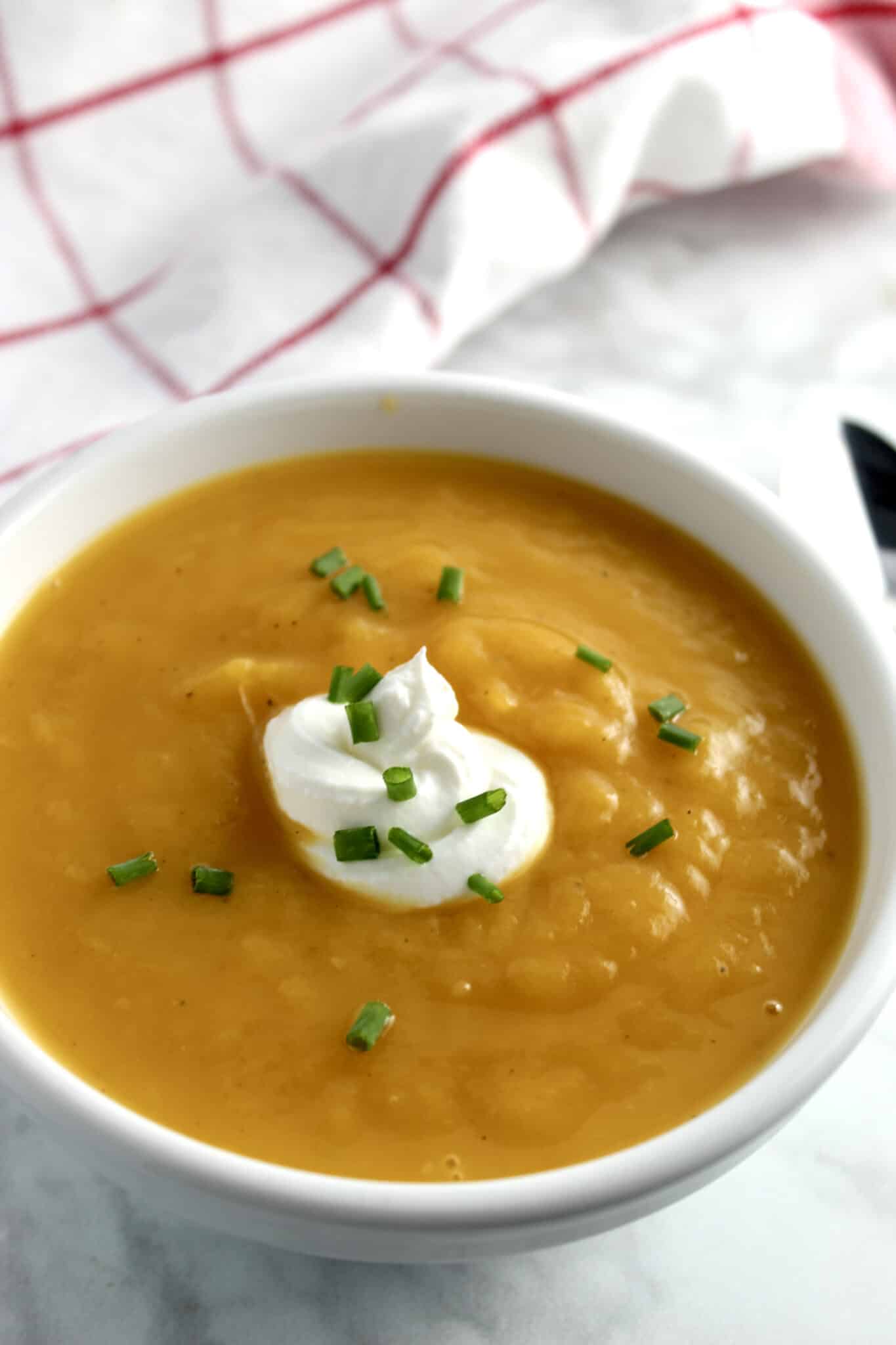 Now is the time to try a crockpot butternut squash soup!   This was published last year, but, I just wanted to share it again. Because now is the time to make it!
This recipe for butternut squash soup is amazing! My kids, who aren't soup fans, or even vegetable fans ate it. That's saying a lot for this recipe! They like coconut and it's the hint of coconut that gives it a rich flavor. And makes it satisfying and filling.
Ok, I'm going to confess one of my biggest darkest secrets to you now. Did you know for years I thought this was butternut squash. If a recipe called for butternut squash, this is what I bought.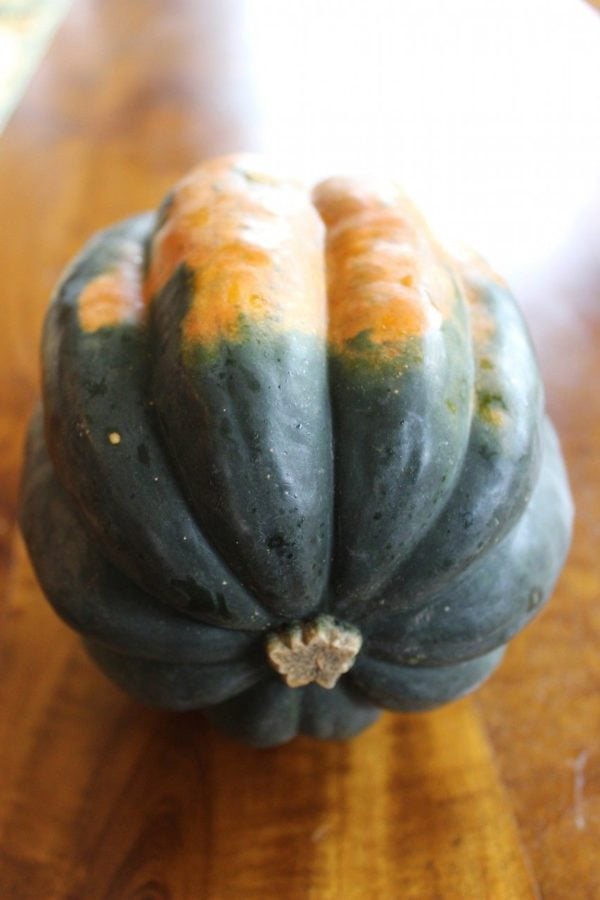 But, now I know. That was acorn squash and below is butternut squash!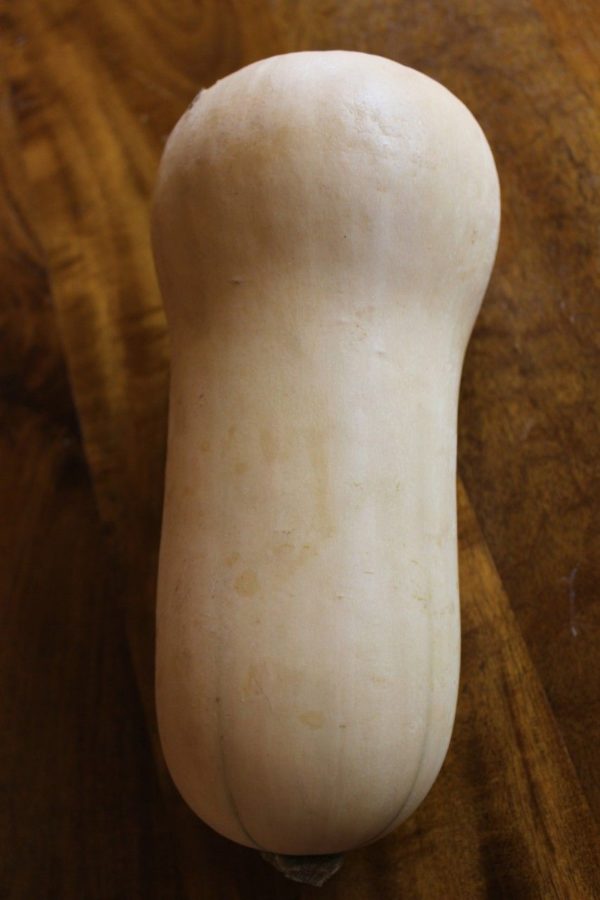 I found out when I asked the produce guy which squash was spaghetti squash and he named about 4 that were in the bin. I actually tried correcting him and I think he really didn't think much of my squash identifying abilities. I think he tried really hard not to roll his eyes. So now I know. And now you know too (if you didn't already). As an fyi, you can totally substitute acorn squash for butternut squash in most recipes. For years I did!
This is the crockpot version so count on about 4 hours on high or 6 hours on low. Also, it makes LOTS! Be prepared to freeze some. I put three cups in a 2 quart freezer bag and froze flat. I ended up freezing 4 bags like this after we ate a bunch for dinner.
Ingredients:
Three medium sized butternut squash (see step 1 to make cubing so much easier!)
1 medium onion, coarsely chopped
2 peeled and chopped apples
1 tablespoon of vegetable oil
4 cups chicken broth
1 teaspoon cinnamon
1 teaspoon all spice
8 oz coconut milk OR ½ cup of coconut cream**
***If your coconut milk pours like thick cream, treat it like cream in the measurements (even if the container calls it milk). If it's thick, it's really high calorie.
Step 1.
Turn the oven to 400 Fahrenheit. Once preheated, place the butternut squash into the oven for about 15-20 minutes. It will have started to soften and is then really easy to peel. You know it's ready to take out when a knife easily goes through the skin.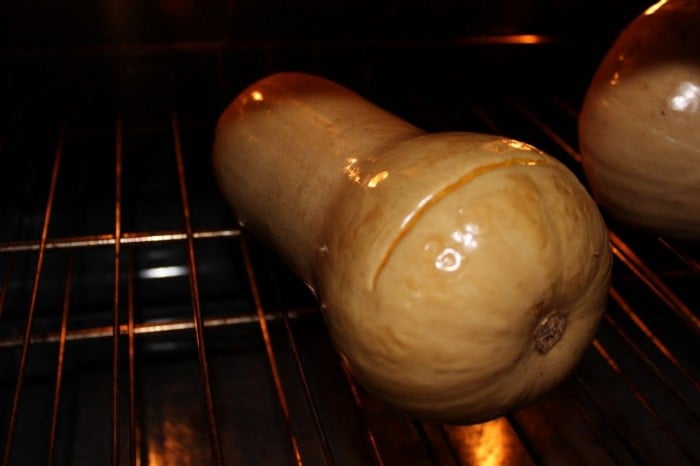 Step 2.
While the butternut squash is in the oven, turn your crockpot on high. Place about a tablespoon of oil into it. Make sure the lid is on! As it's heating up, chop the onion until it's coarsely chopped.
Step 3.
Once the crock pot is hot, add the onions. Stir occasionally until onions are tender (keep the lid on as much as possible).
Step 4.
At this point, the squash is ready. Peel it carefully (I held onto it with one hand in an oven mitt). It's hot but sooooo much easier to peel than an uncooked squash. If you've ever peeled raw squash, you know how hard it can be. Stir your onions!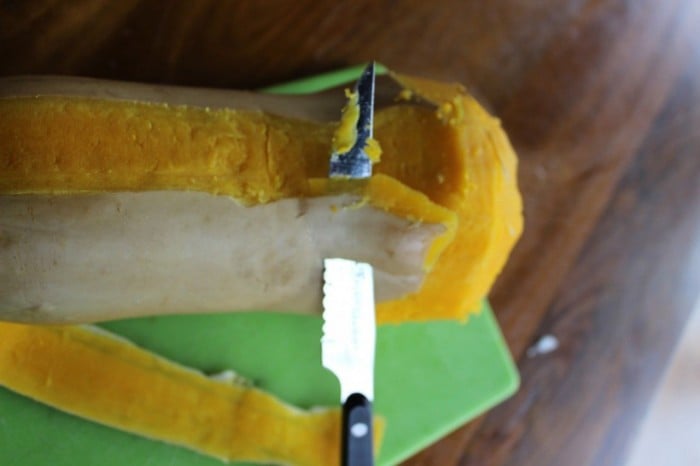 Step 5.
Cube your butternut squash and add to the crock pot. Add the chopped apples.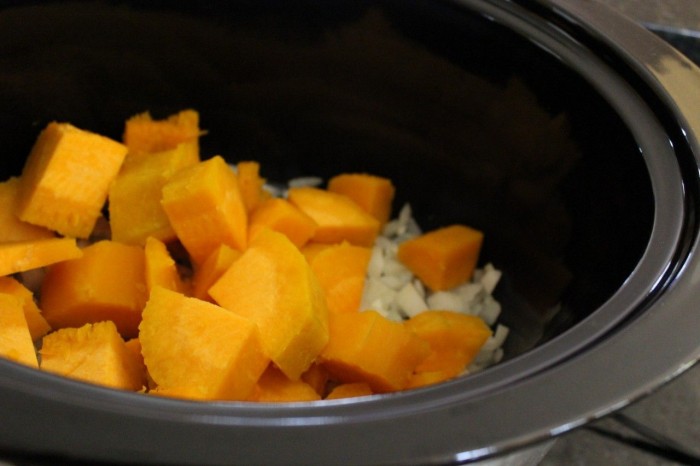 Step 6.
Add enough chicken broth to almost cover the squash. Also add the cinnamon and all spice.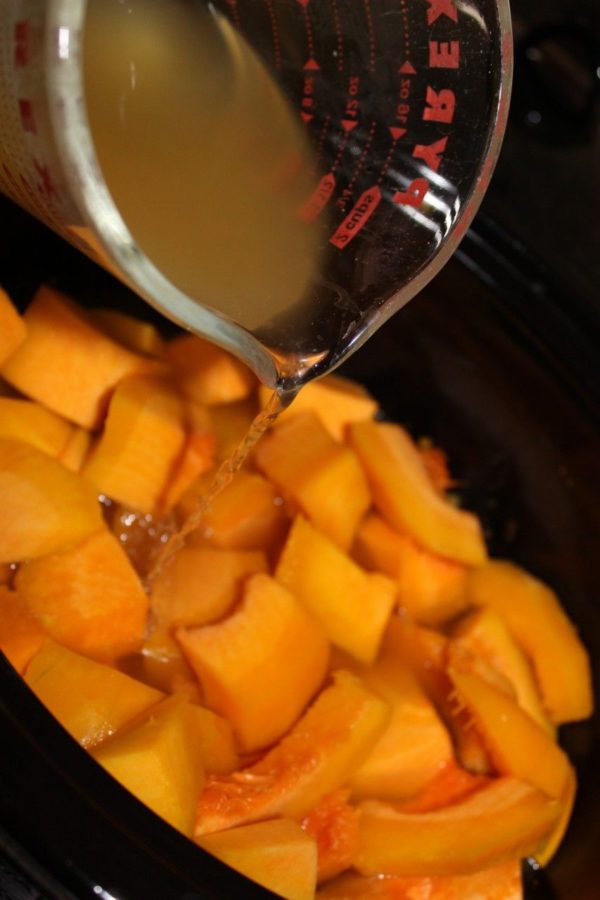 Step 7.
Cook 6 hours on low or 4 hours on high. When it's soft, use an immersion blender to get that nice smooth texture.
Step 8.
Add the coconut milk or coconut cream to the butternut squash soup at the very end. This adds some wonderful flavor!
Step 9.
If you wish, add some salt and pepper to your taste.
You can add a dollop of sour cream prior to serving but that would be for appearance only, not the taste.
Enjoy!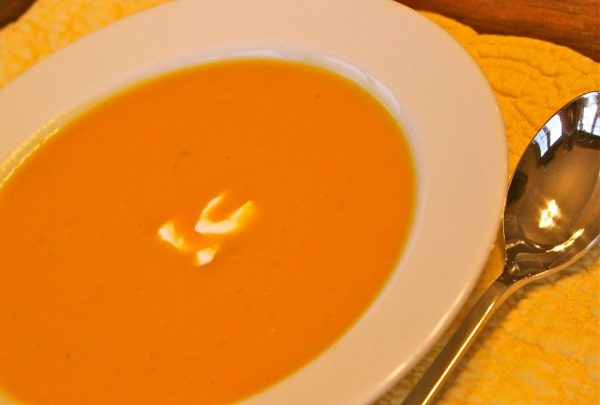 Thank you Rachael for sharing this with me! It is as good as you said :).